If you are interested in learning more about guitar, beginner techniques, and a way to start, you probably wondered about taking classes. Based on where you live and your budget, getting a face-to-face class is not always an option. This is why so many players enjoy learning how to play guitar online.
There are so many incredible websites dedicated to learning how to play this instrument, and it is always the question of which one you should pick. 
Here, we will take a look at two popular websites – Guitar Tricks and Justin Guitar. Which one is better? Which one is worth the money? And if you had to choose between the two, what is the right option? Here, I will cover the differences between these two websites and see what is a perfect option for you. 


Guitar Tricks
Justin Guitar
Cost
$19.99 monthly
$179.99 annually
Free
Suited For What Skill Level
Beginners and intermediate
Beginners and intermediate
Structured Beginners Course
It exists
It exists
Content For Advanced Players
A lot
A lot
Different Courses/Features
One on one lessons
DVDs, Ukulele, books
Number Of Lessons And Songs
11,000 lessonsover 1,000 songs
1,000+ lessons
500+ songs
Lesson's Quality
HD, great quality multiple cameras
Video quality varies, but the teaching method is good
Refund Policy
60 days
Unknown
Additional Tools
Metronome,Jam Station,Scale Finder,Chord Finder,Reference Tuner,Fretboard Trainer,Chord Charts,Guitar Tab Guide, Glossary,Fretboard Diagram
Interval Ear Trainer,Metronome,Tempo Calculator,Countdown Timer,Blank Papers, Apps
Trial
14 days
None
Focus
Focus on all players
Focus on all players
About Guitar Tricks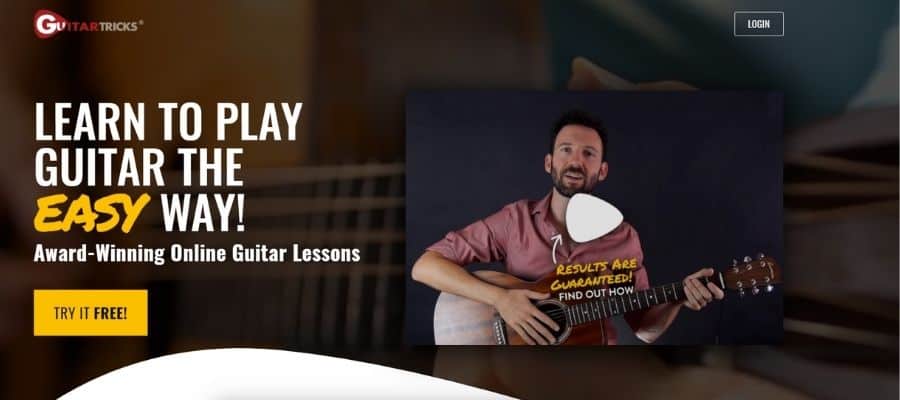 The first one for analysis is Guitar Tricks. The site started working in 1998, and it has been one of the most successful guitar learning platforms. Due to the fact that it has been around for over two decades, and that it offers numerous lessons in all styles and genres, many people named it the King of Online Guitar Lessons. 
It was founded by Jon Broderick in San Francisco, and he was one of the mentors on Guitar Tricks. Even though you can still find his lessons online, he stopped making new ones, and he dedicated his time to website maintenance. 


Among the primary reasons for the popularity of Guitar Tricks is the fact that it is the oldest platform available. This also means that the company had enough time to polish everything, add necessary features, and provide enough content for all skill levels. 
If you decide to join Guitar Tricks, you will find multiple genres, styles, techniques, and thousands of lessons you can try out. Once you join the site, you will get full access to all content, and you can decide where you want to start, and which way to take. 
About JustinGuitar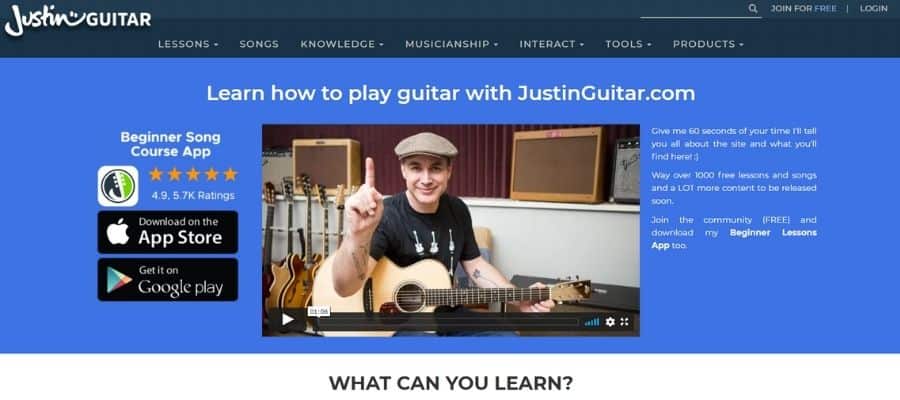 The second platform I will cover here is JustinGuitar. The website was founded in 2003 by Justin Sandercoe. He is an Australian guitarist, teacher, performer, songwriter, producer, and many more. In 1996, he decided to move to London, where he continued teaching guitar.
Initially, Sandercoe made a website to promote his one-on-one lessons, and it offered only previews of what his students can expect. In the next couple of years, JustinGuitar became one of the most popular learning platforms, and he soon started offering full lessons on his website.
If you ever searched for a song tutorial, there is a high chance that you found Justin's page on YouTube. He does incredible lessons that are easy to follow, and he is an amazing teacher. Justin was also named as one of the top 10 YouTube celebrities in the United Kingdom.
If this is not enough of a recommendation, you should know that Justin received accolades from legendary guitarists like Mark Knopfler and Steve Vai. Even though JustinGuitar wasn't around as long as Guitar Tricks, there are tons of great lessons on the site, and there is no doubt that you will be able to improve your playing skills if you opt to join. 
Is There A Price Difference Between JustinGuitar And Guitar Tricks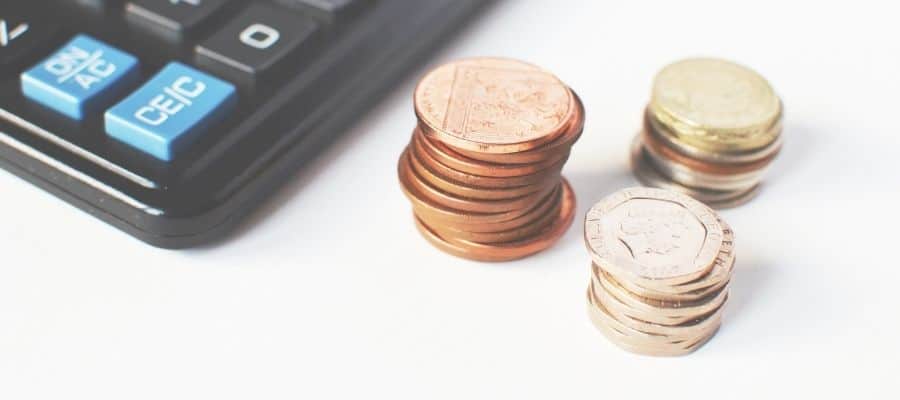 Probably the most important question here is the price. Which website is cheaper. Not everyone can afford to pay a monthly or yearly subscription, and this might determine which website they'll choose in the end.
Naturally, this doesn't mean a lot in terms of quality or quantity, but it is still the primary question people will ask.
If you want to join Guitar Tricks, you will need to subscribe. There is an option to pick monthly membership or to subscribe for an entire year. The monthly price for Guitar Tricks is $19.99. Of course, this is if you don't wait (or don't get) any type of promotion. There is a possibility to find codes that will lower the monthly subscription, and the same thing applies for holidays. 
For those who are satisfied with what Guitar Tricks has to offer, they might be interested in an annual subscription. If this is the case for you, the price for a whole year is $179.99. As with a previous form of subscription, you can find additional discounts during holidays or via special promotions. 
Now, the price of JustinGuitar is significantly lower. In fact, joining JustinGuitar will cost you NOTHING! That's right. JustinGuitar is free, and you can use the website as long as you want. In terms of price, JustinGuitar is undoubtedly a better deal since it's free. However, JustinGuitar offers a lot of DVDs you can buy, and each offers additional lessons you might want to learn. So, while the website is free, there is a chance that you will still spend some money if you want to learn more about a specific area or skill. 
Skill Levels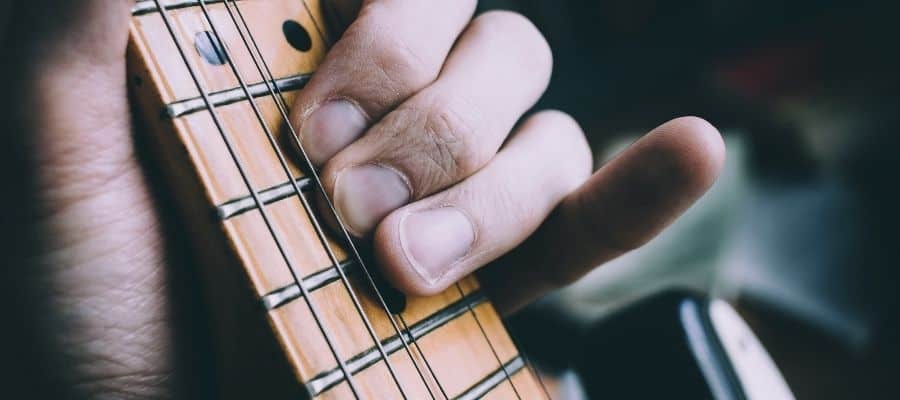 The next thing on the list is the skill level. Which skill levels do these platforms cover. The reason why you might want to know this is that it will determine whether the site is for you. If a website offers only lessons for beginners, there is little to no reason for an advanced guitarist to join.
Guitar Tricks covers beginner and intermediate levels. There are so many lessons on the platform, and it is quite likely that you will find something suitable for your skills and taste. Since there are so many lessons, it is a great opportunity for nearly all skill levels. While the primary focus is still beginners, there are numerous lessons for those with more experience as well. 
Similarly, Justin Guitar covers both beginner and intermediate skill levels. There are also advanced lessons you can try out, and each focuses on different skills and techniques you might want to learn. 
In terms of skill levels, both websites offer similar content, and it would be difficult to determine which one covers more.
One of the things I should mention is that Guitar Tricks has over forty instructors, while with JustinGuitar, all lessons are played by Justin Sandercoe. Whether this is good or bad is up to you. But there is one thing that is certain. 


When you have more teachers, each of them will have different styles, techniques, interests, and so on. You might dislike one teacher, and all you need to do is proceed to the next one. If you are into heavier genres, just find a teacher that plays metal.
This means that the main thing you'll need to check out is whether you like Sandercoe's approach and the way he teaches on his website. Personally, I think he's an incredible musician and a teacher. It is up to you to see whether this is your cup of tea. 
Offers For Beginner Guitar Players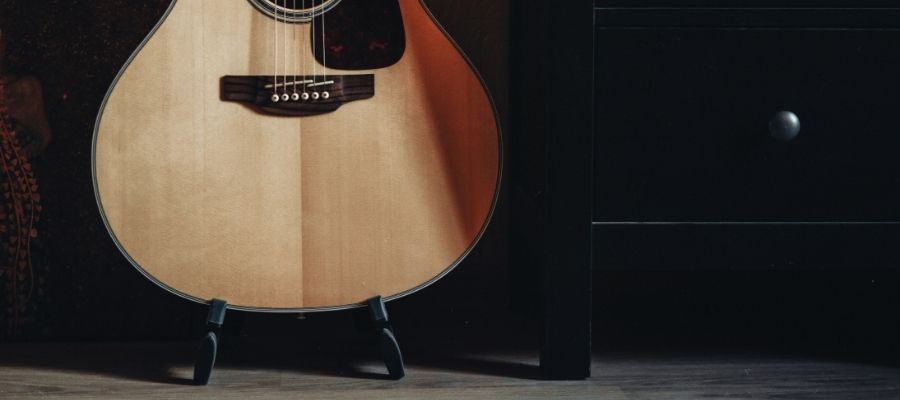 Let's take a deeper look and see what you can find if you are a beginner player. Since both websites are designed to help you overcome beginner challenges, this is one of the most important aspects when it comes to content.
Among the main advantages of Guitar Tricks is the beginner course players can take. It is essential for beginners to have structured lessons since they might get carried during learning and try to cover too much. 
When you join the site, you can start the first lesson called "Guitar Fundamentals 1." This is the first part of the structured course, and there are many lessons within the first part. When you feel comfortable enough, you can proceed to the second part – "Guitar Fundamentals 2."
From here, players can opt to continue learning in one of the three categories – blues, country, and rock. Each of the sub-categories offers two courses, and it is an excellent way to get more specialized types of lessons.
When it comes to JustinGuitar, there is a similar approach. Beginners can try out one of the four courses, starting with "Beginner Lessons: Grade 1." There is also the second and third part of the beginner training. The second option is to go for the "Beginner Lessons Classic," which offers a different approach to the same subject.
It is Justin's classic guitar course he used in the past. Since both websites offer tons of content for beginners, and both have structured courses players can follow, it is only fair to consider it even.
Offers For Advanced (Intermediate) Guitar Players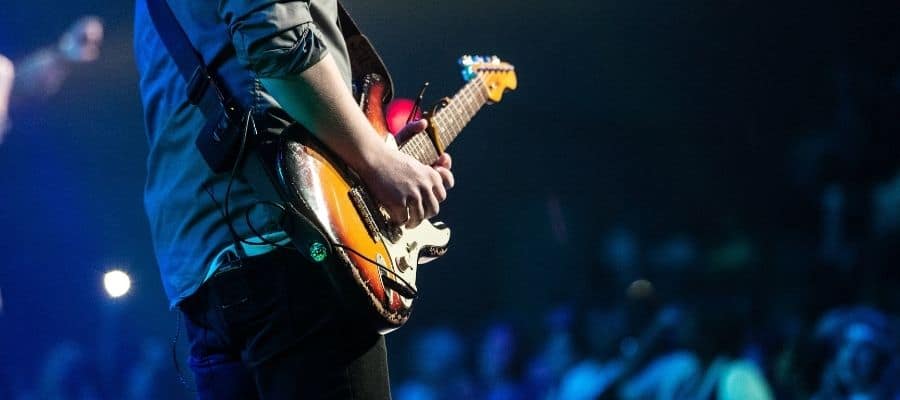 Now that we've seen what kind of offers for beginners these websites have, let's go a bit further. Some websites only have deals for beginners, and it is pretty much useless to join if you have any experience playing the instrument. Here, that's not the case. Both websites have great offers for intermediate players, and there are numerous lessons they could try.
Guitar Tricks has twelve different genres, and players can try them out when they feel comfortable or after the beginner course. There is blues, bluegrass, rock, jazz, funk, soul, rockabilly, and many more. Over the years, Guitar Tricks kept increasing and improving its repertoire, and there is no doubt that you'll find something just for your taste. 
JustinGuitar offers several courses for advanced players like Intermediate Foundations and Intermediate Modules. These are the fifth and sixth-grade lessons, and you can even go further with Advanced Modules which is grade seven-plus.
Naturally, if this is not enough for you, you can always check out the DVD lessons available on the site. All things considered, both Guitar Tricks and JustinGuitar have great offers for intermediate players. 
Naturally, if you are wondering about the amount of content, Guitar Tricks has been around for over twenty years. As a result, the website will offer more content than any other guitar teaching website.
Different Types Of Courses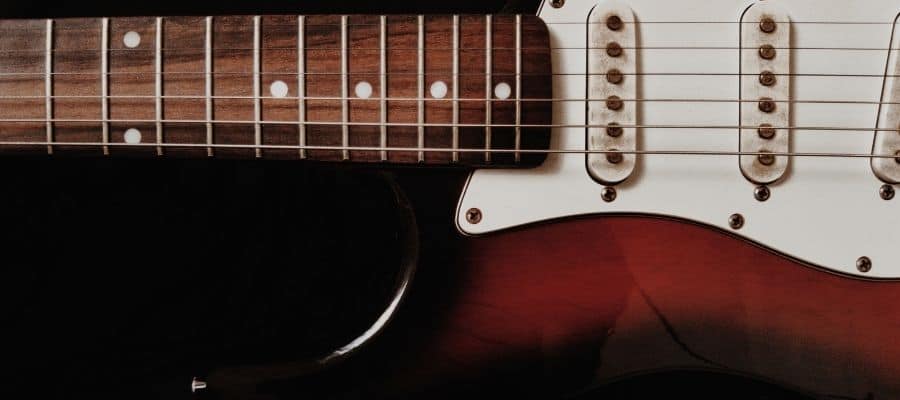 It is not rare to see these kinds of websites offer different courses or types of lessons. With Guitar Tricks, you will get two types of lessons, and you can choose whether you want to learn acoustic or electric guitar. And that's it. For some reason, the website doesn't offer different instruments, which is a shame since the platform is great. 
Users have been requesting bass guitar lessons for years but without any luck. One exciting thing you can find on Guitar Tricks is one-on-one lessons. They work similarly to face to face guitar classes. You will pick an instructor, and schedule a class.
Then, they will teach you "in person," and it can be an excellent opportunity to talk to a real teacher. This way, they might be able to point out your mistakes or help you focus on some specific part that might be problematic. 
JustinGuitar currently has lessons for guitar and ukulele, and there are numerous DVDs you can buy. Moreover, you can get great books that accompany guitar lessons. Finally, there are jam tracks for different genres, and they can help you practice along with a backing track.
The Number Of Lessons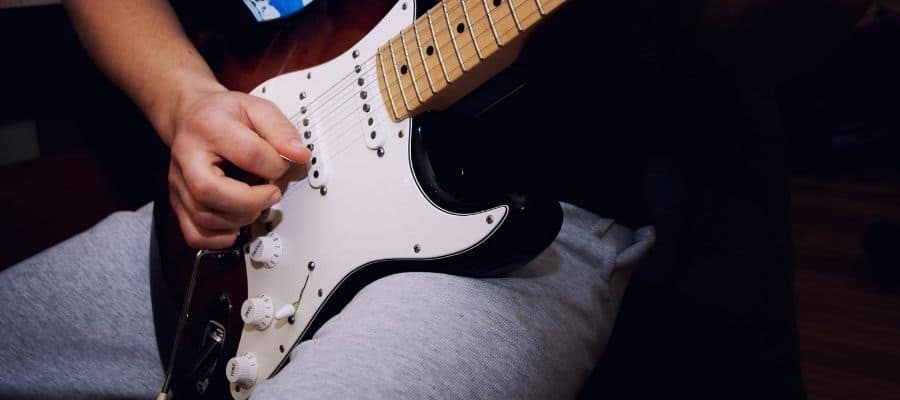 Let's talk about quantity now. I already mentioned that Guitar Tricks has an impressive history, and there are lessons for different genres, techniques, and anything else you can imagine for guitar. But what is the exact number? 
At the moment, Guitar Tricks has over 11,000 lessons with different instructors for both acoustic and electric guitar. You can choose to follow a certain teacher, or just look for lessons you find interesting. Besides, you can find over a thousand songs in the website's library, and all songs come with tabs. Furthermore, each song has a difficulty indicator, so you can easily find the one suited just for you. 
JustinGuitar is still rather young compared to Guitar Tricks, and there are fewer lessons available. Currently, the website offers over a thousand lessons, you can try out. There are 434 beginner lessons, 384 intermediate, 53 advanced, and 448 in the "other" category. 
What is interesting is that you can find lessons for guitar maintenance and other skills you might find useful.
When it comes to the song library, there are over five hundred songs you can learn, and each comes with a video that will help you learn it with ease.
Video Quality And Format Of Lessons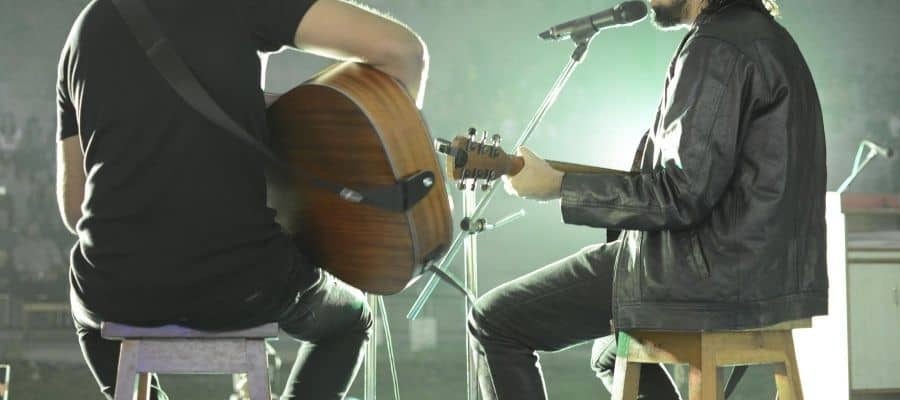 Since the majority of content is video, we should consider the quality of lessons so you can get a better idea of what you're getting for the price.
The quality of videos on Guitar Tricks is amazing. Each video offers a couple of cameras recording the most important parts like strumming hand, fretting hand, and the entire guitar. The user can adjust the speed, loop a specific part of the video, and so on. 
Each of the video lessons on Guitar Tricks is HD, and it looks really professional. While some of the earlier lessons are not on par with the new ones, it doesn't mean that they are unusable, or that you won't enjoy learning with them. It's just that there is a significant improvement that you can notice with newer lessons. 
When it comes to JustinGuitar, all lessons and songs are performed by Justin Sandercoe, and they are excellent. The format and video player are in fact, YouTube, and the quality is incredible. Older videos have lower quality, but that's only because the newer ones are in 4K. So, even if you take a look at the older material, you will still find great HD videos.
Refunding Policy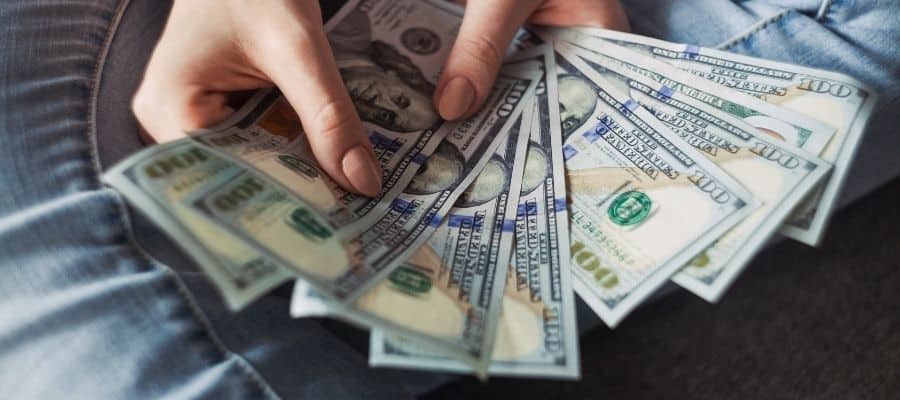 People always love to have a backup plan. Even if you don't plan on refunding (and why would you), it's always nice to have that option. So, what are the refund policies for these two websites?
If for any reason you want to cancel your subscription, Guitar Tricks has a great refund policy. It covers up to 60 days, and you will get your money back. While the chances of you needing a refund are slim, it's always better to know that the option is available. 
As for JustinGuitar, the website is free, so there is no need for a refund policy. I tried to find any info about DVDs, books, and other products, but I couldn't find any info on whether the refund policy works on these. 
Additional Tools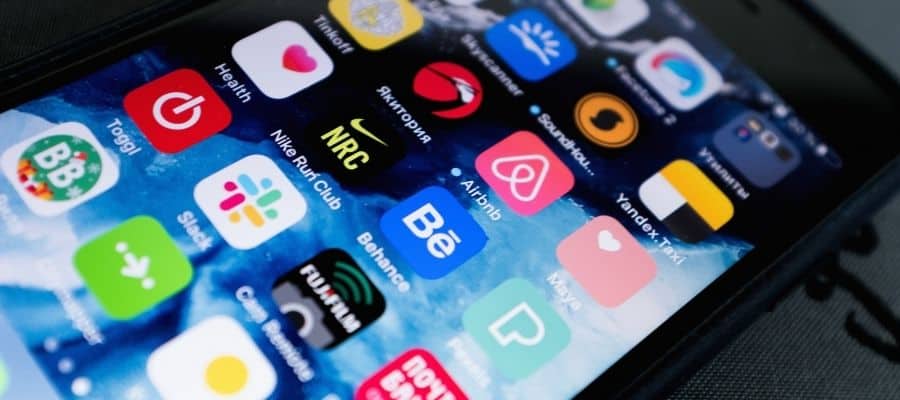 Now that we covered all the basics about lessons, songbooks, and such, there might be a chance that someone is asking: "Is there anything else?" The answer is yes. Additional tools can be quite useful for both beginner and intermediate players, and some of the things you might find on the website are almost necessary for guitar playing.
Let's take a look at what Guitar Tricks has to offer:
Metronome – A metronome is a perfect tool to help you learn more about tempo, and it will ensure that you practice playing the guitar correctly.
Jam Station – Jam Station is a form of backing track tool. You can use it to practice with a "real band," and it will be useful for intermediate players.
Scale Finder – Scale Finder is a great tool to help you learn more about scales, and where to find them.
Chord Finder – Chord Finder is similar to the one for scales, and you can learn more about chords, how to play them, and where to find them.
Reference Tuner – If you want to play the guitar, you will need to tune it. Reference tuner allows you to practice training your ear and tune your guitar.
Fretboard Trainer – A trainer to learn more about the fretboard.
Chord Charts – A list of chords and all positions across the fretboard.
Guitar Tab Guide – A guide that will help you understand how to use tabs.
Glossary – List of terms important for guitar.
Fretboard Diagram – A tool that will help you understand more about notes across the fretboard.
Similarly, JustinGuitar offers a couple of tools as well:
Interval Ear Trainer – It is an interesting app that will help you train your ear, and try out understanding more about intervals. You can choose whether you want the input to be for piano or guitar.
Metronome
Tempo Calculator – A tool that will help you determine the BPM (beats per minute) of any song. All you need to do is tap in the tempo, and read the results.
Countdown Timer
Blank Papers – Download blank papers if you want to write music.
Both websites have great tools, and you can use them during your practice. Of course, it's up to you to pick which one is better and more useful. JustinGuitar also offers a couple of apps you can try on your smartphone that might be useful for you.
Trial Period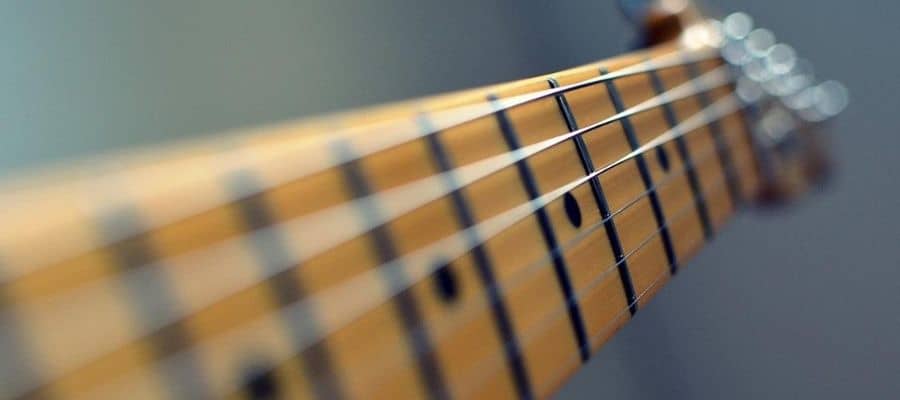 Finally, if you are still unsure which website is best for you, you can always try them out for free. Guitar Tricks offers a fourteen days trial, and you can use it to test the website and see whether it is something you'd enjoy using. 
This is also one of the reasons why you probably won't need to worry about refunds. With two weeks of access, you'll be able to test all the important things you can find. This includes checking on video lessons, quality, format, and anything else you might need. 


It is more than enough time to check out everything and determine whether you want to continue using Guitar Tricks. If you are satisfied, then you can pick a monthly or annual subscription. 
JustinGuitar doesn't have a trial period since the website is free for everyone. You can check it out whenever you want, and you can find all the info you need there. You can also visit Justin's YouTube channel since the format of the lessons is the same.
Summary
While both of these websites are great, we still need to have a winner. If you are looking for lessons without paying too much, the choice is obvious. JustinGuitar has tons of lessons you can try out, and you won't need to spend a dime. However, some of the premium lessons are on the DVDs, and you might be interested in checking them out.
If you don't mind spending money on online courses, then there is a great chance that you'll enjoy Guitar Tricks more. The website has more content, more teachers, and more genres. The chances of you finding something you like are great, and even if you dislike a certain instructor, you can just skip to the next one. 
For all of you that plan on paying, it is difficult to determine which one is cheaper. You might buy a beginner's course on JustinGuitar, which is $9.99 for six months. But at the same time, you might want something more. You can learn on the website for free, or spend more money than on Guitar Tricks. 
So, if you are looking for a paid option, Guitar Tricks might be a way to go. If you are looking for a cheaper option, you'll be more than satisfied with JustinGuitar.