Since there are numerous platforms you can use to polish your guitar skills, it is always the question of which one is the best. Obviously, you need to look for the quality of lessons, whether the website has classes for different skill levels, and of course, price.
Now, each website works on a similar principle, where the student will get access to lessons, and they can improve their playing skills. But how the website delivers lessons, what are some guiding principles, and other aspects might vary from page to page. 
So, what should you choose? If you are a beginner guitar player or want to learn bass or ukulele as well Fender Play beats the competition by offering a lower price point. As for the other aspects they are pretty similar. For more advanced players Guitar Tricks has a lot more lessons to offer than Fender Play. Either way, both of them are great learning platforms that offer a trial period for you to try.
Guitar Tricks
Fender Play
Cost
$19.99 monthly
$179.99 annually
$9.99 monthly
$79.99 annually
Suited For What Skill Level
Beginners and intermediate
Beginners and intermediate
Structured Beginners Course
It exists
It exists
Content For Advanced Players
A lot
Not much
Different Courses/Features
One on one lessons
Bass, ukulele, and guitar lessons
Number Of Lessons And Songs
11,000 lessons
over 1,000 songs
over 700 songs, and unknown number of lessons
Lesson's Quality
HD, great quality multiple cameras
4K, incredible quality, multiple cameras
Refund Policy
60 days
None
Additional Tools
Metronome,
Jam Station,
Scale Finder,
Chord Finder,
Reference Tuner,
Fretboard Trainer,
Chord Charts,
Guitar Tab Guide, Glossary,
Fretboard Diagram
Tuner,
App,
Chord library,
Scale Finder,
Others
Trial
14 days
30 days
Focus
Focus on all players
Focus on beginner players
Learn More About Guitar Tricks
The first website I will discuss here is Guitar Tricks. There is a chance that many of you are already familiar with this service, and it is not really a surprise. And the reason why many players enjoy using Guitar Tricks is that the website has been around for quite a while. 
The company was founded in 1998, and it was one of the pioneers of online guitar teaching. It was established by Jon Broderick from San Francisco. His goal was to provide online courses to aspiring guitar players, that will help them with their progress.


But what was interesting was that his idea was to cover all skill levels and allow players to join and learn regardless of their preferred music genre. Today, there are tens of thousands of guitar players on this page, and they are eager to learn more about their favorite instrument.
For a while, Jon Broderick was one of the mentors on Guitar Tricks, and you can still find a few of his lessons. Unfortunately, he doesn't record any new lessons, and he passed on the baton to other instructors. 
Learn More About Fender Play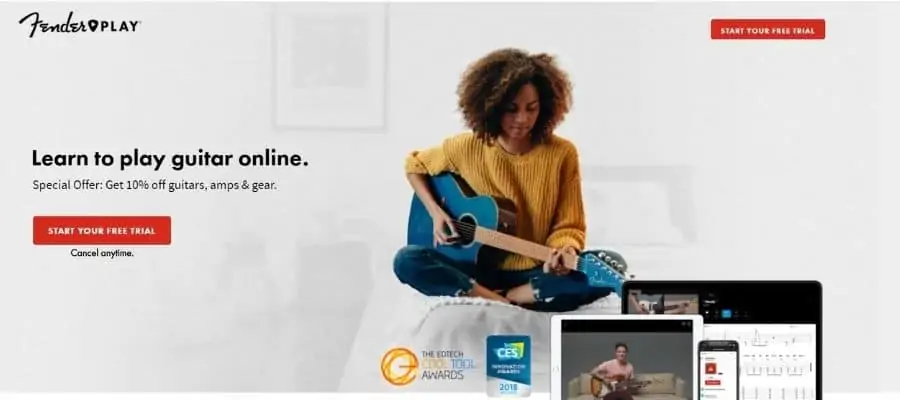 Compared to Guitar Tricks, Fender Play is still a new platform. It launched in 2017, and it quickly became a hit. But don't let the short history fool you. Fender has been around since 1946, and they know more about guitars than any other company. 
Needless to say, their most popular model – Stratocaster is a guitar of choice for many guitar legends like Eric Clapton, Mark Knopfler, John Frusciante, and many others. Over the years, Fender continued to release incredible guitar and bass models (and even ukulele).
It doesn't seem surprising that they decided to launch their own learning platform that would compete with others on the market. Fender Play is just three years old, but it already gained a significant number of followers.
If the quality of guitars like Stratocaster is any kind of sign, then Fender Play is an excellent choice for any guitar player. But before we declare the winner, let's see what are some of the aspects of Fender Play and see how it stands against Guitar Tricks. 
Which Of The Websites Cost Less?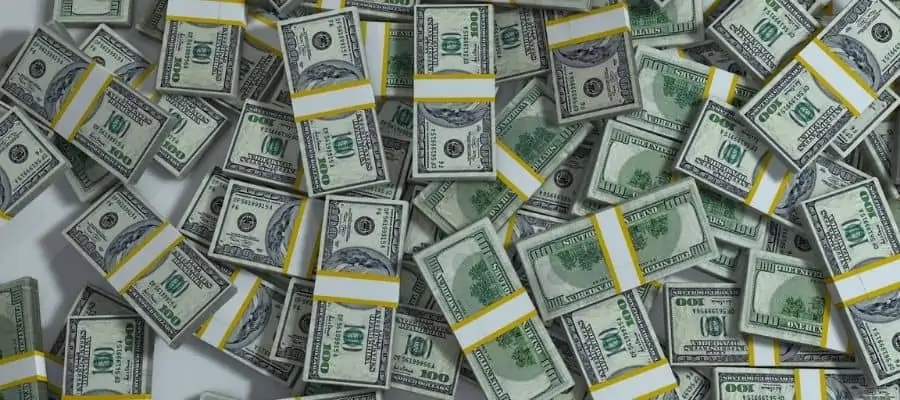 Of course, the starting point of any type of debate between these two platforms should be price. It doesn't matter if one is superior if you can't afford it (or if there is a significant price difference).
So, which one is cheaper Guitar Tricks or Fender Play? The answer is Fender Play.
Both websites allow you to choose whether you want a monthly subscription or to opt to pay for an entire year. For Guitar Tricks, a monthly subscription costs $19.99, and if you want to sub for a full year, the price is $179.99. 
Fender Play, on the other hand, costs $9.99 for a full month, and $79.99 for an entire year! While it is possible to find a discount code during a special promotion, there is no doubt that Fender Play is more affordable. 
Furthermore, if you opt to sub for a full year, you will also get a 10% discount on all Fender gear and guitars. So, if you were looking to buy yourself a nice Strat, now is a perfect opportunity for you to get an additional discount if you choose Fender Play.
The first point goes to Fender since it is 50% cheaper than Guitar Tricks. This means that you can get two years on the first platform instead of a single year on Guitar Tricks. But is the price difference enough to declare the winner?
What Is The Skill Level These Platforms Suited For?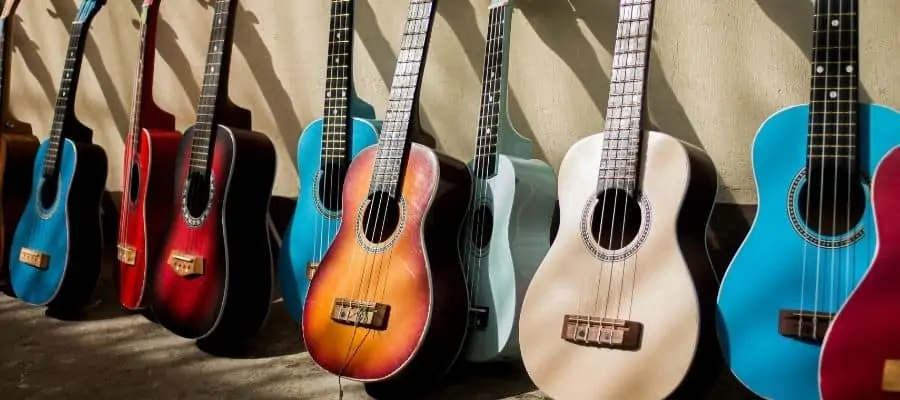 The second important aspect when reviewing the quality of the platform is the skill level. Is it designed for beginners or for experienced players? Both platforms are mostly dedicated to beginner players, but this doesn't mean that there aren't any materials for more experienced ones. 
Guitar Tricks has a basic course beginners can follow, and each lesson is separated into five different categories. Once they are through with the lesson, they can proceed to the next one. There are also three genre-oriented lessons, and they cover blues, rock, and country. 


Fender Play has a similar approach, where the player will follow a course they called "my path." Besides basic lessons, there are five different genres they can choose later, and each lesson is tailored specifically for that genre.
Another similarity is in five levels per lesson, where each level increases the difficulty as you progress. This means that even if the lessons are too easy for you, you can just skip to the more complex ones until you find something suitable for your skill level.
Since both apps cover the beginner and intermediate levels, it is only fair that each gets a point. Of course, based on your preferences on genres, lesson format, and other things, you might like one more than the other.
What Do These Platforms Offer For Beginners?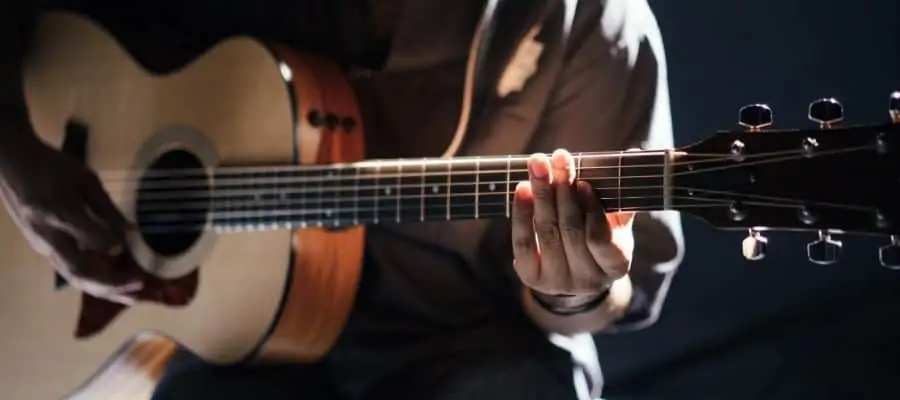 Here, we will take a deeper look at the offer beginners might encounter on these two platforms. Firstly, our focus will be on Guitar Tricks. One of the main qualities of Guitar Tricks is a structured course for beginners. Once they join the site, they will get a chance to try out what the website calls "Guitar Fundamentals 1."
The first course is divided into seven chapters, and the players can dictate their own tempo they want to follow. Once they are finished with the first set of lessons, they can proceed to "Guitar Fundamentals 2." Here, the process is identical, and there are also seven chapters they can go through.
Finally, once they have gone through the basics, they can choose whether they want to proceed on blues, rock, or country. Each of these three genres has a second course as well. The most important thing is that there is a structured course, and beginners won't get lost in numerous lessons.
Fender Play, on the other hand, will give you an opportunity to go through "my path" by picking the instrument you want to learn. Currently, the platform offers acoustic guitar, electric guitar, bass, and ukulele. Once you pick the instrument, the app will lead you to the genre selection.
There are five different categories you can pick and they are rock, pop, country, folk, and blues. This will create a curriculum for you, and there are five levels you can try out. Whenever you complete a lesson, the name of the lesson will be checked green, and you can easily track your progress.
Both apps have a great course for beginners, and they follow a nice structure which is essential if you are an inexperienced guitar player.
What Do These Platforms Offer For Advanced Players?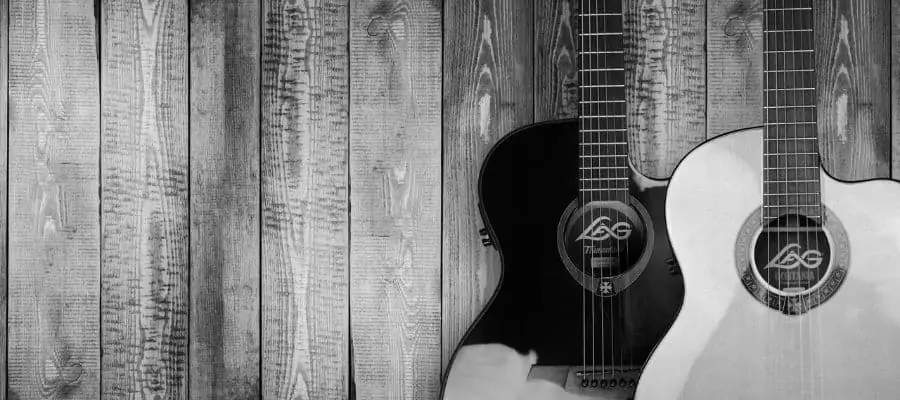 But having a great beginner course is just one step of the process. If you are persistent and you continue practicing, you will soon need advanced lessons, and here, we will see which platform is better for those with more experience.
Firstly, Guitar Tricks gives you an opportunity to choose between twelve different genres, once you are finished with the beginner course. Needless to say, you can skip the fundamentals completely and focus on what's exciting for you. 
Among the genres you can find are bluegrass, blues, classical, funk, soul, jazz, metal, rockabilly, and many more. Since Guitar Tricks has been around for quite a while, there are numerous lessons for each of the categories. This means that you will easily find something exciting for you, that will match your skill level. 
Fender Play, on the other hand, is still new. There are not nearly as many lessons and genres covered in the app, and you might need to dig a bit to find something you like. It is more than obvious that the app is focusing on beginner players only, and there are not many courses once you are more experienced.
There are guitar skill courses, but the app doesn't show you the level of proficiency needed for them, but it is still possible to find something for intermediate players. Finally, for very advanced lessons, Guitar Tricks still offers something you can enjoy, while there is barely anything on Fender Play. 
Longer experience on the market probably played an important role here, and the point in this round goes to Guitar Tricks. There are so many lessons available that will cover almost any skill level, which is something that Fender Play is still lacking. 
What Types Of Courses These Platforms Have?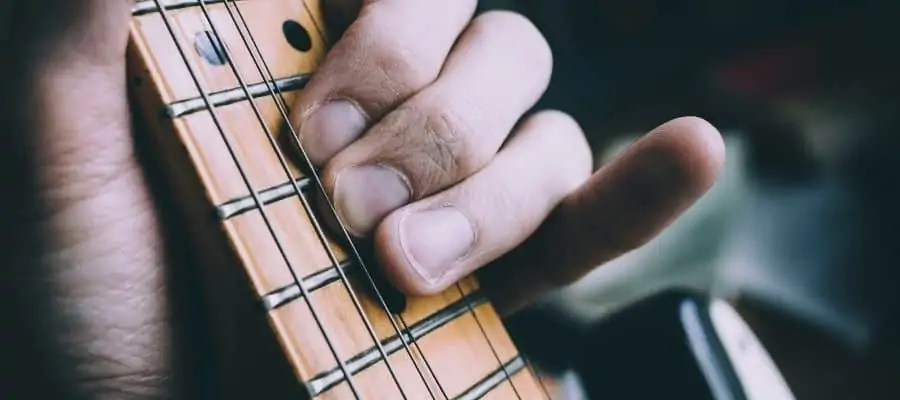 Now, let's take a look at different courses you can find on these platforms. When I say different courses, I don't mean something related to other genres or skill levels. The topic here is whether the platform offers anything other than guitar lessons.
On Guitar Tricks, you can find lessons for acoustic and electric guitar, and that's it. People have been asking for more for years, but with no luck. For some reason, Guitar Tricks keeps focusing on guitar only, which is a shame since it is such a great website. 
Fender Play, on the other hand, covers so much more. Besides acoustic and electric guitars, you can find lessons for bass and even ukulele. This is an important difference since more and more people are interested in learning ukulele, and if you are looking to perfect your bass playing skills, the choice is more than obvious.
I should mention that Guitar Tricks still has something more to offer, which is one on one classes. If you are interested in private lessons, that are similar to guitar lessons in person, you can find something like this on Guitar Tricks. The website will give you an opportunity to select an instructor, and enjoy having personalized guitar lessons. 
Fender Play currently doesn't offer one on one lessons, but they have incredible courses for bass and ukulele.
How Many Lessons And Songs On These Platfroms?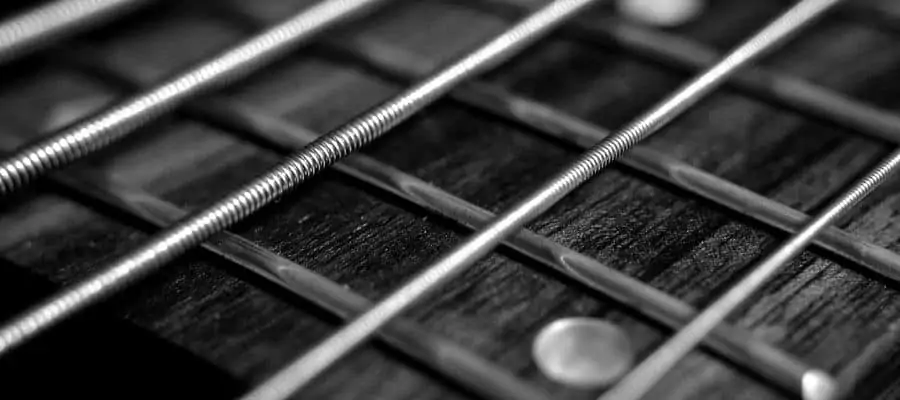 Besides different courses, you will probably want to know more about the number of lessons each site has to offer. As I already mentioned, Guitar Tricks is a couple of decades old, which means that they have more lessons available. 
Currently, Guitar Tricks offers more than 11,000 lessons you can follow. Moreover, you can check out over a thousand songs in the library, which is quite impressive. You can also see the skill level for each of the songs, so you can easily find the one suitable for you. 
When it comes to Fender Play, there is an unknown number of lessons. Since you will be picking a specific path, instrument, and genre, it is a bit difficult to determine the exact number of lessons. Furthermore, if you are a guitar player, you probably don't care about all the lessons for the ukulele.
The song library is slightly smaller, and it currently offers over 700 songs. However, I should mention that the library in Fender Play keeps growing rapidly, and they constantly keep adding new songs to the list. It won't be long before Fender Play manages to catch up to Guitar Tricks when it comes to song libraries. 
Both websites offer you several courses focused on guitar skills and techniques, which is quite nice if you are looking for something to try out or practice other than songs.
If we are going to take a look at the sheer numbers, Guitar Tricks is the winner of this round. They have more lessons, and more songs you can try out, at the moment.
Lesson Quality And Format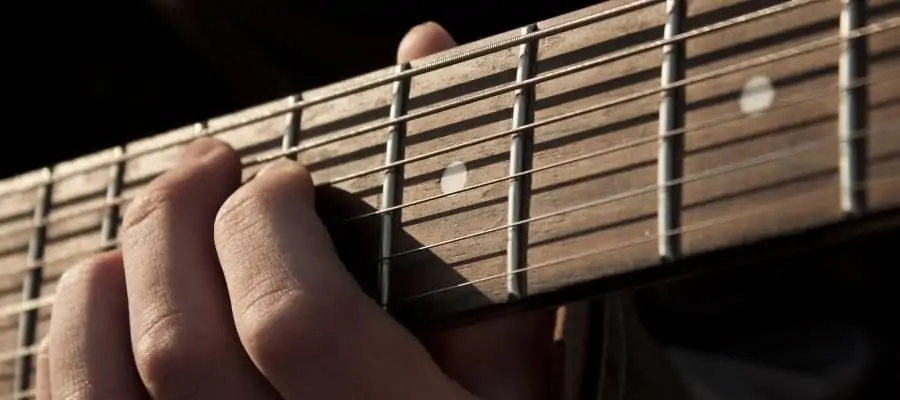 Looking at the technical side, and how lessons are presented might not be something you agree with. For some, one method might be great, while for others it's the other way around. Both websites have video lessons, and each offers something different.
Guitar Tricks has an incredible video player where you can see a couple of cameras recording every important part of the instructor. For example, one camera will record fingers on the fretboard, while the other will record the strumming hand. 
You will also get a chance to change the speed, and even loop a specific part of the video. This way, you can easily return to the part that was problematic for your learning. Each video is in HD, but you can change the video quality as you like.
Where Fender Play shines is simplicity. The player doesn't offer as many options, but you will get the best possible quality of all guitar lessons. Each video is recorded in 4K resolution, which means that you can play it anywhere you like, including your TV. Needless to say, there are also multiple cameras you can see that record all parts of guitar lessons.
Another great advantage is the Fender Play app, which allows you to easily watch all the lessons on your smartphone since the app is available on both iOS and Android.
Both video players are great, and they all offer something different. On one hand, you might enjoy 4K resolution, but that might not be important for everyone and they would prefer playback options that Guitar Tricks offer. Which is why the only fair thing is to give one point to each website. 
Refunding Policies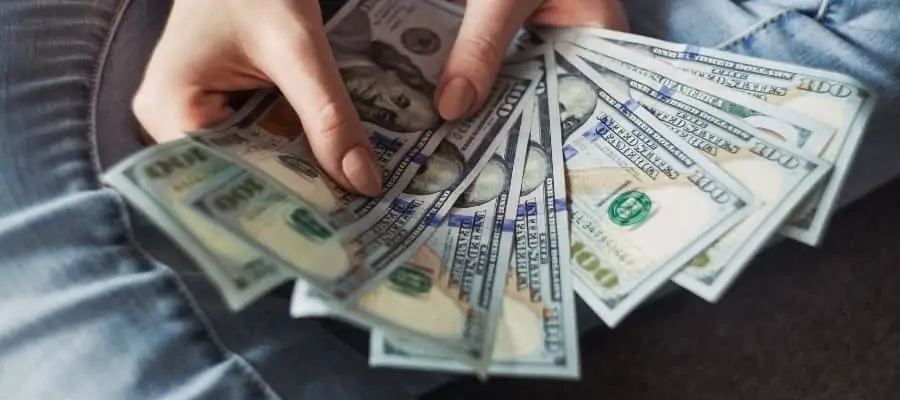 While the chances of you getting a refund are low, it is always a good option to have. You might not be satisfied with some aspects of the platform, and here, we will see what your options are.
Guitar Tricks has a "money-back guarantee" policy, and it covers up to 60 days. This means that you can subscribe for a month, and cancel your subscription any time you like (not that you'll have a reason to do it). The platform guarantees that you will get your money back, and you have nothing to worry about. 
When it comes to Fender Play, there is currently no option for refunds. Which is unfortunate. People like having an option to refund, and even if they don't plan on using it. It is always nice to have a backup plan.
I should mention that whatever platform you choose, you will probably be satisfied since both options are great. But when it comes to privacy policies, Guitar Tricks is the obvious winner here due to the fact that Fender Play doesn't support refunds. 
Additional Tools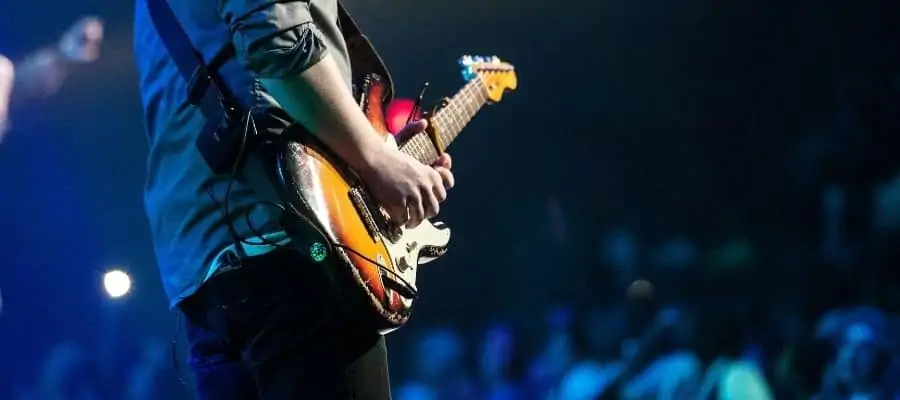 Having guitar lessons is great, and that's the primary reason why you are joining the site. But having additional tools is always a plus. So, let's take a look at what these websites have to offer.
Firstly, I will cover Guitar Tricks, and here is the list of tools you can use. 
Metronome – A metronome is a great tool for practicing your tempo and ensuring you play on the beat, it is one of the essential tools for guitar players out there.
Jam Station – Jam Station gives you a chance to "jam" along the pre-recorded tracks, which is something that more experienced players will enjoy.
Scale Finder – Scale Finder is a tool that gives you a quick guide through the scales and you can easily find the one you need.
Chord Finder – Here, you can use a library of all chords if you are learning the song.
Reference Tuner – Not everyone has a guitar tuner, and here you can find reference notes that will allow you to tune your instrument with ease.
Fretboard Trainer – A trainer to learn more about the guitar's fretboard.
Chord Charts – A complete list of chords and places where you can find them across the fretboard.
Guitar Tab Guide – A tutorial for using guitar tabs.
Glossary – List of terms you might hear or see while using the website.
Fretboard Diagram – Assists you in understanding the notes on each fret on the guitar.
Fender Play has an incredible tuner you can download and use, and it is available on both iOS and Android. There is also a metronome and backing beats, chords, scales, and everything else you might need in this app.
Both websites have a great set of tools, which is another tie score.
Trial Period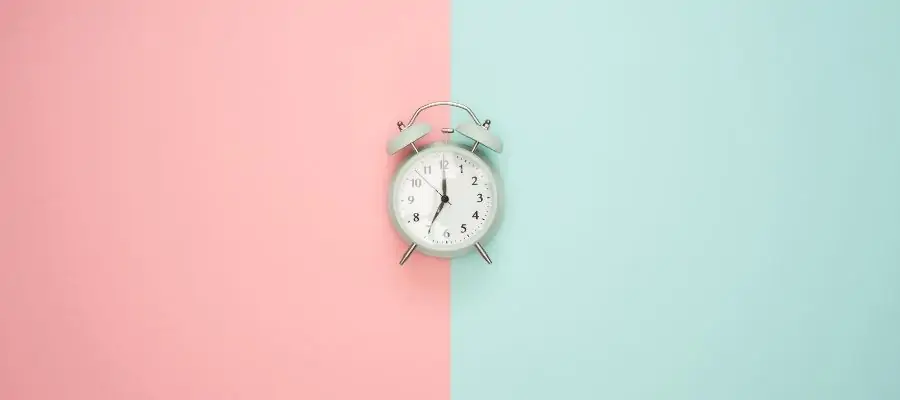 The primary reason why you won't need a refund is due to the fact that both Guitar Tricks and Fender Play offer a trial period. During this time, you can check out the platform (or both of them) and see whether you like it or not. 
You will get a better understanding of how things work, and what each has to offer. Guitar Tricks offer a trial period, and you can use it for up to two weeks or 14 days. During this time, you can test the functions, see lessons, and everything else there is to see. This is more than enough time to decide whether you want to continue learning here or seek lessons elsewhere. 
Similarly, Fender Play has a trial period as well. However, instead of fourteen days, you will get a 30 days for free. During this trial period, you can decide to cancel the subscription or, more precisely, the trial period. 
This is obviously a superior method since you will get more time to see what the app is all about. And having a full month for free is perfect for anyone wondering whether they'll have enough time to check out the platform.
So, having two weeks more is what makes Fender Play a winner in this category. Of course, this isn't the determining factor, and even a single week is more than enough to see what the website is like. But it's always nice to get more.
Summary
Based on the points for each category, it seems that Fender Play is the winner. But to be honest, both websites are great. You won't make a mistake joining either, and the only important thing is to keep practicing. 
But if you are a beginner, there is a high chance that you are not willing to invest as much in something that you don't know how well will progress. Beginning anything is difficult, and learning how to play the guitar is no different.
The reason why Fender seems like a better choice is that the app offers incredible content for beginners while being only half the price of Guitar Skills. Yes, Guitar Skills has more lessons and songs, and the website has been around for longer.
Fender Play and Guitar Tricks are on the top of the food chain when it comes to guitar learning platforms, and it mostly comes down to what your preferences are and which instrument you are looking to play. 
If you are an experienced player, that needs to learn more about advanced techniques, then Guitar Skills might be a better choice. Fender Play doesn't have such rich content for those with more experience, and their primary focus is beginners.
There are no wrong choices here since we are comparing two great websites, and each has to offer something different. But if I'd had to pick one, then the winner would be Fender Play. The very fact that it is significantly cheaper than the competition, and that you can learn a variety of instruments is what makes it so special.
Needless to say, for those looking to learn to play bass or ukulele, Fender Play is an obvious choice.
Of course, the only important thing is that you are willing to learn and invest hours and hours in practice. It is the only way to learn how to play, and hopefully, you will have a fun time in the process.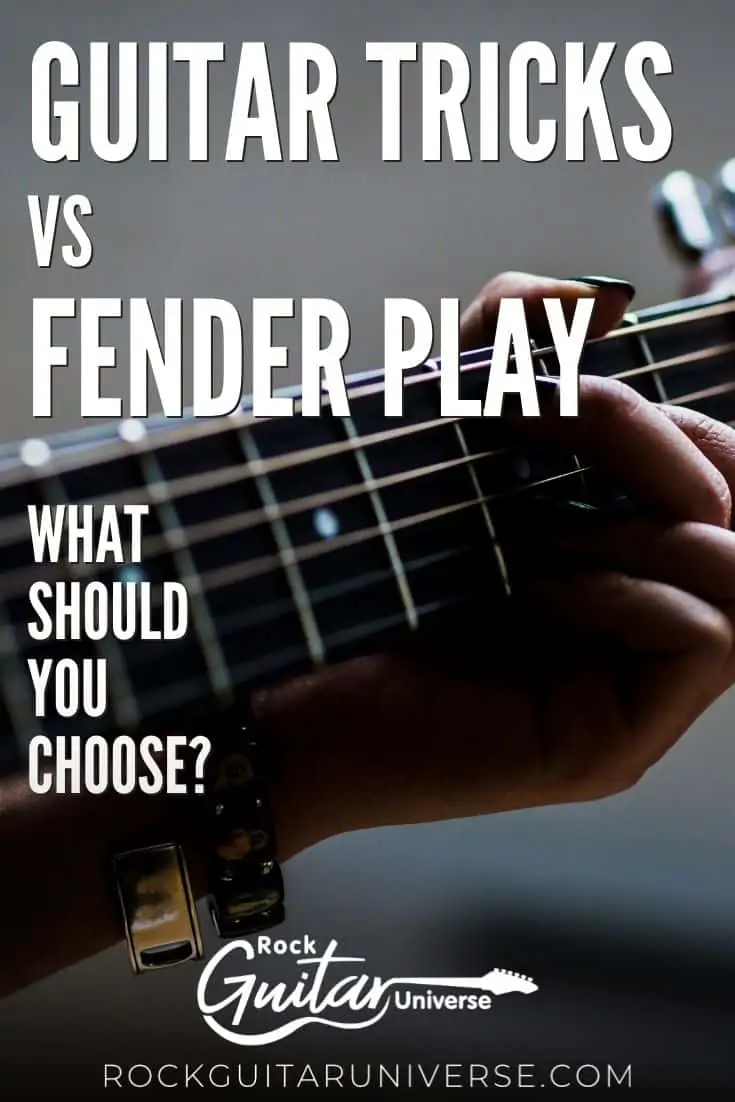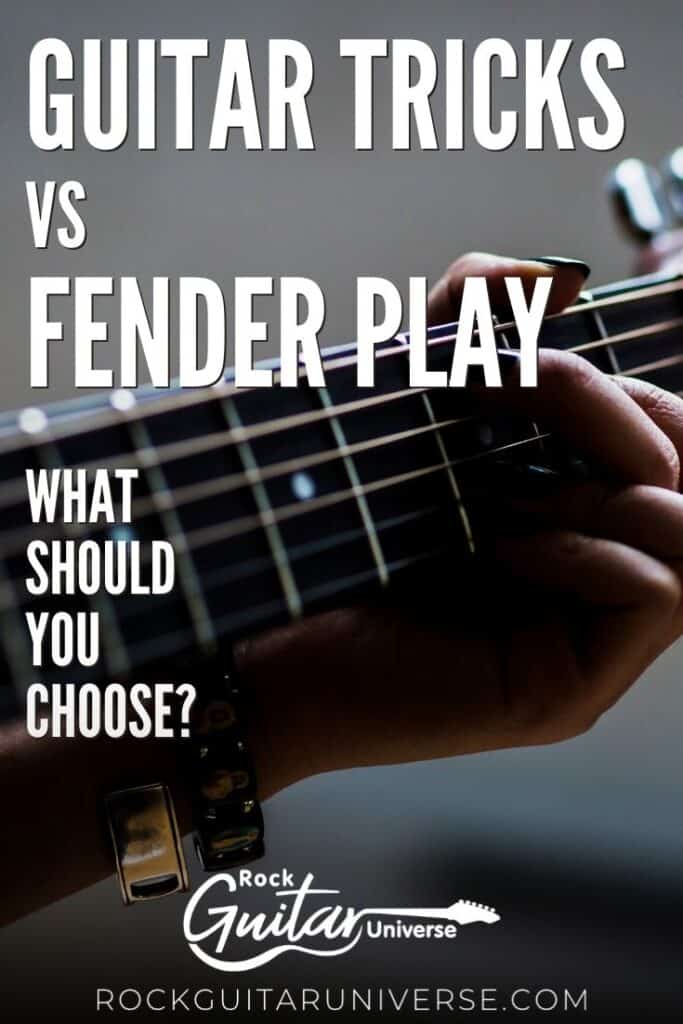 Recent Posts