Gibson holds the top place of the most famous guitar company ever. There is no question about it. While they are mostly famous for making amazing electric guitar models such as Les Paul or SG, they have proven themself to be quite good with acoustic models as well.
One of the more renowned Gibson acoustic guitar models are the Gibson J-45 and J50. These guitar share many similarities in terms of the build and build quality. Both models share the same type of body shape, the Round Should Dreadnought made out of Mahogany with a Sitka Spruce top. The point where these guitars are different from each other is with the neck shape and the finish.
Although both of the necks are made out of Mahogany with Rosewood fretboard material, the J-45 has a Slim Taper neck shape and the J-50 has a Rounded neck shape. This directly results in a different feel as well as tone when compared. 
The J-45 and J-50 are both famous for their gorgeous low-end and superb projection with few differences depending on the model and the tone that is easily recognizable. Many would have difficulty recognizing these models from one another, but these two do have differences in build as well as tone and feel.
| | | |
| --- | --- | --- |
| | Gibson J-45 | Gibson J-50 |
| Body Shape | Round Shoulder Dreadnought | Round Shoulder Dreadnought |
| Body Wood | Mahogany, Sitka Spruce | Mahogany, Sitka Spruce |
| Neck Shape | Slim Taper | Rounded |
| Neck Wood | Mahogany | Mahogany |
| Neck Construction | Dovetail | Dovetail |
| Fretboard Material | Rosewood | Rosewood |
| Scale Length | 24.75″ | 24.75″ |
| Number Of Frets | 20, Standard | 20, Standard |
| Frets Material | Nickel silver | Nickel silver |
| Type of Bridge | Fixed | Fixed |
| Tuning Machines | Grover Rotomatics with Kidney Buttons | Grover Strap with Cream buttons |
| Weight | 4.3lbs | 4.2lbs |
Construction & Hardware Compared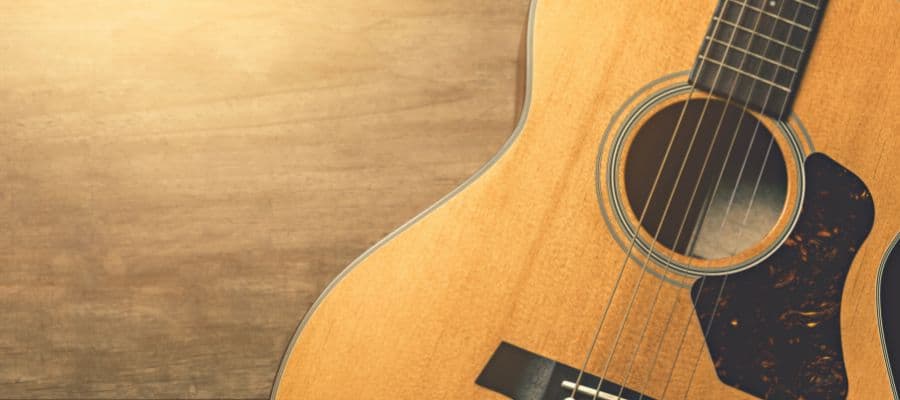 These two guitar models share the same type of Round Shoulder Dreadnought body shape which is the best option for great sound and projection. As well as the shape, the body material is also the same with both of the models having a mahogany top and Sitka spruce sides. Overall, a great choice for a good acoustic guitar sound.
The neck of these guitars is where these two guitar models are different from one another. The Gibson J-45 model comes with a Slim Taper neck shape while the Gibson J-50 has a Rounded neck shape. This will result in a different feel between the two models.
The rest of the neck is the same. Both models have a dovetail neck construction with rosewood fretboard and 24.75" scale length. The number of frets is 20 and the frets are Standard. Considering the models have a dovetail neck constructions, it is a known fact that this type of joint works great for sustain.
The bridge on these guitars is a standard acoustic fixed bridge as you can see on many different guitar models. The difference is with the saddle. The J-50 models have adjustable saddles which some players might find more appealing.
The tuning machines are both Gibson-made and the J-45 model comes with Grover Rotomatics with Kidney Buttons while the J-50 comes with Grover Strap with Cream buttons. The J-50 model with a weight of 4.2 lbs is a tad lighter than the J-45 with a weight of 4.2 lbs.
Tone Compared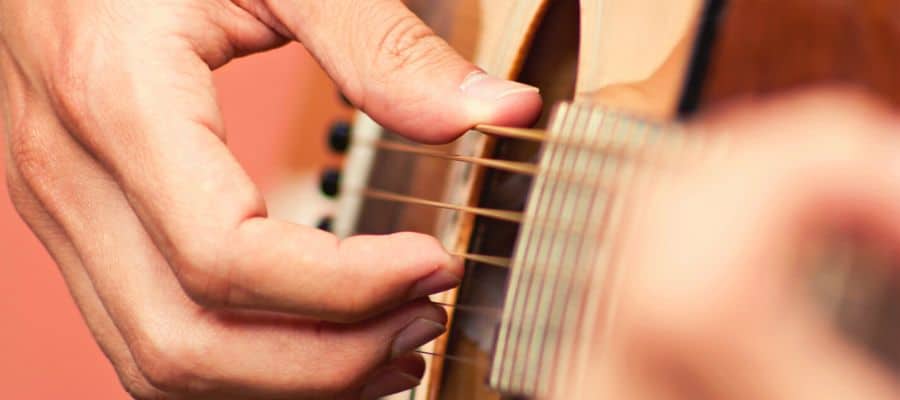 Although these guitars are similar in construction and hardware, there is a slight difference when it comes to the tone. Both of the guitars have an amazing acoustic sound that will suit the ear of most players, even the pickiest ones.
The J-50 models have a great sound that has great projection. If you compare it directly to the J-45 the tone will far more wider and relaxed. The tone you will mostly find with country or American folk songs. Overall wonderful sound most people will fall in love with almost immediately.
On the other hand, we have a J-45 model. This guitar model like J-50 has an amazing and distinctive sound. Compared to its cousin the J-50 has a boxier feel with great punch. The guitar will be more "in your face". I believe this guitar will suit players who prefer soloing over rhythm.
Feel & Playability Compared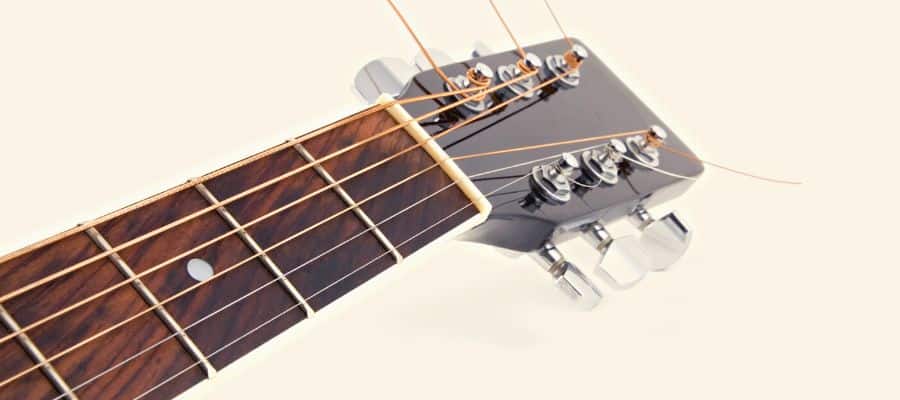 Most of the Gibson high-end guitars will have different feels from each other. Even the individual guitar from the same series feels different. This is why it is great to have a guitar store that has more than one guitar of the same type and model.
Considering these two guitars have different types of neck shapes, this will directly affect the feel of both guitars. The models are without a question a Gibson classic and if you can afford them, you should buy both.
Both guitars feel and play great in their hands. It is difficult to compare them in terms of feel and playability since they both have amazing necks. The J-50 models have an edge over the J-45 with a lower action.
Again, it is important to note that this is completely dependent on each individual guitar and you can get a J-45 with lower action than J-50 and vice-versa. Most people will hardly notice this difference, but after a while, you will notice but it will most likely not bother you.
Looks Compared
Gibson had managed to create beautiful guitars, both acoustic and electric. Most people will easily recognize a Gibson acoustic guitar. All of their models share some similar features. The J-45 and J-50 models have different looks when you compare the models.
The standard model of J-45 will come with a Gloss Nitrocellulose Lacquer finish and Vintage Sunburst color. To complement this, Gibson added their standard pickguard colored in black. Combining this round shoulder body with the iconic Gibson neck and headstock you will end up with a beautiful guitar that will catch the attention of the crowd.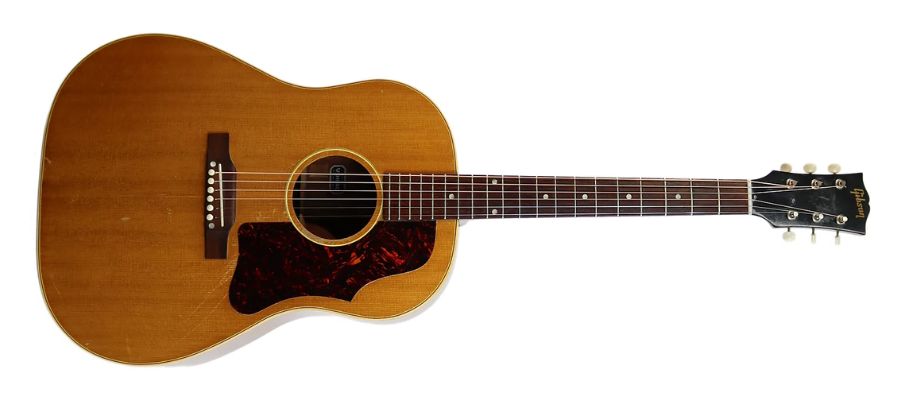 The J-50 model will usually come with the Antique Natural color with the same Gloss Nitrocellulose Lacquer finish. Gibson made a unique pickguard shape for this guitar that makes it even more unique and attention catching. It really comes great with the Antique Natural color of this guitar. Like the J-45 models, it also has a great Gibson neck and headstock everyone loves. 
Both guitars represent excellent manufacturing and caring for the details. Choosing between these two guitars judging on the looks will give most players a headache. Of course, there are always people who are quick to decide and can choose without any hesitation. Based on the looks, it is worth owning both of the guitars.
Conclusion
Gibson is among the top two most famous guitar companies ever. They are more known for their electric guitars but the acoustic guitar made by this company is among the top quality guitar in the world. The J-50 and J-45 are great examples of excellent manufacturing.
Comparing these two guitars and choosing between the two is a difficult task to do simply because they resemble each other in many instances. The best option would be to own both models, but in case the budget is limited, going to the guitar store that has both models and trying out both will give you the most honest answer you can get.
If you found this article useful, you may want to save this pin below to your Guitar board.