As one of the biggest and most iconic guitar manufacturers, Gibson still makes amazing guitars, also remastering its old iconic models for a better experience. These two models are the most purchased and played Gibson acoustics of all time.
They look very much the same when you look at their body shapes and wood. The J-35 and the J-45 both have round-shoulder dreadnought body designs. Their tops are made from Sitka spruce, and their back and side materials are mahogany.
As a difference, the neck profiles of J-35s are rounded, with 19 frets on the fingerboard. In contrast, J-45s have slim-taper necks and 20 frets. Both models have similar dovetail neck construction, rosewood fretboard, and a scale length of 24.75".
These models differ in visuality as well. They both have distinctive looks with their different headstock and pickguard design. The company never compromises the old Gibson logo headstocks, even in the re-launches of the J-35s. And the J-45s have the classic modern headstock.
Both guitars are the top-notch acoustics you can find and are worth your attention. Both J-35s and J-45s are capable of projecting beautiful sound and tone. And their authentic potential is hidden in small details.
| | | |
| --- | --- | --- |
| | Gibson J-35 | Gibson J-45 |
| Body Shape | Round Shoulder Dreadnought | Round Shoulder Dreadnought |
| Body Wood | Mahogany, Spruce | Mahogany, Spruce |
| Neck Shape | Rounded | Slim Taper |
| Neck Wood | Mahogany | Mahogany |
| Neck Construction | Dovetail | Dovetail |
| Fretboard Material | Rosewood | Rosewood |
| Scale Length | 24.75" | 24.75" |
| Number Of Frets | 19 | 20 |
| Frets Material | Nickel Silver | Nickel Silver |
| Type of Bridge | Rectangular, Closed Slot | Traditional Belly Up |
| Tuning Machines | Grover Open Back | Grover Rotomatics with Kidney Buttons |
| Weight | 4.2 lbs | 4.3 lbs |
Construction & Hardware Compared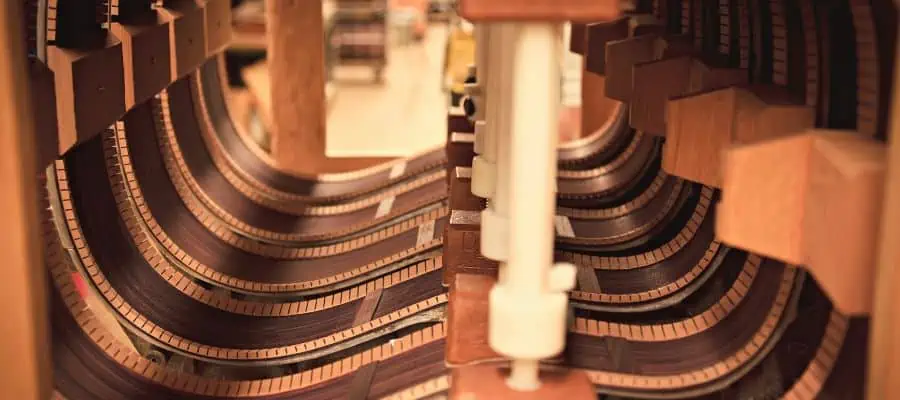 With top-quality manufacturing and using the best hardware, Gibson does always making the best guitars possible. You can be sure that you gonna get a very good guitar if you buy a Gibson.
Both acoustics have the iconic round shoulder type of bodies constructed with the same materials. Mahogany was the choice for the back and sides. And their tops are made from spruce.
The main difference between a J-35 and a J-45 is that they have different bracing patterns. The J-45 has hand-scalloped X-bracing. J-35 also has an X bracing, but its angle is much wider than a traditional one. It is called advanced X bracing.
The bracing pattern is a very important segment in guitar manufacturing. Due to bracing patterns, the sound can get various shapes and characters inside a guitar's body. The guitar makers have developed several bracing patterns through the years.
Other small differences are to be found in their nut and saddle materials. J-35s have bone nuts and saddles. And J45s have a tusq saddle and a black nut. Also, we see Grover Open Back tuning machines on J-35s while the J-45s have Grover Rotomatics with Kidney Buttons on them.
Their bridge types differ also. J-45s have traditional belly-up bridges, and J-35s have closed-shot rectangular types of bridges. Besides, they share the same neck construction and the standard good quality fret materials on their rosewood fretboards.
Through these small details in construction, these two models differ in tone, feel, and playability. Which one would be the most suitable for you? That is the question you have to ask yourself.
Tone Compared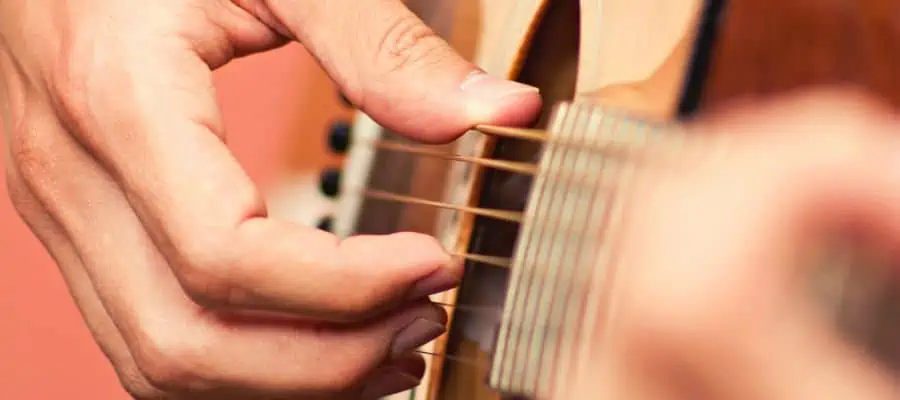 J-35s and J-45s are fantastic guitars and have accompanying musicians for ages with their distinctive sound potential. The major difference that effect these models' distinctive sounds lies in their different bracing patterns.
Due to its advanced X bracing pattern, J-35s sound more responsive, bassy, and punchy. While J-45s can give a better mid-range when compared. Both guitars give a very rich tone due to their mahogany back and sides.
Both models will sound great for many genres of music, such as folk, rock, or even avant-garde. Not only the guitar icons we all know from history; you can see these guitars on many musicians from versatile genres because they sound amazing.
Either one can be used in similar settings and performances. The key is finding which will serve your ears and music taste the best. Playing and comparing these at a guitar shop these models to show their capability to you would be the best strategy.
Feel & Playability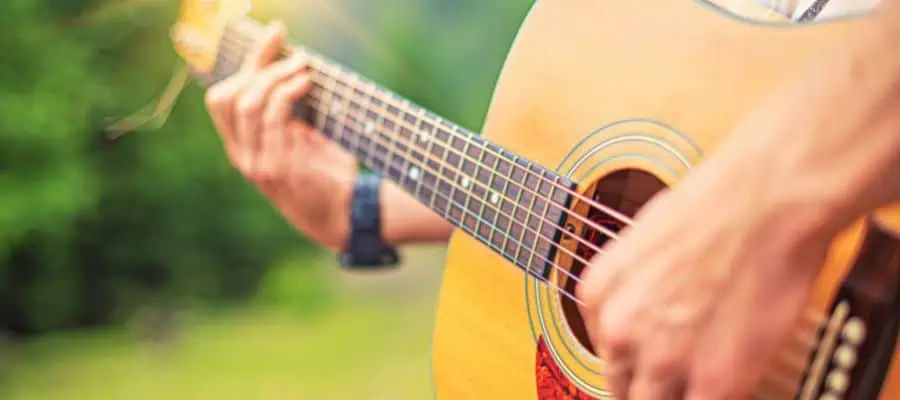 These two models are one of the comfiest acoustic guitars in the world. So, if you purchase a J-35 or a J-45, they won't let you down. However, there are small differences in playability.
The J-35 has a chunkier neck profile, while the J-45s have slimmer necks. Also, the J-35s has 19 frets, while the J-45 has 20 frets with the same scale length. Both have beautifully softened-edge fingerboards. The versatile neck profiles give you different feelings when you play.
Overall they weigh the same with only a 0.1 lb difference and feel almost identical on your laps. Whether you sing and play in front of an audience or record at home, both guitars will enhance your artistic creativity and music. You will be amazed by their genuine tones.
Looks Compared
Both models have the iconic Gibson acoustic appearance that would look cooler than any other guitar in the world. The looks of these two models can look identical from afar, but they have different visual details when compared.
The first difference that catches my eye is their different body finishes. J-35s are finished with satin nitrocellulose lacquer. And J-45s have a gloss body finish. They both are gorgeous, but they have different vibes.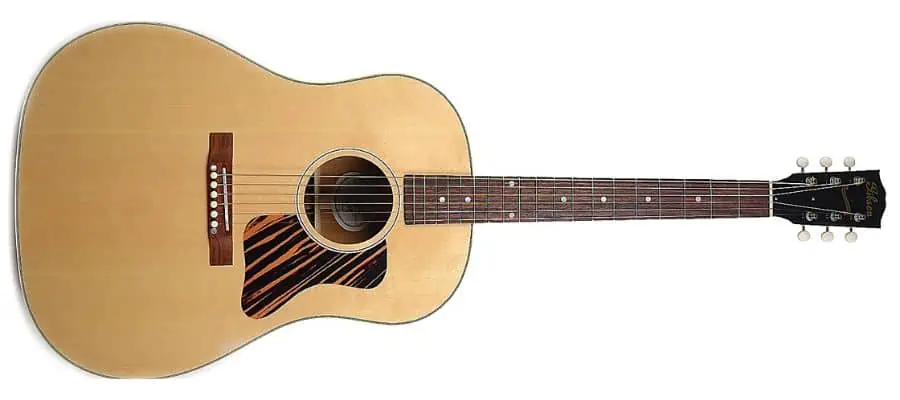 Also, other visual differences between J-35s and J-45s are their pickguards and headstocks. You get an advanced jumbo fire stripe from a J35. And a J-45 comes with a teardrop pickguard. The headstock of a J-35 has the old Gibson logo, while the J-45s headstock has the new Gibson logo we know today.
Generally, you can find natural-finished standard J-35s on the market and vintage sunburst finish for standard J-45s. Of course, variations like the new Faded series and other models of these guitars offer variable colors.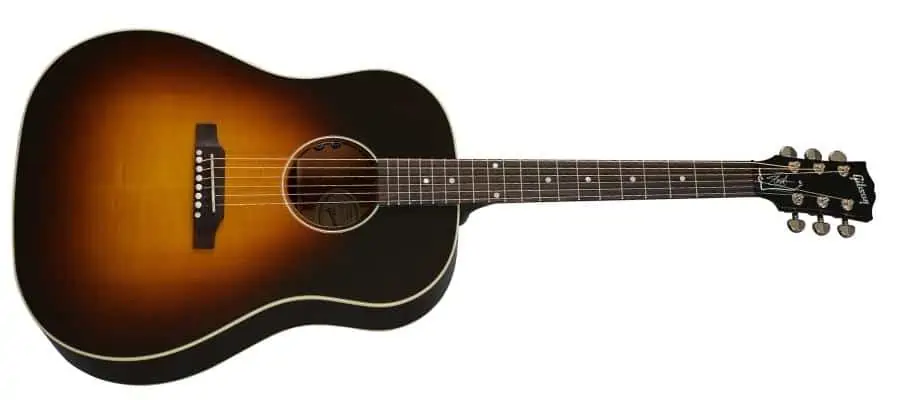 You can always find different options both in local guitar shops or second-hand. These models were designed very long ago and have existed for decades. Some special limited editions from a certain year or a signature model might reflect your visual taste.
Conclusion
Gibson was the choice for many musicians from various genres. They have been inspiring the most famous tunes of folk rock, gospel, country, rock and roll and many other genres like fingerstyle or acoustic metal.
These two models are fantastic acoustic guitars, and they have been on the market for decades because of a reason! If you are up to purchasing a Gibson acoustic, don't hesitate. Neither of these guitars will disappoint you in terms of quality.
Still, you have to find the one which sounds the best for you and according to your authentic setting. The J-35s and the J-45s can be used in similar settings, and the differences between them give their authenticity to different situations.
If you haven't checked Gibson's Faded Series, please do so because their re-launches of iconic models are incredibly good! Gibson began to sell old models with upgrades and cool visuals. They sound vintage and look great.
If you found this article useful, you may want to save this pin below to your Guitar board.