These guitar models are the roots of the acoustic guitar we know today. The D-28 came out in 1931 and is the most popular dreadnought body Martin acoustic guitar. The J200 was first launched in 1937 and was the first Jumbo body guitar widely played.
Both models have changed the guitar world and irreversibly influenced luthiers, musicians, and the audience. They became the icons and biggest companions of guitar music forever.
There are many differences between a J-200 and a Martin D-28. The J-200 is a jumbo-body guitar, and the D-28 has a dreadnought type of body. Both models have Sitka spruce tops. However, D-28s come with rosewood back and sides, while the maple is generally the choice for J-200s.
They both have dovetail neck constructions. But J-200s have rounded maple necks, and D-28s have modified low oval mahogany necks. Rosewood is used for J-200s' fretboards, and ebony is used for D-28s' fretboards.
The Gibson J-200 has a 25.5" length of scale and a Martin D-28's scale length is 25.4". Both models have 20 standard nickel silver frets.
Both guitars have big legacies and history. They are on the list of top acoustic guitar models worldwide and are made with high-level craftsmanship.
| | | |
| --- | --- | --- |
| | Gibson J-200 | Martin D-28 |
| Body Shape | Jumbo | Dreadnought |
| Body Wood | Spruce, Maple | Spruce, Rosewood |
| Neck Shape | Rounded | Modified Low Oval |
| Neck Wood | Maple | Mahogany |
| Neck Construction | Dovetail | Dovetail |
| Fretboard Material | Rosewood | Ebony |
| Scale Length | 25.5" | 25.4" |
| Number Of Frets | 20 | 20 |
| Frets Material | Nickel Silver | Nickel Silver |
| Type of Bridge | Four Bar Moustache | Modern Belly – Drop in Saddle |
| Tuning Machines | Gotoh Keystone | Nickel Open GearTuners with Butterbean Knobs |
| Weight | 5 lbs 4.7oz | 4 lbs 6 oz |
Construction & Hardware Compared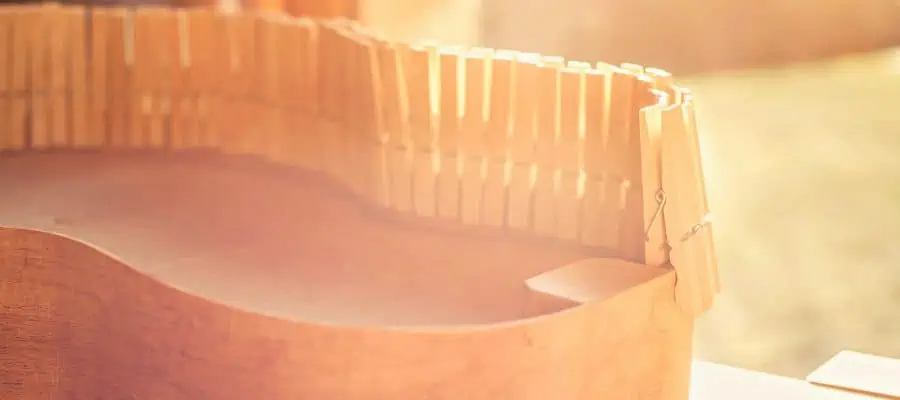 Martin and Gibson's guitars are getting out of the master's hands. These companies have the most skilled craftsman and top-quality workshops. You can be sure you will get a very good guitar with qualified components.
The J-200s come in different variations, and there are many models with different wood choices like rosewood you can find, especially in second hand. But in general, maple is the most chosen wood as the back and side material for J-200s.
Martin D-28s stick to rosewood when it comes to back and sides material. Spruce tops are on both models, like most popular acoustic guitar models. Mahogany is used for the necks of D-28s, while most of the J-200s on the market have maple necks.
Another difference between these models is the bracing patterns. D-28s have forward-shifted X-brace patterns. J-200s, on the other hand, have traditional hand-scalloped X-bracing.
The Gotoh Keystone is the choice as the tuning machine for J-200s, like most of the Gibson models. And Martin D-28s have Nickel Open Gear Tuners with Butterbean Knobs. They both are amazing tuning machines.
Both guitars have the best quality hardware and are constructed in genius hands. In terms of lifespan, these guitars will be lifelong companions with great durability and tone.
Tone Compared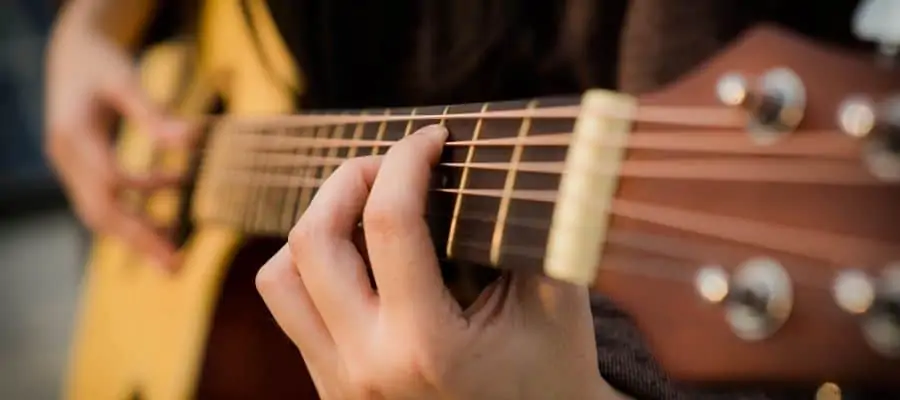 These guitars have shaped a long history of musical expression and many genres we know today. Both are the most-played acoustic guitars in the world due to their authentic sound-projecting capabilities and sounds.
The J-200s are known to create a very loud sound and have a great resonance that works like an acoustic subwoofer. They have a unique punchy, bassy tone due to their jumbo body. J-200s are perfect for singer-songwriters because they can fill the void very well and support a one-man solo performance and recording.
The D-28s offer a rich, clear, and crisp tone with defined bass. Maybe not as powerful as J-200s in terms of bass, but it has its own character that no other guitar has. From traditional Americana players to modern fingerstyle players, D-28s is widely preferred for its authentic sound.
These guitars are constructed with completely different woods, so they sound different as well in the result. They both are giants in their own league and changed history with their sound potential.
Neither of these models is better than the other generally. Finding the best tone, character, and capability for your individual music world and setting is important. Try both models and their variations if possible, and find the one like it's tailored for you.
Feel & Playability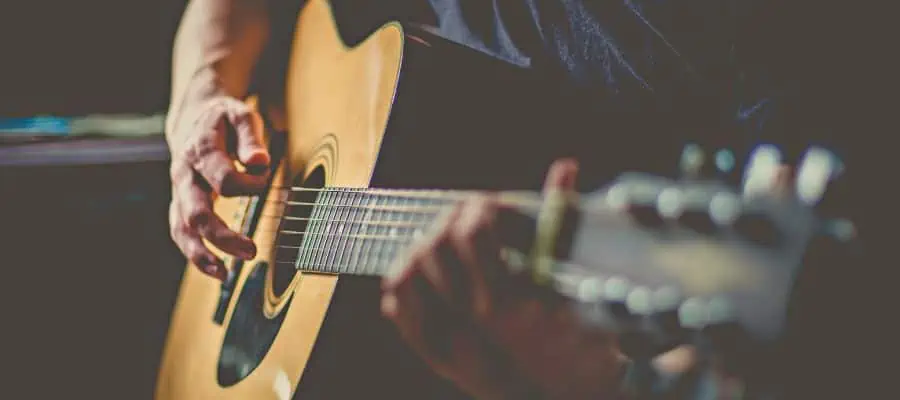 These two guitars are made to be played comfortably. They are the biggest milestones of acoustic guitar history and have been played by professionals for almost a hundred years.
Dreadnoughts are mainly more widespread, and many musicians are used to playing them. If you are not used to jumbo-style bodies, it might be hard to adapt to a J-200. They also have bigger bodies than D-28s and weigh more. But both models are very comfortable on your lap or playing standing.
J200s have a rounded neck profile, and D-28s has a modified low oval type of neck. Either type is preferred by many and is the common neck profile you can see in most acoustic guitars. It would be good for you to try them and decide for yourself.
Looks Compared
Both Martin and Gibson guitars have their unique and iconic visuals. These two models also carry two sides of the classic American guitar look. J-200s have the classic jumbo look, and D-28s have the dreadnought style at first sight.
These models have many different looks, from their body types to pickguard, bridge, and headstock designs. J-200s come in vintage sunburst or antique natural colors in the original series. Standard D-28s come in a natural finish.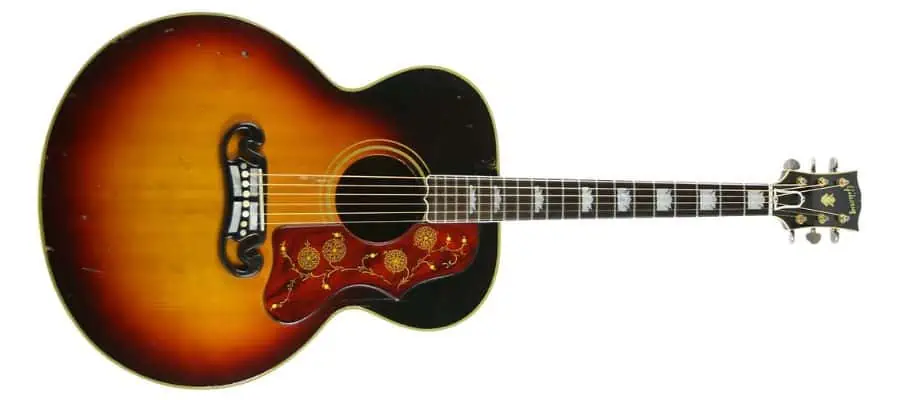 The J200s have a four-bar mustache type of bridge, while the D-28s have a modern belly design, the drop-in saddle type. The J200 has its engraved tortoise pickguard, which is unique for J200s. And D-28s have its classic faux tortoise pickguard.
The mother-of-pearl graduated crowns are what we see on J200s as the fingerboard inlays. And the D28 has a Style 28 mother-of-pearl dot design on its fingerboard.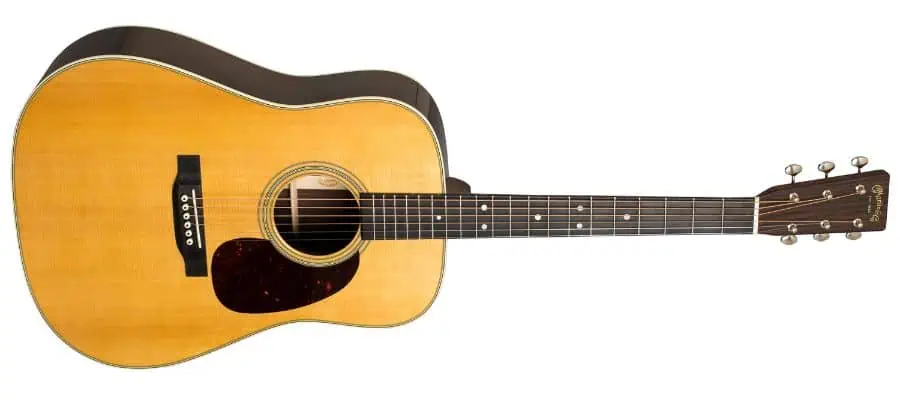 Another main difference in their looks is their headstock design. J200s come with the iconic Gibson headstock we all know, and D-28s come with its original solid with square taper and diamond headstock style.
Both guitars have an elegant and classic appearance. If you are into more jumbo-style looks, the J200s are the one for you. And with the D28s, you can represent the incomparable American dreadnought loudly.
Conclusion
Gibson and Martin are the top guitar manufacturers in the world. Their innovations influenced the luthiers, musicians, culture, and history. If you choose one over the other, you will get a fantastic quality guitar.
J-200s have a more complex construction process due to their visual components and body type. Depending on variations of each model, J200s are more expensive than D-28s. Besides how they will affect your budget, both guitars are amazing in their leagues.
J-200s have been known to be SJ-200 for a while and were currently launched as super jumbos by Gibson. With its striking aesthetic looks and enormous sound, it changed a lot in music history.
D-28s, on the other hand, are one of the best-upgraded dreadnought models of Martin that challenge the years. Each guitar has its character, try to find the most convenient for your situation.
If you found this article useful, you may want to save this pin below to your Guitar board.