Gibson and Martin guitars are among the top-quality acoustic guitars on the market. And these two models are both considered as one the most famous acoustic models of these two guitar companies. Let's look at the differences and similarities between a Hummingbird and a D18.
So, both guitar models have dreadnought body shapes and spruce tops. The two are constructed with the best possible hardwood mahogany as the choice of neck wood and have a dovetail type of neck construction.
The wood choices for the fretboard material are different. The D18 has an ebony fretboard, while the Hummingbird has rosewood. The neck shape of the Hummingbird is rounded, while the D18 has a modified low oval shape.
One is constructed in the way of Gibson traditions, and the other is with Martin.
The two guitars have inspired many musicians over the years, and there wouldn't be our favorite eras of music without them. If you have to pick only one of these two, try to find which resonates with you the most. Good luck!
| | | |
| --- | --- | --- |
| | Gibson Hummingbird | Martin D18 |
| Body Shape | Dreadnought | Dreadnought |
| Body Wood | Spruce | Spruce |
| Neck Shape | Rounded | Modified Low Oval |
| Neck Wood | Mahogany | Mahogany |
| Neck Construction | Dovetail | Dovetail |
| Fretboard Material | Rosewood | Ebony |
| Scale Length | 24.75" | 25.4" |
| Number Of Frets | 20 | 20 |
| Frets Material | Nickel Silver | Nickel Silver |
| Type of Bridge | Traditional Belly up | Modern Belly – Drop in Saddle |
| Tuning Machines | Gotoh Keystone | Nickel Tuners with Butterbean Knobs |
| Weight | 4.8lbs | 4lbs |
Construction & Hardware Compared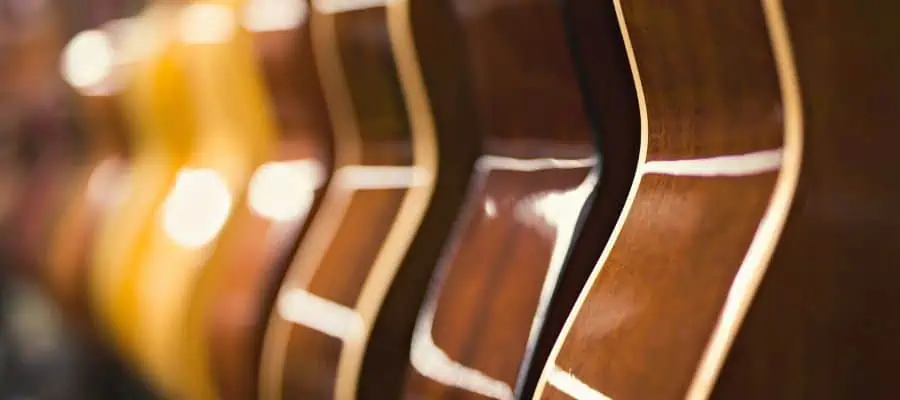 The two manufacturers have a long tradition and strong principles for constructing a guitar. You can be sure that if you need to choose only one, neither of these models will let you down! Either the Gibson or the Martin; these two brands provide a guaranteed long life and a lifelong companion.
Here are the similarities between the Gibson Hummingbird and the Martin D18: Both companies chose spruce for the body material and used mahogany for the neck. And they designed them in dreadnought style. The necks and bodies are assembled with the dovetail method on both models. Both the D18 and the Hummingbird have nickel-silver frets.
There are also differences in the construction of a Hummingbird and a D18. Gibson used rosewood as the fretboard material, and Martin prefers to use Ebony. Gibson Hummingbird has the Gotoh Keystone tuning machines, while the Martin D18 has Nickel Tuners with Butterbean Knobs instead.
Another key difference between the two models is the scale length. The length of the scale affects the playability and the sound of a guitar. The Hummingbird has a 24.75" scale length, considered a short scale in the guitar world. And the D18 Martin is known to be a long-scale guitar.
The differences and characteristics of the two guitar models are in small detail. The specifications each model has make guitar players decide to buy one.
Tone Compared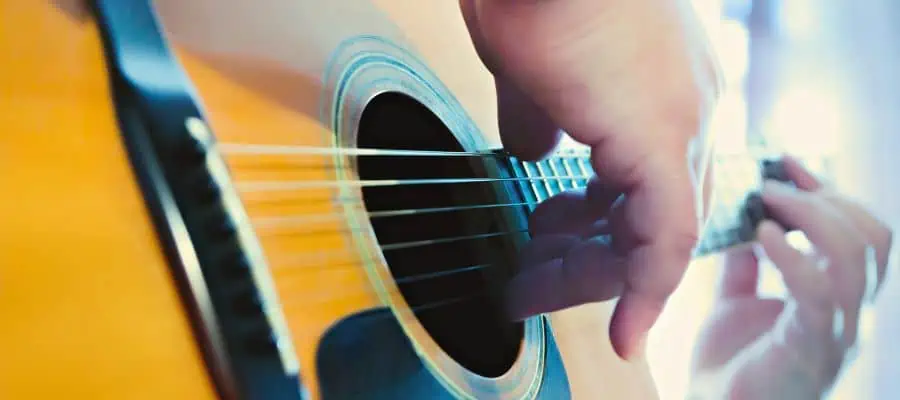 These are two of the most recognizable acoustic guitars in music history. Musicians have played them for over 50 years, and their sounds have shaped generations. Their genres' preferences and settings determine which one they choose over another.
Gibson Hummingbirds generally have a more gentle and mellow sound. It can give more articulation and clean mid-ranges, which makes the Hummingbird preferable among musicians, especially for studio recordings.
The Martin D18 provides a more bassy, punchy, and woody sound than the Hummingbird. It is not as gentle and soft as the Hummingbird. But it has a characteristic sound many guitarists can't resist and let go of the D18. It simply sounds great and can create more volume. If you are mostly playing in a setting that needs more loudness from your guitar, D18 might be suitable for you.
Feel & Playability
Both models will satisfy you in terms of feeling while you play. They have a legacy of years and have proved their capabilities for ages. However, they do have differences.
So, the D18 is a long-scale guitar, and the Hummingbird has a shorter scale length, which makes a difference in tension. It means you might feel more effortless while playing on a Hummingbird because it has lower string tension. That is why the Hummingbird has more comfortable playability and needs less arm and finger strength.
Both guitars have almost the same body size. They will feel the same on your legs and shoulders, ergonomically speaking. And either a rounded neck shape on the Hummingbird or a modified low-oval style like the D18 has, the two styles are very comfortable and touchy to play with. Guitar players have been using and admiring these neck shapes for years, so you might have to try both and decide which neck shape would be better for you.
Looks Compared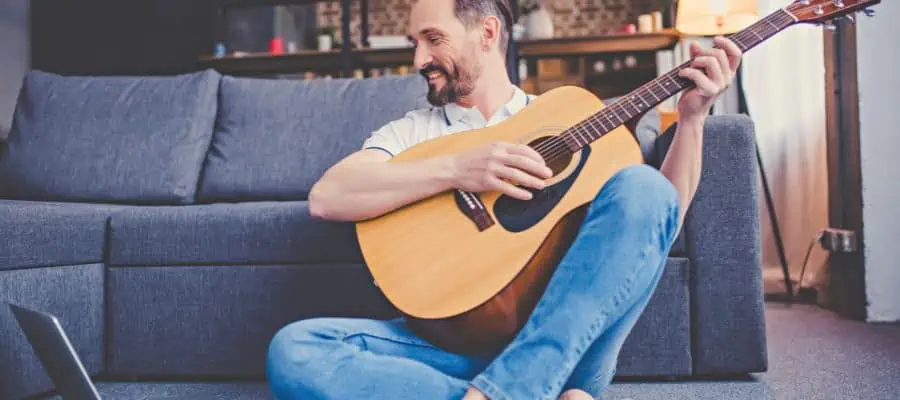 So, as these models both are dreadnoughts, they almost have the same iconic American acoustic guitar look. Small differences might change your final decision regarding visuality if you look closer.
The Martin D18 has the Old Style 18 Inlays on its fingerboard. And the Gibson Hummingbird has its iconic Mother-of-Pearl Parallelograms. The design of their pickguards is also different. D18 has a more classical marble-finished pickguard. The Hummingbird has a distinctive and artistic pickguard design.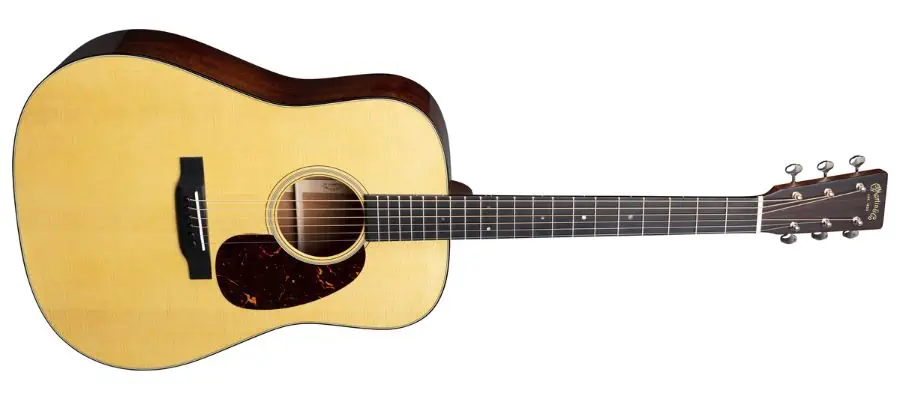 D18s have a gloss finish on the top, back, and side. Meanwhile, the Hummingbird has a gloss nitrocellulose lacquer finish. You can purchase a Heritage Cherry Sunburst or an Antique Natural finish for Hummingbirds. And even though there are sunburst or ambertone Martin D18s to be found, the natural spruce finish is the most available color.
Also, another typical visual specification of these two brands and models is their original headstock. These headstocks allow you to differentiate a Martin from a Gibson from kilometers away!
Conclusion
These two guitar models are the top-quality guitars of both manufacturers. The longtime battle between Gibson and Martin guitars has been going on with comparing these models most of the time. They are the most iconic models of the two guitar brands, and guitar players have been debating on which would be their preference among these models.
Finally, the Hummingbird is ideal if you are a singer-songwriter and need a more soft and gentle sound from your guitar. It also contains a built-in electronic pickup system, which the D-18 Martin has not.
The Martin D-18 has been constructed almost the same since 1931. And it is the classic old-school American guitar that everybody is familiar with, purely analog and without built-in electronics. Compared to the Gibson Hummingbird, it can be much louder and is perfect for more of a bluegrass or folk setting.
A little suggestion: Listen to various music recorded with these acoustic guitar models, and check the musicians and genres they have been used for before you decide. Find the one that suits your needs and passion in the end. Be patient, and don't forget to have fun on your journey of choosing a new guitar.
If you found this article useful, you may want to save this pin below to your Guitar board.