Gibson is one of the most known and mentioned guitar manufacturers of all time. Its legacy in music history is incomparable. You can't think of Jimmy Page, Elvis Presley, BB King, or Angus Young without a Gibson on their hands.
Here are two popular acoustic models of Gibson compared for you. These Gibson classics have many similarities. Both models have a mahogany body with a spruce top and include the same method of neck construction as compound dovetail neck-to-body.
Mahogany was the choice of wood for both necks, and their fretboard materials are both rosewood. While the Hummingbird has a dreadnought shape body, the J-45 has a round shoulder dreadnought shape as the main difference.
Also, the Hummingbird has a rounded shaped neck, and the J-45 comes with a slim-taper neck. But this can differ in different variations and qualities of models. The tuning machines that these guitars have on them are unlike either. The J-45 is built with Grover Rotomatics, while the Hummingbird has Gotoh Keystone tuners.
They are iconic Gibson acoustics and come in similar varieties, such as Standard, Original, and Studio. Even if they look similar in choice of wood or construction methods, these models differ in tone, feel and look.
| | | |
| --- | --- | --- |
| | Gibson Hummingbird | Gibson J-45 |
| Body Shape | Dreadnought | Round Shoulder Dreadnought |
| Body Wood | Mahogany, Spruce | Mahogany, Spruce |
| Neck Shape | Rounded | Slim Taper |
| Neck Wood | Mahogany | Mahogany |
| Neck Construction | Dovetail | Dovetail |
| Fretboard Material | Rosewood | Rosewood |
| Scale Length | 24.75" | 24.75" |
| Number Of Frets | 20 | 20 |
| Frets Material | Nickel Silver | Nickel Silver |
| Type of Bridge | Traditional Belly up | Traditional Belly Up |
| Tuning Machines | Gotoh Keystone | Grover Rotomatics with Kidney Buttons |
| Weight | 4.8lbs | 4.3lbs |
Construction & Hardware Compared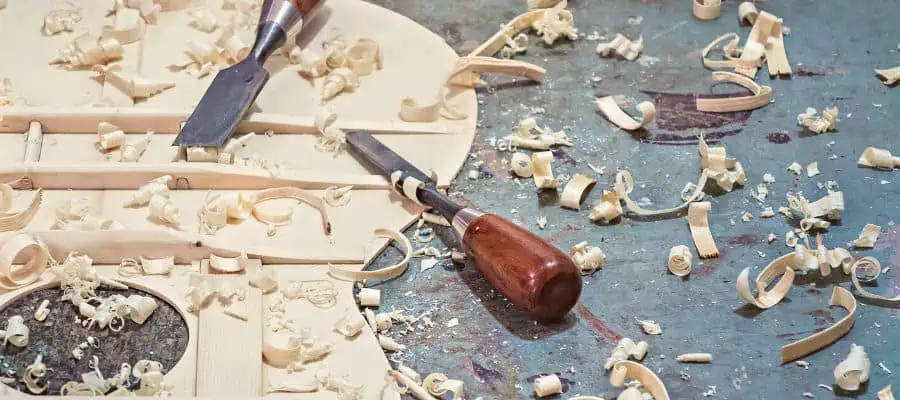 Both guitars have the high-quality craftsmanship in the background that the Gibson family carries through almost 100 years of experience. Both will satisfy you in terms of hardware quality and construction.
The two of these acoustic guitar models share the same handmade traditional bracing but differ in body shapes. The Hummingbird has the classic dreadnought body, while the J-45 has a rounded shoulder dreadnought body type.
The Hummingbird and the J-45 are both constructed with Sitka spruce for the top and mahogany for the back and side material. Their necks are constructed with the dovetail method.
Both models have mahogany necks with rosewood fretboards. They come with a 24.75" scale length and 20 nickel silver frets. The choice of tuning machines on these models differentiates: The company chooses Gotoh Keystone for Hummingbirds and Grover Rotomatics for J-45s. And they both are very good tuners.
The saddle materials and the nut materials are different in the two models. J-45 has the famous Tusq saddles and a black nut on it. And the Hummingbird has bone saddle and nut when compared. LR Baggs VTC is the choice for both models as pick-ups under saddle.
These guitars both come with traditional belly-up style bridges. The J-45 weighs 4.3 lbs, and the Hummingbird has 4.8 lbs weight. So, there are generally 5 lbs difference between a J-45 and a Hummingbird. Of course, there can be small differences because wood is an alive material that can weigh differently in various situations.
Tone Compared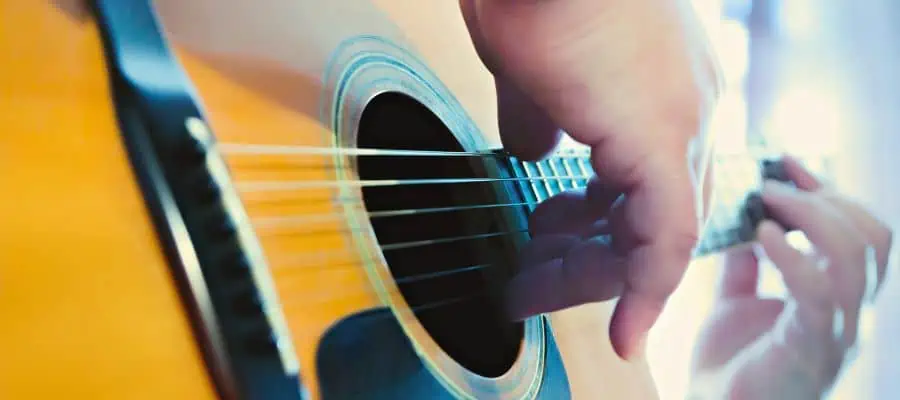 Although both models share the same wood and construction methods on many levels, their different body types and hardware affects their tone very much.
The J-45 generally has a mellow, woody tone that can sit back in the mix. It is great for folk, blues, or rock music. It has less volume than Hummingbird, and you'll notice that when playing with other instruments.
The Hummingbird, on the other hand, offers a bit more brightness, crispness, and clarity. You get extra volume and boominess with this model. It can be a front instrument with no hesitations and has been a number-one choice for singer-songwriters since the 70s.
But you must be careful with a Hummingbird because its sound is very noticeable and can mask other guitars and instruments if you play with a band. Choose the best one for your setting.
Feel & Playability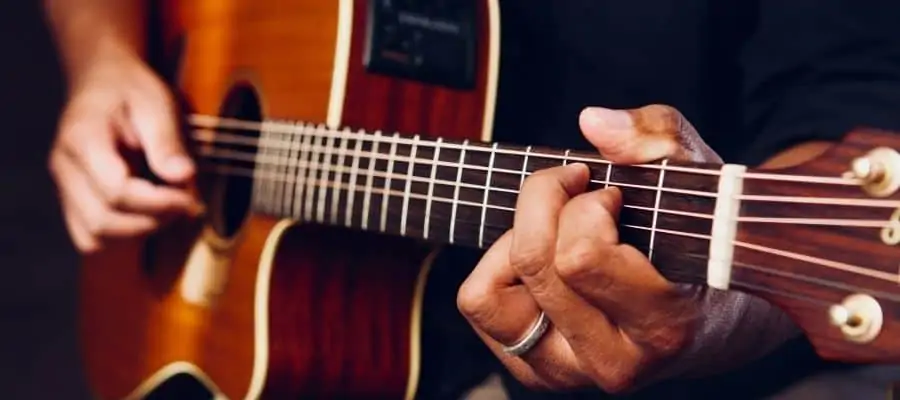 First of all, the two models have been preferred by many guitar players worldwide for ages, and they both are very comfortable to play. You can either hit a stage or perform near a fireplace setting with your friends; these models will not bring you down in any way.
The two models come with different variations as the Standard, Studio, or Original, and the neck profiles differ with small details. And that can affect your playability.
The standard J-45 has a slim-taper style neck, and the standard Hummingbird comes with a round neck type. The same nut width (43.81mm) is on both of them. The studio models share the advanced response types, while the originals have round neck styles.
As you see, there are small differences in neck profiles, and the best thing would be to try all of them at a guitar shop. Some prefer one over the other, and you must find the best and most comfortable for you.
Looks Compared
The same classic Gibson vibe looks are valid on both models. You are looking for something other than an average guitar here. It's Gibson that we are talking about.
Their looks represent a long history of rock and roll and many types of music. When you take a Gibson in your hands, you also carry its legacy and history. Still, they have a couple of differences in terms of visuality.
Their different body types give their distinctive looks and come with different color options relatedly to their variations. Both models share a finish with the same material: Gloss Nitrocellulose Lacquer.
The standard J-45s offer many color options in different variations, such as wine red, ebony, vintage sunburst, walnut burst, or antique natural selections that can be found in general. And the Hummingbirds have options like a vintage sunburst, heritage cherry sunburst, rosewood burst, and faded natural or antique naturals.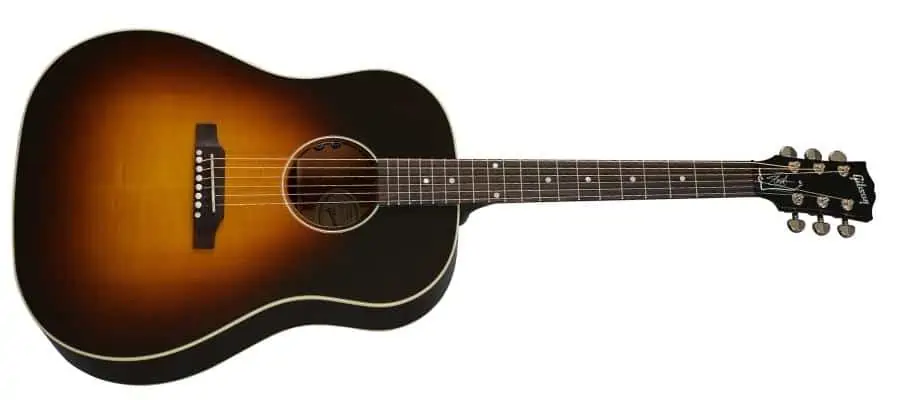 Another significant difference between a J-45 and a Hummingbird is their distinctive pickguard looks and fretboard inlays. The J-45 has its famous teardrop pickguards, and the Hummingbird has its .060" pickguards. And the J-45s have pearl dots on the fretboard, while the Hummingbirds have Parallelograms.
Conclusion
Gibson guitars offer top-quality guitars for ages. Their experience and labor can't be compared with any other brand. Both of these models are one of the company's best and classic acoustic models.
These two models are like ancestors of modern guitar design and sound. They sound amazing, look great, and are the best companions in their leagues. They come with different prices related to their variations and colors.
If you are a singer-songwriter who loves to go solo, the Hummingbird can make you sound bigger and clear, while the J-45 is a great team player if you are in a band that likes to play vintage folk, blues, or rock music. Take this as a general comparison, and decide with your own taste.
Try to find the balance between your budget and the sound and look you want to get from an acoustic guitar. Considering your performance or recording setting and needs, pick the one that is most suitable for you.
If you found this article useful, you may want to save this pin below to your Guitar board.