Knowing how to stay in rhythm is one of the most important things while playing the guitar. Unfortunately, many guitarists skip this part of the learning and focus only on technique and playstyle.
But even if you know all the scales and have a "good" technique, you still won't be able to sound good if you can't keep the tempo.
This is why getting a metronome is something you should consider, and practicing with it can help you improve and sound good while playing with others.
Best 5 Metronomes (Gear)
The first category I'll go through is actual gear. There are many different metronomes you can find, and some of them are incredible. But the main characteristics is that these are physical metronomes you can use, instead of just digital (or virtual) versions.
Moreover, some metronomes come with a tuner or other effects you can use, and my focus won't be on metronome-only gear. This way, you can easily find the one you enjoy, and it might prove to be rather useful to you as a guitarist.
KLIQ – Digital Tuner Metronome
KLIQ MetroPitch - Metronome Tuner for All Instruments - with Guitar,...
3-in-1 Device: The MetroPitch combines a Tuner, a Metronome, and a Tone...
Versatile Tuner: The fast and accurate tuner boasts a wide range of A0-C8,...
Tap Tempo Metronome: With a broad range of 30-250 Beats Per Minute, tap...
Easy to Use: The intuitive JOG Dial let's you literally dial in your...
3-in-one
Tuner, metronome, tone generator
Covers from A0 to C8
Tap tempo
Easy to use
30 to 250 beats per minute
Modern design
3.17 ounces (89.87 grams)
4.3 x 0.6 x 2.4 inches (10.92 x 1.52 x 6.10 centimeters)
If you are in need of a tuner and a metronome, you can't get better than the KLIQ. It is among the most popular devices you can find on the market, and it does an incredible job helping you improve.
Since guitarists often dislike getting metronomes, here, you will get a tuner as well. Needless to say, it is a significant improvement, and even if you don't use it as often you still have a tuner in one device.
KLIQ digital tuner metronome is easy to use, and it can fit in your pocket, so even if you don't plan on adding it to your pedalboard, it can still fit in almost any guitar case or gig bag.
When it comes to the metronome part of KLIQ, it has a loud tone, ten beats per measure, and five time division, so you can experiment with many different rhythms. The tempo covers everything between 30 and 250 bpm, and it offers tap tempo and jog dial for easier use.
KLIQ metronome is a great addition to your equipment, and you will significantly improve your technique if you opt for this model.
BOSS DB-30 Dr. Beat
BOSS Dr. Beat Portable Metronome (DB-30) , Black
Portable, ruggedly built, and packed with fun play-along patterns
24 beat variations with complex beats, and 9 rhythm patterns
Large LCD with smooth tempo meter
12 internal chromatic reference tones
Portable
Sturdy case
24 beat variations
9 rhythmic patterns
LCD display
12 internal chromatic references
Audio and headphone jack
Tap-tempo
2.4 ounces (68.04 grams)
2.87 x 2.32 x 5.08 inches (7.29 x 5.89 x 12.9 centimeters)
It is difficult to create any type of list about guitar equipment without mentioning the Boss. The company has been one of the major players in the field, and they create one of the most popular pedals.
To no one's surprise, Boss has a metronome as well named DB-30. Unlike many other devices you can find, DB-30 is just a metronome, and there are no other unrelated features. The most important thing is that the sound is loud and you can easily play along while practicing.
The case is sturdy, and it looks really great. Furthermore, it's easy to use, and it will make your practice a lot simpler. You can adjust volume, and you can even use it with headphones. Tempo works for anything between 30 and 250 bpm.
It's a great piece of equipment, and it is quite affordable. If you are not a fan of standard analog metronomes, this might be something you'd enjoy.
Korg TM60BK Tuner Metronome
Korg TM60BK Tuner Metronome, Black
Tuner and metronome functions can be used simultaneously or independently
Large backlit display for improved visibility; twice the battery life of...
A wide detection range of c1-c8 supports a broad range of instruments
Metronome ranges from 30 to 252 beats/minute; three types of tempo settings...
Tuner and metronome
Classic design
Backlit display
Range from C1 to C8
Metronome range between 30 and 252 bpm
Three types of tempo
Fifteen rhythm variations
Memory backup
Auto power-off
0.529 ounces (15 grams)
3.3 x 4.8 x 1.1 inches (8.38 x 12.19 x 2.79 centimeters)
For years now, Korg has been making great gear at an affordable price. Naturally, you won't be getting the best possible equipment, but that doesn't mean that it isn't great.
TM60BK tuner works on two AAA batteries and has a kickstand which makes it ideal if you want to put it on a table. The speaker is on the front side, so you can easily hear it wherever you place it.
Another incredible thing is that you can plug your guitar in it, and tune it in just a couple of minutes. Of course, you can rely on the microphone, but this is a much simpler way to ensure your guitar is always in tune.
Korg does an incredible job, and you can easily see everything on the display even if the light is dimmed.
Lekato TM-25
LEKATO Guitar Tuner Clip On Metronome Tuner Tone Generator 3 in 1...
🎸 3 in 1 Device : Combines a Tuner, a Metronome, and a Tone Generator,...
🎸 LCD Display : Small and exquisite appearance, Super bright backlight,...
🎸 360 Degree Rotatable Clip : Can adjust at your suitable angle, simple...
🎸 Wide Application : Extended frequency range for all instruments like...
Clip-on
Tuner plus metronome
Tone generator
Easy to use
LCD display
Rotatable
1.58 ounces (44.9 grams)
3.15 x 1.77 x 1.77 inches (8 x 4.5 x 4.5 centimeters)
For all of you looking for something simpler that will help you practice, Lekato might have a perfect metronome. Here, you will get a simple clip-on tuner that you will place on the headstock of your guitar.
Besides the tuner, there is also a metronome and tone generator as well. I should mention that keeping the device on the headstock is only important for tuning, and if you are using the metronome function, you can place it anywhere you like.
It has a range of 30 to 250 bpm, and it can be pretty loud. The design is rather simple, and anyone will be able to use it without issues. There is also an LCD display that will make it easier for you to follow the "needle."
Lekato TM-25 is an incredible device and it is rather affordable. For all guitarists that are willing to try practicing with a metronome, this might be a dream come true.
Cherub WSM-330
Vintage design
Mechanical
40 to 208 bpm
No batteries
Top-grade mechanism
Black
1.35 pounds (612.35 grams)
9.8 x 5.1 x 5.2 inches (24.89 x 12.95 x 13.21 centimeters)
The final entry on the list for the gear is reserved for Cherub. I just had to add at least one vintage, all mechanical metronome since there are so many players that prefer this sound to the beeping one that digital metronomes create.
As you can see from the start, the metronome is a bit bulkier, but you can use it with any instrument you like. It's simple, and it looks great. Needless to say, you won't be able to plug in your guitar, nor are there any effects available.
Considering the design and everything, the metronome is still affordable, and many guitarists out there might prefer this version. Since you will mostly practice at home using the metronome, why not get something authentic and beautiful as this model.
Best 5 Metronome (Apps)
Now, there are many players who just don't care about the physical gear, and they just want to get the job done. If you are recognizing yourself in this part, then you might find metronome apps more exciting.
There are so many incredible apps available online that will help you improve your technique, rhythm, and playstyle. I will try to add apps that work for both Android and iOS so you can check them out regardless of the device you use.
The Metronome by Soundbrenner
Intuitive interface
Easy to use
Incredible precision
Different time signatures, subdivisions, accents, etc
Variety of sounds
Different themes
Soundbrenner designed an incredible app that you can use wherever you like. The Metronome app is available on both iOS and Android, and there are so many things it can offer. Firstly, you can customize time signatures, set accents, and so much more.
It's easy to use, and it looks great. Since the whole metronome is digital, there are no limitations that you might encounter as with real ones.
Interestingly, you can also get a wearable device that you can sync with the app. The app is free to download, but there are in-app purchases if you desire to support the developers. Needless to say, the wearable device is not free and it is sold separately.
All in all, The Metronome is a great app and it works like a charm. If you want to find out more about this app, just try it out and see if it is something you'll enjoy using.
Metronome: Tempo Lite
Different modes available
35 time signatures
6 rhythm patterns
Customizable accents
Tap tempo
10 to 800 bpm range
Beautiful design
Different sound sets
Many more
Metronome Tempo Lite is an app designed by Frozen Ape, and it is one of the most downloaded apps in this category. There are so many different options for you to try, and it offers an incredible range of 10 to 800 bpm.
You can try it on both iOS and Android, and it might become your go-to app for the metronome. It also has a beautiful design and you can try playing around with settings and options to find something that works for you.
The app also offers a variety of rhythms including one of the rarer ones like ⅞, ⅜, and many more. Tempo app will ensure that you improve your technique and learn more about music in general, so you might want to consider trying it out.
Time Trainer Metronome
Tap tempo
Countdown timer
Different sounds
Accent control
Visual metronome
Vibrating option
Dark theme
A variety of time signatures
Time Trainer is an app by Justin Guitar. If you ever searched for guitar lessons, there is a high chance you saw Justin's videos. He is a great teacher, and his lessons can be quite helpful. A couple of years ago he released an app that is so much more than a simple metronome.
It is an app designed to help you develop your internal sense of time, and it will help you learn better. Of course, you can use just the metronome part of it, but the fun is in learning. If you are looking for an app that will help you train and offer a metronome, this is it.
There is also an interesting option where the app will randomly mute the clicks, and it will help you slowly adjust to playing in tempo. It is similar to learning how to do tricks without a safety net.
There is also a feature that will allow you to set in the start tempo and the end. Once you start playing, the speed will increase over time, and you can practice increasing your speed as you play.
And these are just a few of many options that will help you develop a sense of rhythm, and it can be so much fun.
Pro Metronome
Easy to use
No ads
13 different styles
Dynamic accenting
Calculating bpm by tapping
Color mode
Pendulum mode
Volume adjustment
The next app on the list is Pro Metronome. As with other apps, it is available for both iOS and Android, and you can try it whenever you desire. Probably the most appealing part of the app is that there are no ads.
One of the primary ideas behind this app is to encourage customization, and you can select anything you want. From beat sounds to accents.
You can also set up the app to sound like a drum if you dislike the regular clicking or beeping sound. Needless to say, you can manually pick bpm you like, and there are many other options you can try out.
It is a fun app to use, and it can help you with your practice.
Metronome Pro – Beat & Tempo
Range from 30 to 250 bpm
Manually setting tempo
Background mode
Rhythm games
Different levels of practice
Tempo animations
15 different sounds
The final entry on the list is Metronome Pro – Beat & Tempo. What makes this app different is the opportunity to learn while playing games. The app is easy to use, and it can help you improve your playstyle and technique.
App's interface is intuitive, and the metronome sounds great. Naturally, there are many different options and settings you can try out, and each will offer something unique and special.
There are also several games available that will help you test your skills and track your progress. It is a fun way to take your mind off of practice and see how much you've improved since you started practicing.
And if you are looking for customizable tempos and subdivisions, this app offers it as well. Finally, you can set up the flash to act as a metronome, if you don't want to focus on the clicking sound of the app.
What Is The Point Of A Metronome?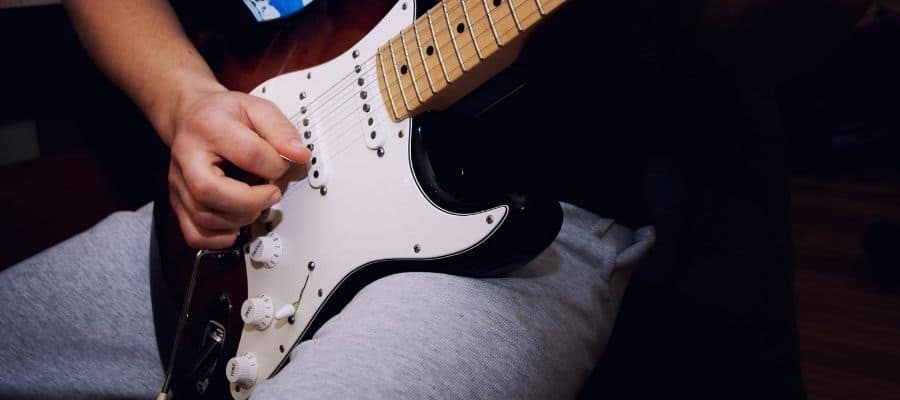 Now that I have covered the most popular apps and gear you can find, we should focus on the burning question many of you might have. And that's the point of a metronome. A metronome is a tool that will help you improve your playing skills and stay in tempo and on the beat.
If you are playing in a band, the drummer will play the rhythm and the bass player will follow them. But you as a guitarist also need to stay inside the boundaries they've created.
While playing the guitar, it is easy to get lost in the moment and focus on your solo or whatever you are playing, but that's the problem. It is easy to forget about the tempo. Even if your technique, scales, and arpeggios are flawless, you will sound bad if you play at a different tempo.
You need to remember that guitarists are the last piece of the puzzle and they need to follow the rest of the band, not the other way around.
Once you turn on the metronome it will start clicking or beeping (based on the type you have). Each click represents one beat. For example, if the song is at 60 bpm, that means that there will be one beat every second.
As you start practicing, you need to match your notes with clicks of the metronome and focus on always staying in the right tempo. So, think of this device as the guideline or a framework of your guitar solo or rhythm. You will need to operate inside the boundaries if you wish to sound good.
Do I Need A Metronome While Practicing The Guitar?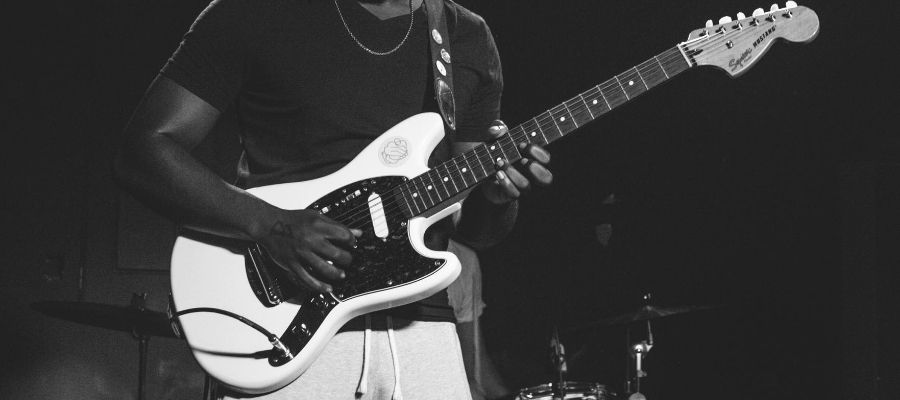 The answer is Yes. A metronome is a tool designed for practice, and you should use it as much as you can during practice. This is the safest and easiest way to help you play accurately, and keep the same tempo.
If you are practicing something like scales, there is a high chance that you will learn one part better than the other. And you will play this part with ease. It is usually the beginning of everything since you practice it the most.
Now the main problem occurs when you know how to play a segment of something perfectly. As a result, you might play it faster than the rest of the exercise. And this is wrong. It is much better to play the entire scale, song, or practice at the same speed than to change it in the middle.
Metronome is here to help you go through it and you will use it as a guide to keeping track of the time or tempo. It will be a lot more difficult for you to speed up or slow down if there is a constant clicking to remind you of the correct way to play something.
When you are on stage, the drummer will take the role of the metronome, and a good drummer will play everything on time and perfectly. They have each rhythm at the palm of their hands, and you need to rely on them to keep the right tempo.
This is why guitarists rarely use a metronome on stage while playing since all of you are playing as one, each member of the bend will focus on the drummer and what they are playing.
How Do You Practice Guitar With A Metronome?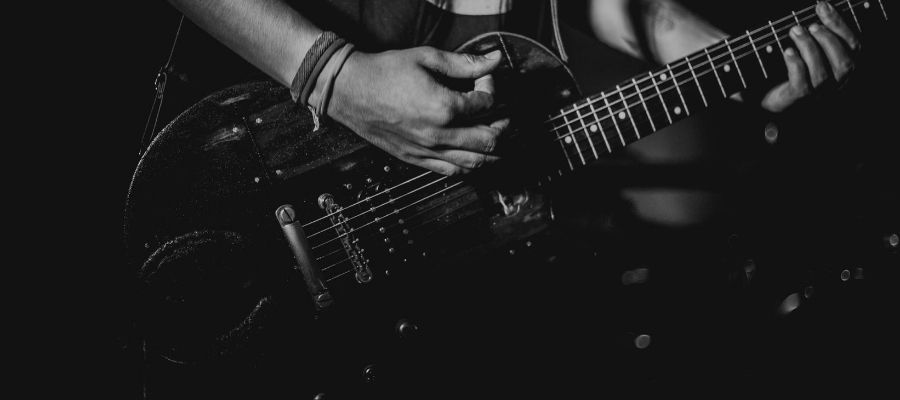 The first thing you need to understand is that speed comes with time and practice. So you should start slow. Whatever it is that you are playing or practicing, you should start at the slowest possible speed.
Now, this doesn't mean that you should start with 30 bpm since that's too slow for almost any song. The correct speed is the one you can achieve without making the mistake. Take your time.
If you are practicing scales, for example, pick one that you like, and slow down the metronome. Each note you play should align with the click of the metronome. Once you are confident and comfortable with the speed, you can increase it.
Over time, you will progress much faster, but the sense of tempo will stay with you. The most common mistake beginners make is trying to play something at the end speed or the song's bpm.
If you love listening to heavier music, the speed can be quite high, and it will be rather challenging for you to try and reach it from the start. Moreover, during the practice, it is more likely that you will make mistakes and that's something you should try to avoid.
Your primary focus should be hitting the correct notes and keeping the tempo. It doesn't matter if the song is at 95 bpm and you're playing at 60, just keep practicing. With enough practice, your bpm will continue to increase and you will finally reach 95 bpm like on the original record.
The main benefit of this process is once you get there, you will be able to play it without mistakes and with confidence. So, keep practicing and speed will increase over time.
Summary
Many guitarists forget about the metronome, and it is not something that they consider when practicing. And this is one of the most common mistakes. If you learn something the wrong way, it will take you a lot of time to unlearn it so you can correct it and make it flawless. 
Muscle memory is an important part of every guitar player, and you should focus on improving it the right way.
One of the best practice tools you can find is a metronome. It is designed to help you improve your technique and teach you how to stay on track regardless of what you're playing.
In this article, you can find some of the best physical metronomes, as well as apps you can use during practice. Each has its own qualities, and it's up to you to see which one you like the most.
Learning the correct way of playing something is more worth than trying to skip a couple of lessons. And many teachers agree that if you learn slow, you will forget slow. So, consider getting a metronome for your practice.
It doesn't matter if it is a real one or for your smartphone. The only important thing is to practice correctly and focus on improving one of the most important parts of music – tempo.
If you found this article useful you may want to save this pin below to your Guitar board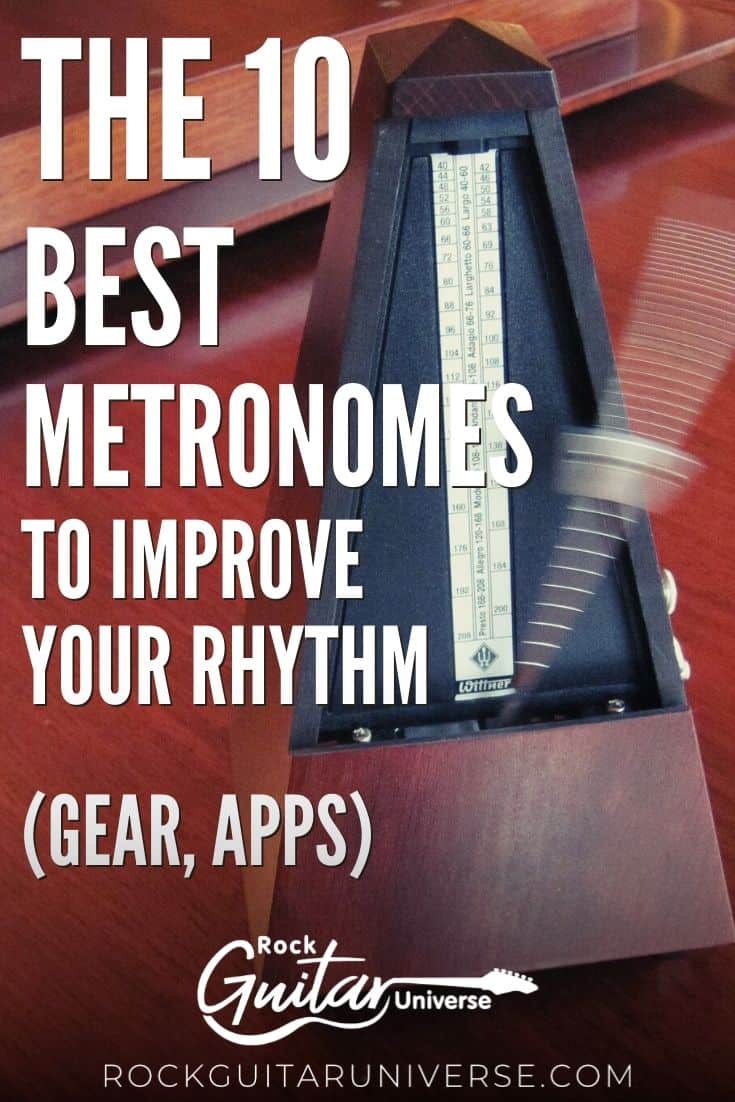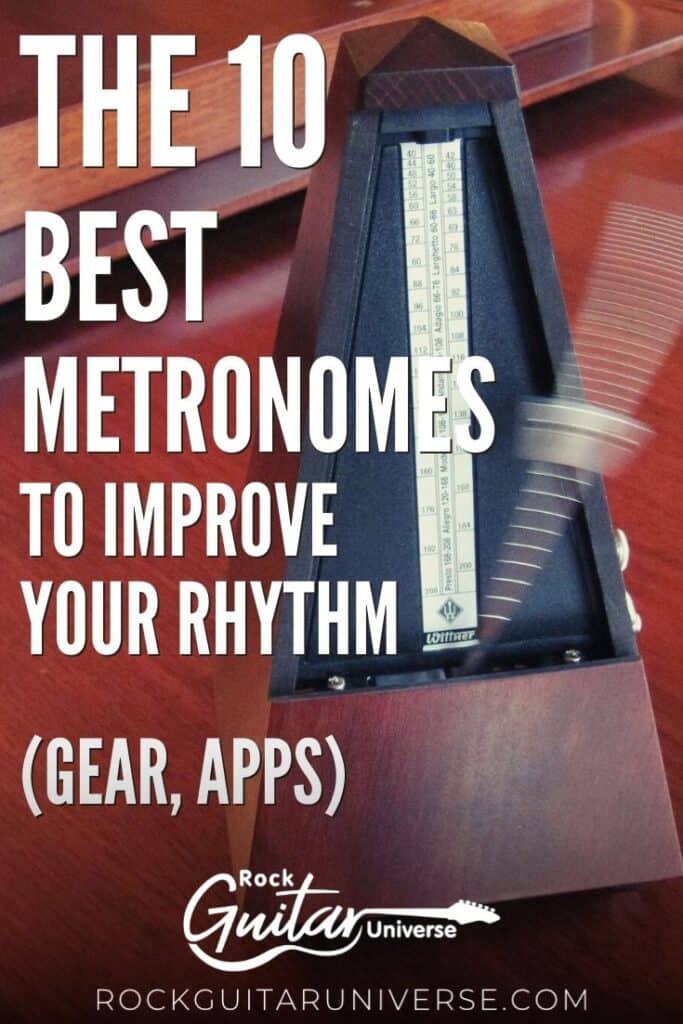 Last update on 2021-10-20 / Affiliate links / Images from Amazon Product Advertising API
Recent Posts