all the electric guitar strings are made from a steel core. The most popular type of winding is nickel-plated steel. Less common are a pure nickel winding (offering a warmer, more vintage sound) and chrome or stainless steel.
As a result of these facts, electric guitar strings build up dust and grim and become rusty very. Thus, I often found myself changing guitar strings very often. Until a friend of mine suggested to use a conditioner for my guitar strings. So, after using it myself, I managed to keep my strings alive for double their time.
Studies have shown that if you clean your guitar, you'll rarely have to carry out any deep cleaning.
My Top 3 Picks for Guitar Strings Cleaners:
1. Music Nomad – String Fuel Cleaner And Lubricant
MusicNomad String Fuel Guitar String Cleaner & Lubricant Plus...
CLEAN STRINGS to last longer and sound better with our hybrid blend of...
REDUCE FINGER NOISE & SQUEAKING that you and your audience hear when...
PLAY FASTER after using String Fuel because cleaner strings with the light...
OTHER BENEFITS: Large pad covers all 6 strings in one swipe, does not hurt...
Music Nomad launched its guitar care product line back in 2010 and became a success. The String Fuel has a blend of high quality natural and mineral oils to clean and sustain your strings for a long time. This product has what everyone else is lacking, a huge applicator so you will be able to swipe it on all of your strings at the same time.
2. Jim Dunlop – Ultraglide 65 String Conditioner
Jim Dunlop has been around for a long time in the guitar maintenance and accessories business. The Ultraglide 65 strings conditioner is based on mineral oil and will preserve your strings from corrosion and will extend their life.
3. GHS Strings – FAST FRET
GHS Strings A87 FAST FRET
Premium string and neck lubricant and string cleaner for all stringed...
Silicone free cleaner is liquid in an applicator, not a spray
Use it on strings, fretboard, back of neck
Lets fingers slide freely and keeps strings clean
GHS is a well establish strings company for various musical instruments. So if they have a string prolonging solution you can beat it is a good one. It is highly popular and probably one of the oldest string cleaners out there.
What To Look In Guitar String Cleaner:
All the conditioners are pretty much the same, but you should be aware of what you need to make your life easier. There are the following things you should look for when purchasing a guitar strings conditioner:
Made from mineral oil.
An applicator on it for the strings only.
Portable.
It doesn't contain alcohol or acetone.
A pleasant odor that isn't too strong.
Why I Use the Music Nomad MN109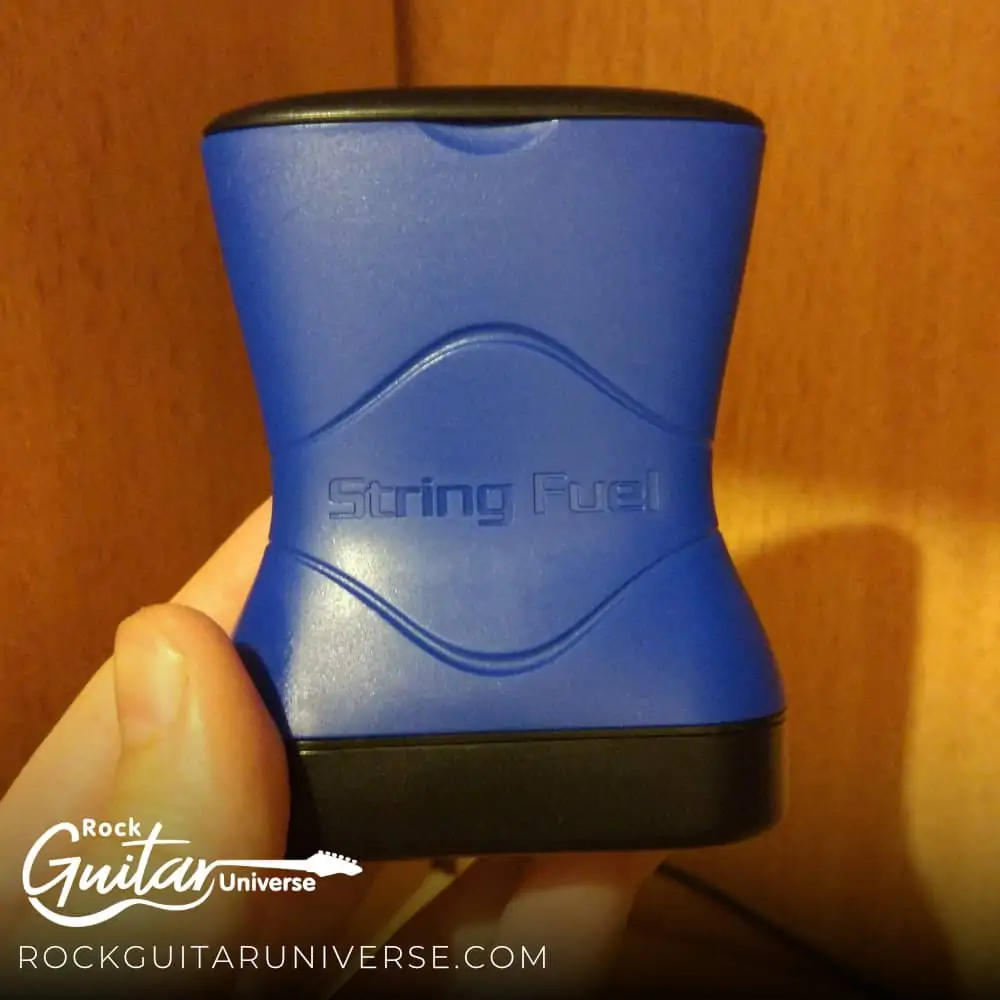 As I mentioned above pretty much all guitar cleaners pretty much the same. All them clean your guitar strings and extend their life. But, the reason why I choose to use the Nomad MN109 are:
It meets all the criteria of what to look in a guitar strings cleaner
There is a large applicator that covers all 6 strings at once.
It has a special compartment that you can store a microfiber cloth that comes with the sale
Pros And Cons
| | | | |
| --- | --- | --- | --- |
| Feature / Product | Music Nomad MN109 | Dunlop 6582 Ultraglide | GHS Strings A87 FAST FRET |
| Has a solution to extend strings life | Yes | Yes | Yes |
| The solution is mineral oil-based | Yes | Yes | Yes |
| Doesn't contain alcohol or acetone | Yes | Yes | Yes |
| It has an applicator | Yes | Yes | Yes |
| The applicator used only on the strings | Yes | Yes | Yes |
| The applicator covers all 6 strings | Yes | No | No |
| portable | Yes | Yes | Yes |
| The odor isn't too strong | Yes | Yes | Yes |
| Affordable | Yes | Yes | Yes |
How To Use Guitar String Cleaners?
The equipment you will need
Cloth to wipe your guitar strings
A mineral-based solution.
The Steps to perform the task
Free your hands – Place your guitar face-up on a solid surface so your hands will be free to work on your guitar.
Wrap your string with the cloth – Take one end of your cloth and place it under the strings and with the other end cover the strings. The end result should be that the cloth will cover the strings from the bottom and the top.
Slide the cloth across the guitar – Slide the cloth up and down the strings a few times. Don't repeat it too many times. Three times should suffice. Pieces of cloth might stick to the strings and it can be hard to remove them. Thus, you should not apply too much pressure when you perform this action.
Apply the solution to the cloth – Don't take off your cloth yet. Open the top part of your cloth. Apply a little bit of cleaning / lubricating solution on the cloth. Close the top part. Your cloth should be wrapped around the strings.
Slide the cloth across the guitar – Repeat action number three with the solution applied to the cloth
Solutions with a sponge – There are solutions that will have a sponge attached to them. In that case, apply the solution using that sponge to the strings. Slide the sponge applied to your guitar strings by going up and down a few times.
Remove extra solutions from the strings – Take your cloth off and flip it to the other side where it is still dry and doesn't have any solution to it. Of course, it would be better to keep another dry cloth for this process. wrap the cloth around your strings like mentioned in step number two and slide the cloth across the guitar as mentioned in point number three.
How To Prolong Your Guitar Strings
You should keep a cloth to wipe down the strings after you are done with your jamming session. It will prolong the life of the strings.
You should also invest some money in buying specialized cleaning tools to keep your strings and fingerboard in great shape.
Oxidation is bad for the string and you can prevent that by washing your hands before playing.
At the end of each section clean your guitar and apply the strings conditioner
Always store your guitar in its case
What to Avoid at All Costs?
The prospect of cleaning doesn't spark energy into most of us, but it's always worth giving our guitars a bit of attention. A guitar's body will generally become dirty due to the sweat and oils that are expelled from our bodies and transferred to the guitar's surface. The following are things to avoids when cleaning your guitar, they are
All homemade vegetable oils.
Sprays as conditioner appliers.
the conditioner containing silicon.
Don't use a WD-40 or alcohol or grease.
Avoid using household furniture polish.
If you found this article useful, you may want to save this pin below to your Guitar board.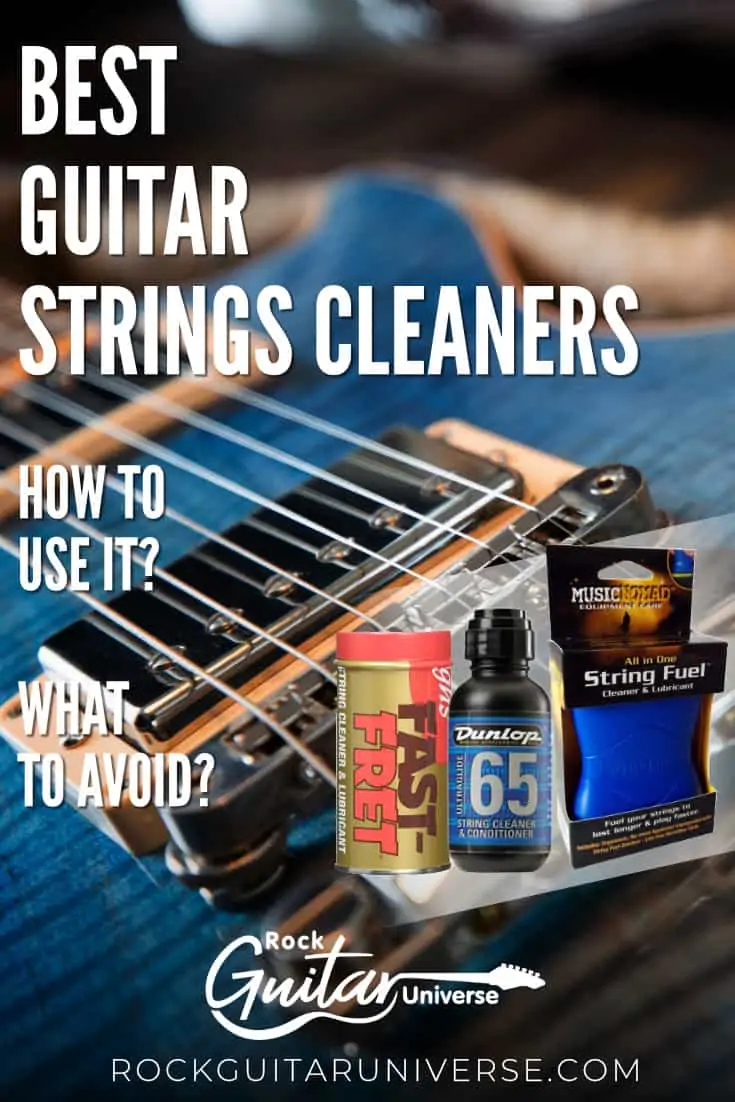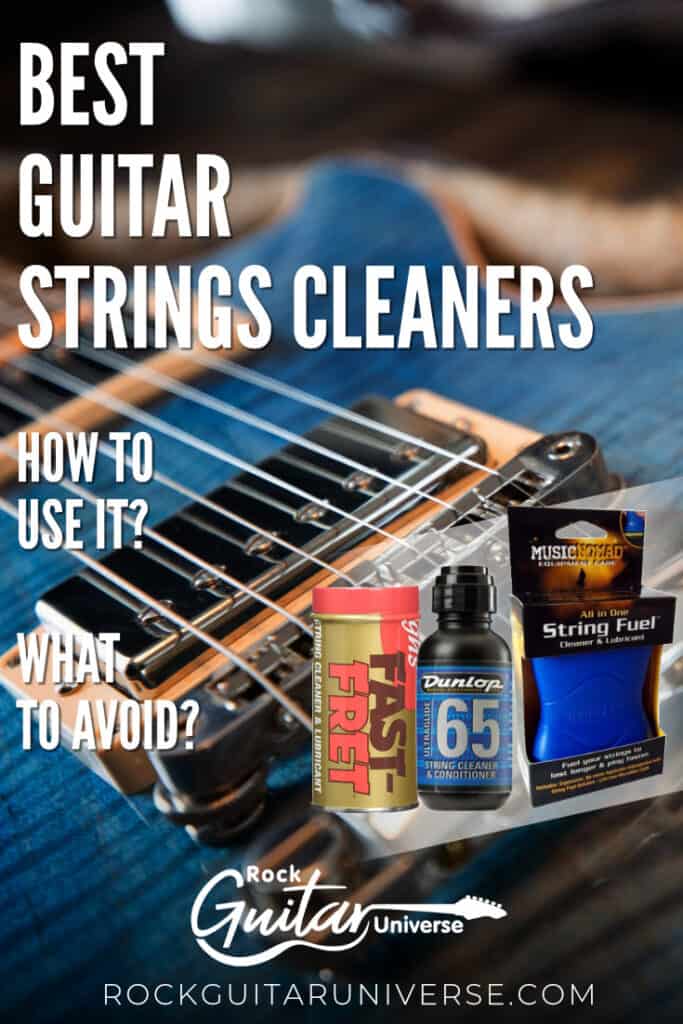 Last update on 2023-11-30 / Affiliate links / Images from Amazon Product Advertising API