The guitar polishing or cleaning cloth is one of the most important accessories you can get. It is something that everyone should and must have. Cleaning and maintaining an instrument is something we all go through.
It is rather important to do this as often as possible to maintain the quality and playability of your guitar. If you neglect your guitar and forget to clean, the playability of your instrument will drop and not by a small amount. If you ever had an opportunity to play the guitar that was nearly forgotten, you might have noticed how hard it was to play anything.
The strings won't bend, vibrato is almost nonexistent, and everything feels really wrong. One of the easiest and simplest ways to make sure that you won't find yourself in that situation is keeping one of these clothes near your guitar at all times (and of course, using it).
These Are My Top Picks For Cleaning Cloths
1. Fender Plush Cloth
Fender is one of the top guitar manufacturers in the world. So if they make a product you can bet it is top quality. Their premium plush cloth isn't just a regular microfiber cloth.
The cloth made of fineer threads then silk which makes it ultra-soft. It is usable of any guitar finish, even nitrocellulose, and won't harm any chrome or polished surface.
2. Ernie Ball Guitar Cloth
Ernie Ball Microfiber Polish Cloth (P04220)
Safely polish your guitar or bass with Ernie Ball's microfiber polish...
The fiber density of microfiber cloth makes it much more effective than...
Dimenstions: 12" x 12"
Stitched edging.
Ernie Ball is a well-known guitar accessory and guitar care products company. Their guitar cloth is a microfiber cloth and it is super soft. You can use it on the nitro finish as well. It will make sure that your guitar stays clean and without scratches
3. Planet Waves Guitar Cloth
We all know D'Addario for their excellent guitar strings and guitar accessories and this product isn't an exception. Their guitar cloth is made of microfiber and it is soft, it can be used to polish your guitars.
Why I Recommend Fender's Cloth
If I had to choose only one of the cloths from the list, I would most certainly go for the Fender Premium Plush Guitar Polishing Cloth. It's made of millions of microfibers that, unlike most of the other cotton ones, won't just push the dirt and grime around but will trap it instead.
It's super soft and probably one of the softest cloths on the market. What is also so great about this one is that it can be used on any guitar with any kind of finish including nitrocellulose. It's not too big, so you can carry it with you all the time if you have a gig bag or a guitar case.
While there was a slight difference between others like Fender and Ernie Ball cloth, I would still opt for the Fender one. But you should know that any cloth from the list is really good and will keep your guitar clean.
If you don't believe me why Fender's cloth is the best, just check the reviews of this product and you will see for yourself.
Pros And Cons Of My Top Picks Of Cleaning Cloth
| | | | |
| --- | --- | --- | --- |
| Feature / Product | Fender Premium Plush Guitar Polishing Cloth | Ernie Ball Guitar Cloth | Planet Waves Guitar Cloth |
| Material | Microfiber | Microfiber | Microfiber |
| Can be used on any guitar | Yes | Yes | Yes |
| Can be washed and reused | Yes | Yes | Yes |
| Can be used without polishes | Yes | Yes | Yes |
| Can be washed in a washing machine | Yes | No | Yes |
| Portable | Yes | Yes | Yes |
| Have a pre-treated version | No | No | Yes |
| Affordable | Yes | Yes | Yes |
How Often Should You Clean Your Guitar
It would be ideal to wipe your guitar with a cloth after every playing session. You can usually notice when is the right time to do it. It is normal for sweat and fingerprints to leave marks on a guitar, especially if you have a shiny finish.
Cleaning your guitar after every play will reduce the need to do a major cleaning of the guitar or excessive need for guitar oils and polishes.
How To Use A Guitar Cleaning Cloth
Gentle wiping after every playing will help your guitar look clean all the time. It is also helpful to wash your hands before you start playing the guitar. When you're done playing, take the cloth and start wiping from the headstock. After wiping headstock, along with tuning machines, you wipe the strings from headstock to bridge and on the other side of the neck too.
After that, you run the cloth over the body of the guitar to remove any remaining stains or fingerprints. There is no need to rub any part of the guitar because you don't want to cause any damage to the finish of the guitar or to any part of guitar hardware. Cloths can be used to wipe both wood and hardware as well as strings of your guitar.
Cleaning Guitar Strings With A Cloth
Whether you plan on using string cleaners and conditioners or not, cleaning the strings is something you need to do regularly if you want your strings to be playable and to have a longer lifespan. For a quicker and less effective string cleaning, you will need to take the cloth and run it over the whole length of the strings up and down the neck.
Be sure to wipe strings over pickups and on the headstock. Repeat this up and down movements several times. This is a great thing to do after every session before storing your guitar. The other option is more effective but, as expected, takes longer to complete.
For the second string cleaning method, you will clean each of the strings individually. People tend to forget to wipe the "other side" of the strings. When wiping strings with the first method, you only wipe the upper half of the strings. So take each string, pinch it with a cloth between your fingers and do a thorough wiping up and down the string length.
You will need to lift the string a bit, but be careful not to pull too hard. After wiping the string thoroughly, you will proceed to the next string and repeat this process. While it may take more time to clean and wipe each string individually, this is a safer and better option. Most of the dirt and grime will stay under the strings where you will not be able to clean it as easily with only partial wiping.
How To Safely Clean A Guitar
While you can lightly dampen the cloth with water while cleaning, you should avoid using too much water. If the grime and gunk won't come off that easily from the parts of your guitar or if there are spots left, it is always better to use some guitar polish or guitar cleaning product instead.
Using these products won't damage the instrument and will make cleaning faster and easier. It is a lot better to not force anything and just bring out the "heavy guns" like guitar polishing products.
The second thing you should avoid is using chemicals that are not meant for guitar cleaning. While you may use lighter fluid, you should avoid most of the household products that contain silicone, lacquer thinner, bleach, wax, etc.
Most of the universal polishes for the household may damage the finish of the guitar, so it is always the best option to use products designed for guitar cleaning purposes only. While the guitar looks really robust and strong, the finish of the guitar can be easily scratched or damaged.
You should avoid using toilet paper for wiping, or any cloth that might have rougher edges or that are not made from adequate material. If your guitar has a satin finish, you should be gentle and avoid rubbing it too hard. Cleaning satin guitar is normal and welcomed, but avoid being too hard on your instrument.
If the guitar has some visible damage or lack of finish on places, avoid using any products on those spots and use only a dry cloth. Generally, if you have any dilemma, using dry cloth is never a wrong option.
It is always the best option to buy products like cleaning cloths that are designed for guitar cleaning. Using other types of cloth, for example, furniture cleaning cloths might be too rough for the guitar finish and might leave scratches on the guitar.
Guitar Cleaning Tips
It might be a good idea to keep two polishing cloths in your guitar case or a gig bag. One for strings and other for the body. That way you don't have to worry about potential damage to the guitar finish. This is a good idea especially if you use (or plan on using) some sort of cleaning products like oils or conditioners for both strings and the guitar's body.
If your guitar cleaning cloth has stitches on the edge, use only parts of the cloth that are not on the edge of the cloth to avoid unnecessary scratches
You can use guitar cloths for cleaning any part of the instrument, tuning machines to pickups
Old cotton T-shirts and cotton diapers can be used too if you don't have a guitar cleaning cloth with you at the moment. The more they are washed, the better. Just be wary of any stitches or potential prints that shirts might have.
Performing regular, after playing, small wiping will reduce the need for any products or deep cleanings. You can use guitar oils once or twice a year but it will not be as necessary if you keep your guitar clean. Wiping dust, grime, sweat, and fingerprints will be much easier if you do it after every playing instead of waiting.
Conclusion
It is also good to mention that all guitar clothes are designed to clean guitars especially so there is only a slight difference between them and that they are quite similar in the end. If you pay attention to the type of the guitar and guitar finish and pick the cleaning cloth accordingly, the chance to make a mistake is close to none.
So be sure to check some of the products from the list if you don't have one already. And remember: cleaning your guitar on time and regularly will prevent potential damage and scratches in the future. If not that, the need to do detailed deep cleaning will be not as often. Take care of the instrument so you can always be sure that it has achieved the highest possible playability.
If you found this article useful, you may want to save this pin below to your Guitar board.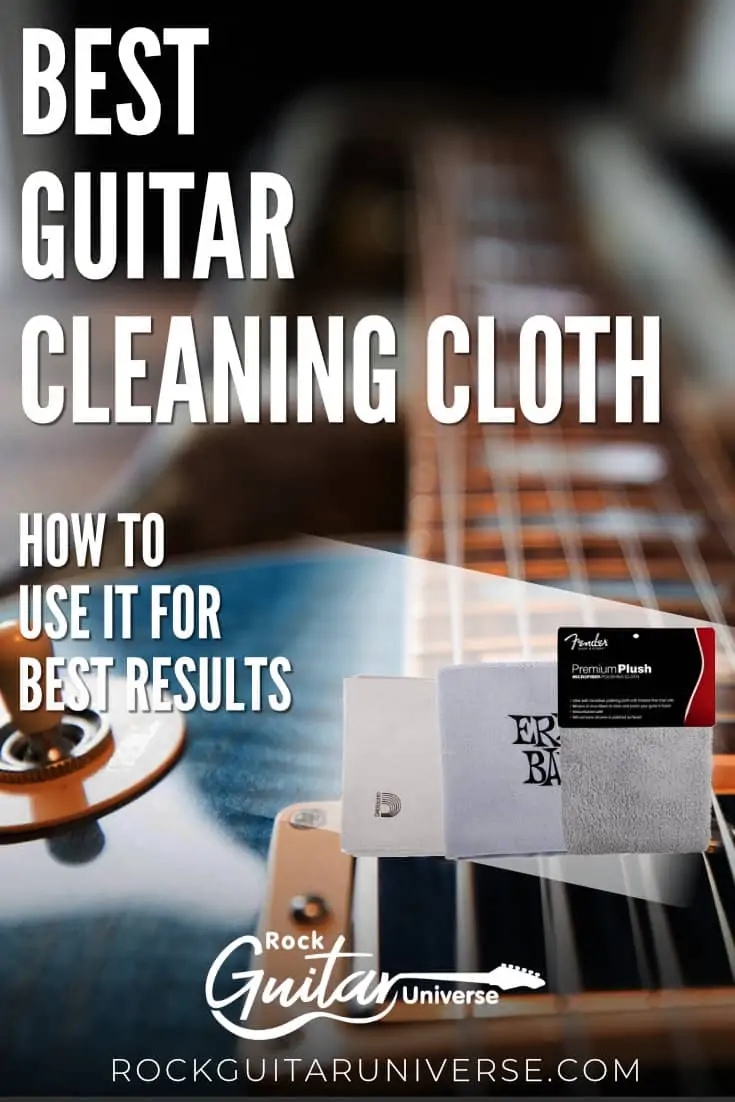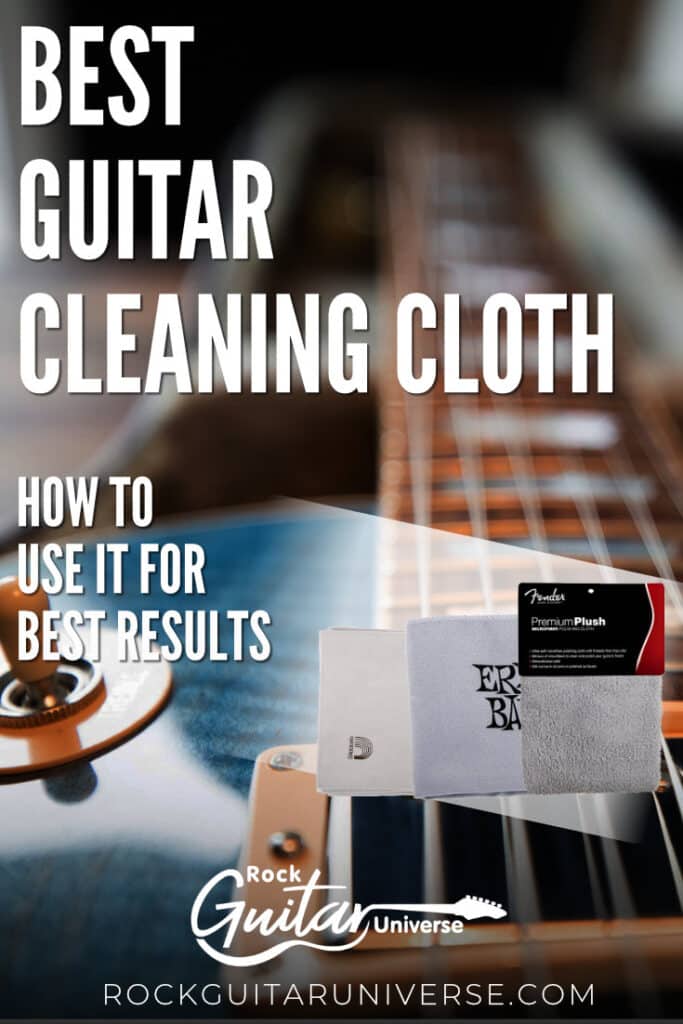 Last update on 2023-11-30 / Affiliate links / Images from Amazon Product Advertising API