Fender electric guitars have long been synonymous with the sound of rock and roll, and the Stratocaster and Mustang models are two of the most recognizable and beloved instruments in their lineup. Since their introduction in the 1950s, these guitars have been played by countless musicians across a wide range of genres, from blues and jazz to punk and metal.
Although these guitars do have some features in common with each other, it is important to state that these guitars are in essence completely different instruments that feel and look nothing like each other.
The Stratocaster is known for its sleek, contoured body and three single-coil pickups that produce a bright, articulate tone. Its tremolo system allows players to add expressive vibrato to their sound.
The Mustang, on the other hand, has an offset waist and a shorter scale length that gives it a unique look and feel. It has two single-coil pickups and a phase switch that allows players to achieve a wide range of tones, from jangly surf rock to heavy distortion.
In terms of playing style, the Stratocaster is favored by many for its versatility, making it suitable for a variety of genres such as blues, rock, and pop. The Mustang, on the other hand, is often associated with alternative rock and indie music due to its distinctive sound and design.
Another key difference between the two models is the price point. The Stratocaster is generally more expensive than the Mustang, with higher-end models commanding a premium price tag.
| | | |
| --- | --- | --- |
| | Stratocaster | Mustang |
| Body Shape | Strat-style | Offset |
| Body Wood | Alder | Alder |
| Neck Shape | Deep C | C shape |
| Neck Wood | Maple | Maple |
| Neck Construction | Bolt-on | Bolt-on |
| Fretboard Material | Maple | Rosewood |
| Scale Length | 25.5″ | 24" |
| Number Of Frets | 22, Narrow Tall | 22, Medium Jumbo |
| Frets Material | Nickel Silver | Nickel Silver |
| Type of Bridge | Tremolo bridge | Tremolo bridge |
| Tuning Machines | Fender Standard Die-cast | Fender Standard Die-cast |
| Pickups | 3 x Fender V-Mod II Single-coil | 2x Single coil or 2x humbucker |
| Weight | 8 lbs (3.6 kg) | 7-8lbs (3-3.8kg) |
The Fender Stratocaster and Mustang have both played a significant role in shaping the sound of modern music. While both guitars share similarities, they differ in several ways. Throughout this article, we will go through the main differences between these models.
Construction & Hardware Compared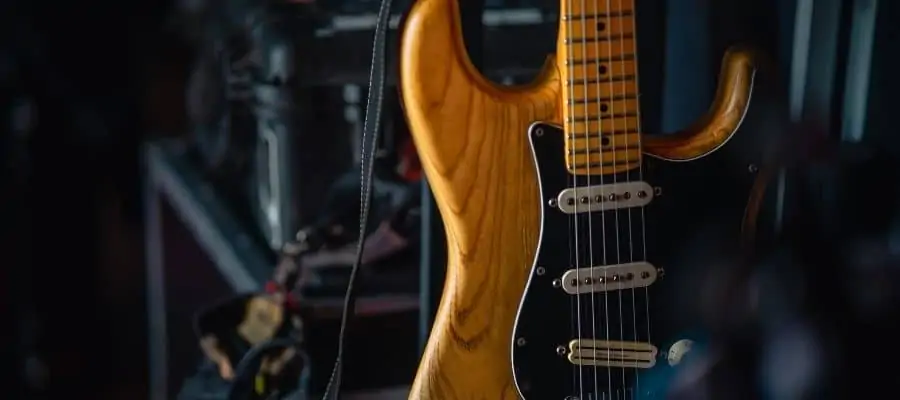 The Stratocaster and Mustang have different body shapes, with the Stratocaster having a more classic, contoured shape and the Mustang featuring an offset body design. Both guitars typically have a solid alder or basswood body and a bolt-on maple neck. However, the Mustang has a shorter scale length of 24 inches compared to the Stratocaster's 25.5 inches, which affects the feel and playability of the guitar.
In terms of hardware, both guitars feature similar options such as tremolo bridges and locking tuners. However, the Stratocaster typically has more customization options, including different pickup configurations and bridge types, while the Mustang tends to have a more minimalist design.
Tone Compared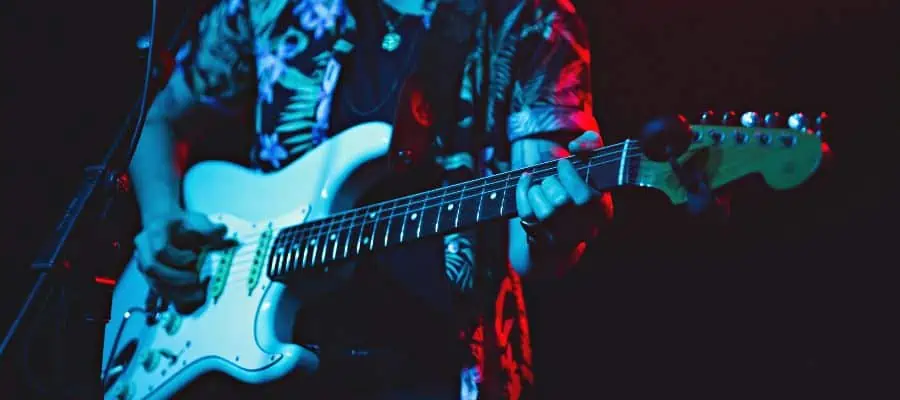 One of the most significant differences between the Fender Stratocaster and Mustang is their tone. The Stratocaster is renowned for its bright, glassy sound that is ideal for a wide range of musical styles, including blues, rock, and pop. The guitar's three single-coil pickups contribute to this sound by producing a high output that emphasizes the treble frequencies. This results in a tone that is bright, articulate, and highly responsive to playing dynamics.
In contrast, the Mustang's tone is typically more focused and mid-range-heavy than the Stratocaster's. The guitar has two single-coil or humbucker pickups that produce a thicker, fuller sound that is well-suited for alternative rock and indie music. The Mustang's shorter scale length also contributes to its unique tone, as it produces a slightly darker sound with a more pronounced midrange. This makes it an excellent choice for guitarists looking to create a warm, punchy tone that cuts through the mix.
Feel & Playability Compared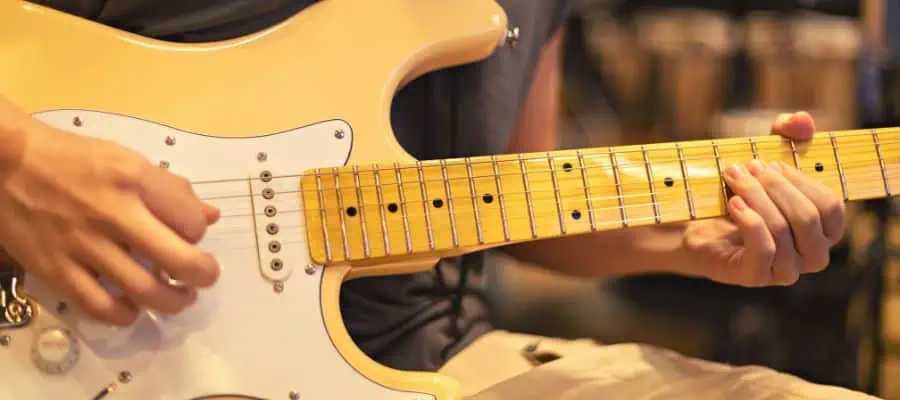 The Stratocaster and Mustang also have different neck shapes, with the Stratocaster typically featuring a thicker "C" or "V" shaped neck, while the Mustang has a thinner "C" shaped neck. The "C" shape is perhaps the most popular and common neck shape, offering a balance between comfort and speed. The "V" shape, on the other hand, has a more pronounced curve on the back of the neck and may provide a bit more support for the player's thumb. Overall, these neck shapes are well-suited for players who prefer a more traditional feel.
In contrast, the Mustang has a thinner neck that may feel more comfortable for players with smaller hands or those who prefer a sleeker neck profile. The shorter scale length of the Mustang can also make it feel more compact and easier to play, which may be a significant advantage for some players. However, some players may prefer the longer scale length of the Stratocaster for its more traditional feel and greater sustain.
Looks Compared
The Fender Mustang and Fender Stratocaster have distinctive looks that set them apart from each other. The Stratocaster has a sleek, contoured body that is instantly recognizable, with its iconic double-cutaway design and curvy lines.

In contrast, the Mustang has an offset waist and a more compact body shape that gives it a distinctive appearance. Its headstock is similar to the Stratocaster's, with a similar shape and logo, but overall, the Mustang has a more stripped-down, minimalist look.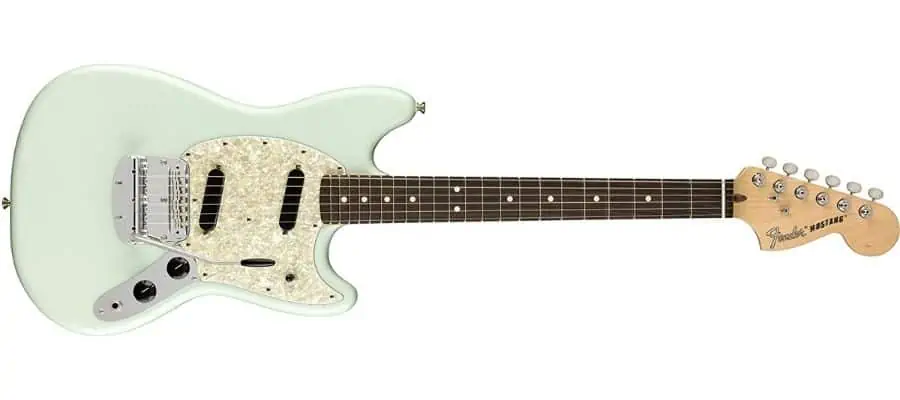 Both guitars come in a variety of colors and finishes, allowing players to express their personal style. The Stratocaster is often seen in classic colors like sunburst, black, and white, while the Mustang is available in a wider range of colors, including more vibrant options like Sonic Blue and Race Red.
Conclusion
When it comes to choosing between two iconic electric guitars like the Stratocaster and Mustang, it can be a tough decision. Both guitars have their own unique strengths and weaknesses, and what may be the perfect choice for one player may not be the best fit for another.
Ultimately, the choice between the Stratocaster and Mustang comes down to personal preference and playing style. If you're a player who values versatility and classic design, the Stratocaster is an excellent choice. However, if you're looking for something more modern and unique, the Mustang may be the better fit.
In the end, no matter which guitar you choose, both the Stratocaster and Mustang are excellent choices. Whether you're a seasoned pro or just starting out, these guitars are sure to inspire you and help you create your own unique sound and style.
If you found this article useful, you may want to save this pin below to your Guitar board.