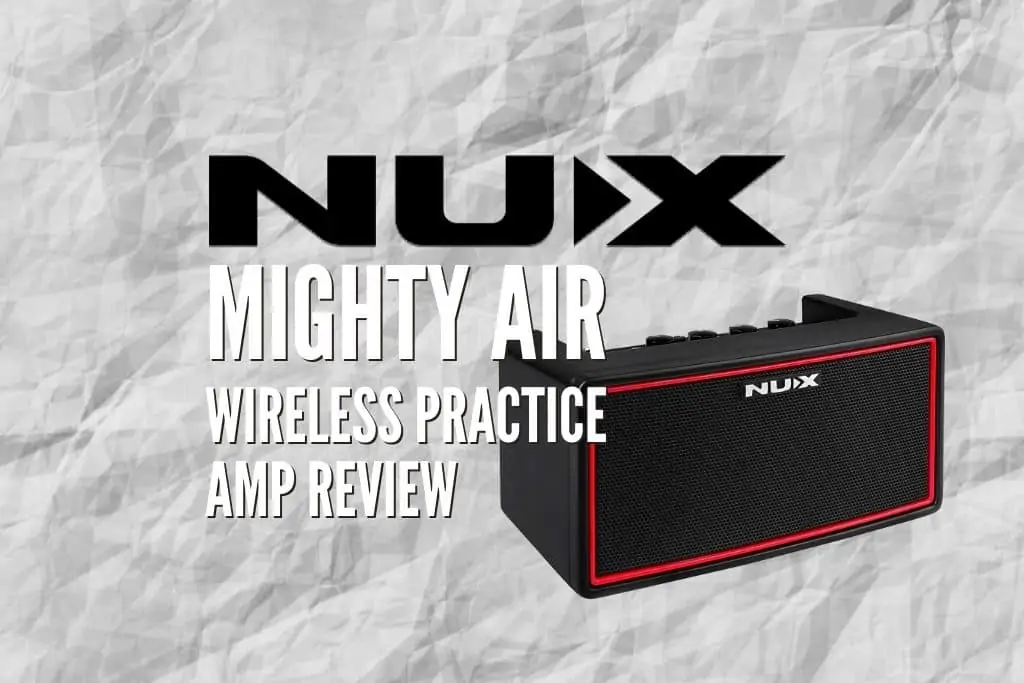 Although the debate over the digital modeling amps still goes on, and some people prefer the warm tone of the tube amps, the modeling amplifiers are getting better and better as the technology marches on forward. The comfort and the versatility that these amps bring are undeniable, and the sound quality is getting close to the authentic tube tones with every new product.
Digital modeling amps come in handy for home usage since you can not bring a 100-watt head running into a 6×15 cabinet to your house even though it sounds great. If you do, you will have a problem with your neighbors for sure. That is why modeling amps are great as they work independent of volume level, making them ideal for home recording, practice, and small gatherings.
NUX Mighty Air steps in just at this moment. It is an affordable wireless digital modeling practice amp with amazing features and premium quality sound. Its compact size makes it highly portable while featuring enough power to rock your house. It has a wide range of effect options, rechargeable battery, drum, and backing tracks.
There is not much to say against this amp as it gives you everything for a small price. The only thing is that with some effects cranked up to high levels, the sound sometimes gets a little distorted as the speaker can not handle that much volume. But as this is a practice amp, that is totally acceptable.
I would definitely give NUX Mighty Air Wireless practice amp 5 stars out of 5. The great tone of the speakers, the huge amount of options, the portability of the speaker and the transmitter make it a great value for the buck.
NUX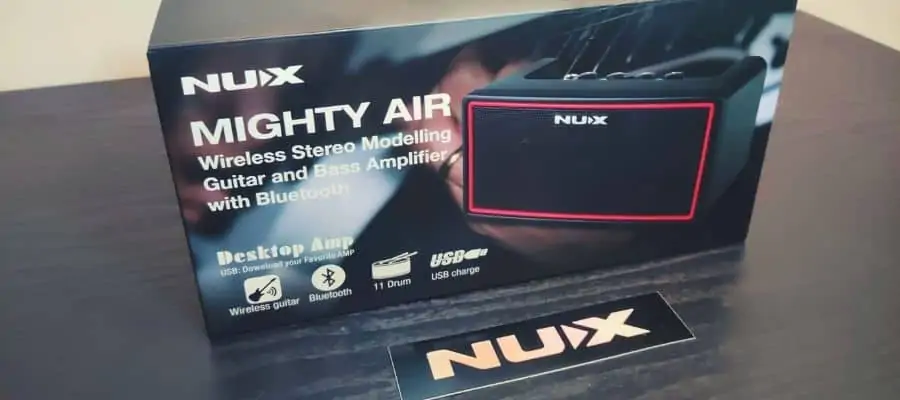 Founded in 2006, NUX is a brand owned by Cherub Technology. The brand offers many digital and analog musical products for musicians all over the world.
The company is located in mainland China where most of its products are produced. However, they have a U.S.A. branch to deliver their products easier to the country.
The motto of the company is, "We have the same passion in creating our products as those who use our products to create." And they do let the customers feel the passion with their innovative and budget-friendly products helping many musicians grow and create all over the world.
The Specs
Let's take a closer look at the Nux Mighty Air Specs: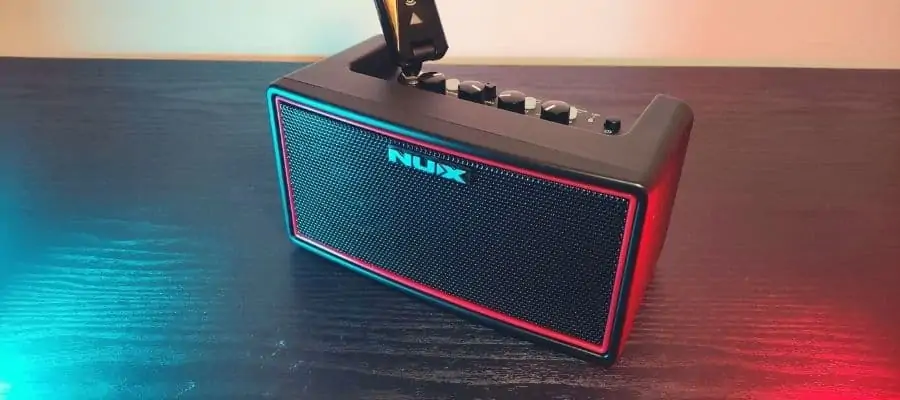 General
Dimensions
Electronics
Controls
Speaker
Input/Output
Transmitter
NUX Mighty Air is a compact size digital modeling practice amp with great features. It is called a stereo modeling amp as it provides stereo sound thanks to its built-in 2×2" speaker configuration.
The amp uses the white-box algorithm technology, which offers real negative feedback, increment by increment. The technology claims that this algorithm provides the playability guitarists get from real tube amplifiers.
Mighty Air is a compact-sized amp weighing around 1.83 lbs (830 g). Its dimensions are 35.8" (91 cm), 38.5" (98 cm), and 73.2" (186 cm), making it easy to carry around.
The 10-watt amp features a rechargeable battery that allows 18 hours of continuous playing time. It features 2×2" custom speakers with which it can provide stereo sound.
The control panel is located on top of the amp and has Gain, Volume, Tone, Delay/Reverb, Drum knobs along with the receiver, channel, drum style, tap, and on-off buttons.
The amp has standard connectivity options with a 6.3 mm jack as the instrument jack input, 3.5 mm jack as Aux-In, 3.5 mm jack as a headphone output and USB-C for charging and pc connection.
One of the most significant features of the amp is that it comes with a receiver to connect your guitar to the amp without wires. You can also use the Bluetooth connection to connect to your iOS or Android devices to reach Free Nux MightyLite app for advanced features and customization.
NUX Mighty Air Manual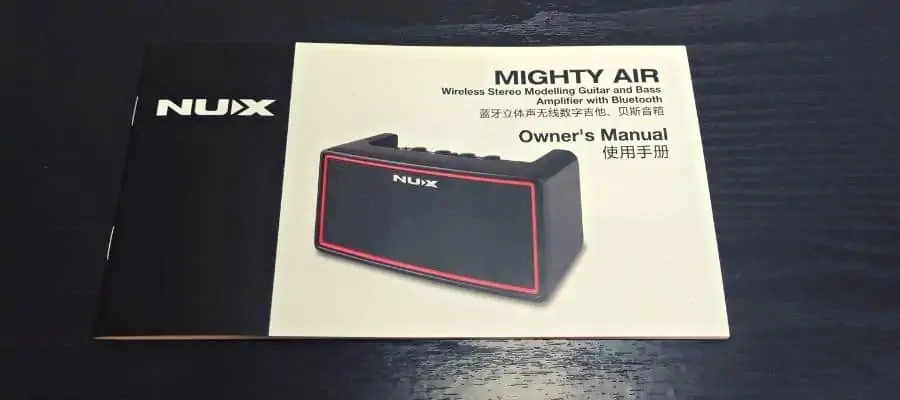 The Sound Of The Amp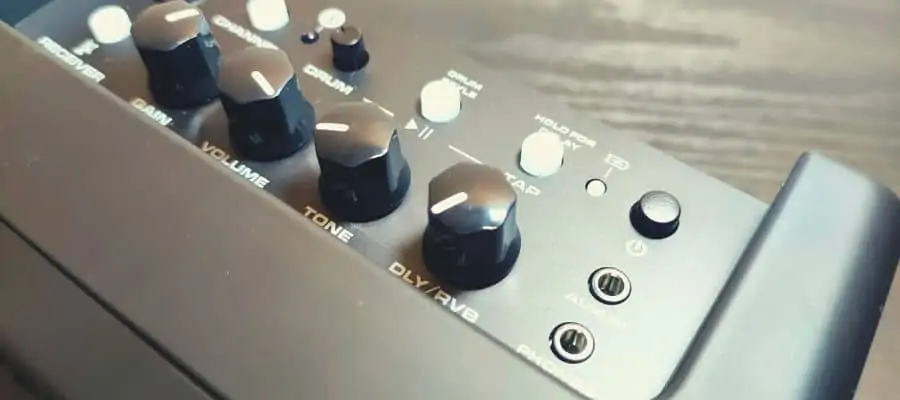 The first thing to say about the sound of this amp is that it is genuinely remarkable. It sounds really good considering its size. Even though it is a small amp, it sounds really loud, loud enough to annoy the other people in your house.
I think the custom stereo speakers make the sound fuller. The sound is not only powerful, but the quality is also more than satisfying. There are 7 different channels, Clean, Overdrive, Distortion, Acoustic simulator, Pop, Rock, Funk. They all provide great tones.
The amp offers a lot of amp types, IR's, effects like noise gate, pre effects, modulations, delays, and reverb. All of these options make the amp quite versatile in terms of sound. You can play around with many variations to get a lot of great sounds.
One problem regarding the sound is that some effects like the tube screamer bring the speakers to their limit where they can not handle the volume anymore. This makes the sound a bit distorted, which you can fix by bringing the levels a bit down.
You can check the attached video review to get a better opinion on the sound and different effects of the amp.
NUX Mighty Air App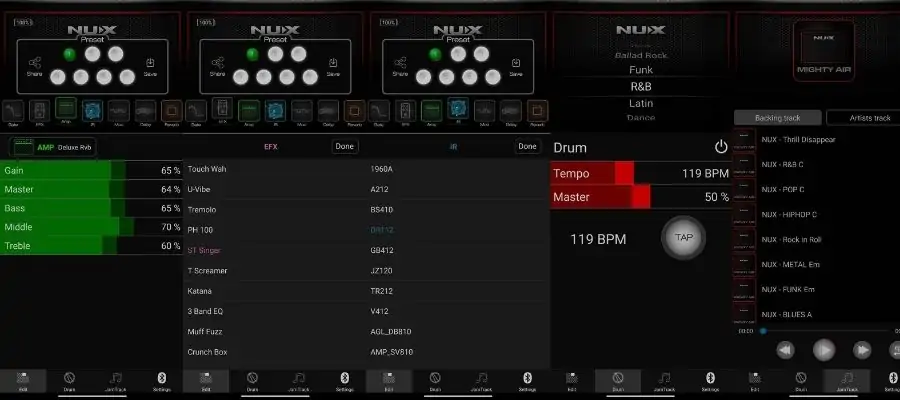 The amp comes with the NUX Mighty Air App, which allows the users to further customize the tones and use some extra features. It is compatible both with iOS and Android. You can connect to the app via Bluetooth to access wireless parameter control and utilize extra functions like Modulation, Playback, etc.
The app allows the users to deeply adjust pre-amp models, guitar cabinet IRs, effects, noise gate, and more. For different amp models, there are different levels of adjustment options. You can create your own presets or customize the pre-existing ones.
For Mighty Air, there are vast options in the app. For each preset, you can adjust the noise gate, add effects from the wide range of selection including great effects from T Screamer to Muff Fuzz, add a pre-amp model from the vast collection from Jazz Clean to Dual Rectifier, adjust cabinet IR, add and customize modulation, delay and reverb effects.
NUX Mighty Air App is a great app that offers huge versatility to the amps.
NUX Mighty Air Is Perfect For Whom?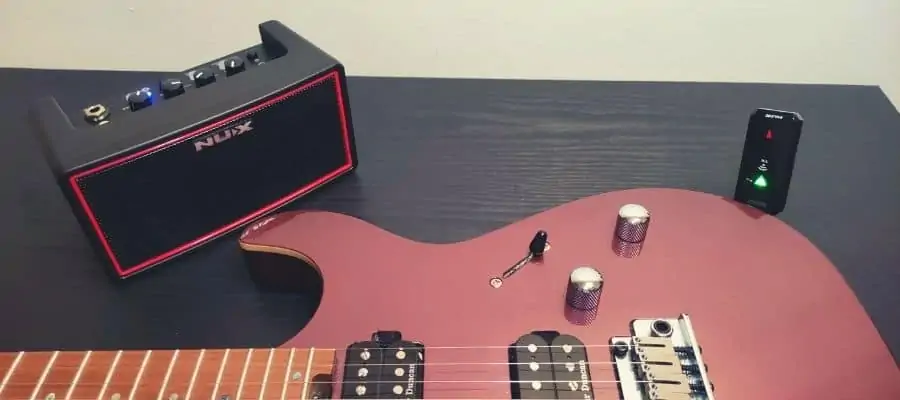 NUX Mighty Air is an excellent amp for practicing at home with its drum and backing tracks. Any guitarist, especially the entry-level ones, can enjoy the amp at home or in small gatherings.
It is really compact-sized and portable, so guitarists that are constantly on the move would also appreciate this one. I must say it is also a great option for busking, too as it can be used with battery power.
The amp is quite versatile, and it can be used for many genres, from rock to pop, blues to metal.
The amp is not meant for live performances or professional recordings, but it is ideal for home practice, amateur recordings, and small jam sessions.
If you are looking for an affordable, versatile practice amp with many great features, you can go for NUX Mighty Air.
NUX Mighty Air Vs Other Amps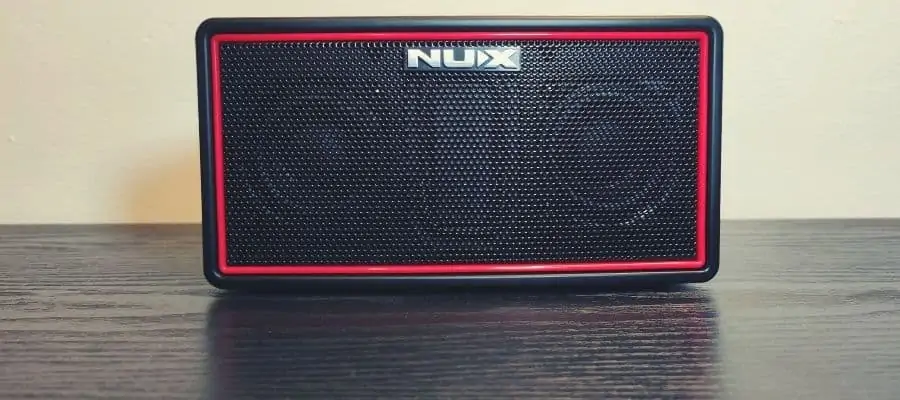 NUX Mighty Air vs. NUX Mighty Lite BT
Nux Mighty Lite is the smaller version of NUX Mighty Air. The lite version is considerably cheaper, but of course, the features are limited compared to the Air version.
The Lite model is a 3-W amp that features 3 different channels, and a 3" Custom voiced loudspeaker. Air version has 10-W power along with 2×2" custom speakers providing stereo sound.
The Lite version is a bit smaller in dimensions and does not have the wireless transmitter that the Air version has. It does not have a rechargeable battery but you can use it with 6 AA batteries instead.
Other differences appear on the app. For the Might Lite BT, the adjustment options are more limited than it is for Mighty Air. There are fewer pre-amp models and fewer effects options. Furthermore, there is no IR adjustment option and the chain effects are different and limited. To be more concrete, it does not allow you to have delay or reverb.
The rest of the features are pretty similar.
NUX Mighty Air vs Spark 40
Positive Grid Spark 40 is an innovative multifunctional digital modeling practice amp. Although it is much heavier and bigger compared to Mighty Air, it is still considered a portable amp. It has 40-watt power with 2×20-W custom speakers.
It is a more powerful amp compared to Mighty Air. It also features much more effects, and amp emulations along with more than 10,000 presets as the presets of users can be shared in the collective platform tone cloud. Just like the Mighty, the Spark connects to smartphones via Bluetooth, where you can import, export, or customize your tone.
Spark also has Smart Jam and Auto Chord features which makes practicing much more fun. Auto chords can be used with any song straight from YouTube, Spotify, or iTunes, and you can see the chords while playing or soloing on top. Smart Jam examines and learns your style and generates authentic bass and drums to accompany you.
Spark has many entertaining features like the included PreSonus DAW, along with a powerful digital modeling amp. Spark does not feature the wireless connection Mighty offers. The price is much higher compared to Nux Mighty Air.
NUX Mighty Air vs Yamaha THR II Wireless
Yamaha THR II Wireless series is a pioneer desktop digital modeling amp series with 10W or 30W power options. It features onboard modulation, reverb, and delay effects along with 15 amp tones provided by Yamaha's Virtual Circuitry Modeling.
Like the Mighty series, the THR series has the wireless option and smartphone app control for extended effects and tone adjustments. But for the wireless connection, you will need the transmitter sold separately.
Both of the amps feature rechargeable batteries. THR series provides 5 hours of battery time while the Mighty series' battery life is much higher.
In terms of sound, both amps sound pretty good as they have pioneer modeling technologies. However, THR II costs much more than Mighty Air.
NUX Mighty Air vs Boss Katana Air
Boss Katana-Air is a great 30-W wireless digital-modeling solid-state practice amp. It features 5 amp models and over 50 effects, including iconic Boss pedal effects.
Like Mighty Air, Katana-Air comes with a wireless transmitter and works completely wireless. Other similar features are the audio streaming and editing options via Bluetooth and rechargeable batteries.
With 2×3" custom speakers and 30 W power output, Katana is more powerful than Mighty Air. Both amps are relatively portable, but the Katana is bigger and heavier. Katana is designed for electric guitars, while Mighty Air works well with acoustic guitars and bass.
Katana-Air shines with its great sound, but the top stars are the high-gain tones. In my opinion, Katana Air's sound quality is better than Mighty Air.
Katana-Air is a great amp with an outstanding wireless system and great tones, but it costs much higher than most of the practice amps, including the Mighty Air.
NUX Mighty Air vs Boss Katana Mini
Another member of the Katana series is the solid-state Mini model with 7-watts of power and 4" custom speakers. It is a highly portable amp weighing around 2.6 lbs (1.2 kg), a little higher than the Mighty Air.
The Mini has 3 amp models along with built-in 3-band eq and delay effects. The tone selection range is relatively narrower than Might Air's selection.
The Mini works with 6 AA batteries and has 7 hours of battery life, while Mighty Air features a rechargeable battery with 17 hours of playing time.
One of the best features of Katana-Mini is the speaker-emulated headphone and recording output providing great sound with headphones or while recording without making any noise outside.
Might Air works wirelessly and is more versatile compared to Katana-Mini; however, Mini's sound quality is quite good, especially with high-gain tones.
That is why Katana-Mini costs almost half the price of NUX Mighty Air.
NUX Mighty Air vs Harley Benton Airborne Go
Harley Benton is the side branch of the music store Thomann. Their new practice amp, Airborne Go, includes a wireless transmitter and supports HD modeling, Bluetooth, 13 digital effects, and an app for extended tone customization.
It is a small portable amp with 3 W power and a 3" speaker. It is less powerful than Mighty Air, but the features are pretty similar. Airbourne Go resembles a downgraded mono version of NUX Mighty Air with fewer effect options and power.
It is quite similar to Mighty Lite BT in terms of app control options. The versatility of the amps is pretty close in this sense. The only big difference is that Airbourne go has the wireless transmitter while the Mighty BT Lite does not.
Airbourne Go has a price tag slightly lower than Mighty Air's price tag.
NUX Mighty Air vs Blackstar Fly 3
Blackstar Fly 3 is a compact battery-powered solid-state desktop amp with 3-W power. It has 2 channels, clean and overdrive, along with a built-in tape delay effect.
The Fly 3 provides 4 hours of playing time with battery power which is significantly shorter than Mighty Air. Might Air is again better in terms of versatility as it has a wider range of amp channels and effects.
Blackstar Fly 3 is a simple amp with simple features, but it provides a high-quality sound, especially with low-to mid-gain tones. Fly 3 is also the amp with the lowest price tag on this list, costing less than half of the Mighty Air.
Other Nux Amps Worth Mentioning
NUX Mighty Lite
Nux Mighty Lite is a highly affordable 3-W desktop amp to practice at home or while traveling. It is highly portable and has a Bluetooth connection to customize tones. It has 3 channels with many effect options making this amp a great companion.
NUX Mighty Plug
Mighty Plug is a silent-play device for guitarists. You plug the device into your guitar like an amp and connect your headphones to the small box-shaped gear to get the sound of your guitar. The Plug features many different effects, modeling amplifiers, and Impulse Response (IR) cabinet models that you can customize through the smartphone app.
NUX Mighty 40 BT
NUX Mighty 40 BT is a 40-W powered amplifier with 4 different channels, digital effects, 3-band eq, and a tuner. It allows you to connect to any device through Bluetooth to use the backing or drum tracks to enhance your playing experience. It is powerful with its 10" speaker configuration, providing enough loudness for small concerts.
Alternatives To The Amp In Terms Of Look, Sound, Specs, And Price
Spark
Positive Grid Spark 40 is one of the best practice amps with its innovative and multi-functional features. It is a powerhouse with 40 Watts of power and two 4" custom speakers that provide stereo sound.
The effect selection is quite versatile, with 33 amp models and 43 effects that can be customized with the Spark App for iOs and Android. The amp can connect to smartphones with Bluetooth to use the app's great features like Smart Jam and Auto Chord, making the practices much more enjoyable.
The amp has 1/4" Guitar Input, 1/8" Aux Input, 1/8" Headphone connectivity options. It is also relatively portable with its 11.46 lb (5.2 kg) weight.
It also comes with a Presonus DAW, which is excellent for recording sessions. The amp's price is higher than the Mighty Air.
Boss Katana Mini
Boss Katana series is one of the most fantastic amp series in the last decade. The Mini version features 7-watts of power and 4" custom speakers along with high portability thanks to its lightweight of around 2.6 lbs (1.2 kg.)
The amp comes with 3 amp models with 3-band eq and delay effect. It has a volume knob, bass, mid, treble knobs for the equalizer, and time and level knobs for delay effect. It features 1/4-inch phone type input, Stereo miniature phone type aux in, and phones/rec out.
It works with 6 AA or 6 Ni-Mh rechargeable batteries or AC adapter. With the battery, it has around 8 hours of playing time.
The amp is excellent for practice or home recordings and thrives with high-gain tones. It is a pretty cheap amp costing far less than Mighty Air.
Harley Benton Airborne Go
Harley Benton Airborne Go is a very similar amp to NUX Mighty Air. However, it has fewer features and costs much less compared to the NUX amp.
It is essentially a portable 3-W amplifier with a 3" speaker providing mono sound. Airbourne Go comes with a wireless transmitter to play your guitar without any wires, HD modeling for high sound quality, Bluetooth for connecting to smartphone apps for extended tone variations, and 13 digital effects.
It has gain, volume, tone, and delay-reverb knobs as well as four push buttons for various functions, the on/off switch, and a little knob that changes drum patterns along with Aux-In, Phones, and the Input connections on the control panel.
Although it does not have many features, it is an excellent amp for the price and is very portable and fun to play with. Finally, it costs slightly less than the Mighty Air.
Conclusion
As I said before, there is not much I can say against NUX Mighty Air. It is an excellent amp for its price with its great tones, a huge amount of effect and tone options, high portability with its weight less than 2 lbs, and the wireless playing option.
It is an outstanding amp for practices at home, jamming with friends, or even small gatherings. I think it is very hard to beat this amp in this price range.
If you found this article useful, you may want to save this pin below to your Guitar board.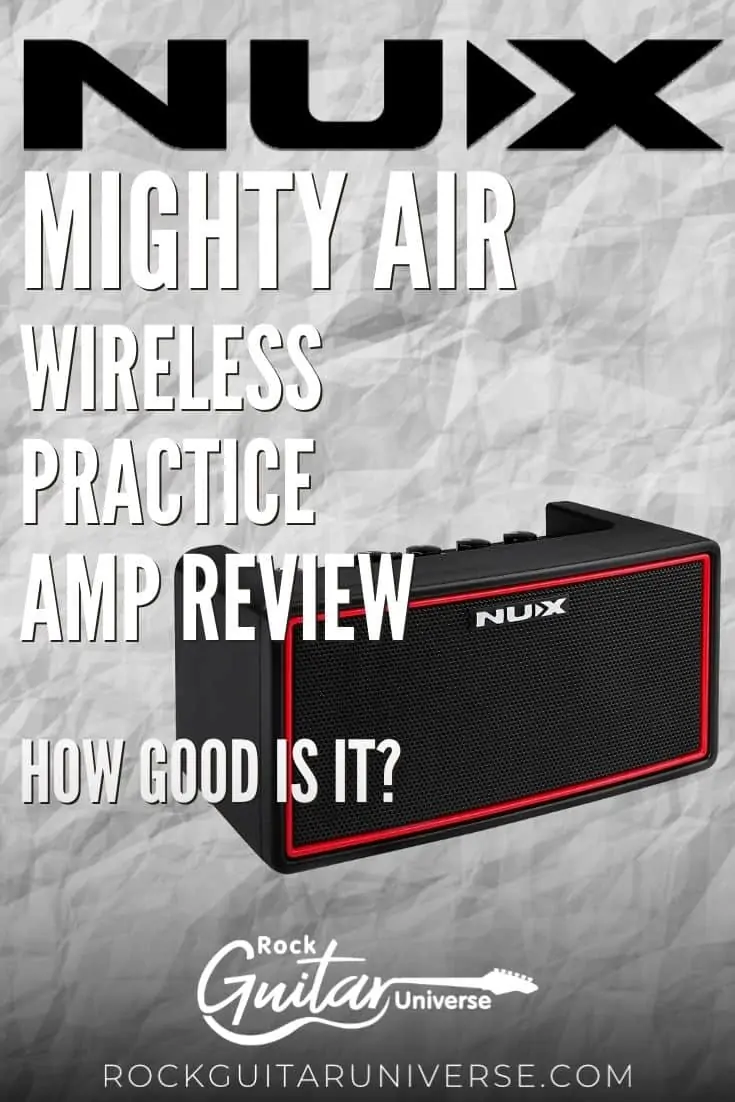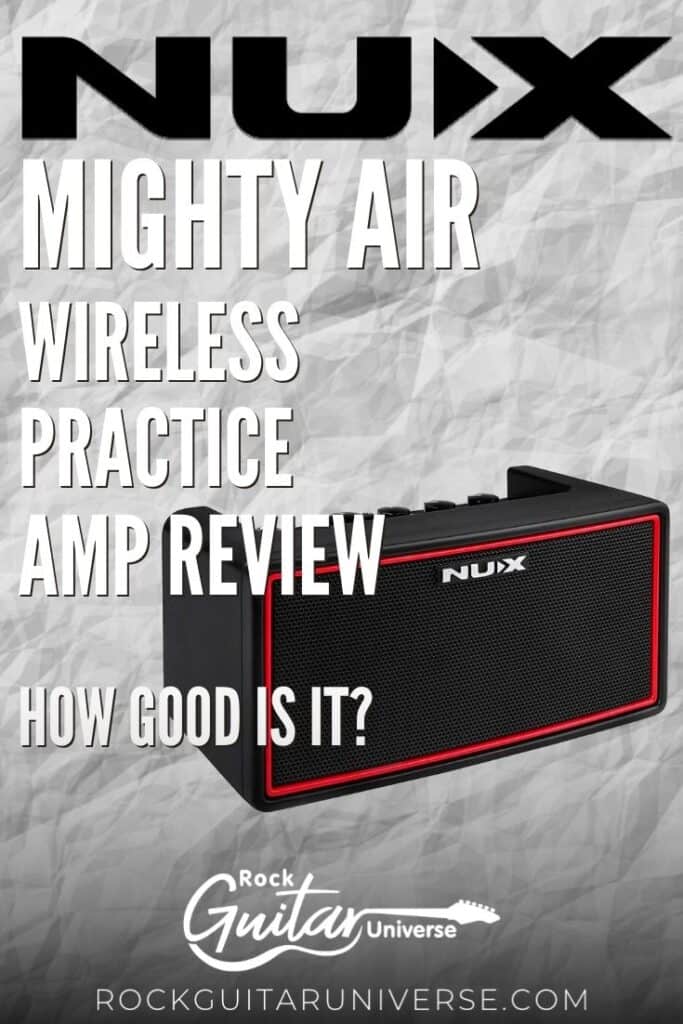 Last update on 2023-05-29 / Affiliate links / Images from Amazon Product Advertising API