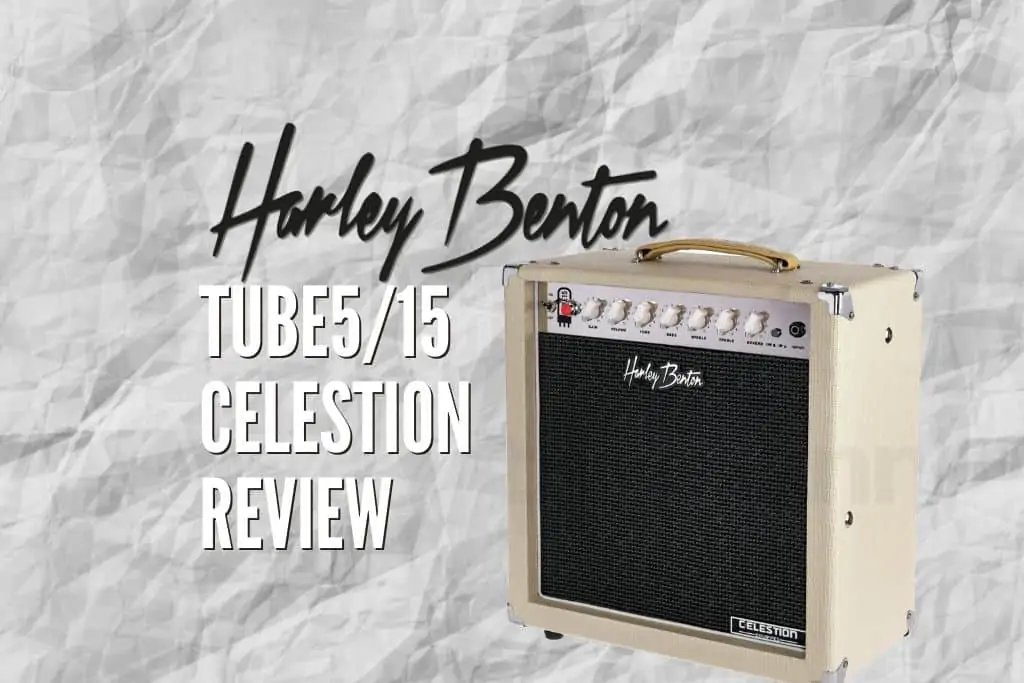 Finding a perfect amplifier is never easy, especially if you are looking for something specific. And the price goes even higher if you are into tube amps. Fortunately, there are a few options that will allow you to get a tube amp without spending a fortune.
Once again, we need to take a look at what Harley Benton has to offer. Now, I talked about Harley Benton guitars in the past, and these models are exceptional considering the price. This is why Harley Benton tube amps are so exciting for many players out there.
Here, we have two tube amps that are more than affordable, and there are a couple of differences between them. The first and most obvious difference is the power, since the first amp is 5W, while the second one is 15W.
As for the rest of the differences between Tube5 and Tube 15, we will go through them in a bit. Probably the most important question is the sound and whether these amps are any good. And the truth is, it will be challenging for you to find anything similar in this price range.
Even if you get the smaller version, it is still an excellent tool for beginners. Needless to say, it isn't a good option for live performances, but it will allow you to create a good sound while playing at home. And of course, it has tubes.
| Pros | Cons |
| --- | --- |
| Great sound | Tube5 has only two pots |
| Incredible price | A footswitch is not included |
| Tubes | |
To buy a tube amp, you will usually need to spend a lot of money. For example, Fender tube amps are usually over $700, and the price goes a lot higher than that. But with this Harley Benton model, you will need to invest $125/$230 based on the series you like. And it is impressive.
Naturally, the amp can be a perfect choice for beginners since they won't need to invest as much to get a decent quality.
Harley Benton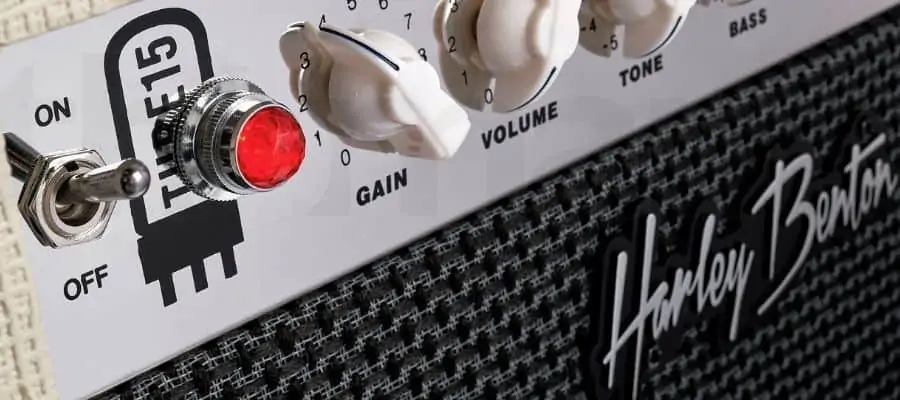 It seems that everyone is talking about Harley Benton for the past couple of years, and the reasons for that are obvious. The company offers incredible products for such a low price, and you can find almost any type of guitar or amp in their repertoire. But what is Harley Benton?
Harley Benton is a German company designing guitar equipment. The company is mostly focused on guitars and basses, but it is possible to find other instruments as well. What is interesting is that Harley Benton is a part of Thomann, which is one of the biggest retailers of musical instruments in Europe.
Both Thomann and Harley Benton are mostly focused on online shopping, and if you like their products, you should know that the company is shipping anywhere in the world. Harley Benton guitars are manufactured in factories in the Far East, and the countries are usually China, Vietnam, or Indonesia.
The Specs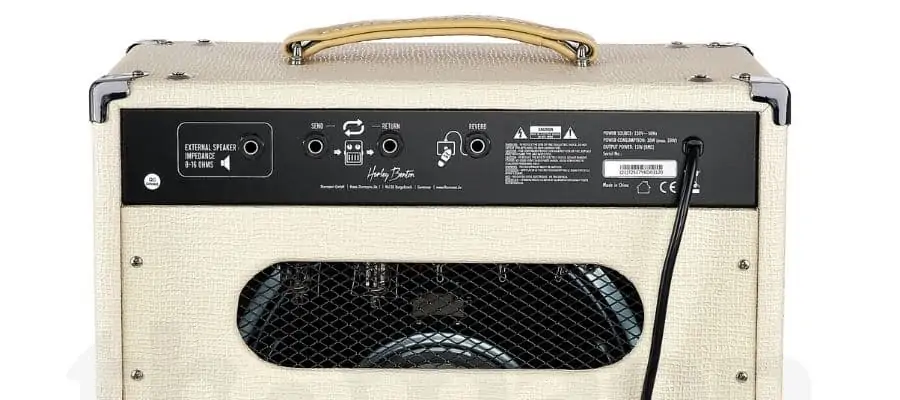 Since there are two amps on this list, I will try to list all the differences and specs for both amps at the same time. This way, you will have an easier time finding the model that's perfect for you.
General
| | |
| --- | --- |
| Series | Tube |
| Model Available in the Series | Tube5 and Tube15 |
| Type of Amp | Valve |
Dimensions
Tube5
| | |
| --- | --- |
| Weight | 13.23 lbs (6 kg) |
| Width | 12″ (305 mm) |
| Height | 12.2″ (310 mm) |
| Depth | 8.27″ (210 mm) |
Tube15
| | |
| --- | --- |
| Weight | 25.35 lbs (11.5 kg) |
| Width | 16.81″ (427 mm) |
| Height | 17.13″ (435 mm) |
| Depth | 9.25″ (235 mm) |
Electronics
| | Tube5 | Tube15 |
| --- | --- | --- |
| Output Wattage | 5W/1W | 15W/1W |
| Power Requirements | Voltage transformer | Voltage transformer |
| Control Panel Location | Top front | Top front |
| Display | None | None |
| Preamp Tubes | 1x ECC83 / 12AX7 | 3x ECC83 / 12AX7 |
| Power Amp Tubes | 1x 6V6GT | 2x EL84 |
Controls
| | Tube5 | Tube15 |
| --- | --- | --- |
| Knobs | Volume and Tone | Gain, Volume, Tone, Bass, Middle, Treble, Reverb |
| Switches | Power On/off | Power On/Off |
| Buttons | Power attenuator | Power attenuator |
Speaker
| | Tube5 | Tube15 |
| --- | --- | --- |
| Speaker configuration | 8" | 12" |
| Speaker model | Celestion Super speaker | Celestion Seventy speakers |
Input/Output
| | Tube5 | Tube15 |
| --- | --- | --- |
| Instrument Jack | 2.5″ (6.3 mm) | 2.5″ Jack (6.3 mm) |
| Aux In | None | None |
| Headphones Out | None | None |
| Speaker Out | 2.5″ (6.3 mm) | 2.5 inch (6.3 millimeters) |
| Effects Loop | None | Yes – Send/Return 2.5″ (6.3 mm) |
| Line Out | None | None |
| Foot Control | None | Yes – 2.5″ Jack (6.3 mm) |
| USB | None | None |
| Bluetooth | None | None |
As you can see from the list, the amp is not universal. It doesn't support a USB connection, Bluetooth, and so on, but you can't expect full support for such a low price. And that is the main advantage and quality of this series.
As I mentioned before, the obvious difference between these two amps is in size, and one has 5 Watts while the other offers 15 Watts. The smaller option is great if you are playing at home, while the bigger one might be enough for smaller gigs. Of course, another thing to mention is that the Tube15 has a 12 inch Celestion speaker, which is more than impressive.
You might already know that the size of speakers will play an important role in the shape of the sound. And having this "slight" increase in size will make a world of difference. Both amps offer Celestion speakers.
The next thing on the list to discuss is controls. As you can expect from a smaller amp, the EQ is not impressive. There is only one knob for volume and one for tone. And that's it. You also have a button to select the mode, and you can alternate between 5W and 1W. This addition is incredible and it allows you to freely play the amp without bothering your neighbors. Keep in mind that this is still an amp tube and having a 5W valve amp is a lot different compared to the transistor amps of the same power.
Tube15, on the other hand, offers a lot more. You have seven knobs to use, which will allow you to further shape the sound. The amp has a gain knob, volume, full EQ (bass, treble, and mid), tone, and reverb. Yes, the amp has spring reverb! You will also get a switch to alternate between full 15W and 1W for home practice.
Both amps are full valve amplifiers, and the Tube15 series offers 3x ECC83 / 12AX7 in the preamp and two EL84 in the power amp section.
Finally, when it comes to outputs, Tube15 offers speaker out, send/return, and reverb outputs, while Tube5 has only an option to use an external speaker. It all comes down to how you plan on using the amp, and if you just want a valve amp to use at home, Tube5 might be a great choice. Otherwise, it might be a good idea to invest a bit more and go for the bigger model with many additional features.
It is worth mentioning that Tube15 also supports footswitches, but you won't get one in the package. As for Tube5, the footswitch option is not supported.
The Sound Of The Amp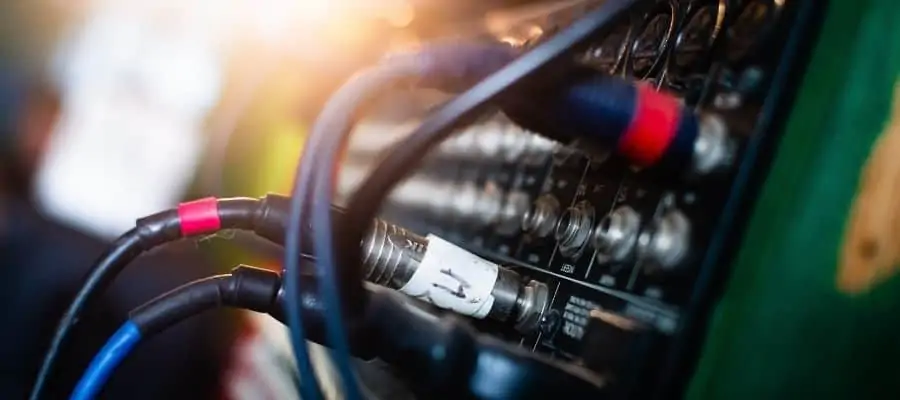 Now it's time to proceed to the fun part. How do these amps sound? If you plan on using either of these amplifiers without any effects, there are a couple of limitations to what you can play. Obviously, the Tube5 series comes without gain, which means that you will have a challenging time playing heavier music without pedals.
The bigger version of the tube amp offers its own gain, and it can get quite loud and powerful. Naturally, it still might not be the best possible option for heavy metal, but that's where pedals come to light. Thanks to the effect loop on the back, you can plug in any pedal you like, and you can even use volume pedals to control the loudness.
The footswitch for Tube15 is designed to control reverb, and you will need to get it separately. You can use the knobs on the amp to adjust the sound, and volume controls the loudness from 1 to 10. The reason why I mention this is that the EQ and tone knobs allow you to adjust the sound from -5 to 5, which means that setting them in the middle would be 0.
The gain on the amp can be quite powerful, and it gives a well-known valve sound. Naturally, if you hit the switch button, you can lower the volume and make it possible to play at home while still having that nice gain.
And this leads us to pedals. You can use any effect you like since it works quite well with drive pedals and other effects. You can also use them in combination with the amp gain, and it will give you numerous different options for creating the sound of your dreams. Players that already own a good speaker will be able to get even more from the amp since it will allow you to use better speakers (or more powerful ones). Using the external speaker will turn off the one on the amp.
The amp is loosely based on Laney Cub but there are a couple of changes or improvements that you might notice. All things considered, the sound is exceptional, it works great with pedals, and especially if you count the price.
Harley Benton Tube5/Tube15 Is Perfect For Whom?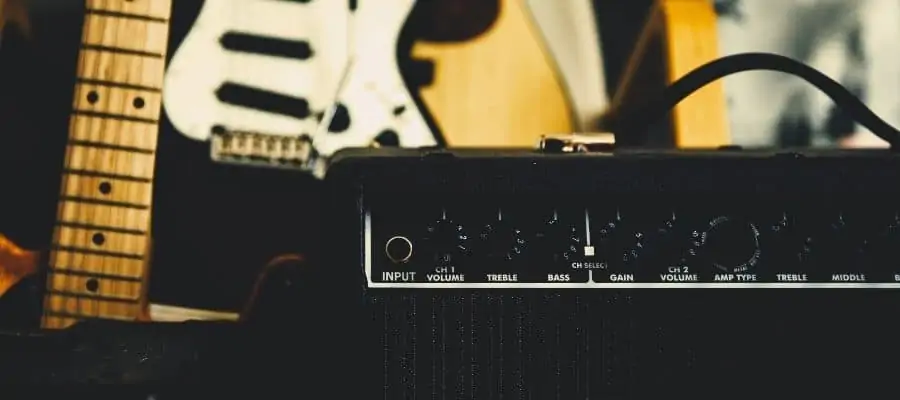 The most obvious answer to this question is that the amp is perfect for beginners. Especially the Tube15 version. You get a nice reverb, all-tube amp, gain, and it sounds quite nice. You can practice at home, record yourself, and even play with the band using it. But this leads us to the next part which is the type of music you plan on playing.
The amp is great for beginners as long as they don't play something heavy. Where this amp really shines is with single-coil pickups. This doesn't mean that you can't use it with humbuckers, but you might not like the sound coming out of it. And let's be honest, this amplifier is not Blackstar or something you can crank up to insane levels. It is a simple tube amp that has a beautiful sound. But it is not a metal amp.
It is also a great option if you are looking for a budget-friendly amp that you can use on tours or gigs or at home. Furthermore, if you already own an incredible amp that's quite powerful, you also might want to consider getting this one. Using a 100W amp at home would be nearly impossible, and this will allow you to get a nice sound without torturing your neighbors or family members.
So, it doesn't matter if you are a beginner or someone with experience since Tube15 is an amp that anyone can use. And the best thing about it is that it's so affordable. Of course, Tube5 is a lot simpler (and even cheaper amp), and it might not be suitable for people with more experience.
Differences Between The Models In The Series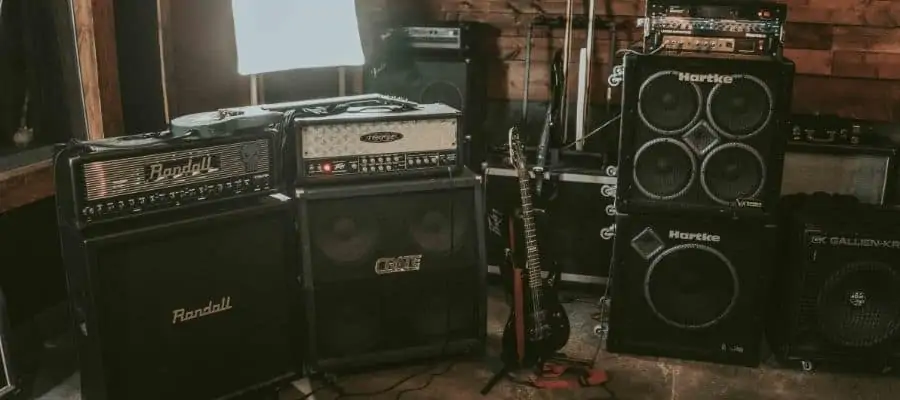 As you could've seen from the list, there are a couple of differences between these two amps. Firstly, the power is an obvious thing that makes them different, but also the size of the speaker. Using the Tube15 is so much better, and the amp comes with full EQ, reverb, and gain.
Even if you don't have a pedalboard you can still make beautiful sounds on it. It also has a higher quality speaker and more tubes in the power section, and this will make a world of difference.
So, if you can afford to buy either one of these models, I would suggest going for the Tube15.
Footswitch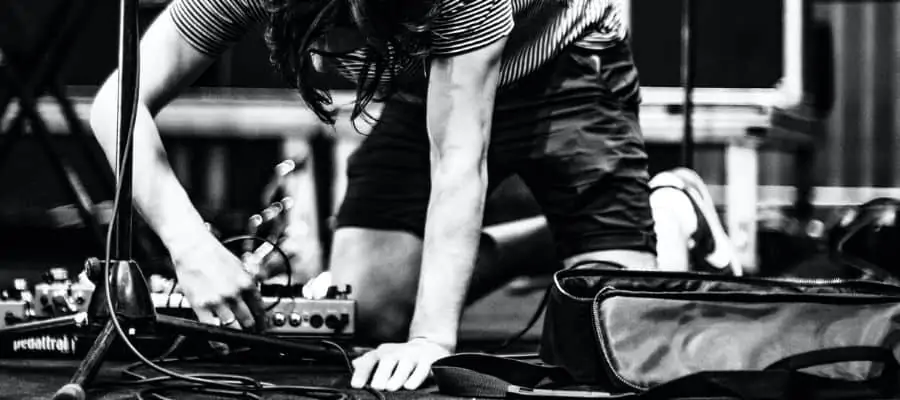 If you are interested in getting a footswitch, there are a couple of different options you can check out. Keep in mind that the footswitch is not available for the Tube5 version of the amp, and you can only use it on the bigger model.
The second important thing is that you will need a 1 channel footswitch since it will only control the reverb. Tube15 has a single channel you can use.
Neewer
A simple footswitch that uses a ¼ inch cable, and it also has an LED to see whether the reverb is on or not. The device is fairly standardized, which means that you won't need to worry about anything.
The casing is made of metal, and it is quite important for those looking for a durable product.
Lead Foot FS-1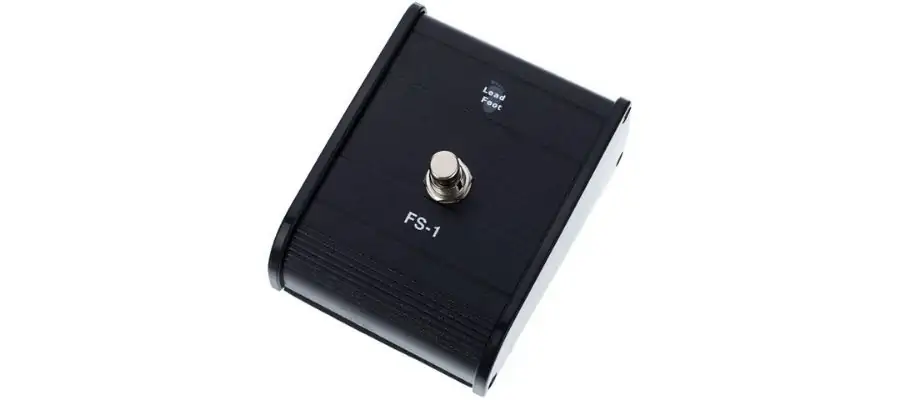 You can also check out the Lead Foot FS-1. If you are ordering the Tube15 from Thomann, you can order a footswitch as well so both arrive at the same time. The design of this switch is quite simple, there is a single button, and the case is durable.
And that's it. The price is quite nice as well, and if you are ordering at the same time, it will make everything even simpler.
Alternatives To The Amp In Terms Of Look, Sound, Specs, And Price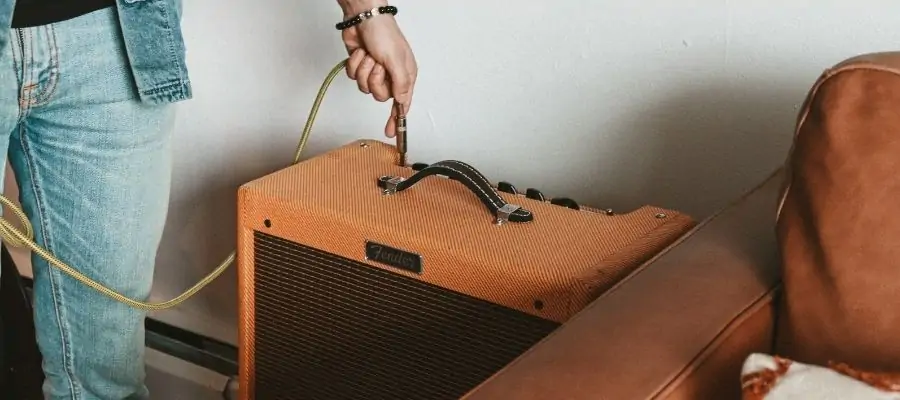 If you are looking for something similar for any reason, there are a couple of options you can check out based on the overall feel and sound of the amp. However, if you are looking to find a tube amp in this price range, you will have a hard time doing so.
Tube amps are usually a bit pricier, which is why finding one for $100 or $200 will be a real challenge. I also won't be mentioning the Monoprice amp, since it is more or less the same version of the Harley Benton amplifier but for the U.S. market.
Marshall Origin 5C Combo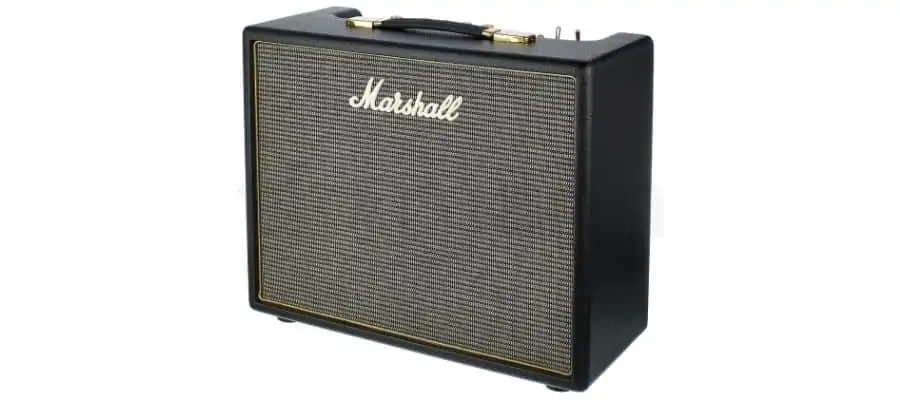 Marshall is known for its amps, and the quality is exceptional. This is a 5 Watt model that offers something similar to the Tube15 series. If you are familiar with amps designed by Marshall, you already know what type of tone to expect. Needless to say, the quality and overall sound will be a lot better compared to Harley Benton, but the price will be a bit higher as well.
The amp has two tubes in the pre-amp section, and one in the power section. It has an 8″ Celestion speaker.
Laney Cub 8
I mentioned before that the Harley Benton amp was inspired by Laney Cub, and if you'd like to have the amp behind the idea, here's the chance. This is an amp with an 8" Celestion speaker, 5 Watts, and it's quite good.
However, the main downside is that the amp is a lot more expensive compared to the alternative.
Blackstar HT-1R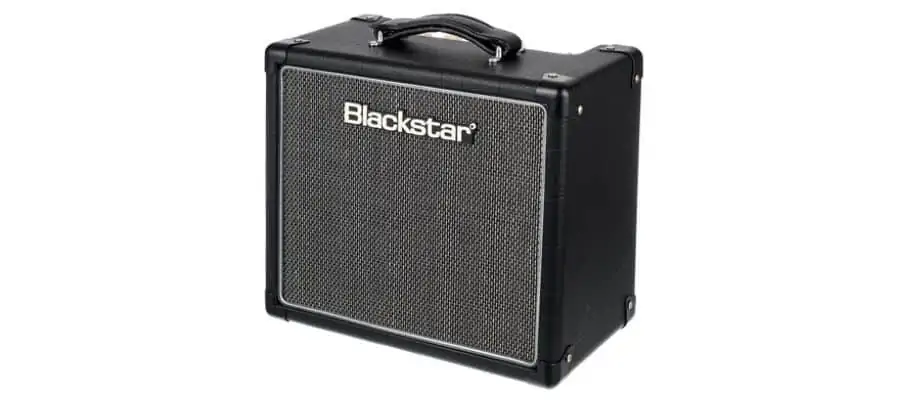 Blackstar is another iconic brand you might be interested in getting. Once again, this is a tube amp, but the power is significantly lower. It offers 1W of power with an 8-inch speaker. Blackstar is an excellent option for those looking for an amp for a heavier genre.
The amp has a clean and overdriven channel, USB audio out, and it's excellent for home practice. The price is slightly higher compared to the Tube15, but the power is lower. However, if you are a fan of Blackstar, this is something you will probably enjoy.
Conclusion
If you are looking to find a valve amp on the budget, you will have a hard time finding anything better than Harley Benton. This series includes two amps – Tube5 and Tube15. The first model is a 5W amp with an 8" speaker, while the second one has a 15W and a 12" speaker.
Both speakers are Celestion, and they sound quite good. Of course, the main quality of these amps is the price and the fact that they are all-valve.
The amp works great with pedals and different effects, and the 15-watt version has its own EQ, drive, and even reverb. All things considered, these are incredible amplifiers and they are an excellent option for beginners. For those that always wanted to have a tube amp, this might be a perfect opportunity.
If you found this article useful, you may want to save this pin below to your Guitar board.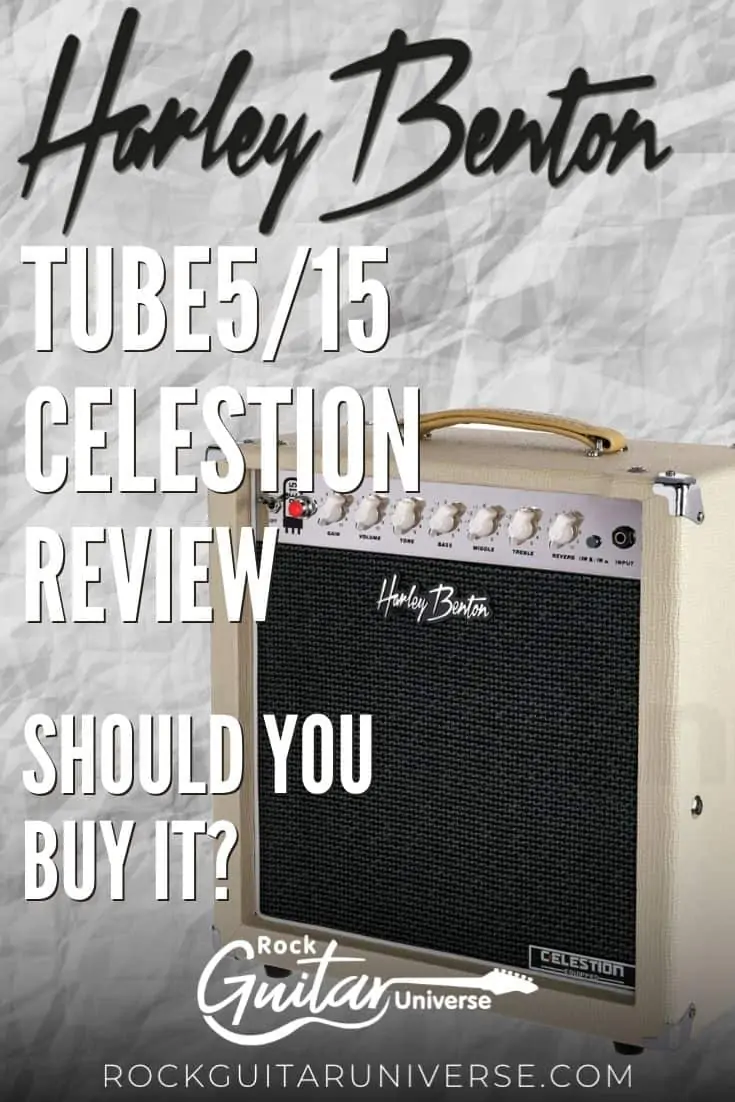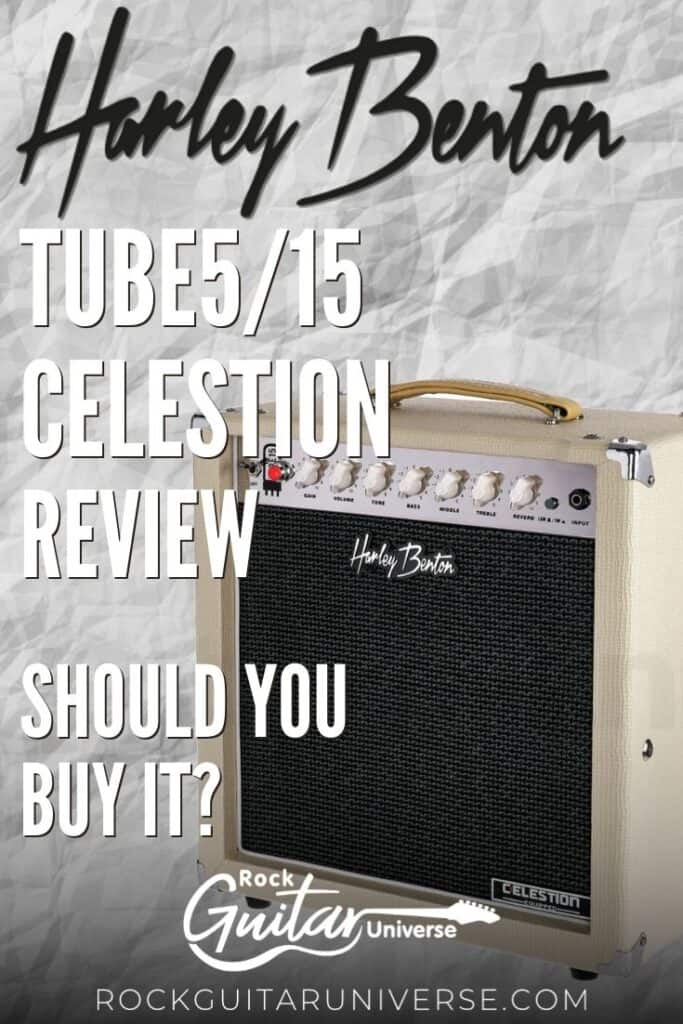 Last update on 2023-10-05 / Affiliate links / Images from Amazon Product Advertising API