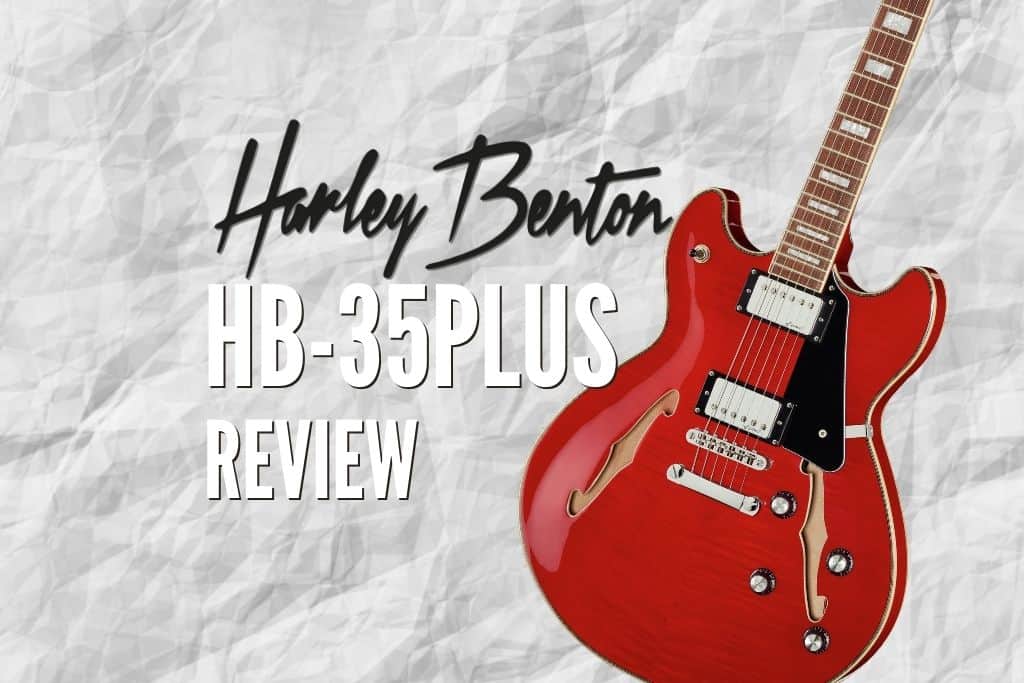 People have been talking about Harley Benton guitars for quite a while, and there is a good reason for it. The company offers incredible instruments for such a low price that it made so many guitar players interested in its products. Here, we will take a closer look at HB-35Plus. 
HB-35Plus is an improved version of HB-35, and both models are inspired by Gibson ES-335. This means that you can get a semi-hollow electric guitar for a significantly lower price. And this is the main quality of Harley Benton guitars.
With other models, you'd be forced to pay a lot more if you are looking to get yourself a decent instrument. We all know that Epiphone is a great company, but its products can often be pricey for beginners.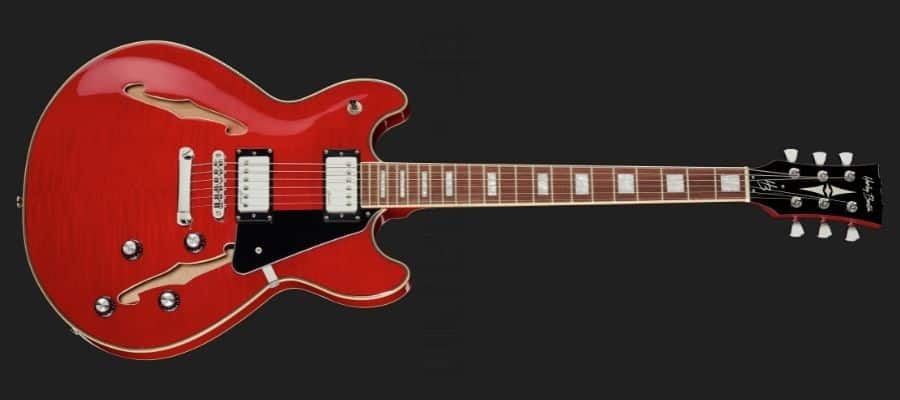 The design of the instrument is fairly simple, and it follows the same idea as Gibson's semi-hollow guitars. This means that there is a block in the middle, while the rest of the body is hollow with a traditional f-shaped hole.
| Pros | Cons |
| --- | --- |
| Two humbuckers | Pickups could be better |
| Great materials and design | Possible issues with frets |
| Semi-hollow body | Might require setup |
Of course, some of these issues are easily solvable, but it isn't something you should do when you buy a new guitar. Furthermore, it might be a problem for someone who is just learning how to play the guitar since they won't know how to fix these problems on their own.
But all things considered, this is a really beautiful-looking guitar, especially if you consider the price. Harley Benton once again showed why so many people are interested in their models, and what makes them stand out when it comes to low-budget guitars.
On a scale of 0 to 5, Harley Benton HB-35Plus is probably around four, maybe four and a half. You will have a hard time finding a better semi-hollow guitar in this price range.
Harley Benton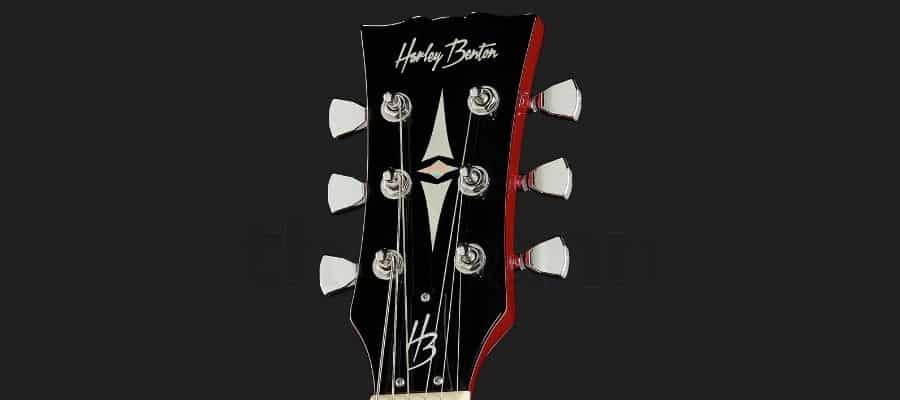 Thomann is one of the biggest retail stores when it comes to guitar equipment, and the company is located in Germany. The company was founded in 1954, and over the years it gained incredible popularity in Europe and the rest of the world.
As the internet became common, Thomann created its Cyberstore where you can find numerous different instruments, amps, pedals, and other pieces of gear. What is interesting is that Thomann recently launched its own brand of instruments called Harley Benton.
Harley Benton is one of the most popular brands today when it comes to budget instruments, and the reason for that is quite simple. Harley Benton offers one of the best guitars in that price range. As you can probably guess, the majority of these instruments are made in China and other countries in the Far East, and the company focuses on well-known models.
This means that you will be able to find Harley Benton's version of Stratocaster, Telecaster, Les Paul, and in this case, ES-335. The company is also great because it offers an instrument for anyone. Regardless of your taste, there is a high chance you'll be able to find a model that you will enjoy.
Harley Benton HB-35Plus Specs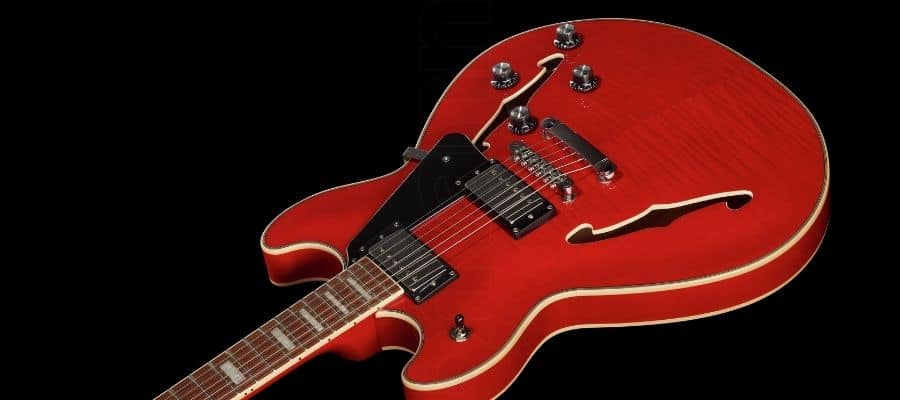 Let's proceed to the fun part. The only way you can know what to expect from the HB-35Plus is if you check the specifications. 
General
| | |
| --- | --- |
| Series | HB-35 |
| Number of Strings | 6 |
| Hand Orientation | Right or Left |
| Colors | Cherry, Lemon, Vintage Burst, Metallic Green, Black, Metallic Blue, and Metallic Plum |
Body
| | |
| --- | --- |
| Body Shape | ES-335 Clone |
| Body Construction | Double Cutaway |
| Body Type | Semi-Hollow |
| Body Material | Maple with mahogany block |
| Top Material | Flamed maple top |
| Top Type | Arched |
| Back Material | Maple |
| Finish | Gloss |
Neck
| | |
| --- | --- |
| Scale Length | 24.72 inches (628 millimeters) |
| Neck Construction | One-piece, set-in |
| Neck Material | Maple |
| Truss Rod | Adjustment at the nut |
| Truss Rod Type | Wrench |
| Fretboard Material | Pau Ferro |
| Fingerboard Radius | 12 inches (305 millimeters) |
| Position Inlays | Block inlays |
| Number of Frets | 22 Frets |
| Fret Size | Medium |
| Nut | Plastic |
| Nut Width | 1.65 inches (42 millimeters) |
Electronics
| | |
| --- | --- |
| Pickup Configuration | HH |
| Neck Pickup | Roswell LAF Alnico-5 vintage-style humbucker |
| Bridge Pickup | Roswell LAF Alnico-5 vintage-style humbucker |
| Controls | 2 volume with push-pull, 2 tone |
| Switch | 3 Positions: Bridge only, Bridge and Neck, Neck Only |
Hardware
| | |
| --- | --- |
| Tailpiece | Deluxe Tune-O-Matic bridge |
| Bridge Type | Fixed |
| Tuners | Deluxe Chrome |
| Finish | Chrome |
| Pickguard | Plastic, color based on the model |
Finding a semi-hollow instrument for such a low price is nearly impossible. Companies designing them are not as common, and the reason is obvious. It takes a lot more effort to manufacture a semi-hollow guitar, which is why the majority of cheap guitars are made of solid wood with a bolt-on neck. It's simpler, which means cheaper to make.
But here, we have the exact opposite. The guitar has a standard semi-hollow shape like with Gibson's guitars. There is a mahogany block in the middle of the body, the neck is set in, and the guitar looks incredible. 
The pickups are decent but don't expect too much from them. Naturally, the quality is far from being on a professional level, but for a budget guitar, they sound good. One of the problems you might encounter is finishing touches.
Frets often need polishing, and it would be great if you could take your guitar to the service for a setup as soon as you get it. This is one of the main problems with Harley Benton guitars because they are not as polished as they should be. However, the low price makes up for it.
Regardless of the color you pick, each model is beautiful and has a unique touch to it. There are a couple of different finishes you can find, and it is up to you to choose the one you like the most.
The guitar is really comfortable to play, and as I said, the only problem you might notice is with frets. But it is something that can be easily fixed.
The Sound, The Feel Of The Harley Benton HB-35Plus
The main question when it comes to sound is what type of amp you have and whether you plan on using any pedals. These will have a significant impact on the sound, and the pickups are quite nice for this price range. Naturally, you won't be getting a set of EMGs, but that's expectable.
Playing Harley Benton HB-35Plus feels quite good. The finish is gorgeous, and the binding looks amazing. This model has binding on both the body and the neck, and it is a nice addition to the look. Of course, the color mostly depends on your taste, but there are plenty of choices you can find.
But even if you go for an affordable amp, you will still have a nice sound. As for the feel, the guitar is quite comfortable once you polish frets (if there's any need for it).
What is interesting here is that the guitar has a push-pull potentiometer on both volume knobs, which is not something you'll encounter on cheaper guitars. And it just shows the dedication of Harley Benton.
Since there is one volume knob for each of the pickups, this means that you can use the push-pull option to split coils. This will give you a chance to split the number of coils on the humbucker, creating something more similar to single-coil pickups. Naturally, you can use this for either or both of the pickups on this guitar.
And this just adds another layer of versatility. If you like the sound of single-coils for jazz or blues, you can easily get that sound. Or you can use the humbuckers with full power and more gain.
Harley Benton HB-35Plus Is Perfect For Whom?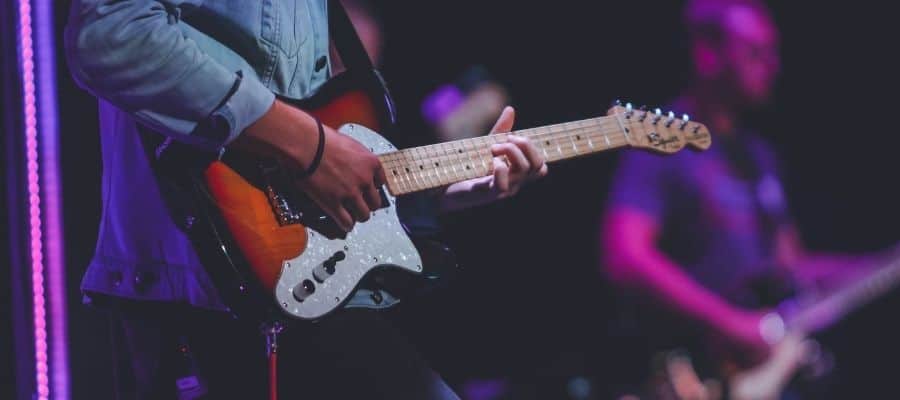 The most obvious answer is for beginners. The guitar is in the affordable range, which is something that many players will adore. They won't need to spend a fortune if they are looking for a semi-hollow guitar, and the quality is quite nice. When it comes to music genres, the guitar is perfect for blues, jazz, and rock.
While it is possible to play heavier genres, it is not something that many players will enjoy. Two humbuckers will allow you to get the heavier sound if that's what you're looking for. But all of this doesn't mean that you can't use this guitar if you have more experience.
There are players out there who are looking to buy another guitar but not to use it as a primary instrument. And Harley Benton HB-35Plus might be a perfect choice. Keep in mind that the overall quality of the instrument is good, but it is not up to the highest standards which are reasonable considering the price.
So, if you are looking to get yourself an affordable semi-hollow guitar, this can be a great option. It doesn't matter if it is your first or fifth guitar. Anyone can use it.
Is It Possible To Upgrade The Harley Benton HB-35Plus?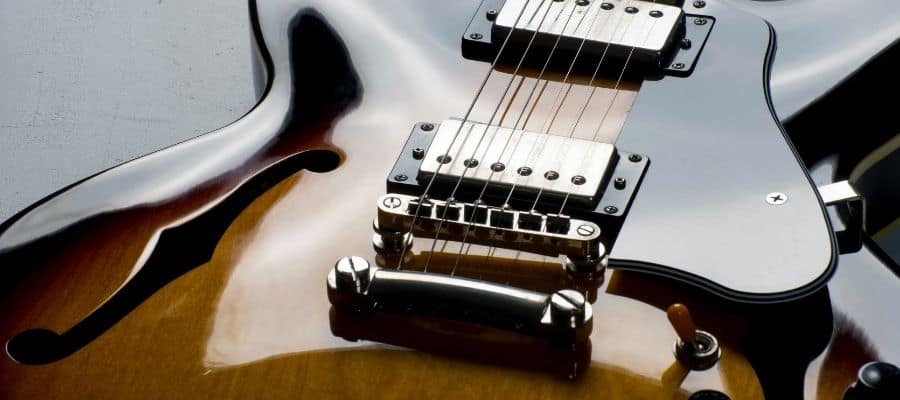 As with any other electric guitar, there are plenty of different options for upgrades. This guitar is not the cheapest model on the market, which also means that it might be worth investing in it. Usually, guitars that are around $100 or $150 are not worth the investment, but you can always upgrade them if you are attached to your instrument.
The first upgrade is to file the frets if they feel rough under your hand, but this is not a traditional type of improvement, and it falls under the setup category.
Other things you can try out are:
Pickups
The most obvious and most effective upgrade to your instrument is to change pickups. This is the part of the guitar that will contribute to the overall sound, and getting new ones will completely change how your guitar sounds. The price of pickups can vary based on your taste, and you can get a set of pickups for around $200. While it might seem like it is too pricey for the upgrade, consider the difference it will make.
Tuning Machines
Tuning machines on HB-35Plus are a no-name brand, and if you have any problems with tuning stability, this should be your next upgrade. The majority of Harley Benton guitars have decent tuning machines, and you shouldn't have any problems with them. But it is another possibility you might want to check out.
The Bridge
The bridge of the guitar can cause problems with tuning stability as well, but it can also cause your strings to break often. If you notice that your strings break frequently, the problem might be in the bridge. It is a nice upgrade if you are looking to make the HB-35Plus as good as it can possibly be.
Electronics
Other smaller parts can be upgraded as well, and this includes the switch and potentiometers. Generally speaking, there aren't many reasons to upgrade them if they work properly. The change in sound will be insignificant, but it is still another possibility to consider.
Other changes can be a bit more complex, and you can also invest in new frets or a nut. However, replacing these will require you to find a luthier that can upgrade it properly, and it is not often needed. Especially for a brand new guitar.
Harley Benton HB-35Plus Models – Differences Between Them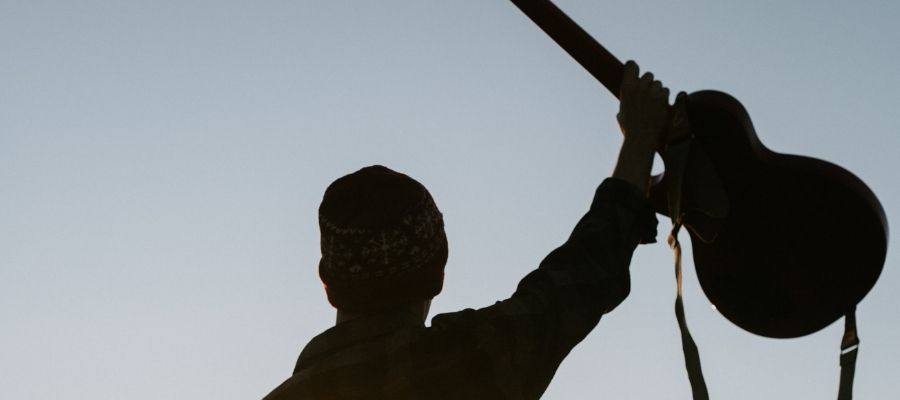 There are a couple of different models of HB-35Plus you can find on the market. The majority of these models are identical, and the only change is in color. However, if you want to check out other options these are the guitars you can find in the series.
Harley Benton HB-35Plus Cherry
The first type comes in the Cherry model, and it is the standard for HB-35Plus. It also looks rather similar to a classic ES-335, which is the model played by Clapton. If you are looking for a beautiful traditional model, this might be a perfect option.
Harley Benton HB-35Plus Lemon
The next one on the list is HB-35Plus LD, which stands for Lemon Drop. Needless to say, the difference between the LD model and others on the list is in color only, and the rest of the specifications are identical. The Lemon Drop is an excellent option for those that enjoy the traditional Les Paul look, and it isn't something you'd often find on ES-335.
Harley Benton HB-35Plus Vintage Burst
If you are a fan of vintage guitars, Vintage Burst might be what you're looking for. The color on this one is similar to earlier semi-hollow guitars by Gibson, and it is a two-color sunburst. As with other examples, the only difference is the color of the instrument.
Harley Benton HB-35Plus Metallic Green
Now, this is something you won't find with other brands. If you want to have a semi-hollow guitar but dislike the traditional instruments, Metallic Green might be a perfect color for you. There are a couple of differences here with this model, but they are mostly color-related. Instead of chrome hardware, this guitar has gold, which is something that looks quite well along with the green body finish.
Harley Benton HB-35Plus Black
This is another instrument inspired by iconic Gibson guitars, and it's black. For many guitarists, black is the safe option, and it looks incredible with gold hardware. The guitar is similar to the signature model by Chris Cornell, and it looks gorgeous. Naturally, the rest is identical as with other models from the HB-35Plus series.
Harley Benton HB-35Plus Metallic Blue
Another modernized version comes in Metallic Blue, and it also comes with gold hardware. What is interesting with this guitar is that only the front top is blue, while the sides and back of the guitar are natural. Needless to say, the backside is lacquered as well so you won't need to worry about it.
Harley Benton HB-35Plus Metallic Plum
Finally, we have another metallic color, but this time, it is Metallic Plum. This color is not nearly as common as other ones on the list, and it also comes with gold-plated hardware. If you are looking for a unique instrument, you will hardly find anything similar.
Alternatives To The Harley Benton HB-35Plus – In Terms Of Look, Feel, Sound, Specs, And Price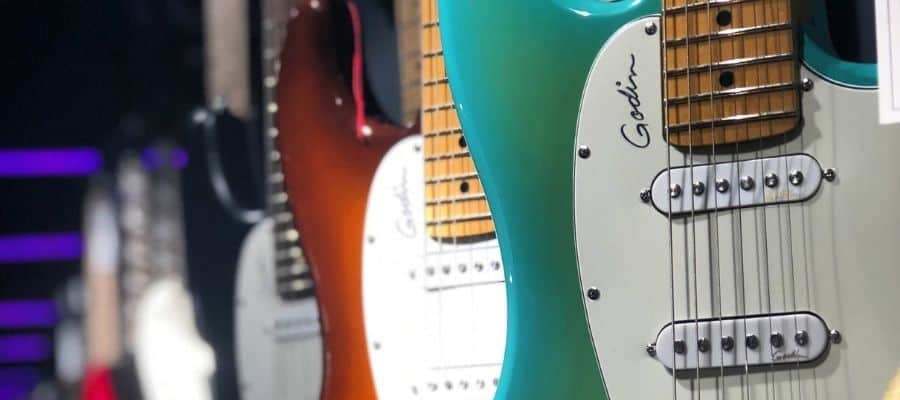 If you like the idea of having a semi-hollow guitar, but don't want to go for Harley Benton, there are still a few other options you can check out. Here, I will go through some of the instruments that will have a similar sound, feel, price, or design.
Ibanez AS53-TKF Artcore
Ibanez is mostly known for its electric guitars like the JEM series, but the company also makes semi-hollow models. Here, you can see the Artcore version which is a version of Gibson's guitars.
Naturally, the pickups and overall design of the guitar are better than the HB models, which is expected for a more expensive guitar. 
Fender SQ Affinity Starcaster MN CA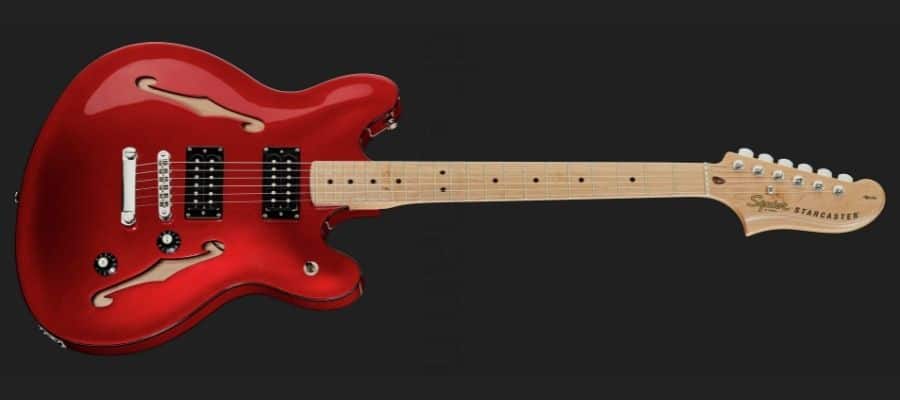 Fender SQ or Squier is a company designing Fender guitars on a budget. And here, we have a lesser-known model called Starcaster. The Affinity series is quite good, and this is a unique-looking guitar.
If you are a fan of Fender and would like one of these models, the price is similar to the Harley Benton, and you will be getting a semi-hollow guitar as well.
Epiphone Casino Coupe VS
Finally, if you want to go for Epiphone, Casino is one of the most popular models. While the price is significantly higher compared to Harley Benton, the difference will be more than noticeable.
Needless to say, it is up to you to see whether it is worth the price difference or not.
Conclusion
If you want to find a semi-hollow guitar for a ridiculously low price, Harley Benton HB-35Plus is an incredible option. The guitar is affordable, works great, and looks even better. It comes in several different colors, so you won't have any problems finding the model you like.
When it comes to specifications, it has a standard four knobs, but this time, you can use push-pull potentiometers on both volume knobs. And this is something you don't encounter often on budget instruments.
The guitar was obviously inspired by Gibson ES-335 and similar models, which means that it also has a center block. One of the main downsides is that frets can feel a bit rough, and while it is something you can easily fix, it would be a lot better if you didn't have to go through the process.
All things considered, HB-35Plus is another great guitar by Harley Benton, and the price makes it worth every cent.