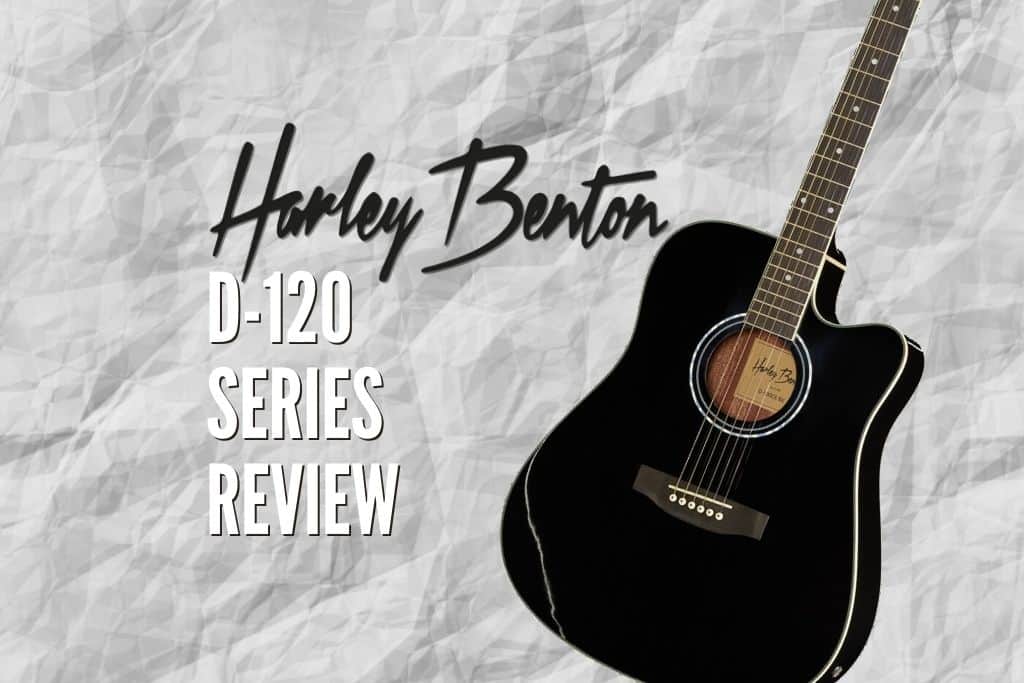 It seems that everyone has been talking about Harley Benton for the past couple of years. The company offers affordable guitars, and the quality seems to be exceptional. At least for the amount of money. If you are looking for a great beginner instrument, you might want to check what Harley Benton has to offer.
Here, I will go through everything you need to know about Harley Benton D-120. Needless to say, some people might dislike what this company has to offer, but there is no denying that Harley Benton has incredible offers.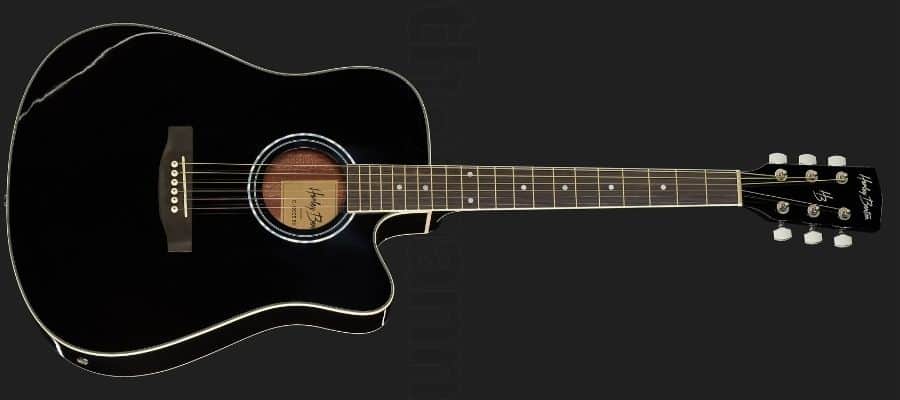 Considering how low the price is, you will have a hard time finding anything better on the market. And even if you find a cheaper model, the quality will be significantly worse. As you increase the budget, you will get plenty of different options, but for this price, this might be the best possible guitar you can find.
| Pros | Cons |
| --- | --- |
| Some models include preamp with volume control | Cheaper materials |
| Incredible price, quite affordable | Frets aren't as polished as they should be |
| Higher frets accessibility | Can be uncomfortable |
| Great for beginners | Potential cosmetic errors |
In all honesty, the price of the guitar is so low that it seems unfair to even have cons on the list. Yes, the guitar is far from being a professional instrument, but you can't really expect a Martin for this amount of money.
What is surprising here is that tuners are quite good, and some models come with an EQ and pickup system. And this is not something you'd expect on such a cheap guitar. Usually, guitars that can be plugged in an amp are a bit pricier, which is a nice advantage for all Harley Benton fans out there.
If you are just starting to learn how to play the guitar, the D-120 is an excellent option. The main advantage, of course, is the price, and you can always go for something more expensive once you learn a couple of tricks.
All things considered, this is one of the best models in this price range, and the overall score is four out of five stars.
Harley Benton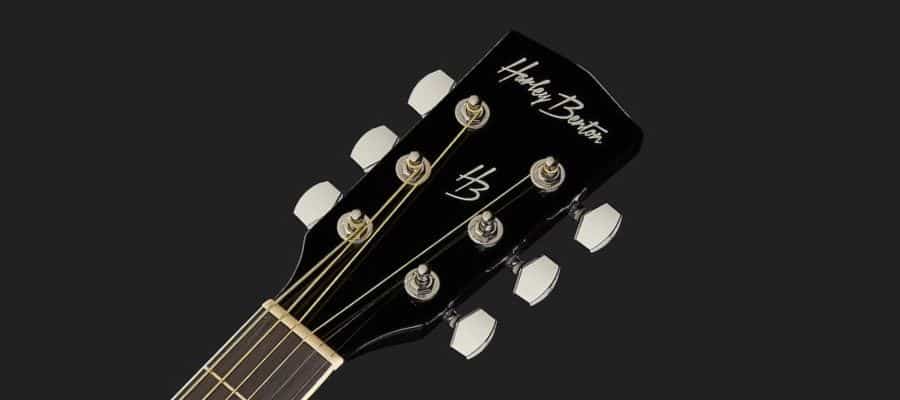 Harley Benton is one of the youngest names in the world of guitar gear, and it quickly became popular due to its affordable prices. The company is a part of Musikhaus Thomann, which is one of the biggest retailers in Germany.
Thomann is based in Bavaria, and it offers a wide range of music equipment. Currently, Harley Benton guitars are made mostly in China, but the company also has factories in the Far East as well. The majority of gear Harley Benton makes is dedicated to guitarists, and you can find both acoustic and electric guitars, but the brand also covers budget amplifiers.
Usually, Harley Benton makes instruments similar to well-known models like Stratocaster, Telecaster, Les Paul, ES-335, and others. The popularity of the company is obviously thanks to its prices, and you will have a hard time finding something better when it comes to cheap equipment.
If you are interested in checking what else you can find in Thomann, the company has a "cyber store" which is also located in Germany. However, Thomann delivers its products worldwide.
As you can probably guess, the products coming out of Harley Benton are not designed for professionals, but they are an excellent choice for beginners due to their affordable prices.
Harley Benton D-120 Specs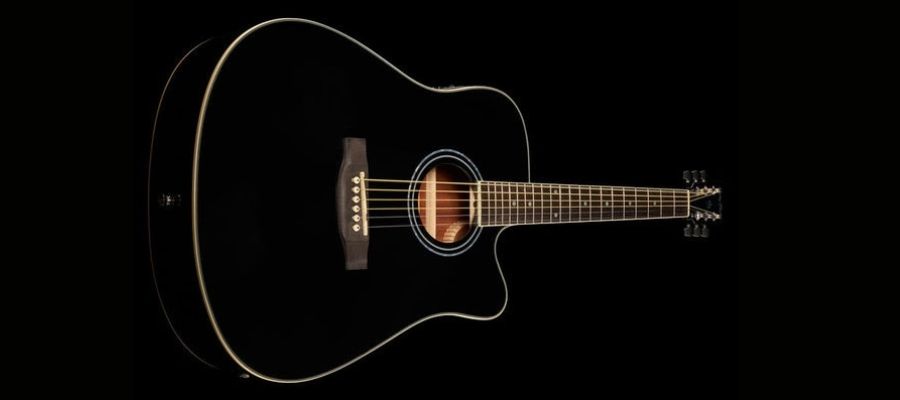 Now, let's take a look and see what this D-120 series has to offer.
General
| | |
| --- | --- |
| Series | D-120 |
| Number of Strings | 6 |
| Hand Orientation | Right |
| Colors | Black, natural, translucent blue, and vintage sunburst |
Body
| | |
| --- | --- |
| Body Shape | Dreadnought |
| Body Construction | Single Cutaway or without cutaways |
| Body Type | Solid |
| Body Material | Mahogany |
| Top Material | Spruce |
| Top Type | Flat with binding |
| Back Material | Mahogany |
| Finish | Gloss, high gloss |
Neck
| | |
| --- | --- |
| Scale Length | 25.59 inches (650 mm) |
| Neck Construction | Glued in C shape |
| Neck Material | Mahogany |
| Truss Rod | Adjustment at the bottom |
| Truss Rod Type | Wrench |
| Fretboard Material | Roseacer (thermally treated maple) |
| Fingerboard Radius | 16 inches (406.4 mm) |
| Position Inlays | Standard dots |
| Number of Frets | 20 |
| Fret Size | Medium |
| Nut | GraphTech |
| Nut Width | 1.67 inches (42.5 mm) |
Electronics (For CE Series)
| | |
| --- | --- |
| Pickup Configuration | Single pickup |
| Pickup | Pickup with a preamp |
| Controls | Volume control and 4-band EQ |
Hardware
| | |
| --- | --- |
| Tailpiece | Roseacer (thermally treated maple wood) |
| Bridge Type | Standard acoustic bridge |
| Tuners | Chrome-plated diecast |
| Finish | Chrome |
| Pickguard | None |
As you can see from the start, the guitar is inspired by Dreadnought models. This means that it might be too big for beginners, and it can be uncomfortable for playing if you are not used to this size. But this is something that falls in the category of personal preferences.
The guitar has access to higher frets thanks to the cutaway, and the quality of frets is not impressive. This applies to the CE series, and the standard one is without a cutaway, but more on that later. Of course, after playing the guitar for a while, the frets will get a bit more polished, but ideally, you wouldn't have to worry about it.
Usually, cheaper instruments have issues with tuners, but here, it seems that machine heads are the most expensive part of the guitar. One of the biggest things about D-120CE is that it comes with a preamp and full EQ you can use. This isn't something you can expect on such a cheap guitar, and it gives you so many possibilities.
The back and sides of the guitar are made of mahogany, while the top is made of spruce. The overall design is fairly standard, and it is something you would expect from Martin. Except the quality is nowhere near.
It is also possible that there will be some minor errors on the instrument, but it is expected. All things considered, this is a great guitar for beginners, and you probably won't be able to find anything better in this price range. Finally, those without experience will love the fact that this guitar has such a low action, and playing it is quite easy.
The Sound, The Feel Of The Harley Benton D-120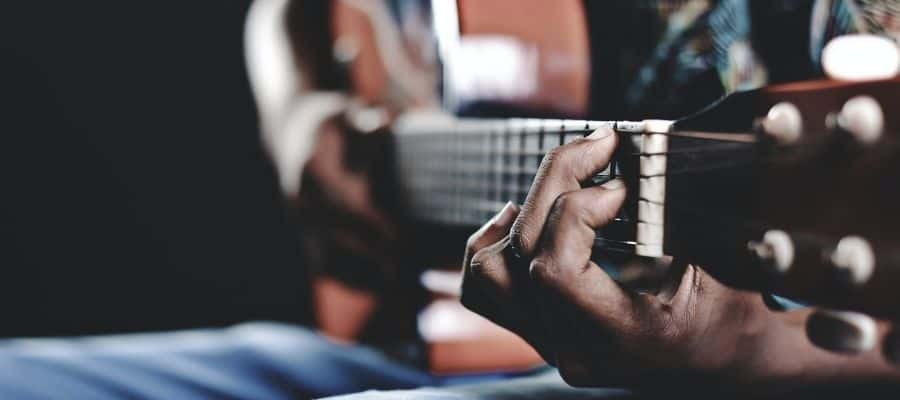 The sound of the guitar is quite nice, especially if you use a decent amplifier. Intonation is quite good, it has a lot of sustain, and it's rather surprising that this model is not more expensive. Of course, I already mentioned frets, and you might be irritated by the lack of polishing.
While this is easily fixable, it would be a lot better if you didn't have to bother with it. Taking your guitar to the local shop will probably fix a lot of problems with the setup and frets. Furthermore, the guitar feels good in your hands, and it doesn't look like a super-cheap model.
Needless to say, no one would think that Harley Benton D-120 is expensive as well, but it certainly doesn't look like a $70 instrument. Since the guitar is so cheap, I would suggest taking your guitar to the service as soon as you get it. Naturally, if you don't mind frets, they will get pretty polished after a while. All you need to do is play the guitar, and it will solve the problem.
Those that are just starting their musical journey will love this guitar. The finish is incredible, the sound, and the quality are amazing. And there is no doubt that this guitar is worth every cent.
Harley Benton D-120 Is Perfect For Whom?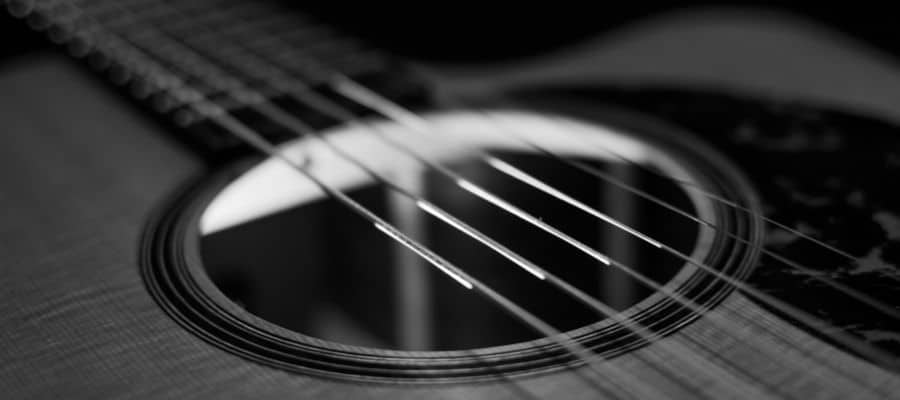 The obvious answer is that this guitar is perfect for beginners. People that are just starting (or plan on starting) to learn how to play the guitar aren't usually willing to invest a pile of money into something that they don't know whether they will enjoy.
This means that they will have to go for a cheaper model and work their way up the price ladder. Rarely do beginners buy an expensive instrument as their first, and if you are looking for the cheapest, you shouldn't look farther than Harley Benton.
The guitar is exceptional, and there are so many details that you won't be able to find on other guitars in the same price range. This includes a nice finish, dreadnought shape, and of course, pickups and EQ for the CE series.
The guitar comes in four different colors, and you can choose between black, translucent blue, vintage sunburst, and natural. Each of the models you can find will also have the same specifications and price, so it is up to you to pick the model you like the most.
Other than beginners, those that are not invested in playing the acoustic guitar can also check it out. You might be an electric guitar player, and just want to own one acoustic to mess around. Well, Harley Benton D-120 is an excellent choice.
Needless to say, there are no requirements you need to fulfill to buy a guitar, and anyone can visit the Thomann Cyberstore and get one of these beauties. It is just that those with a bit more experience probably have a few guitars that are better than this one.
Harley Benton D-120 Models – Differences Between Them
One of the things I should address here is that there are a couple of versions of this series. If you like what you've heard so far, there are plenty of different options you can check out as well. Each of the following models has a similar price, and the same thing applies to design and quality.
Of course, it is up to you to decide which model you like the best.
Harley Benton D-120CE BK
The first option is to go for Harley Benton D-120CE BK. The CE part in the name means that the guitar is a dreadnought shape with a single-cutaway. As for the second part of the description, it is reserved for color. This model is black, it doesn't have a pickguard, and it is a fairly simple model as I mentioned earlier.
This is an excellent option for people looking for a guitar with better access since standard dreadnought is challenging to play on higher frets.
Harley Benton D-120BK
The second option or rather version of the previous model comes without a cutaway, and it has a more traditional shape. However, there is another major difference between these two guitars even though they have the same color. The thing is that D-120BK comes without a pickup or EQ, which means that you won't be able to plug it into the amp as with the previous model.
For those looking for a simpler design without a pickup, this is undoubtedly a better option. Needless to say, the guitar is slightly cheaper.
Harley Benton D-120CE NT
Following the previous example with D-120CE, The D-120CE NT has a pickup, EQ, and it has a single-cutaway. The difference here is that the guitar has a natural color, but it still has a lacquer over it. All other parts are identical as with the black model, and the only difference is the price.
The same rule applies to any other CE guitar, as you will see in a bit.
Harley Benton D-120NT
For those that enjoy natural color and finish, but don't need a pickup, this is an excellent choice. The D-120 NT is slightly cheaper, it doesn't have a cutaway, and it follows the standard dreadnought shape and size. These models are incredible for beginners and those that plan on practicing in their homes.
Since there are no pickups, you won't need to worry about sound quality, amplifiers, and cables.
Harley Benton D-120CE TB
The next version on the list is from the CE series, and it is blue. The D-120CE TB color is translucent blue, and it has a high gloss finish. As with similar models from Fender, the edges of the top are darker, and they slowly go into the black. The finish and the design are gorgeous, and if you are looking for a different model, this might be it.
As you can probably guess, the guitar has an EQ and pickup, and you can use it with an amplifier.
Harley Benton D-120TB
This is a simplified version of the previous guitar, which means that it comes without electronics. The D-120TB has no cutaways, but the guitar has the same beautiful translucent blue color. The top is made of spruce, the body, and neck are mahogany, and the fretboard is made of roseacer.
As with all Harley Benton guitars on the list, this one also has a cream-colored binding on the body and neck.
Harley Benton D-120CE VS
The final group of Harley Benton guitars is for the vintage sunburst. The D-120CE VS models are similar to the TB series, and they have the same high gloss finish and gorgeous design. This model comes with electronics, and you will get the same pickup and EQ system as with the previous models from the CE series.
Harley Benton D-120VS
Finally, we have a D-120VS which is a vintage sunburst guitar without cutaways or electronics. These multi-colored guitars usually look a lot better compared to traditional black ones, but they have the same price. Needless to say, the primary difference here is in color and whether the guitar has electronics.
Regardless of the option you choose, each of these models has the same quality and specifications (except electronics), and it is nice to have a couple of different options when it comes to colors.
Is It Possible To Upgrade The Harley Benton D-120?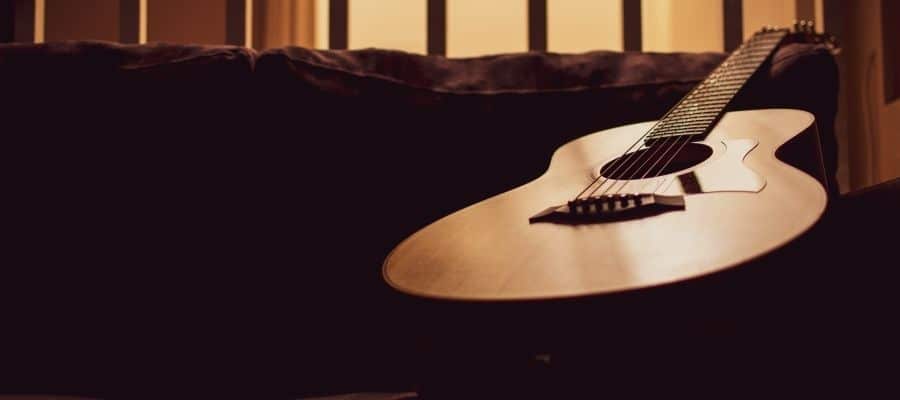 One of the possible scenarios guitarists love is to buy an instrument that they can upgrade later on. This can save them a lot of money in the process, or rather delay the payment. You can learn how to play the guitar, and once you are more experienced, you can replace or upgrade parts that aren't perfect.
So, is it possible to upgrade Harley Benton D-120? Yes. There are a couple of things that you can do to upgrade it, but these upgrades are not as important as the ones you can do for electric guitars.
There are still a few parts you can replace if you feel like it.
The pickup
the most obvious upgrade is to replace the pickup. As you can probably guess, the quality of the stock model is not impressive, and it is designed to get the job done. If you play on an amp and want to get a better sound, pickup can make a difference. Keep in mind that this is an acoustic guitar, and the sound comes from the resonating box. Changing the pickups will not be nearly as important as it is for electric guitars. This applies only to the CE series since standard D-120 doesn't have electronics.
Tuning machines
I already mentioned that tuning machines are quite good, but if you experience problems with sustain or tuning stability, it is always possible to replace them.
Nut
The nut is another part of the guitar that affects sustain, and since you will be getting the cheapest model, you might want to replace it at one point.
EQ
Upgrading EQ is similar to upgrading pickups, and if you play the guitar on an amp, this might be something to consider. Similar to the pickup, you can only replace EQ on the CE series.
Bridge
Now, I wouldn't suggest replacing the bridge on your own, and this isn't worth doing. However, it is just one of the possibilities when it comes to upgrades.
As you can see, there are a couple of options for upgrades, but I don't think it is worth the investment. Especially if we are talking about bridge replacement. This is something that you would need to leave to luthiers, and the cost of the replacement will probably be more than you have paid for the guitar.
Alternatives To The Harley Benton D-120 – In Terms Of Look, Feel, Sound, Specs, And Price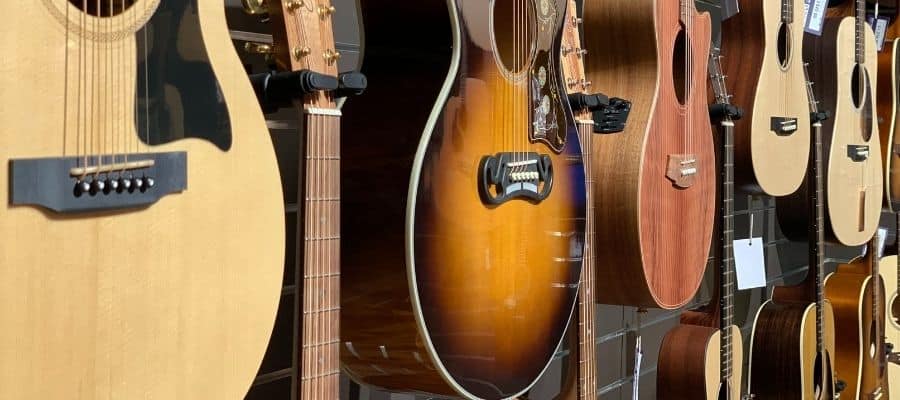 If you dislike Harley Benton for some reason or just want to take a look at other options, there are still guitars you can find in a similar price range or design. Let's take a look at what you can find that sounds and feels like Harley Benton D-120.
Huntington GA41PS-BLS
Huntington GA41PS-BK Acoustic Guitar Dreadnaught Steel String with 1...
Full Size GA41 Dreadnaught Steel Guitar in Black from Huntington
Adjustable truss rod hand built using selected Linden, Basswood and Caltapa...
Full 25.5" scale with covered geared low ratio tuning gears, resin nut and...
Comes with 1 string winder, 2 complete sets of premium guitar strings and 3...
In terms of price range and design, Huntington is probably the closest you will find to Harley Benton. The guitar has a dreadnought shape, there are a couple of colors you can find, but it doesn't have an EQ or a pickup.
If you want something with those as well, you will need to pay more. Also, the quality of this model is nowhere near Harley Benton, so I would suggest going for something else.
Fender CD-60
While the price is quite higher compared to the Harley Benton, it is an excellent model of the guitar. It also has a dreadnought shape, but without cutaways. The design and quality are impressive for the price, and you'd expect a Fender guitar to be a lot more expensive.
If you can afford to spend a bit more, there are excellent Fender models you can find. And yes, I know that the price is a lot higher, but mentioning guitars in the same range as D-120CE, only to say that they are bad would be rather pointless.
Ibanez AW54OPN
Finally, you can check out Ibanez as well. While the company is famous for its electric guitars, there are a couple of great acoustic ones as well. This is a middle ground between the previous two models, and it is more similar to Harley Benton's price range.
Conclusion
If you are looking for an excellent acoustic guitar for a ridiculously low amount of money, Harley Benton D-120CE is an amazing option. This is a dreadnought model with a single cutaway, but it also comes with a pickup and an EQ system, which is quite impressive for a budget instrument. You can also check out the D-120 model, which is without electronics or cutaways.
While the frets can be a bit rough, you can easily file them down either by yourself, or you can take the guitar to your local store so they can do it for you. Needless to say, you shouldn't expect a professional level of quality, but this is so much better than you would think.
Usually, guitars under $70 are quite bad, but this one can be an excellent choice for anyone looking for a cheap instrument.
If you found this article useful you may want to save this pin below to your Guitar board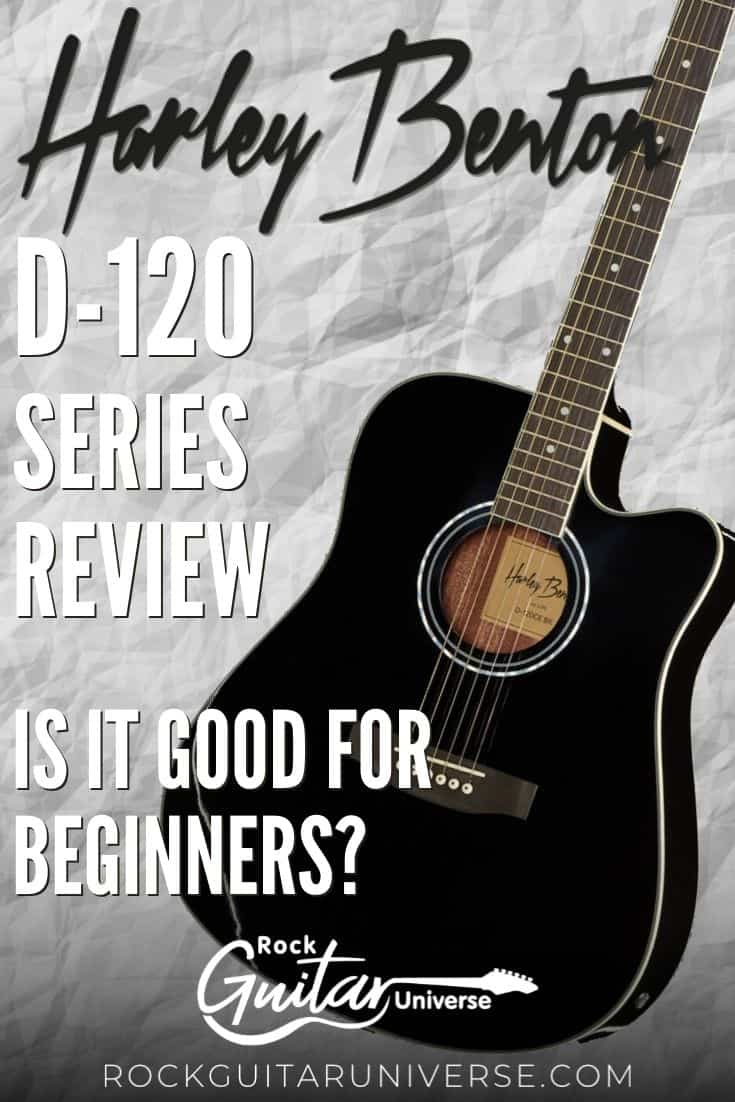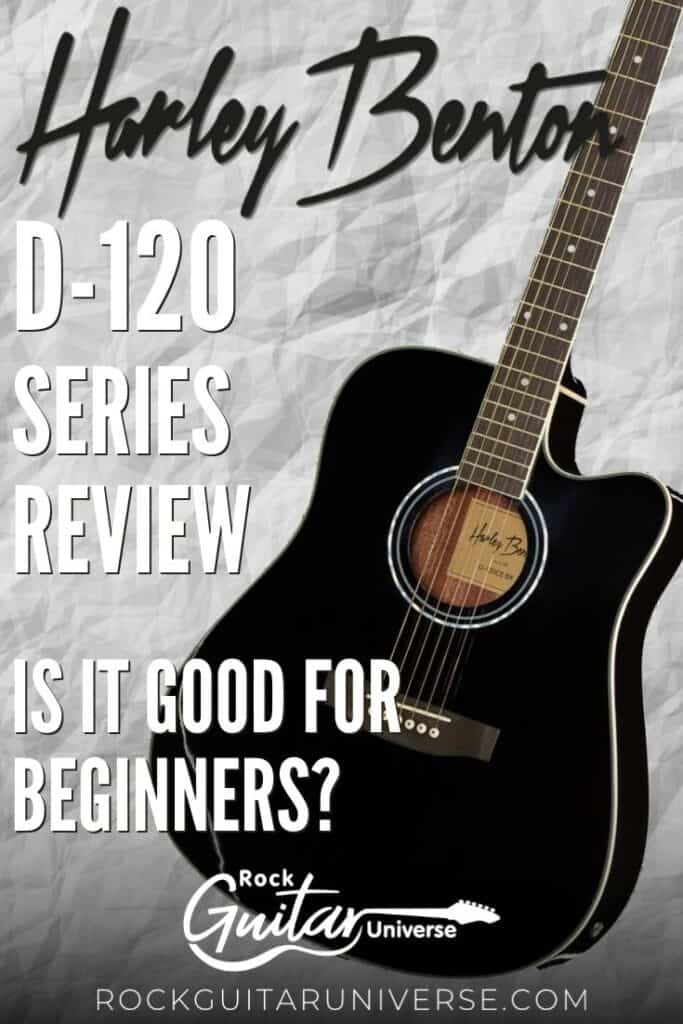 Last update on 2021-10-20 / Affiliate links / Images from Amazon Product Advertising API
Recent Content