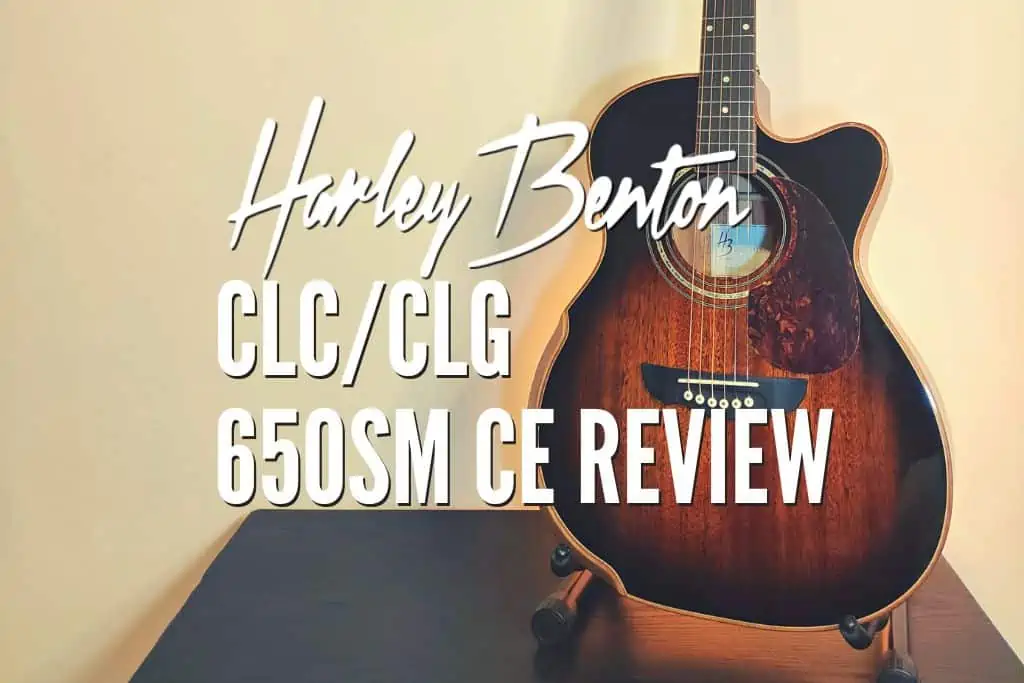 While getting good tones with electric guitars is easy with a good amp and some effect pedals, you need good construction and high-quality materials to get good sound from an acoustic guitar. That is why cost-effective acoustic guitars are not recommended much except if they are first-time instruments. But, there are some game-changer guitars that break this conception.
Harley Benton is associated with affordable guitars and gear, thanks to the amazing value-for-price ratio the brand is offering. While Harley Benton was already rocking the sub-500$ guitar market with its amazing electric and acoustic guitars, their first-time all-solid-wood acoustic guitar models, Harley Benton CLC and CLG 650SM CE, will put a smile on most acoustic-guitar lovers thanks to their amazing price, performance and looks.
Harley Benton CLC/CLG 650SM CE models are two all-solid acoustic-electric models, one with Grand Auditorium and the other with the Grand Concert body shape. The guitars are highly comfortable with an armrest and an amazingly smooth neck. Furthermore, the sound is quite impressive with the Fishman pickup, and the overall construction and material quality are much more than what you pay for.
| | |
| --- | --- |
| Pros | Cons |
| Highly comfortable with the armrest | Nothing in particular |
| Great value for the price | |
| Amazingly smooth neck | |
| Good sonic performance with the Fishman pickup | |
| High-quality hardware and parts | |
| Low-action and good setup out of the box | |
Overall, this is an impressive guitar with a more impressive price tag. It is an amazing guitar for the money you pay. You would probably pay double or even more if you purchase an instrument from another brand with these features, such as all-solid-wood construction, Fishman pickup, or armrest. So, I think this one deserves a 5-star rating from me.
Harley Benton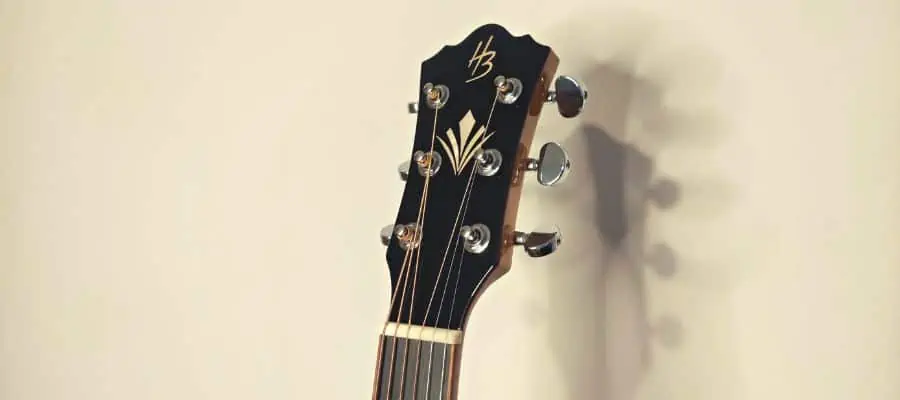 You probably heard Harley Benton or Thomann Music if these are not your first steps in the guitar world. Harley Benton is a German guitar brand which is was actually founded by Thomann, one of the greatest and largest music retail stores in Europe and the world.
Thomann started producing their own instruments and gear with the name Harley Benton, and the brand made a great name for itself thanks to the high-quality and detail-oriented production as well as affordable price tags. So, Harley Benton became one of the first brands to come to mind when talking about entry-level instruments and gear.
As Thomann was one of the most reliable names in the music industry since its foundation in 1954, the experience and the brand reliability directly passed to Harley Benton. Thomann is now responsible for selling and delivering Harley Benton products to musicians all over the world. And in any case of potential problems they are ready to solve anytime as one of the most-trusted music stores.
Harley Benton produces its instruments and gear in China, Vietnam, and Indonesia, which is the main reason they can keep the price tags lower. The quality control is made by Thomann after the instruments are brought to Europe.
Overall, customer satisfaction is over the roof with Harley Benton products, and many people are surprised by their high quality. The brand is still young and exploring new possibilities to bring to users. Today, although they did not step into the high-end market, Harley Benton is one of the pioneer brands in the beginner-level budget market.
Specs Of Harley Benton CLC/CLG 650SM CE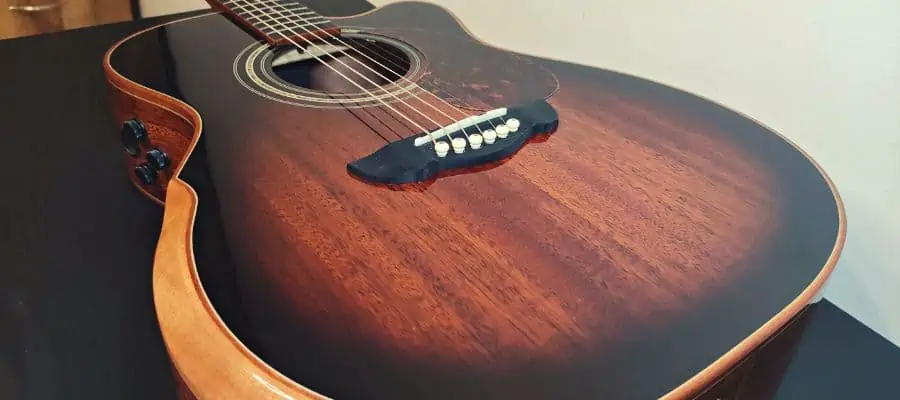 Let's check out the specs of Harley Benton CLC/CLG 650SM CE to see what it brings on to the table. Both models have similar specs with subtle differences, but the spec table is built for the Harley Benton CLC 650SM CE model.
General
| | |
| --- | --- |
| Series | Custom Line Series |
| Number of Strings | 6 |
| Hand Orientation | Right |
| Colors | Vintage Sunburst, Black |
| Weight | 4.4 lbs (2.0 kg) |
Body
| | |
| --- | --- |
| Body Shape | Grand Concert Style with Venetian Cutaway |
| Body Construction | Scalloped X-Bracing |
| Body Type | Solidbody with Arm Rest |
| Body Material | African Mahogany |
| Top Material | African Mahogany |
| Top Type | Flat Top |
| Back Material | African Mahogany |
| Finish | Ultra high gloss |
| Pickup | Fishman Flex Plus-T pickup system with built-in tuner |
Neck
| | |
| --- | --- |
| Scale Length | 25.7" (65.3 cm) |
| Neck Shape | C-profile |
| Neck Construction | Dovetail construction |
| Neck Material | Okume |
| Truss Rod | Adjustment inside the soundhole |
| Truss Rod Type | 400 mm Double-Action truss rod |
| Fretboard Material | Composite |
| Fingerboard Radius | 15.7" (40 cm) |
| Position Inlays | 6 mm Mother of pearl DOT fretboard inlays |
| Number of Frets | 20 |
| Fret Size | Medium |
| Nut | Bone |
| Nut Width | 1.69" (4.3 cm) |
| Strings | Daddario XTAPB1253 Light |
Hardware
| | |
| --- | --- |
| Tailpiece | None |
| Bridge Type | Composite bridge |
| Tuners | Diecast tuners |
| Finish | Natural |
| Pickguard | Semi-transparent brown flame pattern |
Harley Benton CLC/CLG 650SM CE are two models from the Custom Line Series of Harley Benton. While there are subtle differences between the models, the biggest difference is that the CLC-650SM-CE model features the Grand Concert shape while the CLG-650-CE features the Grand Auditorium shape.
Both models come in two different color options, including Vintage Sunburst and Black options. The guitar is quite light as it weighs around 4.4 lbs (2.0 kg).
The solid-wood guitar has the Grand Concert Style with Venetian Cutaway shape with an armrest which significantly increases the playing comfort. The construction is quite great with the Scalloped X-Bracing, and the main wood in construction is African Mahogany. The top, the back, and the sides are all made from African Mahogany in both models.
The instrument has an ultra-high gloss finish which looks quite elegant. The finish especially shines on the vintage sunburst color model.
As these are acoustic-electric guitars, they feature a Fishman Flex Plus-T pickup system with a built-in tuner. The pickups work quite great and deliver the natural tones of the guitar beautifully.
Coming to more technical specs, the scale length is 25.7" (65.3 cm), and the fingerboard radius is 15.7" (40 cm). The neck is made of Okume and is quite smooth. Plus, it has a comfortable C-profile shape which makes it easier to play for most guitarists. It even feels like you are playing an electric guitar from time to time.
The neck has a Dovetail construction, which is a pretty rare neck construction style, but it works well on this one. The fingerboard has a composite construction, and there is 6 mm Mother of pearl DOT fretboard inlays on the surface. Finally, there are 20 frets on the guitar.
Another great touch is the bone nut and saddles, which are not common in budget-range guitars. The nut width on this one is 1.69" (4.3 cm). The strings that the guitar comes with are Daddario XTAPB1253 Light.
The guitar does not come with any accessories, and if you want a case, you should purchase it extra.
Harley Benton CLC-650SM-CE Vs. Harley Benton CLG-650SM-CE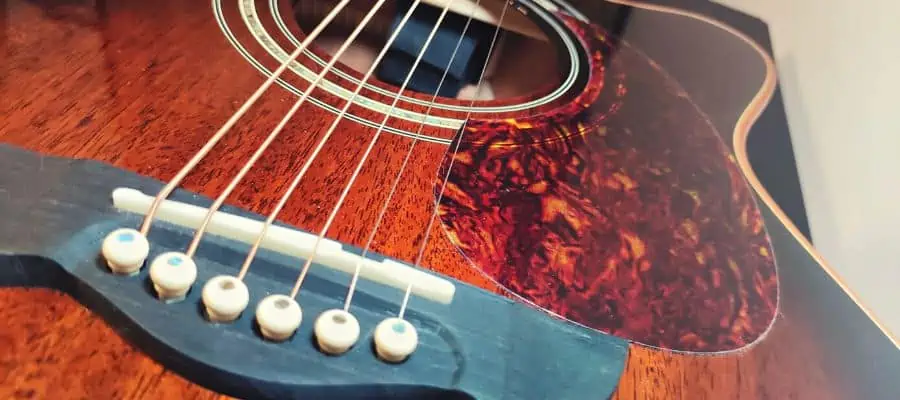 Harley Benton CLC-650SM-CE and. Harley Benton CLG-650SM-CE are very similar models with very subtle differences. They are both great guitars with amazing value-for-price ratios, but one may be a better fit for you, depending on your needs. Let's check them out and compare them to find out the differences.
First of all, the main difference is the body shape. The new CLC-650SM-CE is a grand concert-size guitar, while the CLG-650SM-CE is a Grand Auditorium-size guitar. So, the Grand Concert model is slightly more compact, features a smaller body, slightly shorter scale length, and is not as deep as the Grand Auditorium model.
Another small difference is that the CLG in the BK version features a Sitka Spruce top, while it is all mahogany on the other version. Also, the frame of the Grand Auditorium is cut 12.2 cm deeper at the button than that of the Grand Concert, which is 10.5 cm.
So, it is easier to grasp chords and have a sound with less low-end punch and high-ends in the Grand Concert model. The overall volume on the Grand Auditorium model is less than the Grand Concert model, but the Grand Auditorium version should react better to lighter touches. So, the finger-style players would love the Grand Auditorium model more as it has better dynamics with lighter touches.
That will make it easier to grasp chords and give you a more focused sound with less booming bass and treble. The wood should react well to a lighter touch, although you'll probably be getting less overall volume than the Grand Auditorium version. That combination will suit finger-style players who like to keep their dynamics intact or players who like to keep their right hand relaxed while strumming. The compact size is also ideal for songwriting on the sofa, as it's less bulky.
The rest of the specs on both guitars are the same. So, the main difference is in size and the effects of the size on the sound. You can watch the video to watch them play live to compare their sound.
The Sound, The Feel Of The Harley Benton CLC/CLG 650SM CE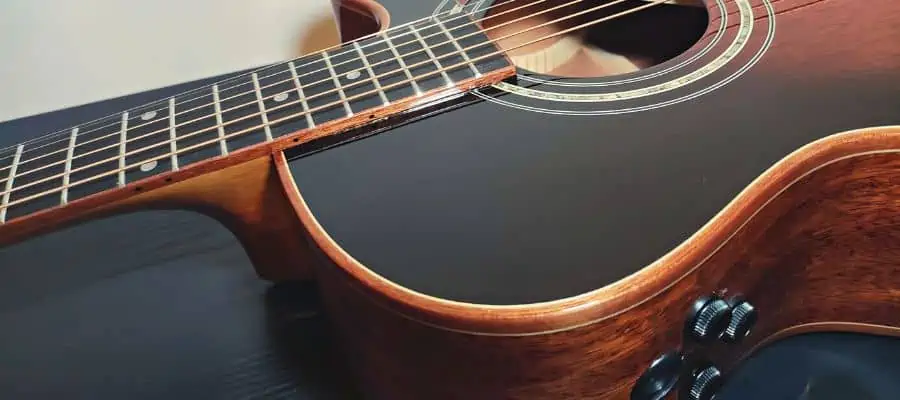 The sound and the feel of the Harley Benton CLC/CLG 650SM CE are much more than what you pay for. The guitar is highly comfortable, lightweight, and sounds quite impressive, with or without the pickups.
Starting with the feel, the guitar feels really comfortable on my lap. I usually have trouble with acoustic guitars, but this one suits me well, and I feel truly comfortable when playing it. This is probably due to the help of the armrest.
The neck is another positive aspect of the comfort of the guitar. There are no sharp edges on the frets, the neck feels smooth, and the C-shape profile helps me get more familiar as I mainly play electric guitar. This is one of the most electric guitar-like necks I have played on acoustic guitars, which is a big positive for me.
The action was set quite low, which makes the playing experience easier, especially for beginners. The setup was quite good out of the box, but this might be the case in my purchase and may be different with different purchases.
Coming to the sound, the guitar has a great sound with pretty rich harmonics. While the sound differs a bit between the Grand Auditorium and Grand Concert models, the Grand Concert model, CLC-650SM-CE, has less punchy low-ends and less bright high-ends. Overall, these guitars have a pretty balanced sound and rich acoustic tones.
These guitars do not have the overtones and weight in the bass range when compared to dreadnought or jumbo size guitars, but they have enough body and presence that makes the instruments stand out in the mix.
You can check the video to hear the guitar yourself.
Harley Benton CLC/CLG 650SM CE Is Perfect For Whom?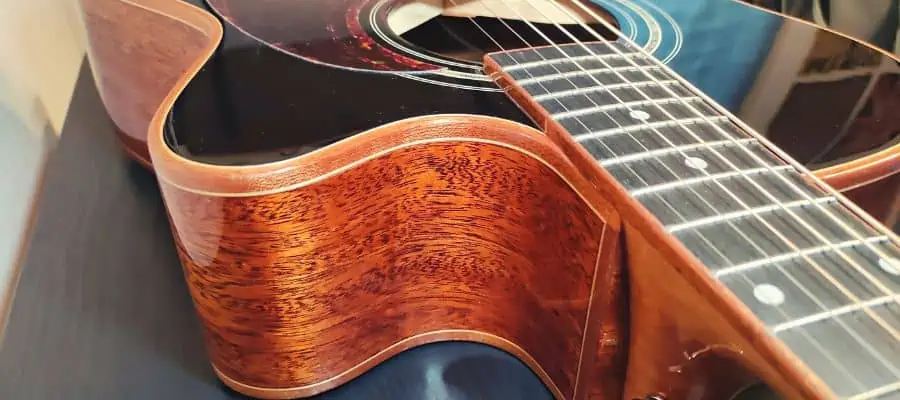 The Harley Benton CLC/CLG 650SM CE models are great guitars for beginner guitarists as well as experienced players. The guitar is affordable, comfortable, and sounds pretty great, making this guitar quite versatile and a great purchase.
First of all, I would recommend the Grand Concert model to entry-level guitarists of all ages. As this model is more compact, it can suit well to younger guitarists. Also, players with larger bodies can start with the Grand Auditorium model without hesitation. Both models are beginner-friendly, and you can decide depending on the sizes you are comfortable with.
Second, I think this is a great traveling guitar as it is compact, lightweight, portable, and comfortable. So, you can get this as a substitute guitar for your acoustic performances or take it with you for practice and jam sessions when you are on the road.
The guitar's natural sound is not as powerful as larger acoustic guitars, so if you need overall volume output, maybe you should look elsewhere. But for most other cases, I think Harley Benton CLC/CLG 650SM CE won't disappoint.
Other Harley Benton Guitars Worth Mentioning
CLD-40SM-CE SolidWood
Another great guitar from the Acoustic Custom Line is the CLD-40SM-CE SolidWood model, which falls into the new S-class of Harley Benton. It features a large mahogany body and dreadnought body shape for enhanced volume and dynamics. It also has the Fishman Flex Plus T pickup for live performances.
CLA-15MCE Solid Wood
CLA-15M Solid Wood is the impressive Auditorium-size acoustic guitar model of Harley Benton. It comes with an all-mahogany solid wood full-rounded body above and below the fingerboard without a cutaway. It is a classic-style acoustic guitar with great attention to detail, such as Antique Copper Open tuners and a bone nut. It also has Fishman Presys II preamp for live performances and sound shaping.
CLD-30SCM-CE SolidWood
CLD-30SCM-CE SolidWood is another great solid wood guitar by Harley Benton. The guitar is completely made with solid pieces of tonewood selected carefully to enhance the sound. The guitar features a solid cedar top, solid mahogany dreadnought-shaped body, Fishman pickups, and advanced scalloped X-bracing. This way, the guitar offers a resonant, rich, and dynamic sound, perfect for an acoustic guitar.
Alternatives To The Harley Benton CLC/CLG 650SM CE In Terms Of Look, Feel, Sound, Specs, And Price
Guild M-240E Troubadour
Guild Guitars M-240E Troubadour Acoustic Guitar, Vintage Sunburst,...
Meet the M-240E Troubadour, a small-body, sunburst addition to Guild's...
The M-240E Troubadour is an homage to Guild's F-20, a small-bodied wonder...
This petite guitar is ideal for fingerstyle playing and light strumming
The reduced size is excellent for smaller players or musicians looking for...
Guild M-240E Troubadour is a great Concert-size solid Sitka Spruce acoustic-electric guitar. Guild is one of the most respected acoustic guitar brands out there, so they do not disappoint with the quality of this amazing guitar.
The guitar has a small concert-sized body, spruce top, as well as mahogany back and sides, along with a DeArmond Tone Boss Soundhole Pickup. The overall tone of the guitar is highly balanced, without many low-ends but with enough overall volume output.
It is not an all-solid guitar, but for the price offered, its quality is impressive, and the simplicity, comfort, and versatility the guitar brings to your hands is worth taking a shot at. Guild M-240E Troubadour costs slightly higher than the Harley Benton CLC/CLG 650SM CE.
Ibanez AW54CE
Ibanez AW54CE is an all-solid wood cutaway dreadnought acoustic-electric guitar that features a natural, elegant look and balanced sound profile. The guitar has a solid okoume top, back, and sides, nyatoh neck, and an ovangkol fretboard.
The guitar also features an Ibanez T-bar under-saddle with AEQ-TP2 Preamp and sounds quite powerful even without the pickup. This is due to the dreadnought shape, which enhances the harmonics and overall volume profile.
Ibanez AW54CE costs slightly lower than The Harley Benton CLC/CLG 650SM CE.
Yamaha FSX800C Concert Cutaway
Yamaha FSX800C Concert Cutaway is another concert-sized acoustic-electric guitar with an all-solid Sitka spruce top, nato back and sides, nato neck, walnut fingerboard, and Yamaha System-66 electronics.
While it is not an all-solid wood guitar, Yamaha FSX800C Concert Cutaway features a solid spruce top which is famous for its well-rounded, articulate sound with excellent projection. The tone ages gracefully on solid Sitka spruce tops and provides enhanced harmonics and greater tonal balance as time passes.
The Yamaha System-66 electronics are great for delivering the natural harmonics of the wood, and the guitar sounds quite well with or without it. Yamaha FSX800C Concert Cutaway costs slightly less than the Harley Benton CLC/CLG 650SM CE.
Conclusion
In short, Harley Benton CLC/CLG 650SM CE is a great guitar overall and an amazing guitar for the price offered. Having an all solid-wood instrument, with great looks and sound, Fishman pickup, an armrest, a highly comfortable neck, and so much attention to detail, for under $400, is one of the best deals you can find. 
As I said before, you would probably pay double or even more for a guitar like this from a famous brand. The guitar is highly comfortable when played, sounds quite balanced and natural, looks great with the armrest and woody look, and is highly versatile to serve any guitarists in homes, studios, or even live shows.
If you found this article useful, you may want to save this pin below to your Guitar board.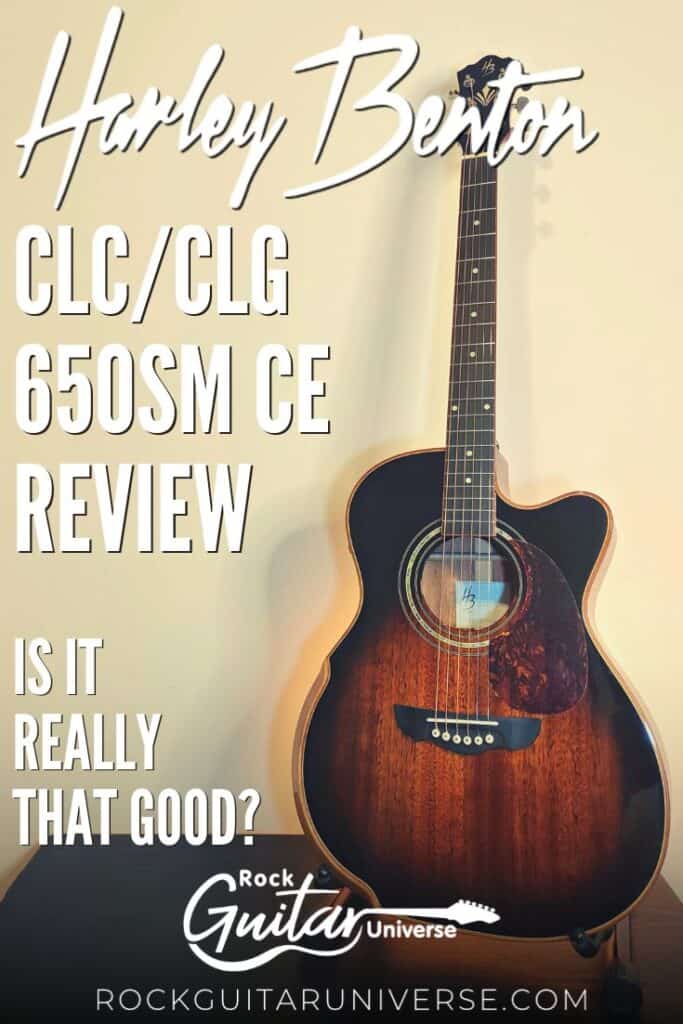 Last update on 2023-05-29 / Affiliate links / Images from Amazon Product Advertising API