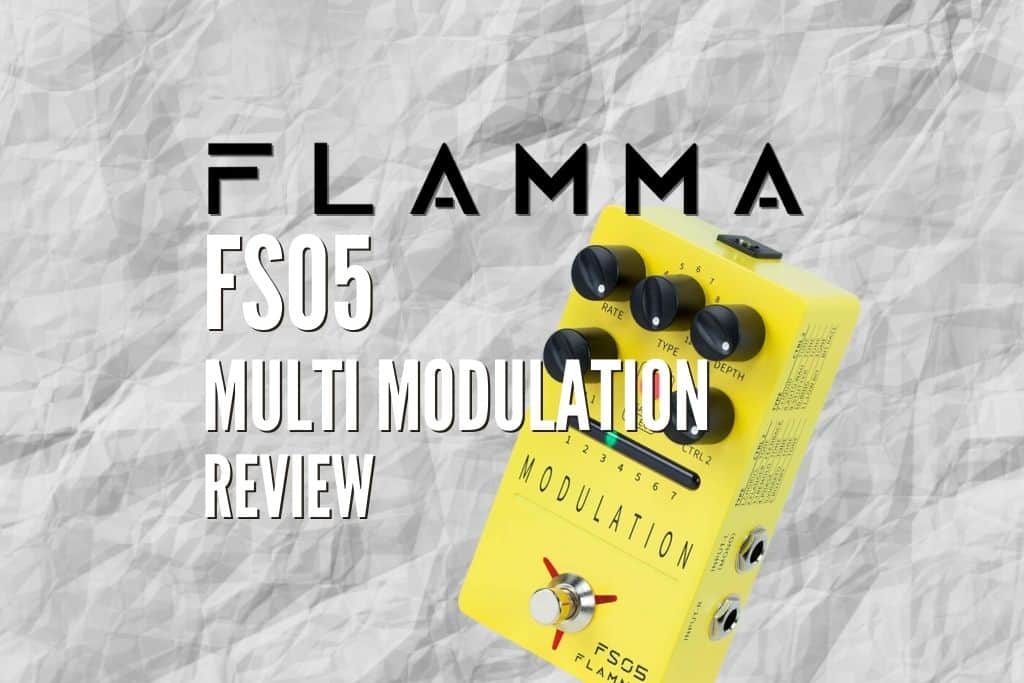 When you start building your pedalboard, you will need to start thinking of your priorities. Primarily, which pedals will you buy first? Of course, for some people, getting all of them at once is still an option. But this isn't something many players can afford. 
So, what happens when you need a vibrato pedal, chorus, tremolo, and flanger? You buy Flamma FS05. This multi-modulation pedal is another great example of what Flamma offers. And it's quite good.
As you can guess from the name, there are multiple effects you can use, and the design and quality of the pedal are great. Even if you don't plan on using all the effects Flamma FS05 has to offer, it is still a good investment.
| Pros | Cons |
| --- | --- |
| Great value for the price | Doesn't include the adapter |
| Easy to use | Can't combine effects |
| Great sound | |
Flamma FS05 is a great multi-function pedal that gives you access to eleven different effects. More importantly, the price is ridiculously low, and you will save so much money if you decide to go for this model instead of buying each effect separately. With that in mind, Flamma FS05 is four out of five stars, and it's well worth your money. 
Flamma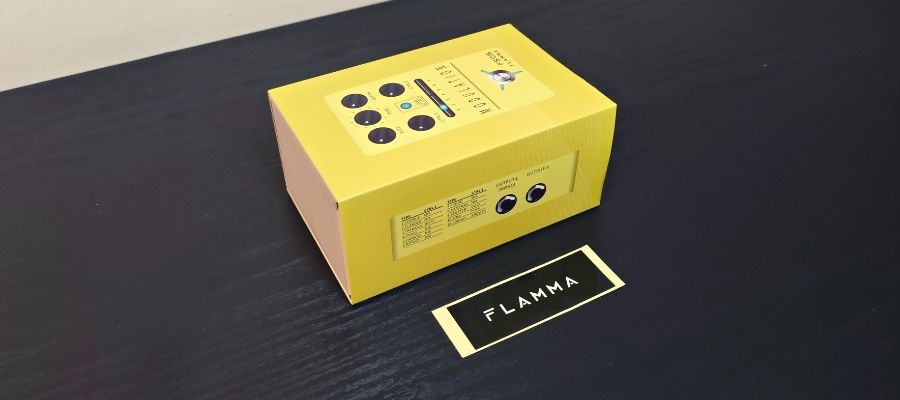 Flamma Innovations is a Chinese company based in Shenzhen. Over the past couple of years, the company introduced numerous models that offer great quality for incredible prices. This makes Flamma one of the best options for beginner guitarists and those working on a budget.
Needless to say, anyone can use pedals designed by this brand regardless of their skill level. Recently, we've noticed a huge increase in lesser-known brands that offer stunning price to quality ratios, and Flamma just shows how it is possible to find great gear without spending a fortune.
Since guitar equipment can be quite pricey, it is excellent that we have a few brands that offer cheaper options. One of the problems here is that Flamma is still a young company, which means that you might not be able to find all existing pedals and effects. However, there is no doubt that the company will keep growing and improving its repertoire in the future.
Flamma FS05 Modulation Specs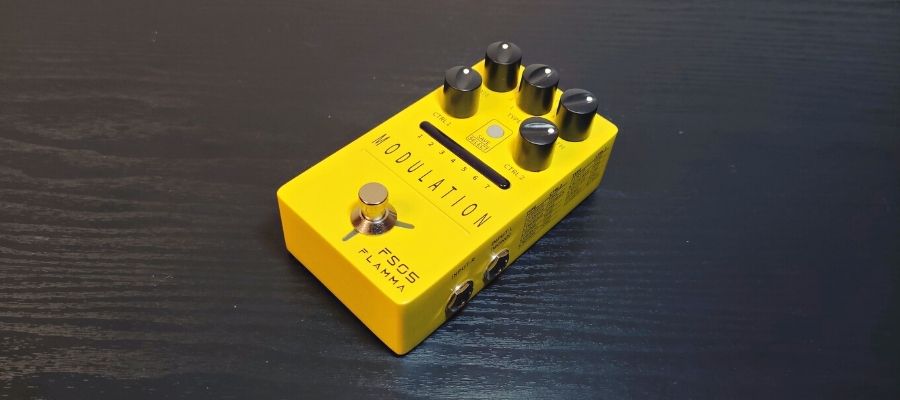 Now it's time to take a closer look at Flamma FS05 and see what this pedal has under the hood. 
General
| | |
| --- | --- |
| Model | FS05 |
| Casing | Metal |
| Color | Yellow |
Dimensions
| | |
| --- | --- |
| Weight | 13.3 oz (377.05 grams) |
| Width | 2.75" (6.99 cm) |
| Height | 4.78" (12.14 cm) |
| Depth | 1.97" (5 cm) |
Electronics
| | |
| --- | --- |
| Input Impedance | 4.7M ohms |
| Output Impedance | 100 ohms |
| Current Draw | 300 mA |
| LED indication | Yes |
Controls
| | |
| --- | --- |
| Knobs | Rate, Type, Depth, Control 1, and Control 2 |
| Switches | None |
| Buttons | Save/Select, True Bypass |
Input/Output
| | |
| --- | --- |
| Input | 2 x 1/4" Mono Audio Jack |
| Output | 2 x 1/4" Mono Audio Jack |
| Power Jack | 9V DC |
The first thing you will notice is that the pedal has standard dimensions. Flamma FS05 is 2.75" (69.9 mm) by 4.78" (121.4 mm) by 1.97" (50 mm), which means you won't have any problems finding a place for it on your pedalboard. 
Furthermore, there are five knobs on it you can use to shape the sound, and they are rate, type, depth, control 1, and control 2. The pedal is quite easy to use, and it is pretty much straightforward. You will use the type knob to choose the effect you want to use, and there are eleven possibilities for you to pick.
For example, the first effect on the list is the chorus, followed by flanger, tremolo, phaser, vibrato, rotary, liquid, auto-wah, stutter, ring, and low bit. Once you find the effect you like, you can push the select/save button and start using it. The control 1 and 2 potentiometers are used to further shape the tone of the effect.
What is nice here is that there is an indicator showing you which effect you are using at the moment. So, even if you are playing on the stage, you will be able to see the effect that's on without needing to check the knob.
It is worth mentioning that this is a stereo pedal, which means that there are double jacks on both sides. You can still use the pedal without two amplifiers, but it is nice to have that option available for you. Finally, the pedal has the true bypass to avoid any problems with the noise and shape of your sound.
What Power Does Flamma FS05 Modulation Require?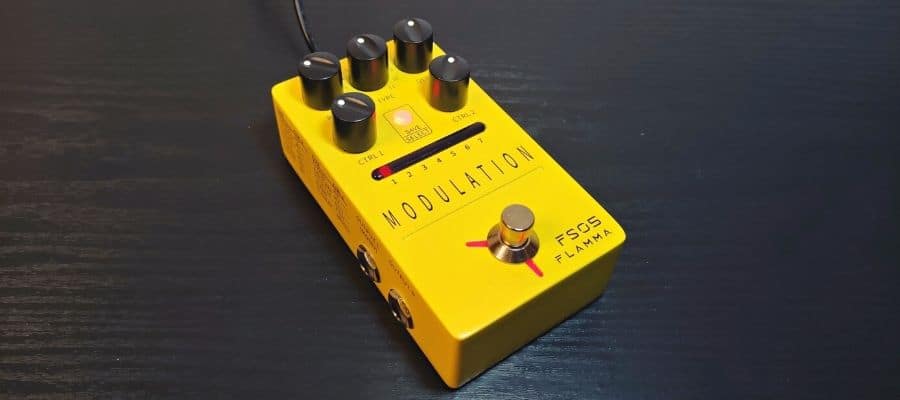 Flamma FS05 works on a standard 9V DC power source, with 300 mA. If you already have a pedalboard, you can use the existing power supply or daisy chain. However, if this is your first pedal, you will need to buy the adapter separately since it is not included in the package. 
This can be seen as a downside for many players, especially beginners. But today, it is nearly impossible to find a pedal where the power source is included in the package. One thing I should mention is that this pedal can only work on adapters. While the voltage required is 9V, you won't be able to use a batter since there is no slot on the pedal for it.
The Flamma FS05 Modulation Sound Quality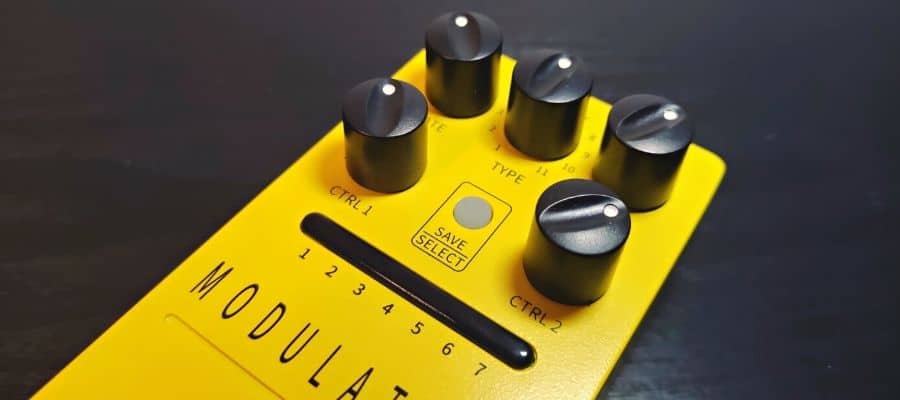 The main advantage of this pedal (besides the price) is its quality. The casing is durable, but what is more important is that you will be able to create a beautiful sound with a little bit of tweaking.
As for the sound itself, the pedal is quite versatile and works with different genres. The majority of effects available here are quite good, and you will have a lot of fun using them. Tremolo sounds amazing, and the same thing applies to almost every other effect on it.
Auto-wah, on the other hand, is as good as it can be. But auto-wah effects are rarely impressive, and you will never be able to see the sound and quality of a real wah. But let's be honest, you won't buy this pedal for its auto-wah.
If you decide to buy this model, you will notice how fun it is to turn around knobs and experiment with different sounds. And there are a lot of options for you to explore. It is a perfect combination for someone looking for a multi-effect modulation pedal for a low price.
While the individual effects are often better, Flamma FS05 is still a good investment if you plan on using more than one sound. 
Flamma FS05 Modulation Compared To Other Pedals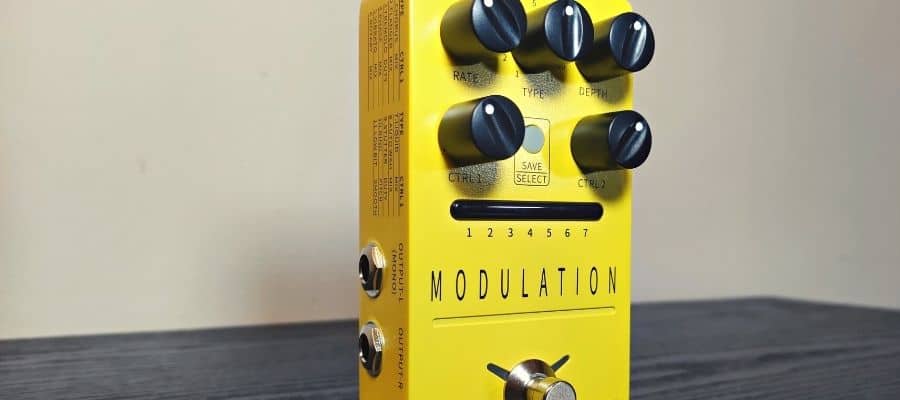 One of the things you might be wondering is how Flamma FS05 compares to other similar models. So, let's take a look. 
Eventide ModFactor Modulation Pedal
Eventide ModFactor Modulation Pedal
25 of Eventide's best Modulation effects
Chorus, Phaser, Flanger, TremoloPan, Vibrato, Q-Wah, Rotary, ModFilter,...
Instrument or line level inputs and outputs
Futureproof: USB for software upgradeability
Eventide ModFactor is a great modulation pedal that offers 25 different modes and effects to try out. There are eleven knobs on top of it, three footswitches, and a display you can use to better navigate the pedal. The most popular effects are included in the package, and you can easily find the tone you will enjoy.
The pedal is incredible, but the main problem is the price. Some people might be discouraged when they see the price tag on this model, and you will need to spend a lot more money compared to Flamma FS05. 
Universal Audio Astra Modulation Pedal
Universal Audio UAFX Astra Modulation Pedal
Texture your tones with iconic Japanese bucket-brigade chorus/vibrato,...
Quickly access sounds with Live/Preset modes, and play with silent...
Explore the outer limits with legendary rackmount bucket-brigade studio...
Download additional Phaser X90 and Dharma Trem 61 effects at product...
Universal Audio Astra Modulation Machine is another exceptional pedal you can check out. It's easy to use, it's durable, and the sound is incredible. There are six knobs on the pedal along with three switches that will allow you to shape the sound as you please.
For beginners, the price can be a huge issue. You can probably make an entire pedalboard using Flamma pedals instead of buying this one. Of course, if you can afford it, you won't be sorry. It is a well-made pedal offering a beautiful sound.
Wampler Terraform Multi-Modulation Guitar Effects Pedal
Wampler Terraform Multi-Modulation Guitar Effects Pedal (WAMTERRAFORM)
Each of 11 effect blocks have been designed and realized in-house by the...
Run it in full glorious stereo or keep it in mono, even split that mono...
There are 8 presets to store your favorite sounds; you can recall them via...
The expression pedal can control ANY of the 5 controls and you can even set...
Wampler has been around for a while, and the company offers beautiful models you can check out. Here, we have Wampler Terraform, which is a combination of eleven effect blocks. As with other models in this category, Terraform is a stereo pedal, and you can get the most popular modulation effects.
There are five knobs on the device, a wheel to select the effect you want to use, and a button to save or change the preset. All things considered, Wampler Terraform is a great choice for any skill level, but the price tag on it might be something beginners will avoid.
Flamma FS05 Is Perfect For Whom?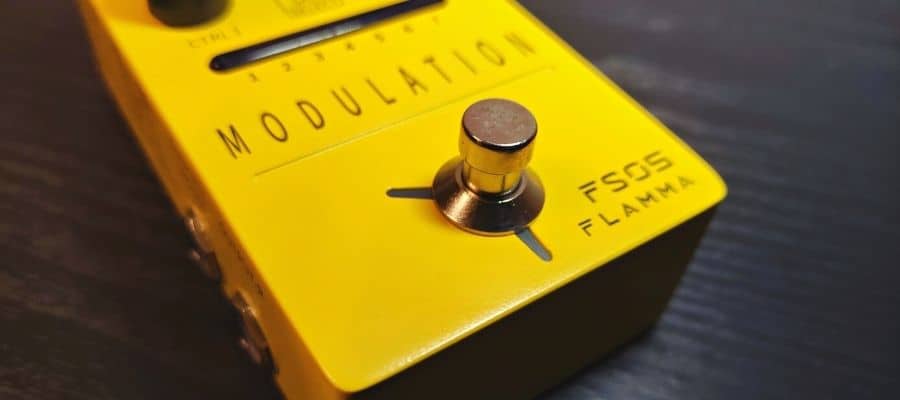 The next question on the list is the audience. Flamma designed this model for whom? As with any other pedal, there are no limitations to who can use them. If this is something you find interesting, go and buy yourself one. It is as simple as that.
However, there are a few pointers that might give us an idea of who should be the best customer. Mainly, the pedal is designed for those with a tighter budget. Since the price of the pedal is so low, it will most likely attract beginners and those who aren't willing to spend a lot of money on it.
It is also a perfect opportunity for those that just started building their pedalboards since they will be able to get a lot of different effects with a single purchase. If you are someone who needs a couple of listed effects, and you dislike the idea of buying each pedal individually, this is a pedal for you.
Since the price is so low compared to other models, you can always get it to try it out. Buying this model is hardly a huge investment, and you might enjoy the results it offers.
Where To Put Flamma FS05 On The Pedalboard?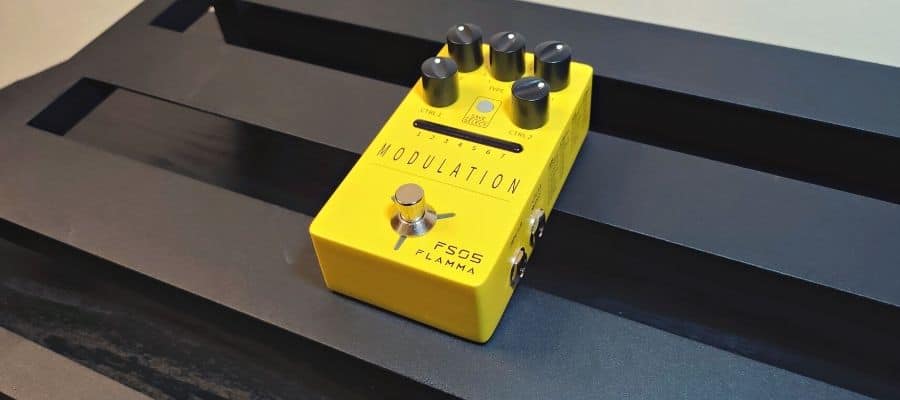 As with anything else in music, nothing is written in stone. There are no strict rules you need to follow, and you can always experiment with different options. The same thing applies to the order of effects. However, there are a couple of suggestions for the most reasonable order you might want to use.
If you don't feel like experimenting with pedals, the first effect on the list should be the tuner (if you own one), followed by pedals that affect pitch. This includes octavers, compressors, and pitch shifters.
When I say "first in order" that means the pedal you will plug your guitar into. The next one on the line is reserved for effects shaping your sound like overdrives and distortions, and the third one is for pedals that modify the tone. This is our spot.
Flamma FS05 is a modulation pedal, and effects like flanger, chorus, and phaser, go after distortion/overdrive. After that, the next on the line are delay, looper, and reverb being directly plugged into the amp. 
Alternatives To Flamma FS05 In Terms Of Look, Sound, Specs, And Price
JOYO Vision R-09
JOYO Modulation Multi Effects Pedal R Series Dual Channel Stereo Input...
JOYO VISION effect pedal, supports stereo input and output, both of the two...
And a 3-position toggle switch is used for choosing the sequence of the two...
Whole new appearance and the iconic ambience lights bring out futuristic...
JOYO is over decade of brand reputation, provide worry-free after-sale...
If you are looking for a great modulation pedal for a lower price, Joyo is often the answer. The company has been rather popular in the past couple of years, and the quality is surprisingly good. Especially if you consider the price.
JOYO Vision R-09 is a dual-modulation pedal, it has eight knobs to adjust the sound, and some of the most popular modulation effects you can find. It is in a similar price range as Flamma FS05, and it's worth checking out. 
SONICAKE Dimension
SONICAKE Modulation Pedal Modulation Guitar Pedal Phaser Flanger...
11-Mode Digital Modulation pedal adding multiple Sonic Dimensions to your...
Chorus, Vibrato, Flanger, Phaser, Tremolo, Univibe, Auto Wah, Bitcrush with...
Tap Tempo Function for Real-time RATE Control on this guitar effects pedal
Special Design Buffer Bypass Circuit Keeps the Sound Pristine for the...
Maybe you don't plan on using the stereo part of the pedal. Maybe you are looking for something simpler. If this is the case, Sonicake might be a perfect choice. This modulation pedal is in the mini size, and it offers eleven different modes you can use.
Among the main advantages of Sonicake Dimensions are its size, price, and how easy it is to use. You won't have any problems fitting it on your pedalboard, and the simplistic design is something beginners will appreciate.
MOOER Mod Factory Pro Dual Engine
Mod Factory Pro by MOOER is a pedal that offers two independent processing modules, and you can use up to sixteen different effects. The main advantage of this model is its versatility, and you can create so many beautiful tones.
It also has true stereo outputs, tap tempo, and other options you can use. While it is a bit more expensive, it's well-made and is undoubtedly worth the price.
Other Flamma Pedals Worth Mentioning
FLAMMA FC05
Flamma FC05 is a modulation pedal, but this time, it is in a compact version. The mini size of the pedal might be attractive to so many people out there. Of course, you don't get the same level of control, but if that's something you don't need, this can be a perfect choice.
There are eleven different effects you can use, and three knobs to further shape the sound. Needless to say, it is not a stereo pedal, but it is a great option for a low price.
FLAMMA FS22
The first thing I should mention is that Flamma FS22 is incredible. It is a combination of reverb and delay, and there are a couple of unique things you won't be able to find elsewhere. Mainly, it is probably the only pedal that offers these two effects with separate controls for both.
This gives you a whole new level of customization, and you will be able to create beautiful sounds. More importantly, the pedal is quite affordable.
FLAMMA FC11
While I mentioned auto-wah before as one of the effects you will find on FS05, there are people who enjoy the sound of it. And if this is the only one you plan on using, why not get a separate pedal that does just that? 
Flamma FC11 is an auto-wah pedal, and it is a mini version. There are three knobs on it to adjust Q, tone, and decay. For those that enjoy auto-wah, this is one of the best versions you can find on the market. Especially for this price.
Conclusion
Anyone looking to get a multi-effects pedal should check out Flamma FS05. The pedal has a standard size, and it's highly versatile. There are eleven different modes you can check out, along with seven preset slots you can use to store your favorite sound. 
Of course, the biggest benefit of this model is its price, and it will be challenging to find anything cheaper. If you are in need of flanger, chorus, tremolo, vibrato, and other modulation effects, you can get them all in one.
The pedal is easy to use, sounds great, and it can be an excellent choice for all the beginners out there, or for those that are looking to buy great equipment for a low price.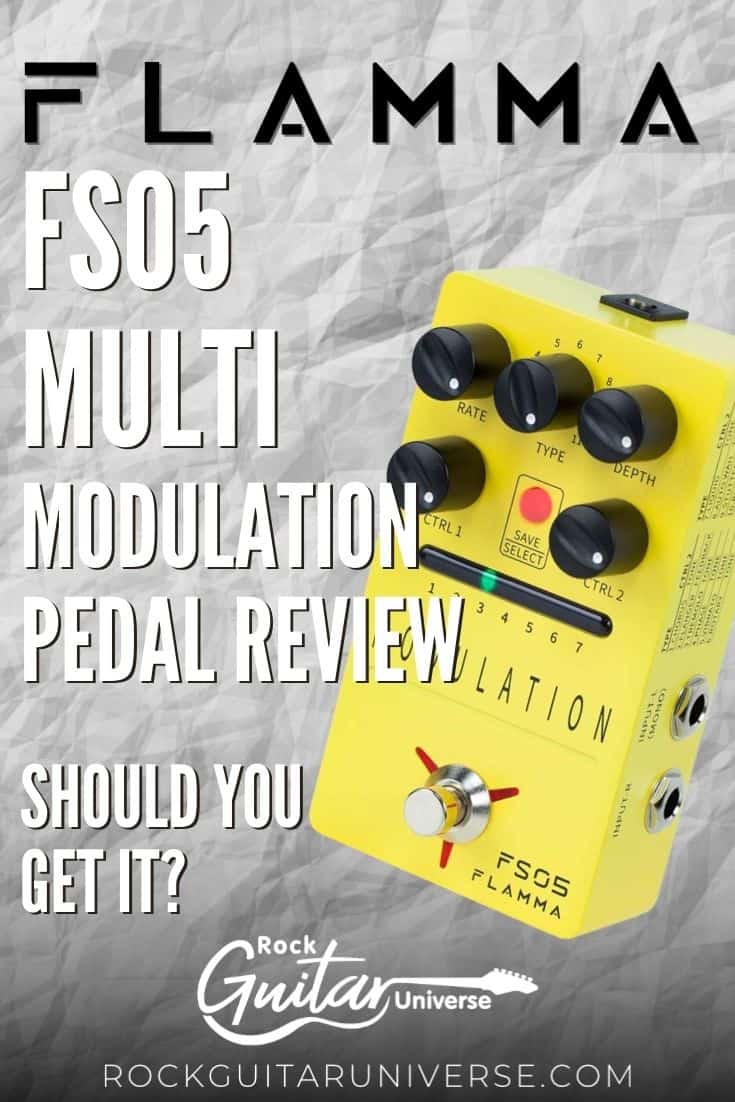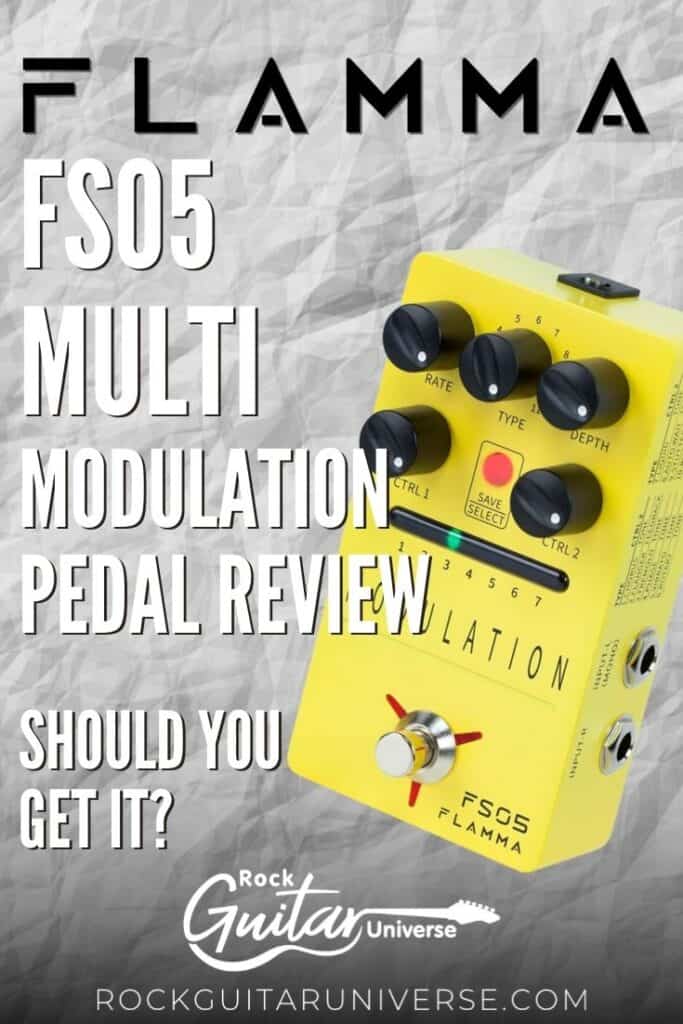 Last update on 2023-02-06 / Affiliate links / Images from Amazon Product Advertising API