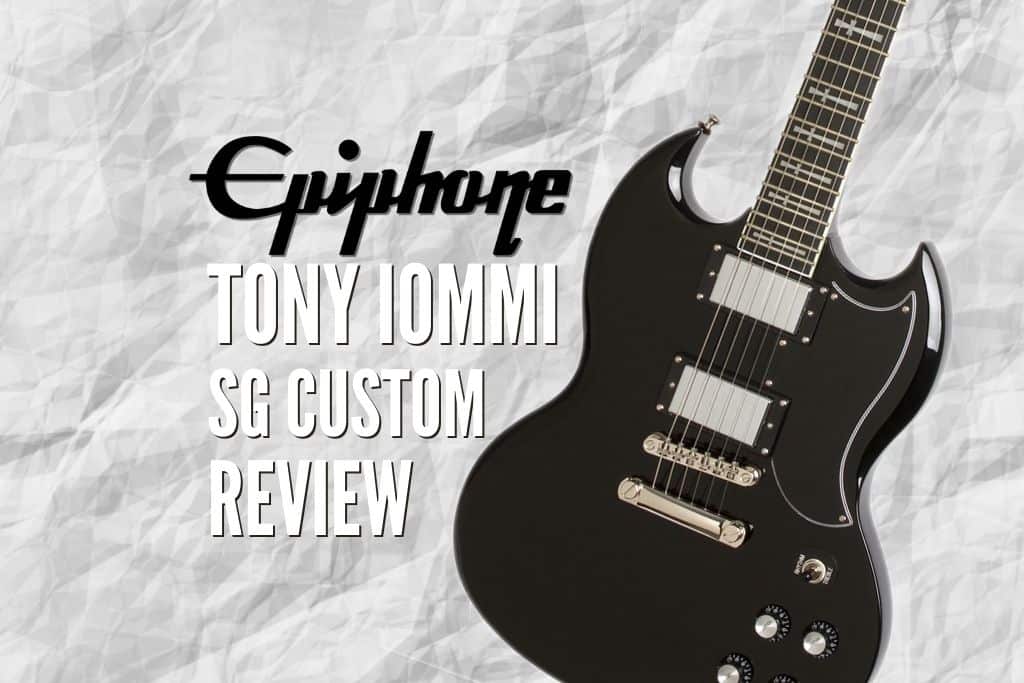 Epiphone is an excellent option for everyone that isn't willing to spend a fortune on Gibson guitars. The company is backed by Gibson, and you will essentially get the same guitar but with less exclusive materials. 
One of the examples of incredible Epiphones is Tony Iommi's signature SG. Iommi is one of the most iconic guitars in history, and he made an incredible impact during his career in Black Sabbath.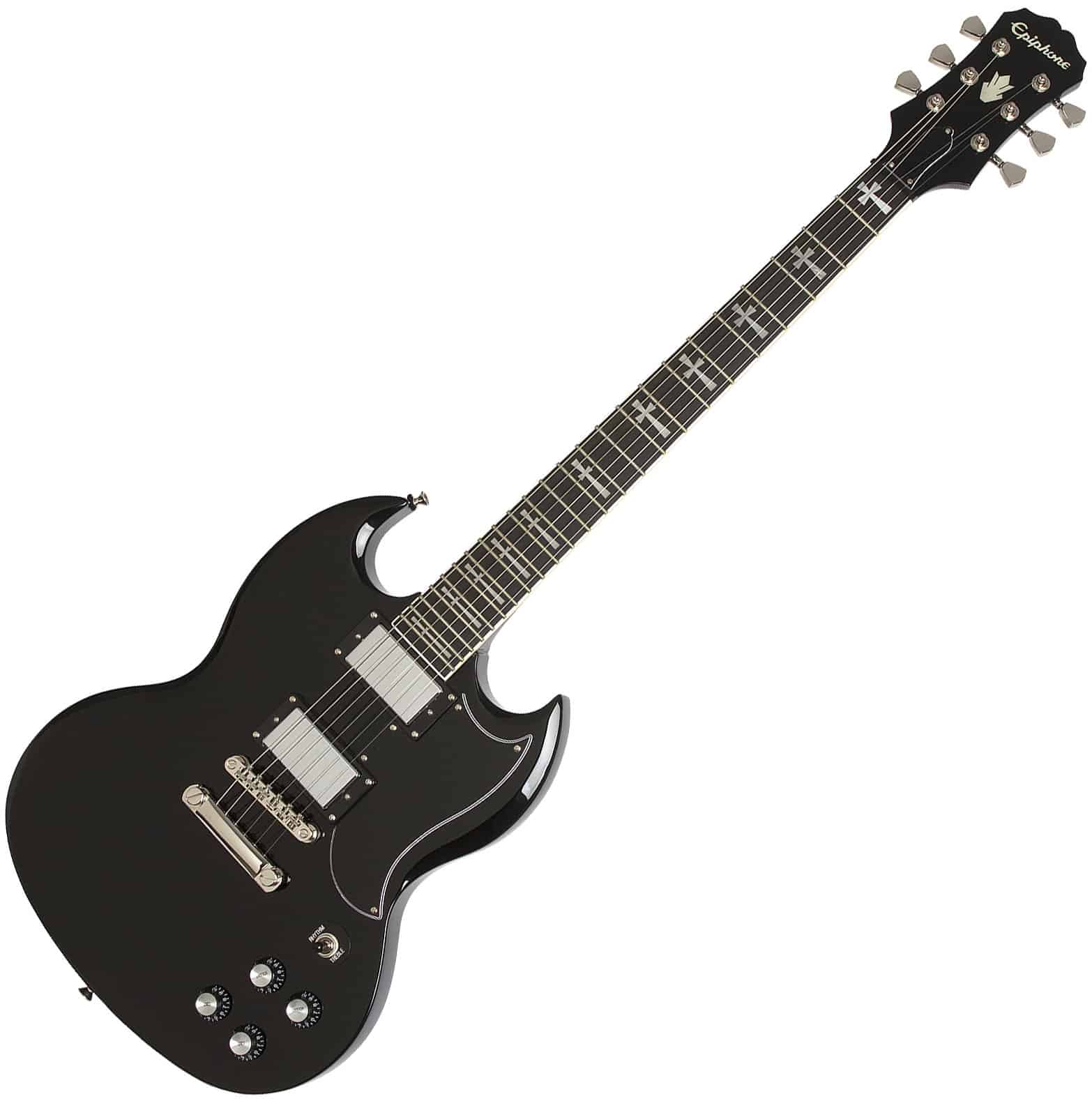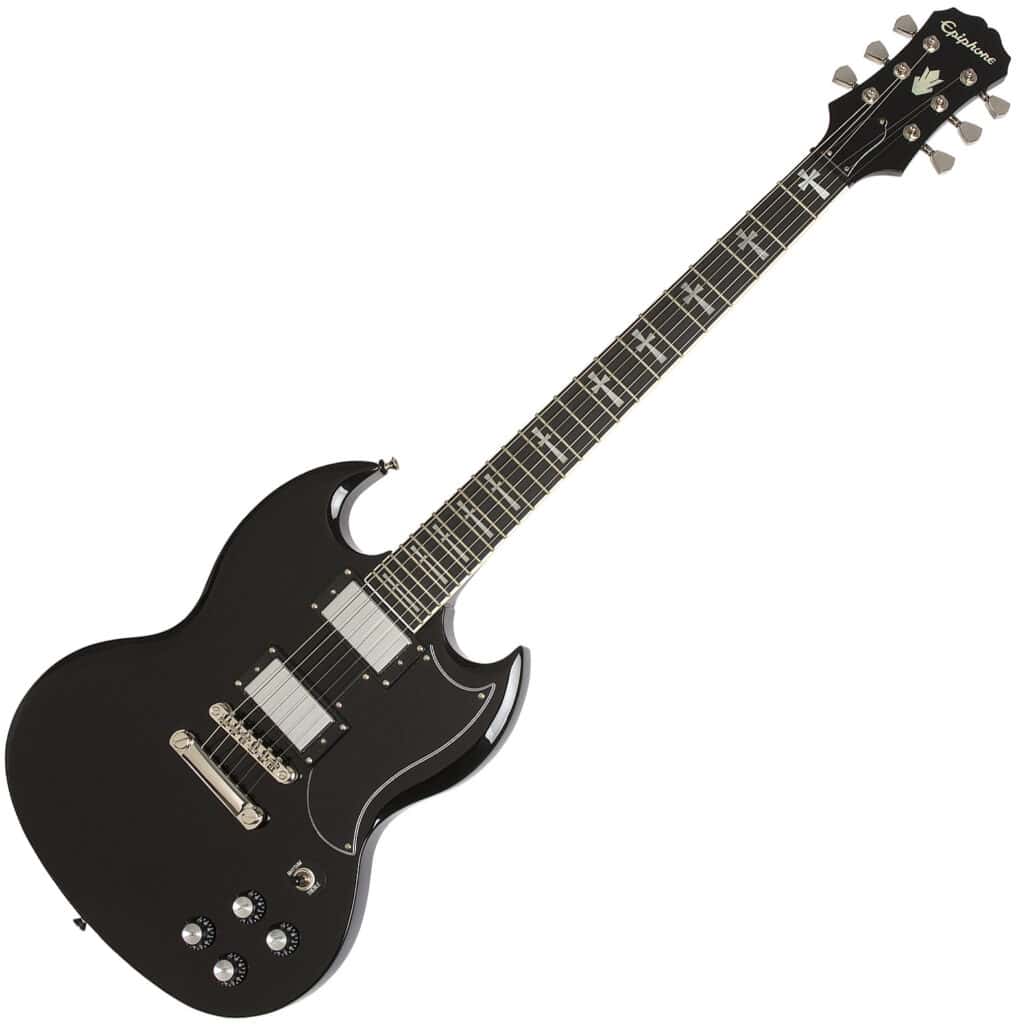 As you can probably guess, the Epiphone model was based on Tony Iommi's original Gibson SG, and there is also a signature model you can check out. Besides using cheaper materials, Epiphone SG is right-handed, unlike his original signature Gibson.
| Pros | Cons |
| --- | --- |
| Two humbuckers | Cheaper version of Gibson SG |
| Signature model | Limited edition |
| Incredible design | It might not be to everyone's taste |
There is no denying that this is a great guitar, but it might not be to everyone's taste. The frets are thinner, and SG design will require a bit of practice before you are comfortable playing it.
Of course, one of the main problems is that this is a limited edition series, which means that even if you adore this guitar, you might have trouble finding it on the market.
When it comes to price, the guitar is a lot more expensive than you'd expect from an Epiphone guitar. However, the model is quite good and if you love Tony Iommy and SGs, this is a great choice. On a scale of 0 to 5, the model is close to 5.
Epiphone Guitars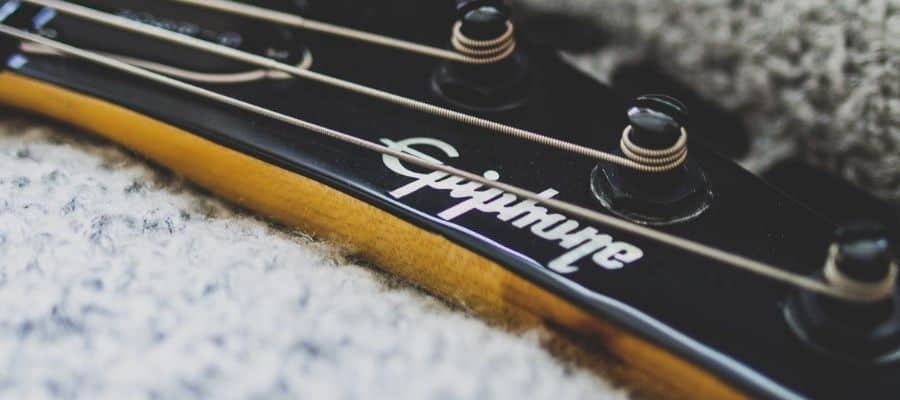 Many people believe that the Epiphone company was founded recently and that they produce cheaper versions of Gibson models. But the truth is different. Epiphone is, in fact, older than Gibson.
It was founded in 1873, which is nearly 150 years ago! Gibson started working in 1902. Interestingly, the company was created in today's İzmir, Turkey. Anastasios Stathopoulos was a Greek luthier and he designed lutes and fiddles.
Thirty years later, Stathopoulos moved to the U.S., where he continued making mandolins and other original instruments. Anastasios Stathopoulos died in 1915, and the company went to his son Epaminondas, nicknamed Epi. Epiphone became known as The House of Stathopoulo, and they soon added banjos to its repertoire (after World War I).
In 1924, it was rebranded once again to Epiphone Banjo Company. The first guitar came out in 1928. Epi died in 1943, and the company went to his two brothers Frixo and Orphie. Eventually, Epiphone moved to Philadelphia from New York, and Gibson acquired it in 1957.
Epiphone became a "budget" version of Gibson, and you can find iconic models like Les Paul and SG for a fraction of the price. Today, it is rather similar to how Fender and Squier work. Of course, you can still find expensive Epiphone guitars that are able to rival Gibson when it comes to quality (and price).
The Specs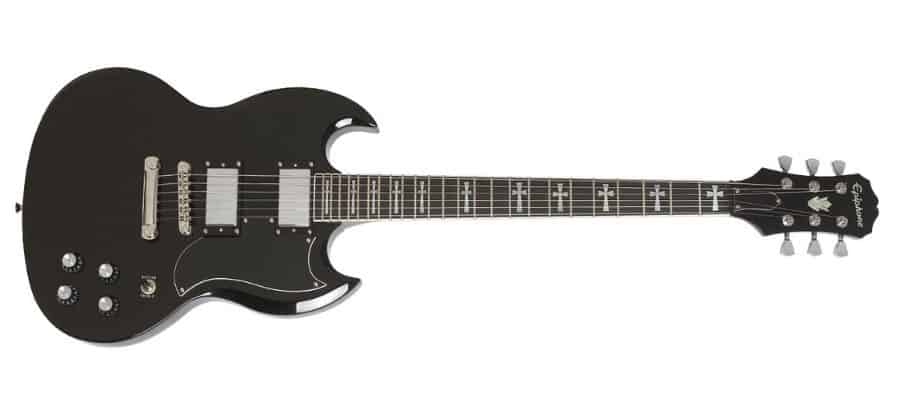 Let's take a closer look at Tony Iommi's SG, and see what it has to offer. 
General
| | |
| --- | --- |
| Series | SG |
| Number of Strings | 6 |
| Hand Orientation | Right (Tony's model is left-handed) |
| Colors | Ebony |
Body
| | |
| --- | --- |
| Body Shape | SG |
| Body Construction | Double Cutaway |
| Body Type | Solid |
| Body Material | Mahogany |
| Top Material | Mahogany |
| Top Type | Flat |
| Back Material | Mahogany |
| Finish | Urethane (ebony gloss) |
Neck
| | |
| --- | --- |
| Scale Length | 24.75" (628 mm) but it's closer to 24.6″ |
| Neck Construction | One-piece |
| Neck Material | Mahogany |
| Truss Rod | Adjustment at the nut |
| Truss Rod Type | Wrench |
| Fretboard Material | Ebony |
| Fingerboard Radius | 12" (304.8 mm) |
| Position Inlays | Crosses |
| Number of Frets | 24 |
| Fret Size | Medium-jumbo |
| Nut | Black graphite |
| Nut Width | 1.6875″ (42.86 mm) |
Electronics
| | |
| --- | --- |
| Pickup Configuration | HH |
| Neck Pickup | Gibson USA Iommi Humbucker |
| Bridge Pickup | Gibson USA Iommi Humbucker |
| Controls | 2 Volume and 2 Tone |
| Switch | 3 Positions: Bridge only, Bridge and Neck, Neck Only |
Hardware
| | |
| --- | --- |
| Tailpiece | LockTone Tune-O-Matic |
| Bridge Type | Fixed Bridge/Stopbar |
| Tuners | Epiphone Premium Die-Cast with Tulip Knobs |
| Finish | Nickel |
| Pickguard | 3-ply based on '61 SG |
There is a reason why this model is so popular. It is a really well-made instrument that sounds amazing. At the first glance, it looks fairly standard. The shape of the guitar is as with any other SG, which means that you will have excellent access to higher frets.
The body of the guitar is made of mahogany, and everything is black. This combination of black and chrome looks quite good. Furthermore, the guitar is based on '61 Gibson SG, at least when it comes to shape and pickguard.
One of the differences we can notice from the start is with the neck design. While it has a fairly standard Gibson neck with a 12" radius, the inlays are different. Instead of standard trapezoid inlays, Tony Iommi's SG has crosses.
The neck itself is made of mahogany with an ebony fretboard, and it feels quite nice. Naturally, it has a standard Gibson glued-in construction. The nut is made of black graphite, and the entire design of the guitar shows that Epiphone is more than capable of making an excellent guitar.
When it comes to pickups, both neck and bridge are identical Gibson USA Iommi Humbuckers. They have high output, which makes it perfect not only for Black Sabbath fans but for anyone interested in playing heavier genres.
All things considered, it is a high-quality SG guitar with a couple of modifications to better fit this incredible guitar player. Needless to say, the target audience is fans of Tony Iommi, but as I said, anyone can buy the guitar if they like it. You won't be sorry if you get this model since it is quite good.
The Sound, The Feel Of The Instrument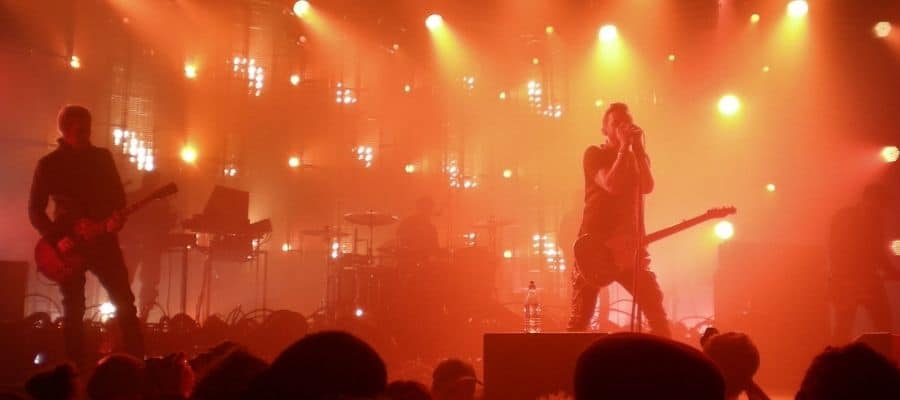 Gibson and Fender are two of the biggest manufacturers of electric guitars. And the reason for this is that their instruments are versatile, and anyone can play them. I won't be getting into the whole discussion on which one is better. That's up to you to decide.
Tony Iommi's signature SG is no different. Of course, the guitar is designed for him, and with his ideas and wishes in mind. But as with other signature models, there are many players who would love to have a similar (or identical) sound as their favorite guitar players.
The guitar sounds great both on clean and with pedals. Thanks to its twin humbuckers, the sound will be significantly better if you use effects with your guitar. While the clean sound will still be good, many will agree that it can never compare to the tone coming from single-coil pickups.
When it comes to the tone of the guitar, it is also important to mention the amplifier. Based on the type you use, the quality can vary. More expensive amps will make this guitar sound like a dream, while on cheap ones it might not be as impressive as you'd expect.
Naturally, this guitar is anything but cheap, and if you plan on buying it, be sure that you have an adequate amp to use it with. When it comes to the feel of the guitar, it is obvious from the start that every bit of it is great.
The idea behind this model was to create something he'd be able to play on stage. And Epiphone went above and beyond to design an excellent guitar.
Tony Iommi Signature Epiphone SG Is Perfect For Whom?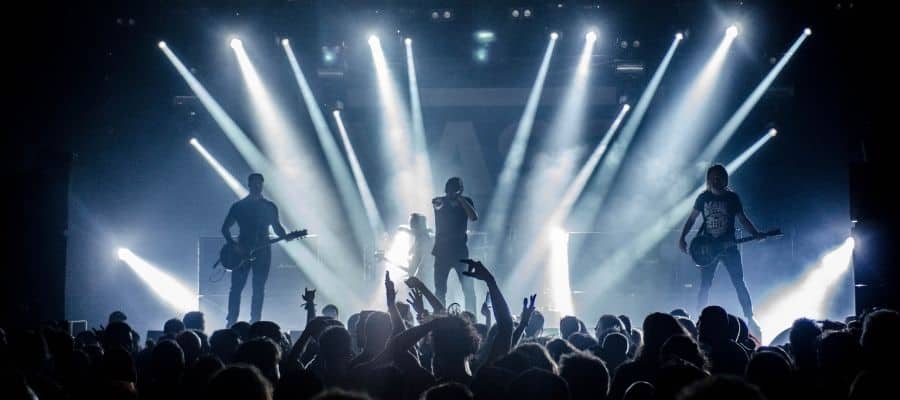 Well, the first thing I should address here is that this guitar is perfect for Tony Iommi. It is as simple as that. Each signature guitar (Clapton's Strat, B.B. King's Lucille, or any other) is designed for the player whose signature is on the headstock.
They are the ones designing the model, and the same thing applies here as well. When Tony talked to people at Epiphone, he expressed his wishes on what he enjoys. Of course, there is nothing wrong with buying this guitar.
But keep in mind that the guitar might not be perfect for you if it is designed for someone else. Besides Iommi, the guitar is perfect for every Black Sabbath fan. If you are looking to recreate that famous sound, the easiest way to do so if you get the same (or similar) equipment.
Since this is SG, the design is fairly similar to other SG guitars. Those that enjoy playing SG models also fall in this category, especially if they are also fans of Tony Iommi. There are no strange changes in the neck shape or anything else that might discourage you from getting this model. 
And most importantly, the quality of this instrument is incredible. But to be honest, anyone can buy and play this guitar. You don't need to be the biggest fan of Black Sabbath, Heaven & Hell, or any other Iommi's project.
If you like how the guitar sounds and looks, then it is perfect for you. You won't need to sing a paper and swear your allegiance to Tony Iommi if you decide to buy it. The best option would be to try the guitar somewhere, and see how it feels in your hand. Then, you'll have an easier time deciding whether it is perfect for you.
Is It Possible To Upgrade It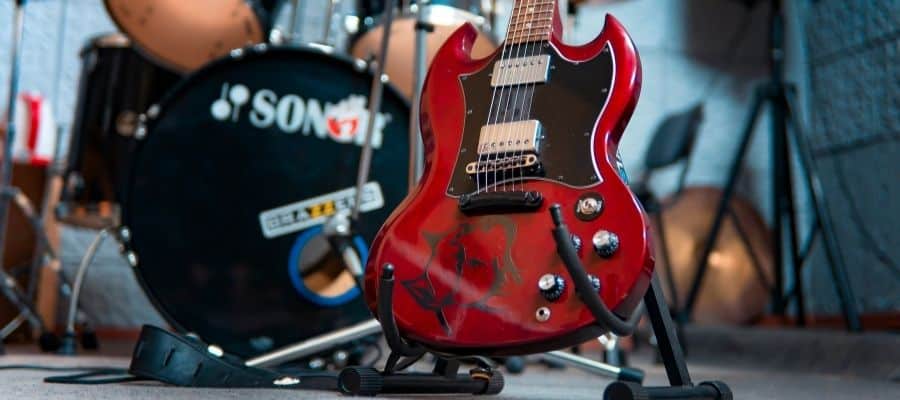 Yes. It is possible to upgrade Tony Iommi's Signature SG. At least in theory. As with any other electric guitar, you can replace any part you want. The only problem here would be the neck since it doesn't use screws to attach it to the body. 
Everything else is replaceable. You can get new tuners, pickups, potentiometers, a pickguard, a bridge, a nut, and so on. But there is another, more important question here. Why would you?
There is no reason to upgrade or replace any part of the guitar. You are already buying one of the best and most expensive Epiphone models, and if this isn't something you'd enjoy, there is a high chance you can find what you're looking for far less money.
The entire idea of this guitar is that it is designed for Tony Iommi, and replacing anything would defy the purpose. Considering that the price is even higher due to the signature on the headstock, it would be unreasonable to buy this model only to replace parts that are already good.
The only thing you might want to replace are frets, but that's after a couple of years of playing. It is more a part of the maintenance than it is an upgrade. So, I wouldn't suggest replacing or upgrading the guitar in any way. It is already great.
Alternatives To The Instrument In Terms Of Look, Feel, Sound, Specs, And Price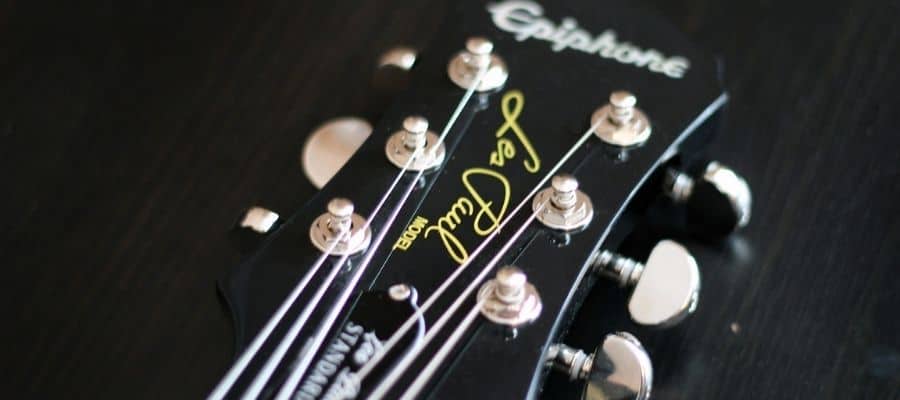 If this guitar seems interesting but isn't hitting all the spots, there are a couple of alternatives you might want to consider. Some players might not like each and every part of Iommi's signature SG, and they might want to look for an alternative.
Epiphone SG Standard '61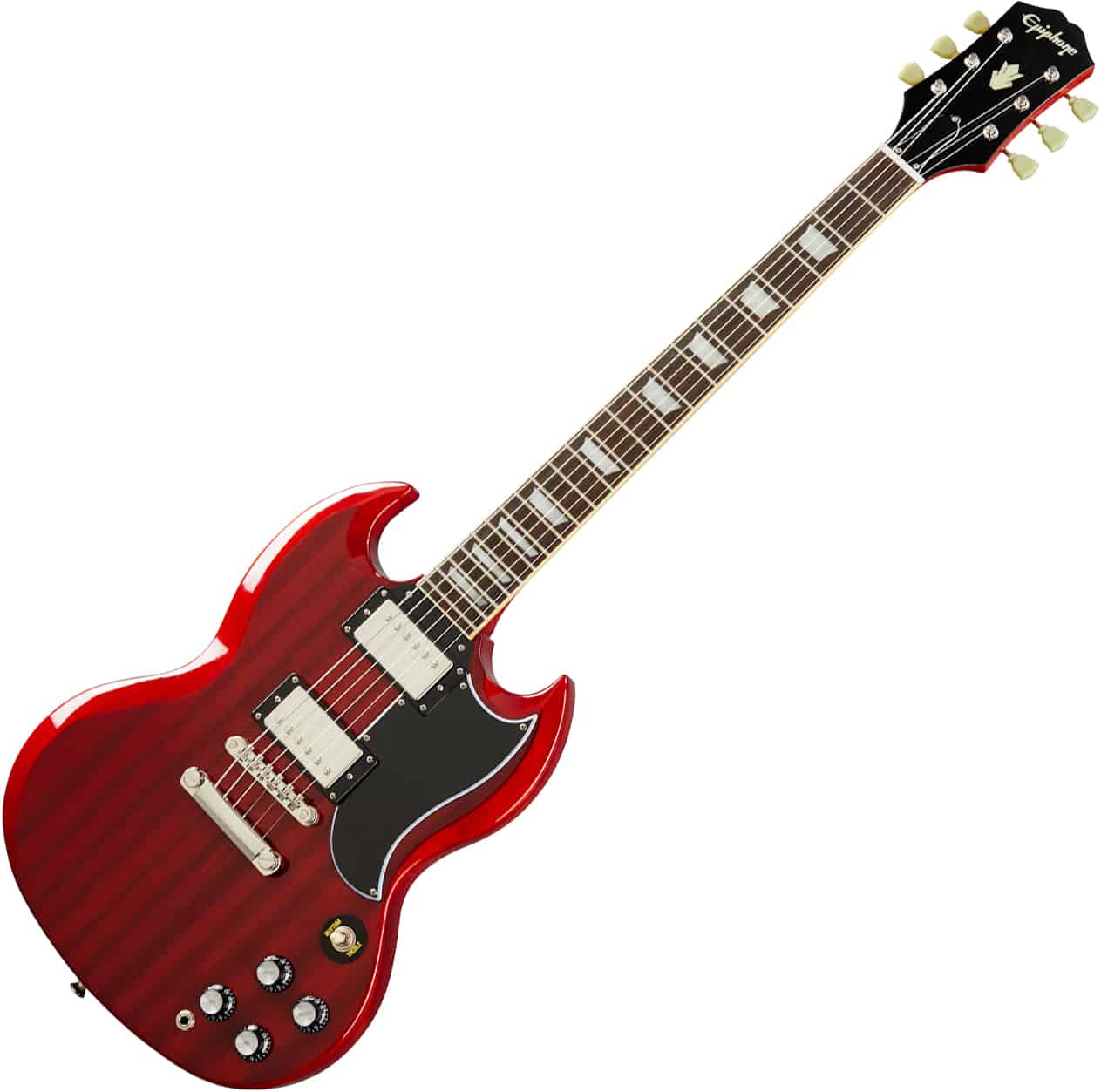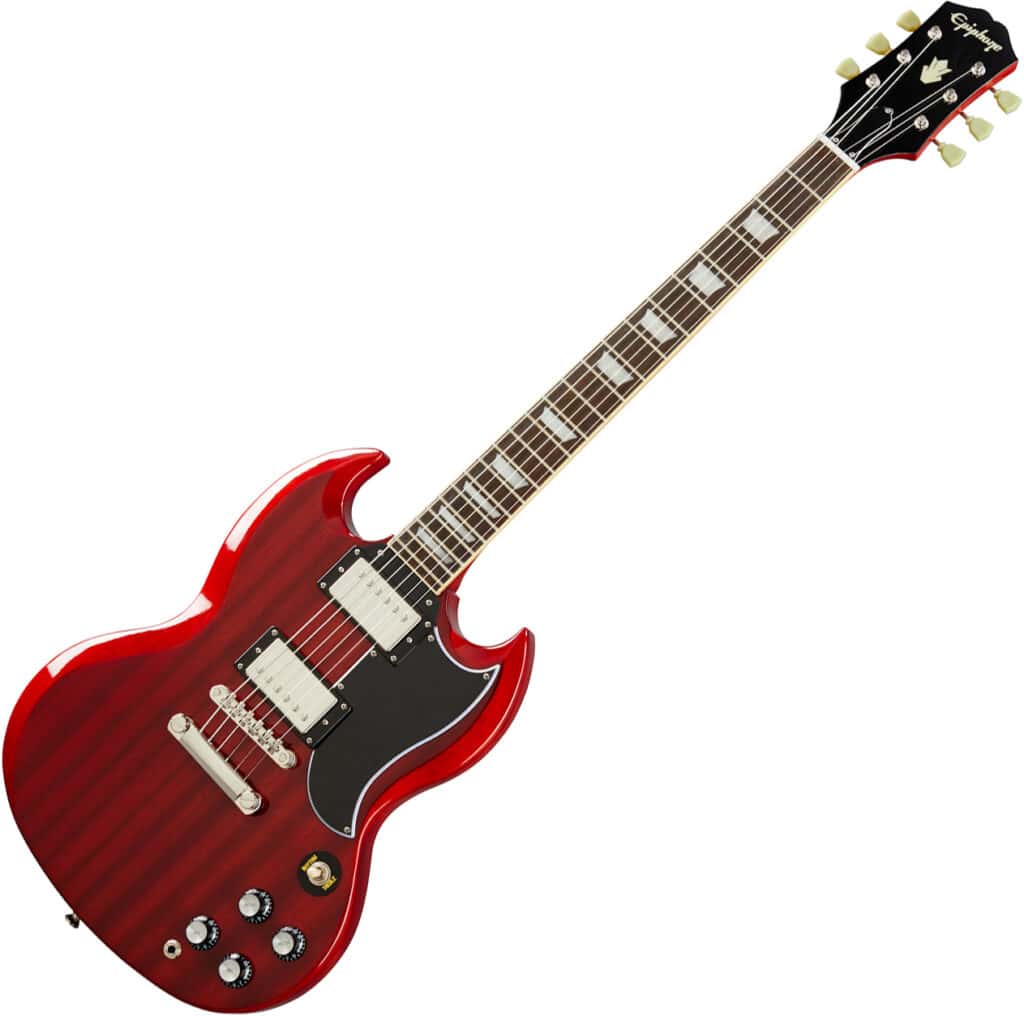 The obvious choice is to go for Epiphone SG Standard. It is one of the more expensive models, and it is what SG lovers will be looking for. Since it is not a signature model, the price will be slightly lower, but you'll still get an excellent high-quality guitar.
The red color is the traditional one for SG, but you can find it in black as well (or other options). This way, you will still get an SG, but without signature elements that come with Iommi's guitar. The best thing about Epiphone is that it has quite a wide price range, so you can even find models for $400 or similar. 
ESP LTD EC-256
ESP LTD EC-256 Electric Guitar, Black
Offers a classic combination of a single-cutaway design with a mahogany...
An amazingly affordable way to get into the look and sound of an all-time...
Features great-sounding ESP Designed LH-150 passive pickups
Even includes set-neck construction and body, a three-piece neck, and...
ESP offers a couple of interesting models, and the price range is similar to this signature SG. Of course, the first thing you'll notice is that the shape is similar to Les Paul, but the pickup configuration is the same.
The Artist series is quite popular, and it offers many different models and shapes you can check out. Once again, the price is a bit lower, but you'll still get a signature model. The guitar is perfect for anyone looking for a heavier sound, but not willing to spend as much on an instrument.
Either way, both instruments are far from the budget category, and you'll be satisfied with the quality and performance.
Epiphone SG Special VE
Finally, there is an option to go for Epiphone SG Special, which is a significantly cheaper electric guitar. The color and design is similar, and it's perfect for those not willing to spend twice as much money.
Of course, the quality is also a bit lower, and you will get dot inlays on the fretboard which is something you can find on budget Epiphone models. This model is great for anyone willing to spend up to $300 on a guitar, and with a good amp and pedals, the sound will still be good.
More importantly, you will get the famous SG shape and style if that's something you are interested in.
Unfortunately, going for a Gibson is not an option, unless you are willing to pay $2,000 or more. Even though Tony Iommi SG is close to $1,000, it still isn't an alternative to Gibson when it comes to price. 
Summary
Tony Iommi made a significant impact on modern music, especially on the heavy metal genre. Generations of guitarists were inspired by War Pigs and Iron Man, and he is regarded as one of the best guitar players in the history of music.
For those that really enjoy his style and sound, they can get an Epiphone signature guitar based on Tony's preferences. While it is a bit more expensive than you'd expect from Epiphone, the quality and design are incredible.
It is something that fans from all over the world will enjoy, and the guitar perfectly fits in the spot between Epiphones and Gibsons. At least when it comes to price.
All things considered, the guitar is amazing. It's worth the money, and it is an excellent choice for every Black Sabbath fan out there. While there are a couple of alternatives, they offer either less quality or higher prices.
So, the best option would be to go for this model if you love SG, and can afford to buy it. Finally, there are no specifics when it comes to skill levels, and the guitar is great for both beginners and those with a lot of experience. Needless to say, the beginners might find it too expensive, and it might be best if they went for a cheaper model instead. 
If you found this article useful you may want to save this pin below to your Guitar board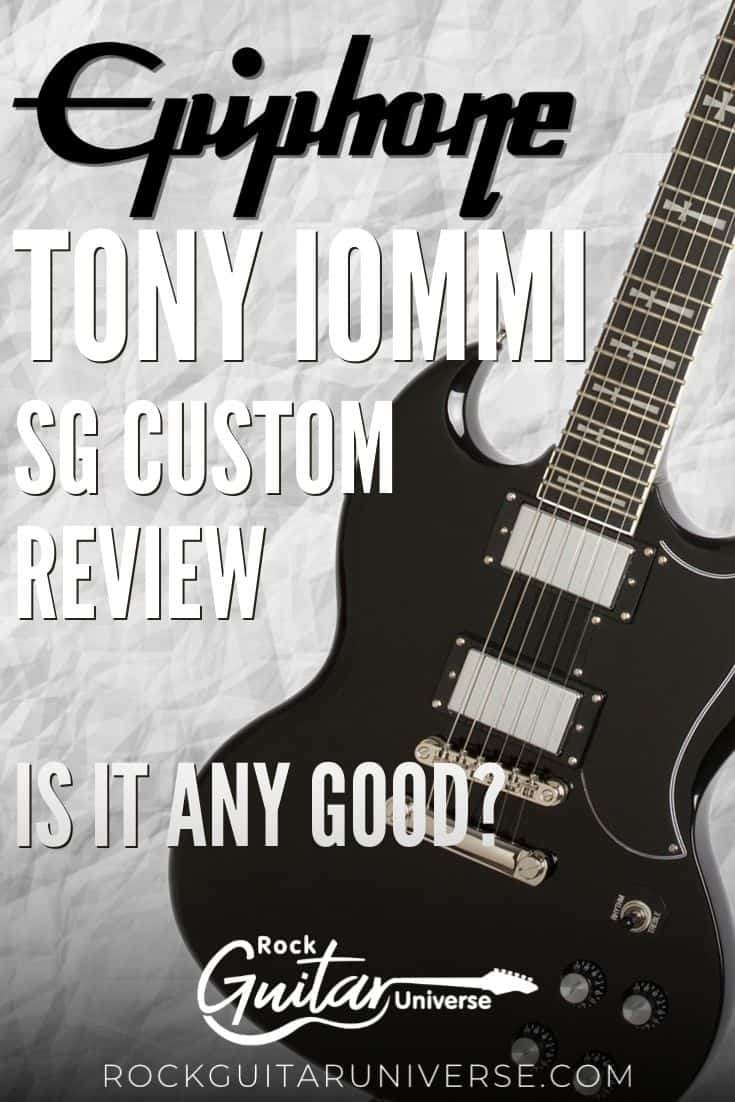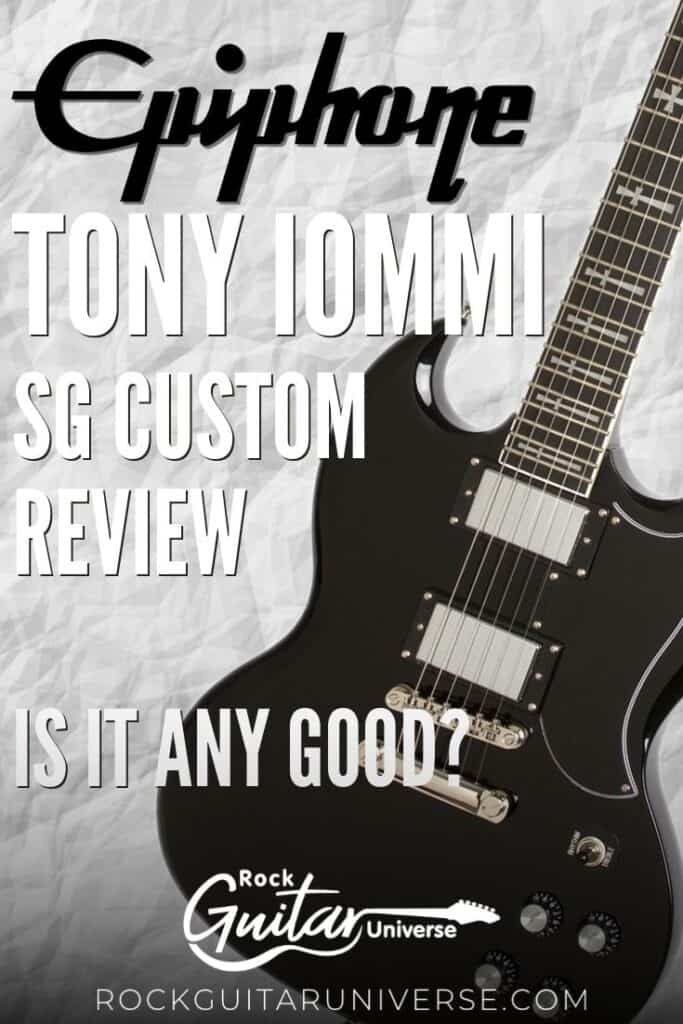 Last update on 2021-10-19 / Affiliate links / Images from Amazon Product Advertising API
Recent Content