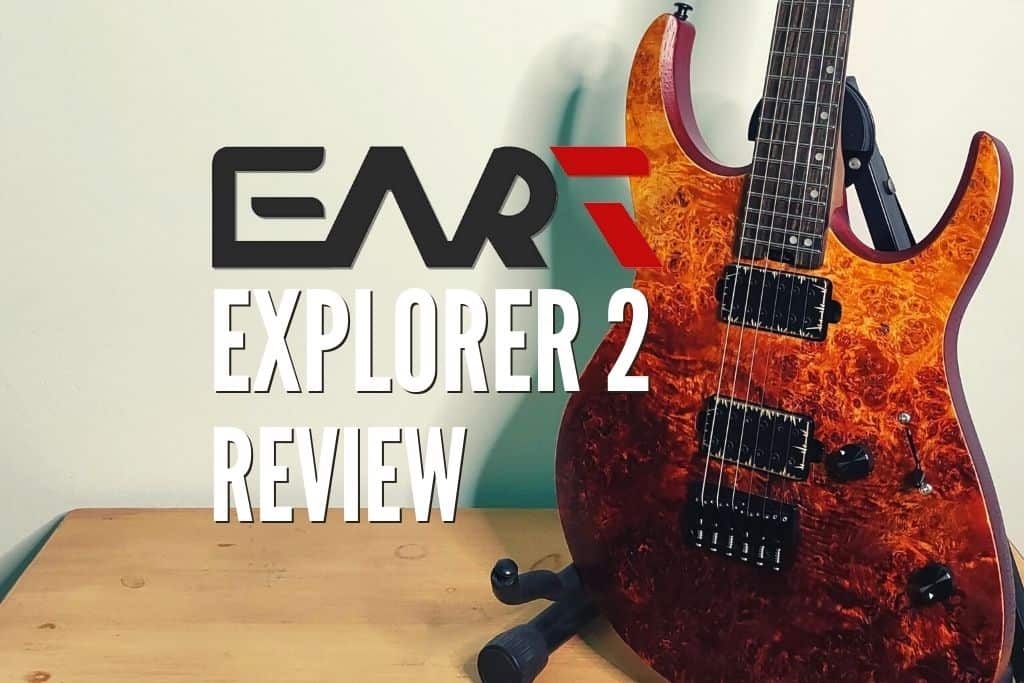 It's pretty mind-blowing just how the borders of quality between budget guitars and expensive guitars started to vanish in recent years. With many brands producing their guitars in cheaper countries such as China with better quality controls and more attention to detail, the overall quality of budget guitars elevated rapidly. Many of these guitars are versatile and would make a brilliant beginner electric guitar or a cool guitar to add to your collection.
When it comes to the high-quality electric guitars for affordable prices, a new brand catches attention with their amazingly built guitars, EART. This relatively new brand surprises most of the guitarists with their incredible quality for very low prices. Still, they are a lesser-known brand with a few reviews on the internet, making them a hidden gem in the guitar world.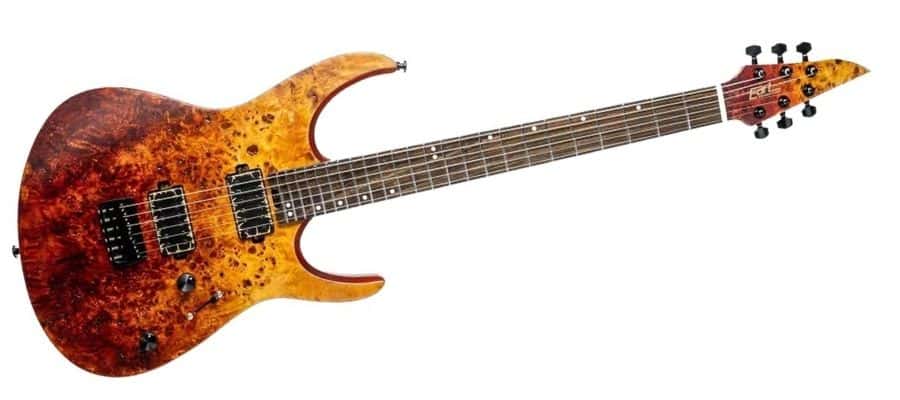 One of the brand's newer designs, Eart Explorer 2, is a fantastic guitar which is a genuinely insane purchase for the offered price. The guitar is an upgrade for their older model Explorer that received much positive feedback from the players. With its beautiful design similar to Mayonese guitars, extremely comfortable neck, and perfect stainless steel frets, this is a 5-star guitar that blew my mind the moment I took it in my hand.
Pros
Cons
Great value for money
Inadequate quality control
(I got a bad cut nut, a small dent at the end of the fretboard)
Quality and detail-oriented construction
Insanely good fretwork of stainless steel frets, with rounded edges.
Comfortable Neck
Stunning look
The only let-down of the guitar is the minor imperfections reported in many cases. The overall quality control of the brand is not the best with many guitars, arrived with small dents on the fretboard, badly cut nuts, bent tuners, or loose screwed hardware.
Despite all these imperfections, I would rate this guitar as a 5-star one. These are easy-to-solve and small problems that do not bother me at all since none of the guitars are perfect, especially in this price range.
EART Guitars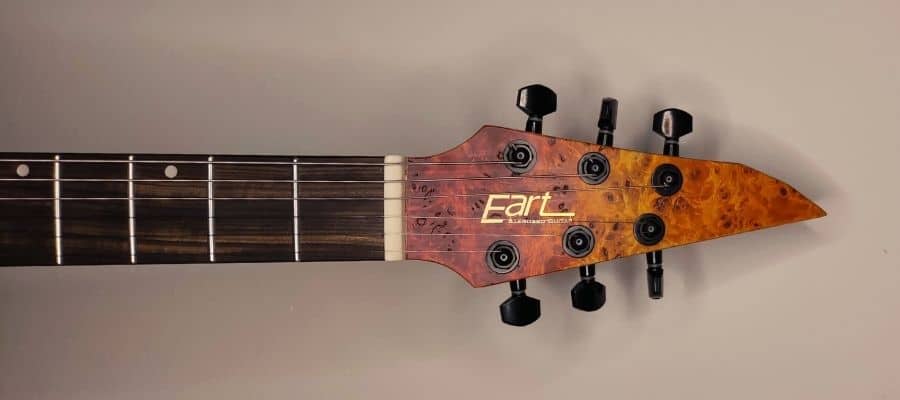 With their existence on the market for around 10 years, Eart is a new Chinese brand producing various types of high-quality yet affordable electric and bass guitars. As Eart is more focused on the Asian market, likely, you have never heard of the brand before. But, for western musicians, they are worth taking a look at with their low-budget and solid instruments.
EART mainly produces affordable yet high-quality instruments that surprise the players with their solid craftsmanship. They surpass the expectations with most of their products.
All of Eart's guitars catch attention with their stunning appearance. The instruments have beautiful finishes in various colors and carbonized quality wood material, making the guitars look incredibly eye-catching.
The Eart guitars do not only have good looks, but they are also produced with experience and good attention to detail. You will not encounter any sharp frets, flaws in the finish, or any sloppy detail in major aspects of the guitars.
The overall quality control of the brand can be better since some little details need more attention, such as the nuts. Also, considering that the guitars are shipped overseas, it is highly likely that minor damages can occur on the way. But luckily, Eart has attentive customer service that is ready to solve any kind of problem you may have.
The Specs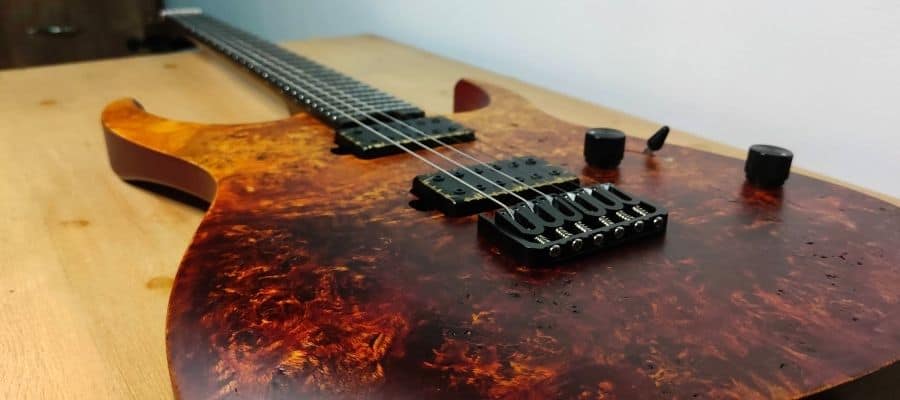 Let's have a look at the features of Eart Explorer 2 to have a wider opinion on the guitar.
General
| | |
| --- | --- |
| Series | Explorer |
| Number of Strings | 6 |
| Hand Orientation | Right |
| Colors | Green To Natural, Red to Yellow, Black To Natural |
| Weight | 7.6 lbs (3.45 kg) |
Body
| | |
| --- | --- |
| Body Shape | Soloist |
| Body Construction | 2-Piece Body |
| Body Type | Solid |
| Body Material | Roasted African Red Rosewood |
| Top Material | Poplar Veneer |
| Top Type | Veneer |
| Back Material | Roasted African Red Rosewood |
| Finish | Satin, Matte |
Neck
| | |
| --- | --- |
| Scale Length | 25.5" (648 mm) |
| Neck Construction | Five-piece, Slim C-shape |
| Neck Material | Maple and Black Butternut |
| Truss Rod | Single action |
| Truss Rod Type | Spoke Nut Hotrod Trussrod |
| Fretboard Material | Indian rosewood (looks like Ebony) |
| Fingerboard Radius | Compound Radius: 9.5" – 14" |
| Position Inlays | 1st-12th fret dots at the top, 12th-24th fret dots at the bottom |
| Number of Frets | 24 |
| Fret Size | Jumbo |
| Nut | Bone |
| Nut Width | |
Electronics
| | |
| --- | --- |
| Pickup Configuration | HH |
| Neck Pickup | Handmade old custom modern trend style pickups (8.8K ohm) |
| Bridge Pickup | Handmade old custom modern trend style pickups (9.9k ohm) |
| Controls | Volume and Tone |
| Switch | 3 Positions: Bridge only, Bridge and Neck, Neck Only |
Hardware
Tailpiece
None
Bridge Type
Hardtail Bridge
Tuners
Eart Locking Tuners
Finish
Black matte on the picks and the pickups.
Glossy black on the tuners and the controls
Pickguard
None
Eart Explorer 2 is an upgrade to the older Eart model, Explorer 1. They changed the tuners to locking tuners and pickups and added an excellent paint job of the guitar. The end product is simply amazing.
As always, the first thing you notice on Eart guitars is their excellent fretwork. The stainless steel frets, which are not common in this price range, are very well crafted with no hard edges; the frets are simply impeccable. Considering that rounding the edges is heavy work on stainless steel, the guitar wins a huge plus.
The shape of the Eart Explorer 2 resembles Mayonese guitars. The color options are all amazing, with stunning finishes. I picked red and yellow, which match the rest of the body.
The body, the neck, and the fretboard are all made of exotic woods. The body is so well made that it is hard to tell if it is a 2-piece body.
The body has a nice weight and resonates very nicely when played unplugged. With its 7.6 lbs (3.45 kg), it has just the right weight, making the guitar very balanced on the lap.
The neck is made of 5 pieces with maple and black butternut wood. It is a thin, fast, and highly comfortable neck, perfect for shredding.
The upgraded pickups are handmade old custom modern trend style pickups, as the official website shows. They look like the bare-knuckle aftermath, and they are excellent for metal. I think they are ceramic pickups. When I measured the resistance, I had the results of 9.9k ohm for the bridge and 8.8k ohm for the neck.
The action is set low. It is about 0.07″ (1.75 mm) on the 12th fret of the 6th string. I played around with the action settings to explore and returned to the initial settings as it was good from the start. There are no dead spots or buzzing with the action with the factory set them reasonably low.
The locking tuners do a pretty decent job holding the tuning stable. Although several of the tuners are a bit bent on my guitar. I tried to straighten it but couldn't as it was really solid, probably made of steel. Other than that, it works well.
The hardware on the guitar is not made of cheap material like other Chinese guitars I have tried before. The American-made hardware looks decent and solid.
One of the aspects of the guitar that I didn't like is the nut. It came badly cut that needs to be changed. I will probably change it to graph tech nut instead.
Another negative aspect is the minor imperfections reported in many cases. In mine, there was a small dent on the 24th fret. But luckily, it does not affect the sound or the feel in any way. But no guitar is perfect, and these slight faults can easily be ignored for this price range.
This is an amazing 5-star guitar, in my opinion. It is fantastic for an instrument around its price range. It has a price tag of $600 with specifications similar to a $1000 guitar.
The Sound, The Feel Of The Instrument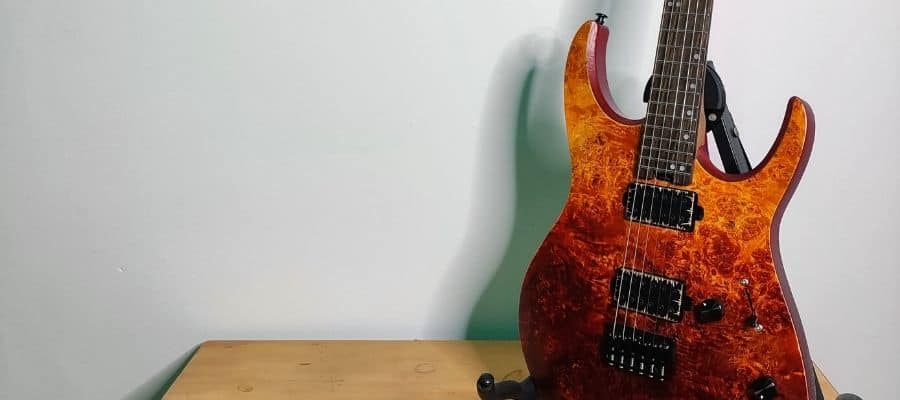 The specs are important but what is more important is the feel and the sound of the instrument. But Eart Explorer 2 quickly gets very high grades in these aspects, too.
The shining star of almost all Eart guitars is the neck. It is one of the most comfortable necks out there, with an amazing comfortability and feeling. In this case, the neck is thin and fast, making it a joy to play and shred on it.
The Indian rosewood fretboard is semi-smooth, resembling the feel of a maple. The frets are, as mentioned, very well-made; my left-hand feels exceptionally comfortable.
The guitar is not very light, it feels cheap, but it is not very heavy, that it hurts my back. It is just at the right weight and sits very well balanced on the lap.
The pickups sound pretty good to me, and they have a warm vintage vibe with some nice bite. They sound powerful with good reaction time, making the guitar a good choice for metal and hard rock players.
The guitar's clean sound is also pretty good, with deep and warm characteristics. These are my first impressions of the sound of the guitar. However, I have to spend more time with the guitar to make a final decision about the pickups.
Overall, the feel of the instrument is much better than more expensive guitars on the market. The neck is one of the best I have ever played, and the sound is above average with no doubt. The guitar is worth every penny, and it is truly outstanding.
Is Perfect For Whom?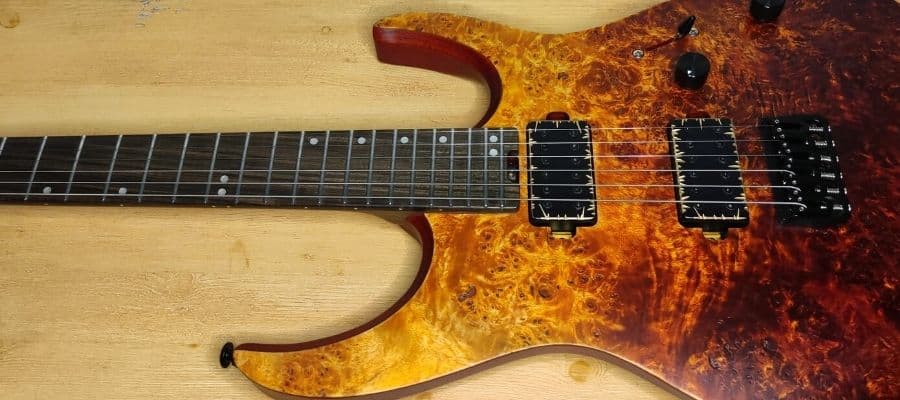 EART Explorer 2 can be a good choice for every level guitarist who loves to play heavy tones and fast licks.
For beginners, it is a perfect choice with its comfortable neck and versatile sound. The feel of the instrument can motivate the beginners to play more and more.
For more experienced players, this guitar is a hidden gem with its comfortability and low price. The shredders will especially celebrate its amazingly fast neck. This guitar is perfect for live performances with its comfort and lightweight. You can also record with this guitar, but you might consider a pickup change if you don't feel satisfied with the existing ones.
Every guitar has a spirit, and the spirit of this guitar craves heavy, aggressive sounds. This instrument is for metal and hard rock players. However, it is still possible to play blues, jazz, pop on it.
Is It Possible To Upgrade It?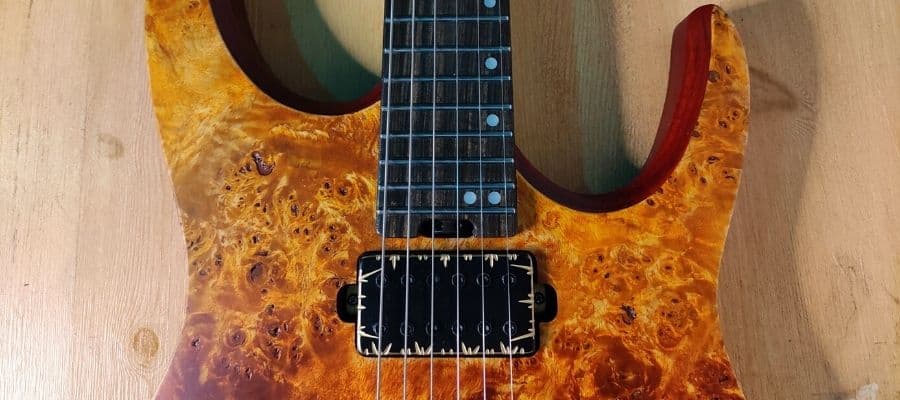 Every guitar can be upgraded to a point, and Eart Explorer 2 is no different. The guitar is almost perfect the way it is; however, you can make some upgrades to adjust it according to your needs. Taking into account that Eart's quality control team is not the best, there may be some imperfections on the guitar that you can easily fix by changing the parts.
Nut
This guitar's nut is made of bone, and in my case, it was cut badly. I will be changing it with a graph tech nut to enhance the sound quality and match the hardware style.
Pickups
The pickups of Explorer 2 are more than satisfying. But if you want a more specialized tone or higher output levels, you can upgrade the pickups to have the perfect electric guitar. There are many versatile humbuckers out in the market. The quality offerings of DiMarzio, Seymour Duncan, or EMG are worth a look.
There is no need for any other upgrade for the guitar. It is more than satisfying as it is.
Alternatives To The Instrument In Terms Of Look, Feel, Sound, Specs, And Price
EART Explorer 1
EART EXPLORER-1 Electric Guitar 6 String Right Solid-Body Electric...
Roasted Padauk Body with Burled Poplar Veneer:Padauk has a luxurious...
5 piece Roasted Maple/Walnut Neck:Multi-piece neck construction ensures...
Hand Polished Stainless Steel Frets:Stainless steel frets provide...
U to C Compound Neck Profile and Compound Radius: Explorer-I has a unique...
If you are on a tight budget and want to have a guitar close to the comfortability of Explorer 2, Eart Explorer 1 is the way to go. The Explorer one comes with a $300 price tag; it is less than half of Explorer 2.
The Explorer 1 has standard tuners instead of locking tuners, relatively lower quality pickups, and different paint jobs. With A five-piece neck with exotic woods, well-rounded stainless steel frets, high-quality American-made electronic parts, ultra-high precision tuners, all for such a low price. It is an exceptional guitar.
ESP LTD M-400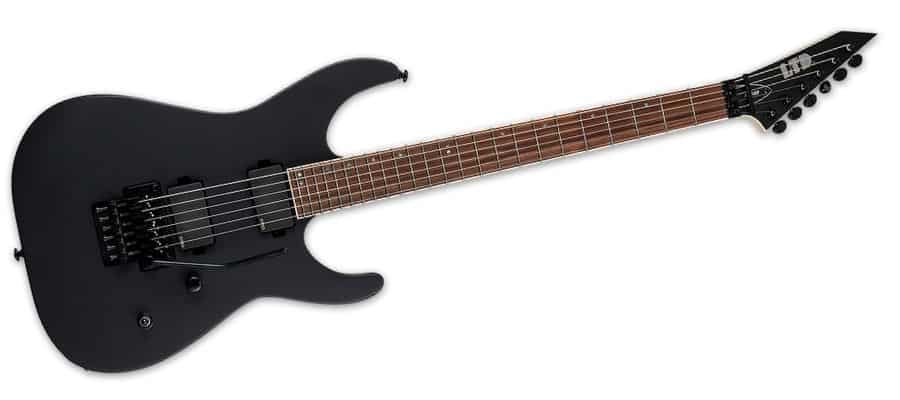 The ESP LTD M-400 offers incredibly versatile tones with a fresh and elegant look, perfect for players who want a dark performance while retaining a range of tonal possibilities.
The two EMG humbuckers provide the ESP LTD with its fierce tones, delivering grunt notes and hard chords while also providing great depth and a cut that allows the notes to shine through.
The ESP guitar's mahogany body, maple neck, and rosewood fingerboard offer a comfortable playing experience, enhancing the guitar's tonality with sparkling, bright highs and thick, firm lows.
With a Floyd Rose tremolo to create incredible pitch-shifting effects, the guitar is sold for $800, a bit more expensive than Explorer 2.
Jackson X Series Signature Adrian Smith SDX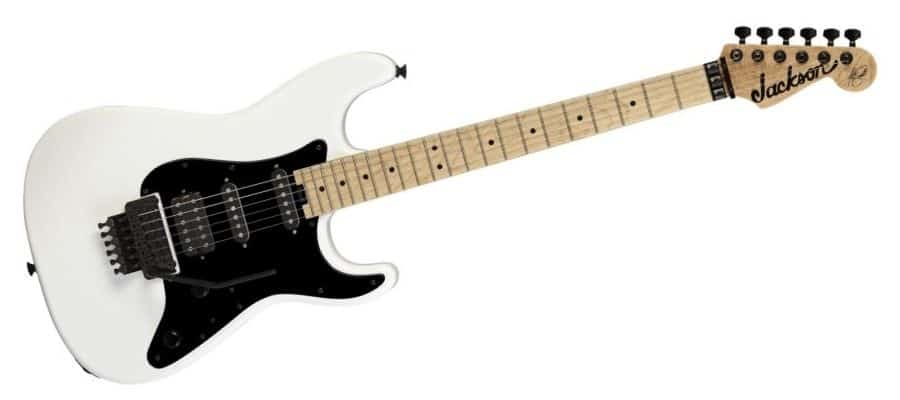 The SDX is the Asian version of Iron Maiden's Adrian Smith signature model. Although aesthetically, they are the same, it suffers from the cost reduction that one would expect given its price.
The body is basswood with a 12" radius maple neck and fingerboard, the bridge is an imported Floyd Rose, and the pickups are Jackson's own.
It is a gorgeous and very comfortable guitar once it is well adjusted, which, having an HSS configuration, is much more versatile than the typical metal guitar.
So if you want a comfortable shredder neck but with a more versatile sound range than Explorer 2, the SDX will not disappoint you. With its $500 price tag, it is a cheaper option than Explorer 2.
Kramer Pacer Vintage Electric Guitar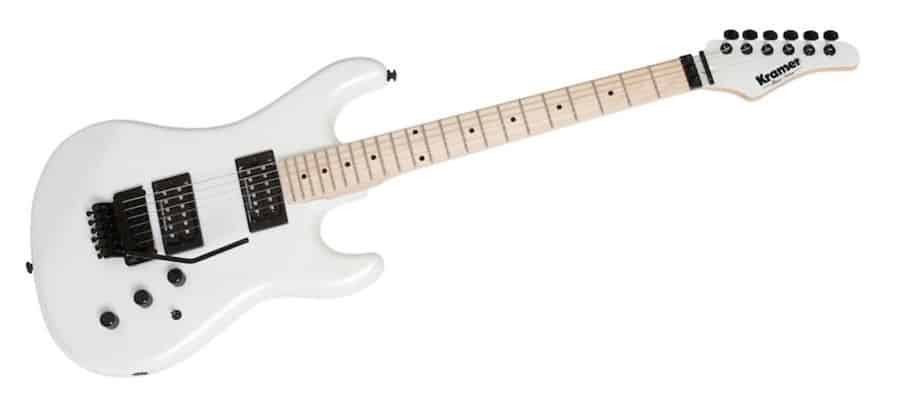 With a Floyd Rose bridge, Seymour Duncan JB and JN humbucker pickups, and the lovely flamed top Kramer Pacer Vintage is an incredible SuperStrat style guitar. The tone is excellent for lovers of heavier genres. Either a full-blown scream or a warm, clean tone, it is easy to achieve with this guitar's versatility. If you love old-school metal tones, this guitar is for you.
This solid-body electric guitar was built for high speed and high performance. Its ruler-flat 14"-radius fingerboard ensures lightning-fast playability.
The price for the guitar is $750, somewhat higher than Explorer 2.
Summary
Every passing day Chinese manufactured guitars continue to amaze other guitarists and me with their surprisingly high quality and low prices. The bad reputation of China manufactured goods is slowly vanishing away to history.
Eart Explorer 2 is ultimately an incredible guitar with a highly comfortable neck that pushes you to shred easily, super well crafted stainless steel frets that give joy to your fretting hand, decent pickups that make the guitar scream, and other high quality, well-produced parts.
I don't think any other guitars live up to this quality for the price range. It is impressive that you can purchase this guitar for only $600. My rate is 5 out of 5 without a single doubt. Now, if you excuse me, I have to go play this magnificent instrument!
If you found this article useful you may want to save this pin below to your Guitar board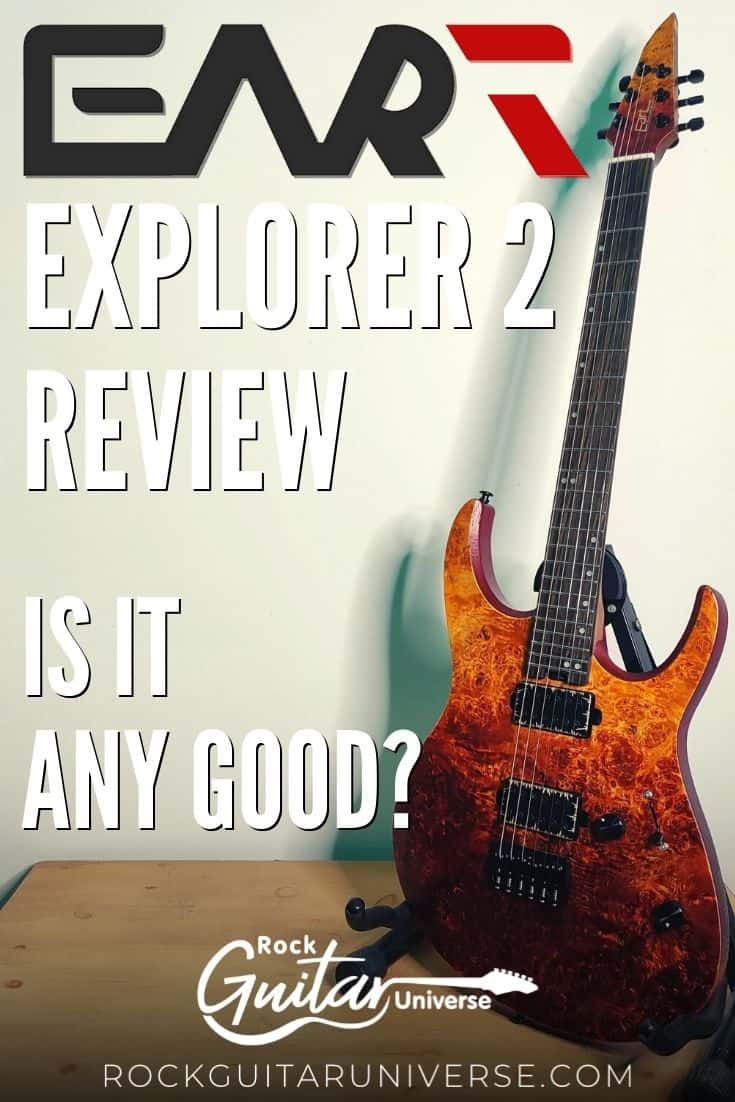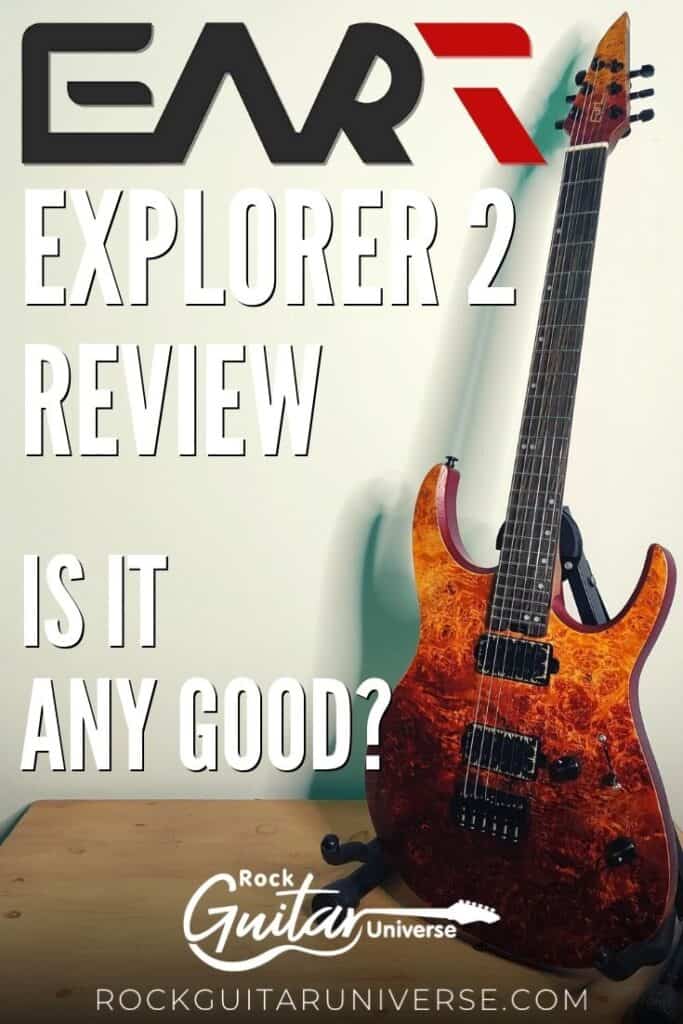 Last update on 2021-10-19 / Affiliate links / Images from Amazon Product Advertising API
Recent Content