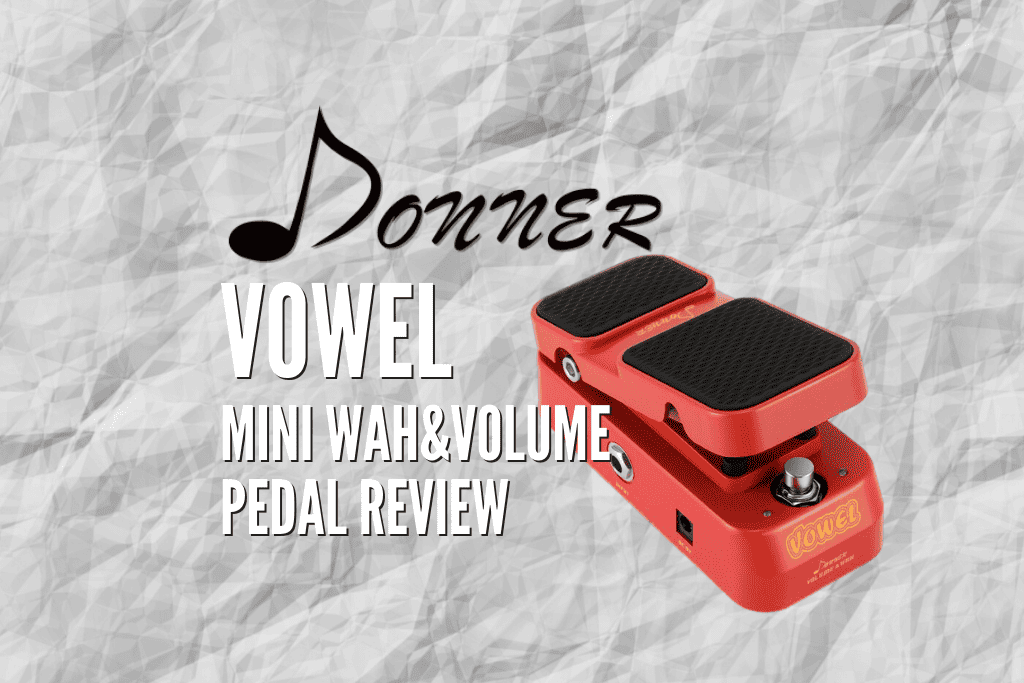 With their fantastic effect that makes a guitar almost talk, wah pedals are the main actors of some iconic moments in electric guitar history. From Jimi Hendrix's famous Voodoo Child to the master Joe Satriani's Surfing With The Allien, the flavor of the wah-wah pedal in action can be heard and enjoyed. There is no doubt wah-wah effect is one of the most legendary effects that has been used by guitarists who were seeking to express themselves in a super-cool way.
Wah-wah pedals change the tone using the wah's rocker pedal; bassy sounds are at the heel-down setting, and the treble tones are found at the toe-down. This transition between the two extreme poles creates the iconic talking sound of the guitar. It makes your tone quite exciting and adds excellent versatility to your pedal set-up.
You can also use the wah pedal like Mick Ronson or Michael Schenker, who keep the rocker in one position, often in mid frequencies, to get a desired tone from the pedal. However, you use it wah pedals are utmost fun and create a whole world of new possibilities.
Donner Wah Guitar Pedal, Vowel 2 in 1 Wah Volume Pedal Mini Vintage...
[2 in 1 Guitar Pedal] The Vowel pedal combines wah wah pedal and active...
[Classic Wah Sound] Based on the original Crybaby wah pedal. The Vowel's...
[Active Volume Mode] Great for eliminating signal loss, especially when...
[Pure Signal Path] The Vowel features 100% analog circuit design which...
One of the best wah pedals on the market today is undoubtedly the Donner Vowel Mini Wah&Volume pedal. It is one of the smallest wah pedals, which is great as it leaves much free space for other pedals on the pedalboard, contrary to most of the wah pedals on the market. Furthermore, it can be used as a volume pedal or a wah pedal, and its wah pedal response is based on the classic Crybaby wah response. A pretty great deal overall.
| | |
| --- | --- |
| Pros | Cons |
| Great value for the price | Narrow frequency response curve |
| A compact sized wah pedal with great response | Does not feature a selectable frequency range |
| Solid and durable stompbox | |
The Donner Vowel Mini Wah&Volume pedal deserves 4 stars out of 5 with its compact size, solid and durable stompbox, and its amazingly affordable price. The narrow frequency response curve along with the lack of selectable frequency range which is featured in higher-end models are the reasons for the take-off point.
Donner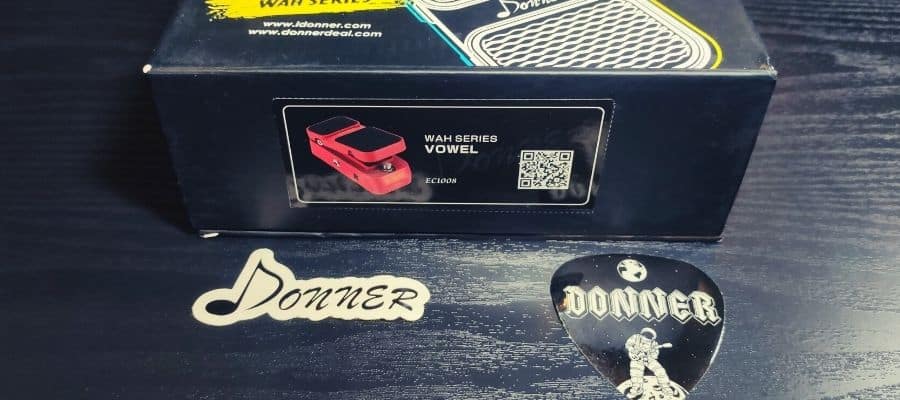 As a quite young musical instrument and accessories brand founded in 2012, Donner provides extraordinarily affordable and high-quality products to musicians worldwide. Although the brand's specialty is the effect pedals, they also successfully provide musical instruments and accessories to musicians of all levels with a low budget. They have gained pretty good fame in the music world with their reliable and surprisingly impressive products.
Donner is related to 3 other brands; Eastar, Moukey, and Reditmo. All the brands specialize in different instrument lines for different needs. The warehouses of all the brands are located in the U.S.A. and Canada, from where all the orders are shipped from.
With their low-priced and innovative musical products, Donner became a well-known and trusted brand. Thanks to their brilliant R&D team and fantastic customer service, they keep on surprising and satisfying their customers. The China-based brand keeps delivering the musicians their unique products while destroying the perception that products from China are low-quality.
Donner Vowel Mini Wah&Volume Pedal Specs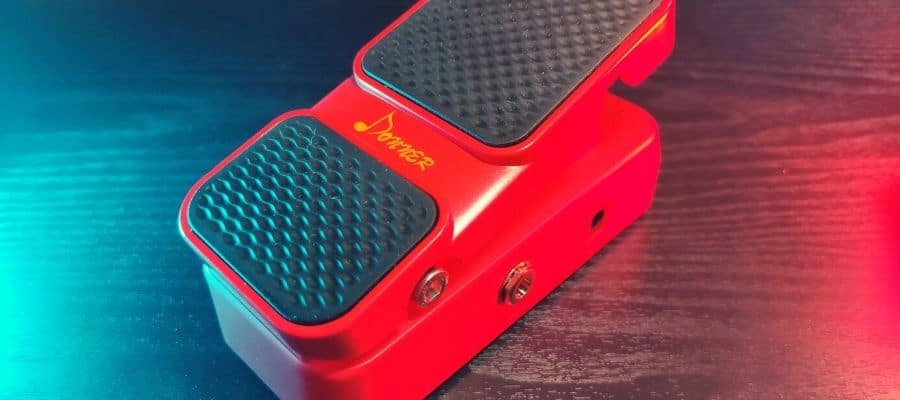 Let's look at what the Donner Vowel has to offer.
General
| | |
| --- | --- |
| Model | Vowel Mini Wah&Volume |
| Casing | Hard Plastic |
| Color | Red |
Dimensions
| | |
| --- | --- |
| Weight | 9.87 oz (280 g) |
| Width | 2.6" (6.5 cm) |
| Height | 2.4" (6.1 cm) |
| Depth | 5.85" (14.9 cm) |
Electronics
| | |
| --- | --- |
| Chip Model | |
| Input Impedance | 1 M Ohms |
| Output Impedance | 100 Ohms |
| Working Current | 140 mA |
| Led Indication | Yes |
Controls
| | |
| --- | --- |
| Knobs | None |
| Switches | Footswitch Volume-Wah |
| Buttons | None |
Input/Output
| | |
| --- | --- |
| Input | 1/4" Mono Audio Jack |
| Output | 1/4" Mono Audio Jack |
| Power Jack | 9V DC adapter |
The Donner Vowel Mini Wah&Volume pedal is a great stompbox made from hard plastic, which feels pretty lightweight but sturdy and durable at the same time. It is a mini, elegant-looking pedal with a red body and yellow brand logos and letters. The pedal features a tiny footprint which is much shorter than a standard wah pedal or volume pedal.
One of the most impressive aspects of the pedal is its compact size. It only weighs around 0.55 lbs (250 g), thanks to its plastic casing, and it has measurements of 2.6" (6.5 cm), 2.4" (6.1 cm), 5.85" (14.9 cm), which is pretty small for a wah pedal. This way, you can save space on your pedalboard and create space for other members for your setup.
As this is a wah pedal based on the classic Dunlop Crybaby, there are no knobs on it. The only switch is the footswitch to turn the pedal into a volume pedal or wah pedal. The rest is adjusted with the rocker. The led indicator on top of the rocker clearly shows which mode pedal is currently using. The green light indicates the volume pedal, while the red light shows the wah pedal is currently in use.
It has standard 1/4" Mono Audio Jack input and output along with a 9V DC power jack as the power supply.
Donner Vowel Mini Wah&Volume Pedal Manual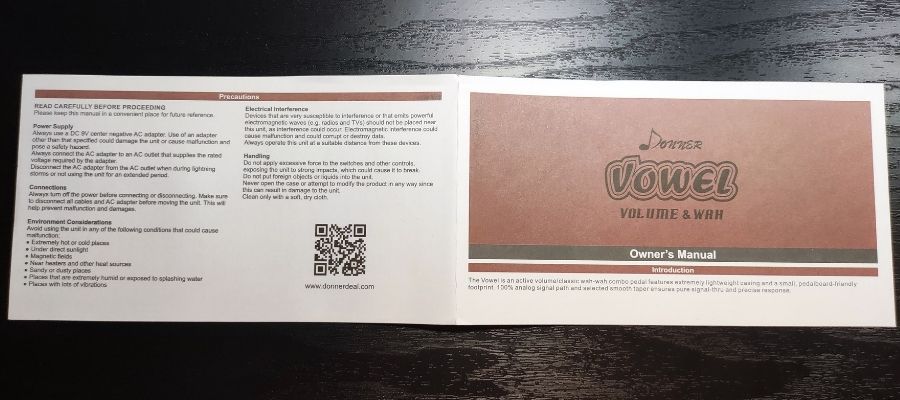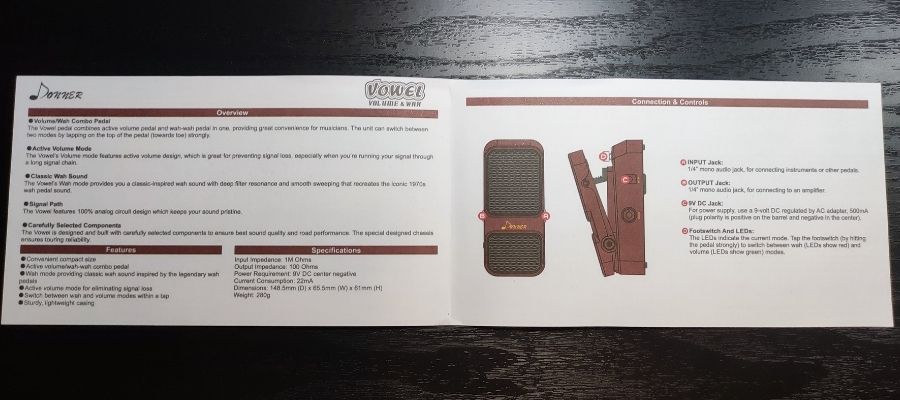 What Power Does Donner Vowel Mini Wah&Volume Pedal Require?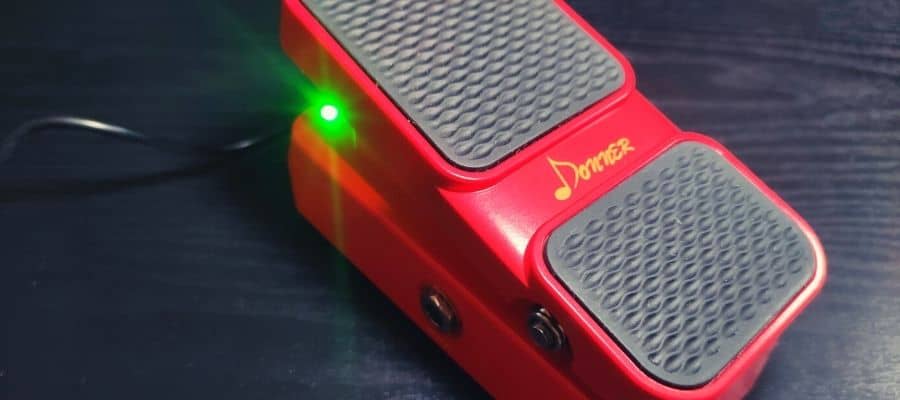 As most of the Donner mini pedals, the Donner Vowel Mini Wah&Volume Pedal requires a 9V DC adapter to work. However, the adapter does not come with the pedal, so you will have to buy a 9V DC adapter separately.
Usually, it is challenging to handle the pedal setup in the chaos of cables and adapters if you have many pedals. That is why you might want to check out the Donner DP-1 guitar pedal supply, which successfully powers up to 10 different pedals. This way, you will get out of the chaos of many cables and adapters, which will save you a lot of time and energy. By the way, the power supply supports 9V, 12V, and 18V pedals which is more than enough.
Of course, you will also need a pedalboard to handle your pedals easier. Donner also offers an affordable solution for this case. I recommend you to check out Donner Guitar Pedal Board Case DB-3 Aluminium Pedalboard. With its measurements of 20" (50 cm) x 11.4" (29 cm) x 4" (10 cm), it can manage around 10 pedals and keep your pedal setup organized.
The Donner Vowel Mini Wah&Volume Pedal Sound Quality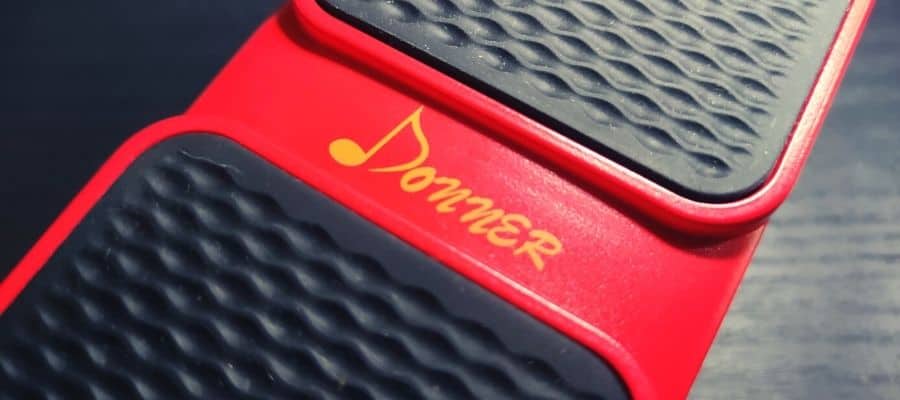 Donner Vowel Mini Wah sounds great both as a wah and a volume pedal. It sounds pretty clear and impressive, especially when it pice is taken into account. Of course, the tonal quality of the wah can not be compared to higher-end models around the $200 mark. Still, with the volume pedal integrated Donner Vowel mini is more adaptable and versatile.
The volume pedal does not color the sound, which is a crucial aspect of a volume pedal. The rocker range is more than enough, which is surprising because the footprint is pretty small. The wide range of control from bottom to top is impressive. However, the range between 0% to 20% is reported to be harder to control, which means you will have to get used to the pedal to have better control of it.
The wah sounds pretty impressive with a vintage tone. It is highly responsive and clear. The only letdown with the wah is that it has a narrow frequency response curve compared to other stand-alone units. But this is not a huge deal-breaker, in my opinion. Another reported issue is that the volume unbalances when switched to the wah mode from the volume mode, but this can be avoided with different pedal setups and adjustments.
You can hear this high-performing wah with your own ears to have a better opinion. The review is excellent as the wah pedal is used with heavily distorted tones as well as crystal clear tones to have a better grasp on the pedal.
Donner Vowel Mini Wah&Volume Pedal Compared To Other Pedals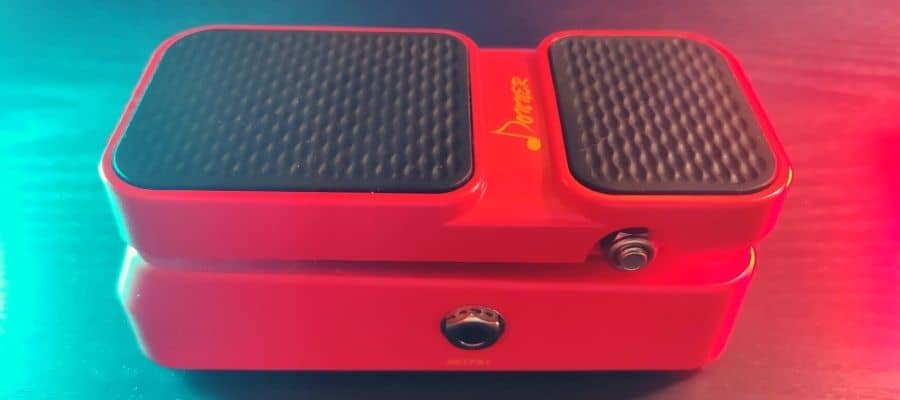 Donner Vowel Mini Wah&Volume Vs. Donner Viper Expression&Volume
The twin pedal of the Donner Vowel is called Donner Viper, which is a passive volume and expression pedal which works without any power supply. It has the same features as Donner Vowel with slight differences, such as the green stompbox of the Viper.
The viper is a tremendous mini pedal that saves up plenty of space on the pedalboard. Plus, as it is a passive pedal that works without any power supply, it adds no noise to the signal chain. Furthermore, from 0% to 100%, the pedal provides a smooth fade.
You can use the pedal to adjust your volume or adjust the amount of any desired effect like overdrive, delay or reverb level, modulation, etc. The Donner Viper costs slightly lower than Doner Vowel.
Donner Vowel Mini Wah&Volume Vs. Jim Dunlop Cry Baby Mini 535Q Wah
Jim Dunlop Cry Baby Mini 535Q Wah is a fantastic mini wah pedal with almost the same features as its big brother classic Cry Baby. With its compact size, great wah effect, high sound quality, and sturdy stompbox, it is one of the best mini wah pedals on the market.
When compared to Donner Vowel, Cry Baby Mini takes more space on the pedalboard with its 3,5" (8.9 cm) x 3.5" (8.9 cm) x 6" (15.2 cm) measurements. Also, Cry Baby mini weighs 1.12 lbs (500 gr), almost double Donner Vowel's weight. Cry Baby can work with battery power, while Donner Vowel can be powered only with adapters.
When it comes to the sound quality and adjustments, Cry Baby mini outruns Donner Vowel. It offers four selectable frequency ranges giving users some leeway in adjusting the pedal as they like. Plus, with the Q knob, users can set the width of the bandpass to emphasize higher or lower harmonics. Furthermore, it features an option to boost up the pedal up to 16dB.
All these features with a classic throaty Cry Baby quality wah effect make this pedal a fantastic choice for guitarists looking for a professional yet mini-sized wah pedal. Donner Vowel is also based on Cry Baby, but it does not offer these wah pedal adjustments. However, it offers a volume pedal that lets you get rid of your volume pedal to save more space. Also, it must be said that Cry Baby mini has a slightly better-sounding wah effect with more balanced frequencies.
Of course, the quality and versatility come with a cost Jim Dunlop Cry Baby Mini 535Q Wah has triple the price of Donner Vowel.
Donner Vowel Mini Wah&Volume Vs. Boss PW-3 Wah Pedal
Boss PW-3 is yet another mini wah pedal that shines with its versatility thanks to its two different modes of wah effects. It is a great sounding pedal with a durable die-cast stompbox and a modern black look.
Boss PW-3 is slightly bigger than the Donner Vowel with its measurements of 3.1" (8 cm) x 7.6" (19.2 cm) x 2.3″ (5.8 cm) and is significantly higher with a weight of 1.8 lbs (800 gr). PW-3 can function with battery power while Donner Vowel can not.
The vintage mode of PW-3 sounds like the iconic 70's wah sounds like Jimi Hendrix's Voodoo Child or the Shaftland theme. The pedal clears the bottom end out of your tone when it is wide open to reach that old-school squawk. The other mode is called the Rich mode, which provides a more modern-sounding wah effect. It beefs up the wah's tone over its entire sweep, which sounds terrific with high-gain tones.
The wah effect versatility and quality of PW-3 are relatively higher than the Donner Vowel. Of course, the volume pedal option the Vowel has is not provided by PW-3.
As a higher-end wah pedal, Boss PW-3 has a price almost triple the Donner Vowel has.
Donner Vowel Mini Wah&Volume Pedal Is Perfect For Whom?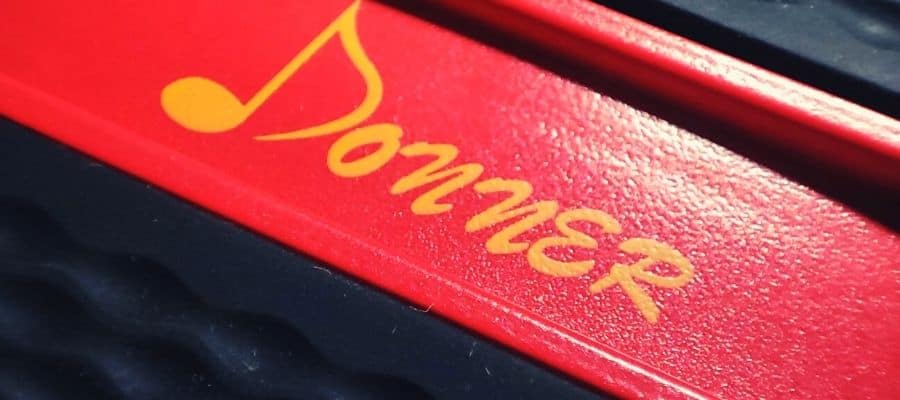 As a compact and affordable pedal, Donner Vowel Mini Wah&Volume pedal is an excellent choice for guitarists looking for a decent wah or volume pedal to add to their setup without breaking the bank. With two crucial pedals just in one stompbox and its compact size, along with its high sound quality, this pedal can be a fantastic element of any pedal setup.
The pedal performs well in home practice as well as in live performances. So, do not hesitate to use it anywhere anytime. Of course, the pedal's performance will heavily depend on your amp and pedal setup, as that is the case with any musical accessory. It is reported that with some amps, the volume balance between wah and volume modes can differ. So, try the pedal before buying it if you have the option.
The wah pedal sounds pretty good with any style, from crystal clear tones to heavily distorted metal tones. On the other hand, this pedal is also excellent for guitarists with crowded pedal setups, as the mini size lets you save big spaces on the pedalboard.
The only players who would not enjoy this pedal would be the professional players who are seeking after the higher-end wah pedal effects, which balance the higher and lower frequencies better than Donner Vowel. The narrow frequency response can be a problem for professional regular performer guitarists.
Where To Place Donner Vowel Mini Wah&Volume Pedal On The Pedal Board?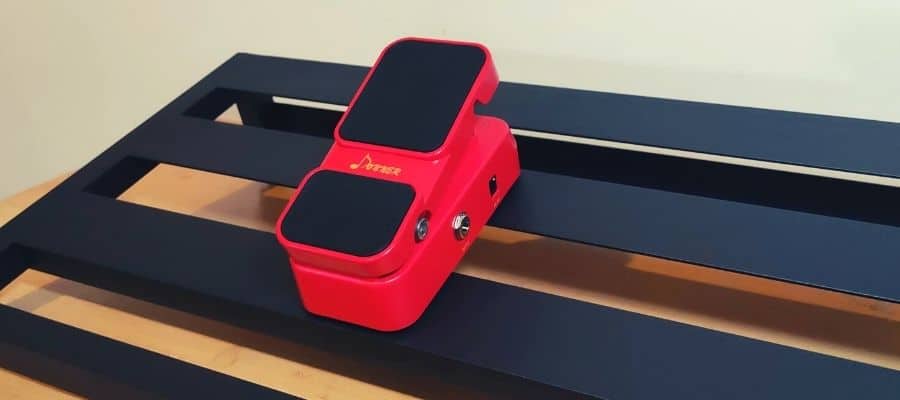 There is a rule of order for the signal chain on pedalboards, and you better follow this rule if you are not seriously experienced with effect pedal setups. In order to use the full potential of all the pedals and avoid them messing with each other's tones, the signal chain rule should be followed.
The first members of the signal chain are the compressors, volume pedals, filters, wah pedals, and pitch shifters. Later comes the overdrive and distortion pedals, followed by the modulation effects like chorus, phasers, flangers. Finally, the last ones on the signal chain should be time-based effects such as reverb and delays.
As clearly seen on the signal chain order, the wah and volume pedals are located as the first step on the fretboard and signal chain. The instrument's signal should travel first to these pedals before getting affected by other pedals on the setup. So Donner Vowel should be one of the first pedals on the signal chain.
Other Donner Pedals Worth Mentioning
Donner Auto Wah Dynamic Wah Pedal
Donner Mini Auto Wah Pedal Dynamic Wah Guitar Effect Pedal Envelope...
【Auto Wah】Fully controllable envelope filter with unique decay control,...
【Four function knobs】SENS is used to control the sensitivity. RES is...
【LED Indicator】LED indicator shows the working state. Analog circuit...
【Durable & Compact】Whole Aluminium-alloy classic, stable and strong.
Donner Auto-Wah is an analog circuit dynamic wah pedal. It provides a beautiful wah effect with its whole Aluminium stompbox. It has a fully controllable envelope filter with special decay control, which is high-speed tracking and highly accurate—impressive auto-wah pedal at an extremely affordable price.
Donner Harmonic Square Octave Pedal
Donner Octave Guitar Pedal, Harmonic Square Digital Octave Pedal Pitch...
[Octave Guitar Pedal] With 7 shift types and 3 tone mode toggles, Harmonic...
[3 Tone Modes] Harmonic Square octave pedal has 3 tone modes including...
[2 Knob] WET Knob: Adjust the harmonic signal level. DRY Knob: Adjust the...
[Durable Guitar Pedal] Whole Aluminium-alloy classic, stable and strong....
Donner Harmonic Square is a digital circuit octave pedal. Featuring a variety of pitch shifter effects in its compact mini-sized whole aluminum stompbox, it is a highly versatile effect pedal with a high sound quality that would not be expected from its low price tag.
It has three different effect modes for different effects, and all of them sound pretty amazing with low noise levels. The two adjustment knobs, Wet and Dry knobs, let you adjust the harmonic and dry signal level, respectively.
Alternatives To The Donner Vowel Mini Wah&Volume Pedal In Terms Of Look, Sound, Specs, And Price
AMT WH-1 Japanese Girl
AMT WH-1 Japanese Girl Wah Wah Pedal w/ 2 Cables
Switchable bandpass: 0.2-1kH, 0.3-1,5 kH, 0.4-2kH;
Removable support feeRemovable support feet (the option is useful when you...
Adjustable pedal movement by means of an axial screw
Effect on/off indicator LEDs on both pedal sides (visible when engaged)
AMT Electronics is well-known for its innovative products such as amplifiers, effect pedals, and preamps with excellent features. Their wah pedal, WH-1 Japanese Girl, is a great-sounding wah pedal with an excellent squawk effect. Its circuit is based on an optical sensor design, indicating there will be no scratched pots, fewer moving parts resulting in fewer moving parts in less need for maintenance.
The pedal supports three selectable frequency ranges and multiple tones from classic to modern-sounding wah effects. Plus, it has the true by-pass option, LED indicators, and a standard 9V power supply. All these features come for a moderate level price tag which indicates double the price of Donner Vowel.
Morley 2020 Power Wah Volume Pedal
Released in the 1970s, the Morley Power Wah is one of the most classic models of the brand. Today the fretboard-friendly compact-sized version of the pedal is still being produced thanks to its traditional Wah tone with a wide sweep.
The pedal features Wah Boost, which helps the user level out in the mix or boosts the volume for soloing. Plus, all Morley 2020 pedals have the Buffer Circuit feature to protect the instrument's natural tone.
The optical circuitry is another plus that adds to the durability of the pedal. The audio taper volume control is very smooth, and the glow-in-the-dark treadle helps you see the pedal clearly in dark settings. Overall, it is a great sounding, versatile wah and volume pedal with some valuable features.
Morley 2020 Power Wah can be considered a high-end wah pedal with its price tag around the $150 mark, which is almost triple the price of Donner Vowel.
Hotone Soul Press
Hotone Soul Press is a wah-volume-expression pedal that is a tiny powerhouse of functionality. Plus, its small compact size helps you save more space on your pedalboard, which is impressive for crowded pedal setups.
The pedal features three modes, as the name suggests. The wah mode is designed with the tone of a classic Cry Baby in mind with plenty of quacks and the signature Cry Baby frequency sweep. The volume mode functions with an active circuit in order to get rid of the impedance issues that passive volume pedals suffer from. Finally, the expression mode can be used without any power supply and is compatible with most pedals on the market, as well as synths and other instruments that can be used with expression pedals.
The Hotone Soul Press is a great multifunctional pedal that costs around $100, which is around double the price of Donner Vowel. Additionally, the pedal features a true bypass switch and elegant red casing.
Summary
Donner Vowel is a great wah-volume pedal that totally shines with its extremely affordable price compared to other pedals similar to its quality on the market. Its compact size lets you save space, its excellent wah effect is more than enjoyable, and the added volume pedal is an amazing feature that adds versatility to the pedal.
Of course, there are some letdowns as this is one of the cheapest wah pedals on the market. Still, if you are not a perfectionist professional player expecting a perfect wah effect, this is an excellent wah pedal that you can entirely rely on. Yet once again, Donner offers an impressive quality pedal for an impressively low price.
If you found this article useful you may want to save this pin below to your Guitar board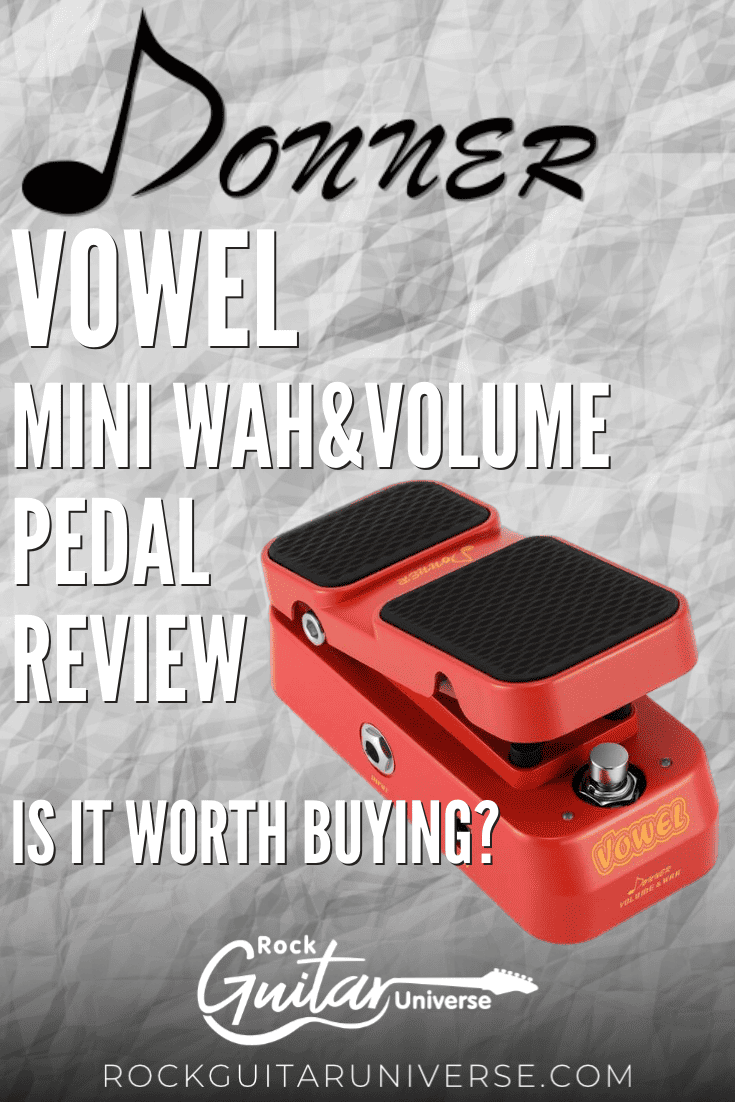 Last update on 2021-09-28 / Affiliate links / Images from Amazon Product Advertising API
Recent Content