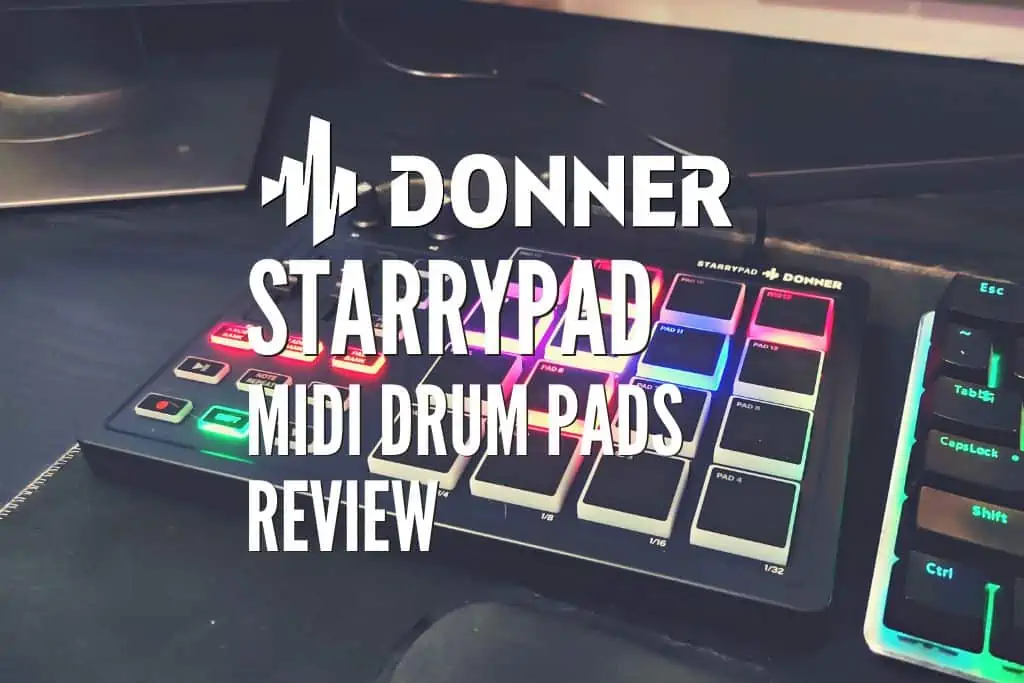 Drum Pads are amazing tools for creating beats and rhythms on the fly. They are great for playing various virtual instruments paired with sequencing software. As MIDI devices, they trigger samples or beats and are important parts of most recording studio setups.
Donner StarryPad MIDI Drum Pads is a relatively new device from Donner that allows you to create rhythms and beats easily. It is a great and affordable drum pad for experienced musicians as well as beginners, thanks to its portability, practicality, and versatility.
Donner MIDI Pad Beat Maker with 16 Beat Pads, 2 Assignable Fader &...
【16 Colorful Beat Pad Record 48 Custom Sound Sources】 The MIDI drum pad...
【Exclusive Equipment, Stamped with Your Personality】The drum pad...
【Powerful Compatibility】The beat machine comes with a standard USB C...
【Your Exclusive Lighting Engineer】The midi controller pad STARRYPAD...
The StarryPad comes with 16 soft silicone backlit pads to trigger drums, samples, effects, and more. There are 3 banks of pads, providing 48 sounds in total. Plus, it has polyphony and comes with adjustable velocity sensitivity. Furthermore, on the control panel, you get 2 faders, 2 knobs, and 3 buttons for easier control.
| | |
| --- | --- |
| Pros | Cons |
| Lightweight and portable | No tempo-synch feature |
| Great value for the price | Stiff velocity curve of the pads |
| Sturdy yet elegant construction with lights | Short and a bit resistant faders |
| Versatile MIDI Controller | |
All in all, Donner Starrypad is a great MIDI drum pad for the price, and its portable design makes it a great travel companion. The cons are the stiff velocity curve of the pads as even in the softest setting, they are a bit stiff, and it does not have a tempo-synch feature. Also, there are only two faders, which are pretty short for detailed adjustments.
Besides that, the sturdy construction, elegant design with lights, versatility with the many functions and control options along with the affordable price tag make Donner StarryPad MIDI Drum Pad a great purchase. I give it 4 out of 5.
Donner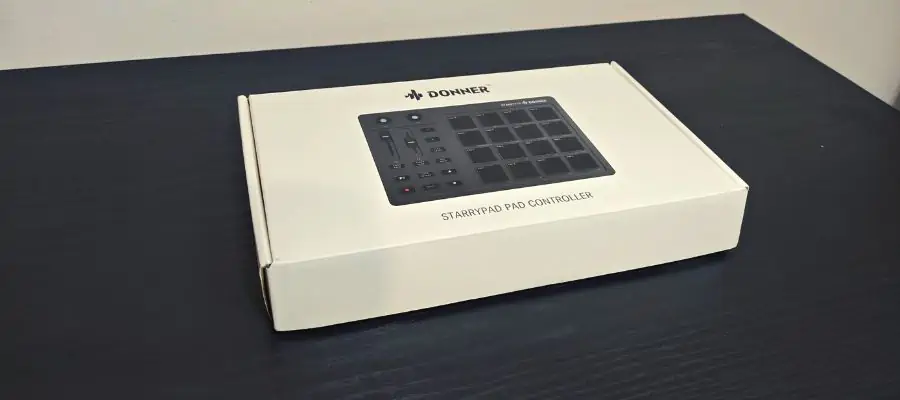 Donner is an increasingly popular brand in the music gear world. The brand stepped into the market almost a decade ago and focused on delivering high-quality instruments, musical gear, and accessories such as multi-fx processors, effect pedals, instruments, and many other products with great value-for-price ratios.
The brand got immensely popular among beginner musicians on a tight budget as Donner delivered amazingly cost-effective products that would not make you search for higher-end ones. With time the music folk realized how much quality Donner could squeeze into that price tag, which made the brand very popular, especially in music blogs, online stores, and websites. So, today Donner is one of the first names to come to mind when talking about cost-effective musical gear.
Donner's warehouses are located in the U.S.A. and Canada. So, the delivery is fast with Donner, and there is 24-hour customer service to help you in case of any problem. So, in short, Donner is a 100% reliable brand that you can trust without hesitation.
Donner StarryPad MIDI Drum Pads Specs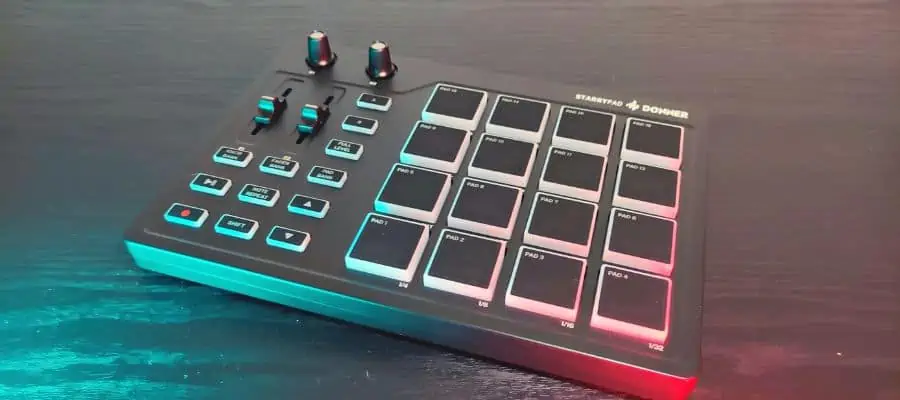 Let's dive deeper into the Donner StarryPad MIDI Drum Pads specs to see what it offers.
General
| | |
| --- | --- |
| Series | StarryPad |
| Number Of Pads | 16 |
| Colors | Black – White options |
| Weight | 1.03 lbs (468 gr) |
Body
| | |
| --- | --- |
| Material | Hard Plastic |
| Height | 1.30" (3.3 cm) |
| Width | 8.39" (21.3 cm) |
| Depth | 5.87" (14.9 cm) |
| Pad Style | 4 x 4 |
| Backlit Pads | Yes – 7 distinctive customizable colors |
| Number Of Keys | None |
| Number Of Buttons | 12 |
| Number Of Faders | 2 assignable faders |
| Number Of Knobs | 2 assignable knobs |
Electronics
| | |
| --- | --- |
| Modes Available | MIDI |
| Outputs | MIDI in/out |
| USB | USB-C |
Donner StarryPad is a MIDI Drum Pad that comes with a compact black hard plastic case and 16 pads in a 4×4 order. The MIDI drum pad is a great tool for home studios to create beats and rhythms with its straightforward and portable design.
The device is quite compact, with measurements of 1.30" (3.3 cm), 8.39" (21.3 cm), and 5.87" (14.9 cm). Plus, it is also ultra-lightweight as it only weighs 1.03 lbs (468 gr), thanks to the hard plastic material. These are great numbers for traveling musicians as they can easily be carried around.
On the control panel, we have the 4×4 style drum pads, 12 buttons, 2 assignable faders, and 2 assignable knobs. All of them are backlit with the colors of your choice from the 7 choosable dazzling color options.
The buttons function as Play, Record, Note Repeat, Shift, Up Navigation, Down Navigation, Knob Bank, Fader Bank, Pad Bank, Full Level, and A, B assignable buttons. The two faders and assignable knobs can be used as you like for any effect.
The drum pad only works as a MIDI device, so you will need a DAW or the software on your PC or smart device to use it. You can connect the device easily to your computer or smart device via the USB-C cable and download the DAW or the software to be able to use it.
It also has a MIDI in-out port for connecting it to an external synthesizer or other MIDI equipment.
The features of the device are quite versatile as it has polyphony and comes with adjustable velocity. It also has tap tempo, note-repeat functions as well as easy navigation to reach all 48 sounds with 3 banks of 16 pads.
Finally, the Donner StarryPad comes with a USB cable, a MIDI cable, a type C adapter, and a user guide.
The Quality Of The Donner StarryPad MIDI Drum Pads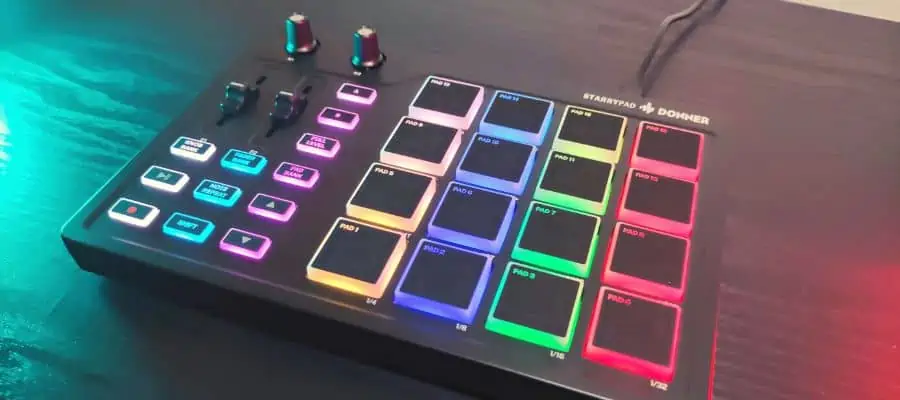 It does not make sense to talk about the sound quality of a MIDI device as these devices are just controllers that speak through DAWS or other software through computers or smartphones. So, the sound quality will be decided by the audio interface, speakers, computer, etc. but not the device itself.
However, we can talk about the versatility and the functions that have an effect on the sound outcome. While the versatility you get from the Donner StarryPad is quite amazing for the price, there are some letdowns, mainly due to the not-so-great velocity sensitivity of the pads.
There are three different velocity sensitivity levels that you can adjust through the app, but in any case, the soft rolls and ghost notes do not sound as they should. On the other hand, the faders are quite short, which limits the expressivity. But, this can be adjusted and overcome with a bit of MIDI tweak from the software.
Other than that, the StarryPad is quite a handy device, especially while you are on the road, thanks to its portability. It gives you a good amount of control in creating your beats and backing tracks, especially if you are not after anything professional.
You can watch the video review to have a better opinion of how the device works and its features.
What DAWs StarryPad Supported by?
Almost all DAWs support the Donner StarryPad. Some of the main ones are Koala, Ableton, Cakewalk, FL Studio, Reason, StudioOne, Protools, Garageband, Cubase, Kontakt, Reaper, and Logic.
So, basically, you can use the device with the DAW of your choice or the dedicated editor app that you can download from the official Donner website. It has both Windows and Mac options.
StarryPad Software
The StarryPad editor allows you to map the pads and controls as you like, adjust the velocity curves for them, and many other controls, like adjusting BPM with tap tempo or the note repeat function.
With the software, you can adjust all the pads individually as you like with the note value, velocity sensitivity, sound, effects, and more. You can also assign different effects, like modulation, expression, volume, etc., to the faders and knobs as you like.
One of the nice things about the software is that it gives you full control of mapping and has an auto-populate feature, allowing you to modify data like MIDI channels and note values in bulk. It also offers note structure adjustment according to the scale if you want to write melody lines with the pads and if you are not good with scales.
The editor software gives you quite a good amount of control over your sound and workflow, which comes in pretty handy in many situations.
You can download the software from the official Donner website. The StarryPad software is located under the Electronic Piano Category, MIDI Keyboards headline.
If you still have trouble finding it, here are the direct links for the download: STARRYPAD for Win, STARRYPAD for mac
The Benefits Of A Guitar Player Using A MIDI Pad Like StarryPad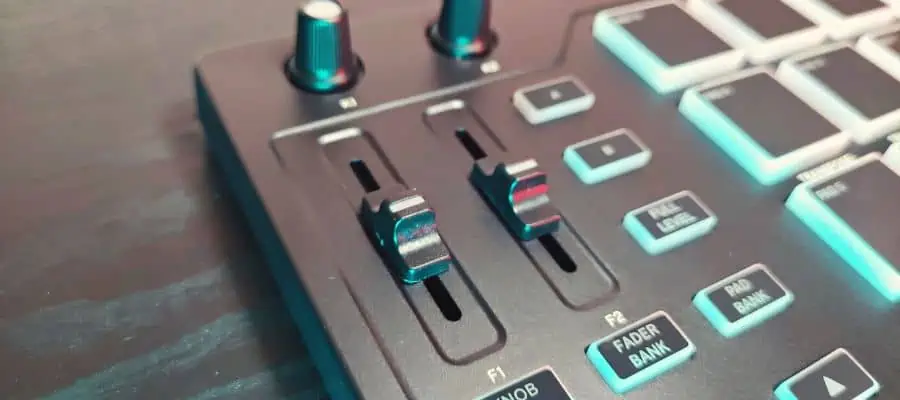 The most significant benefit of using a MIDI Pad like StarryPad for a guitarist is the ability to create your own beats, rhythms, and backing tracks as you like. As MIDI controllers are highly versatile devices that you can use to be a one-person band, you get to reach many sounds you want with them to create entire songs.
Furthermore, DrumPads allow you to explore different kinds of playing styles with loops, different beats, and rhythms. You can take your recordings or live performances to another level if you learn to use MIDI controller drum pads well.
The good thing is that these drum pads are not MIDI keyboards with which you need at least to be familiar with playing piano or keyboards. You basically assign sounds to the pads and create your own beats or melodies with the sounds or notes you want. So, it is a simple way to become a one-person band, which can help guitarists explore different rhythms, playing styles, and ways to express their music.
Donner StarryPad MIDI Drum Pads Is Perfect For Whom?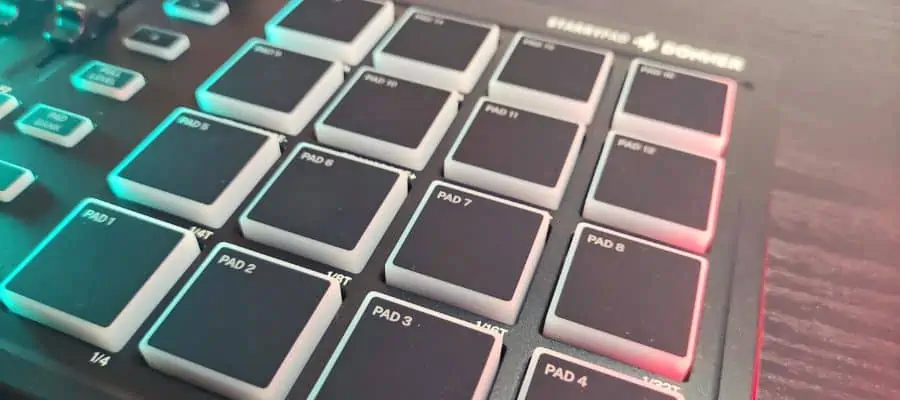 Donner StarryPad is a great tool for musicians looking to step into the MIDI drum pads world to create some beats, rhythms, melodies, or entire songs. As it is a cost-effective device with some of the essential features, it is a great beginner MIDI drum pad.
Suppose you are playing another instrument and looking for a basic MIDI controller to create backing tracks, beats, or different accompaniments for your recording or live performances. In that case, this can be a very handy tool. It is quite easy to control, durable, portable, and does the job without hassle.
I would recommend this device to musicians who want to start using drum pads in their creative process. While the Donner StarryPad is great for the price, it does not come with the features you expect from high-end drum pads, like fully customizable velocity sensitivity or tempo-sync features, etc. So if you want a really high-end device, this isn't for you.
Alternatives To The Donner StarryPad – In Terms Of Look, Feel, Sound, Specs, And Price
Arturia BeatStep Pad Controller and CV/Gate Sequencer
Arturia BeatStep USB/MIDI/CV Controller and Sequencer
VERSATILE MIDI CONTROLLER AND SEQUENCER: BeatStep is a chameleon controller...
TWO IN ONE…: With MIDI Controller mode, the 16 velocity- and...
…BOTH AT ONCE: This MIDI keyboard is both a pad/knob controller AND a...
ALL THE CONNECTIONS YOU NEED: BeatStep has MIDI, USB and CV connectivity,...
Arturia BeatStep Compact is another cost-effective MIDI Pad controller that comes with a CV-Gate Sequencer that you do not get with the Donner StarryPad. It features 16 velocity-sensitive pads, 16 encoders, and 16 user presets, along with a 16-step sequencer to create your tracks.
The range of ports is quite good with an out (1/8″ to 5-pin DIN adapter included), a Mini-B USB, and a 1/8″ CV out along with a 1/8″ Gate out. It is quite a versatile device with some nice features and a relatively compact size and weight.
Arturia BeatStep Pad Controller and CV/Gate Sequencer cost slightly less than the Donner StarryPad.
Akai Professional MPD218 16-Pad MIDI Pad Controller
AKAI Professional MPD218 - USB MIDI Controller with 16 MPC Drum Pads,...
Beat Production, Anywhere - Ultra-portable, feature-packed and USB powered...
Expandable Banks - Easily accessible dedicated controls for three pad banks...
Assignable Control - 18 fully assignable 360-Degree potentiometers...
Feature Packed - MPC note repeat and full level controls for immersive...
A great alternative to the Donner StarryPad is the popular AKAI Professional MPD218. The MIDI pad controller comes equipped with a 16-pad layout, 6 knobs, 3 layers, and special software for further adjustments.
The pads of this device are amazing as they are thick and fat MPC pads with LED backlighting for visual feedback. The knobs are 360′ for full control, and the device has traditional features such as Note Repeat and Full Level.
This one is a USB MIDI controller, so it only has a USB port to connect it to a smart device. So it does not have the MIDI in-out port like the Donner StarryPad. AKAI MPD218 costs almost the same as the Donner StarryPad.
Korg NanoPad2 Slim-Line Pad Controller
Korg nanoPAD2 Slim-Line USB MIDI Pads - Black
Low-profile pad controller – excellent for playing or entering drum data
Sixteen solid, responsive, and velocity-sensitive trigger pads
Control multiple MIDI parameters via the X-Y Touchpad
Korg NanoPad2 Slim-Line Pad Controller is a simple MIDI Pad controller with 16 velocity-sensitive pads and an X-Y touchpad which is the shining star of the device. It comes with a programmable X-Y Touchpad, Hold, Gate-arp, and Korg Kontrol Editor, the dedicated editor software for the device.
You can play musical phrases with the X-Y pad with the Touch Scale function, which is quite interesting. Also, with four banks, you can reach 64 pad assignments with this one which is more than you can with the Donner StarryPad. Gate-arp function is also great, as it allows you to play tempo-synced phrases just by holding the pad or touching the X-Y pad.
The letdowns are the lack of faders and knobs for effects and expressiveness adjustments.
The device is quite thin and portable, which is great for traveling with. Another plus is that Korg NanoPad2 Slim-Line Pad Controller costs significantly lower than the Donner StarryPad.
Conclusion
In short, the Donner StarryPad MIDI Drum Pad Controller is a great device for the price offered. It gives you all the essentials you need from a drum pad controller with its 16 soft silicone backlit pads, 3 banks providing 48 sounds in total, polyphone feature, as well as 2 fader, 2 knobs, and 3 buttons for easier control.
The portable design is great for carrying it around when necessary, and the durable hard plastic casing protects the device successfully. I think it is an impressive device for beginner guitarists to explore as well as any musician who wants to step into the world of MIDI Pad-style music production. Its straightforward design, as well as practicality, make this one a great first-time MIDI pad controller.
On the down part, there are some features missing for professional music production, such as the inconsistent velocity sensitivity of the pads and the lack of a tempo-sync feature or a sequencer. Also, I would have liked the faders to be softer and longer for better expressiveness.
However, the device features great value for the price, looks amazingly cool with lights, is versatile enough, and is a great purchase for most musicians, without a doubt.
If you found this article useful, you may want to save this pin below to your Guitar board.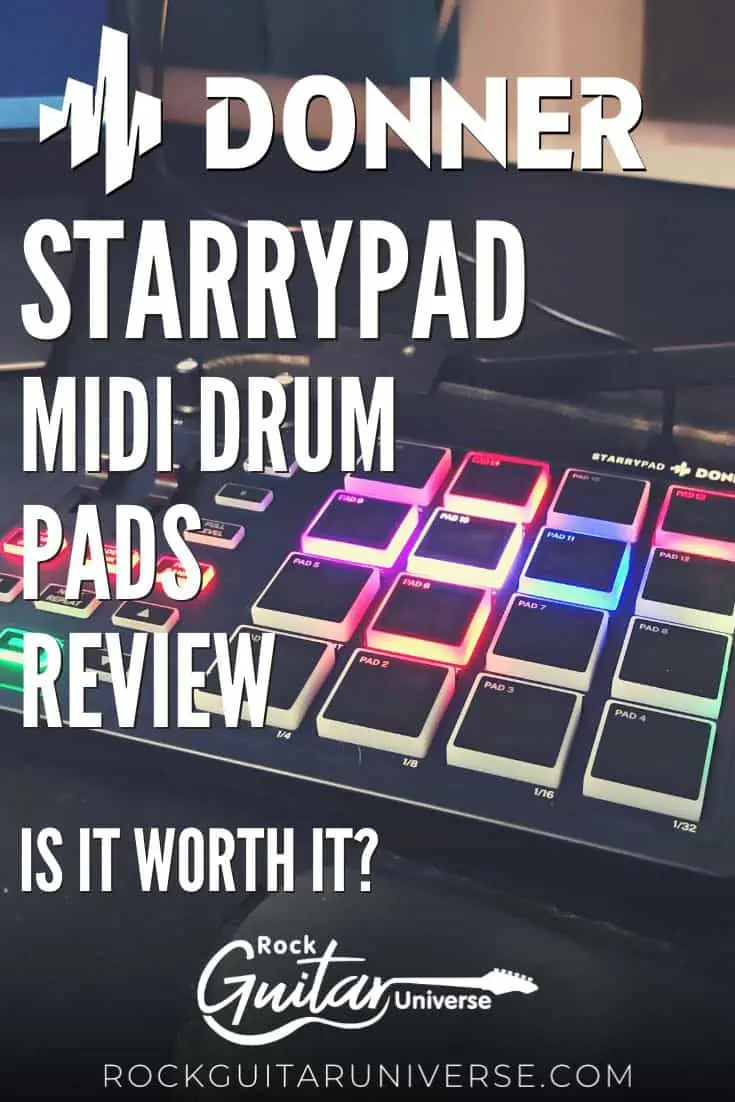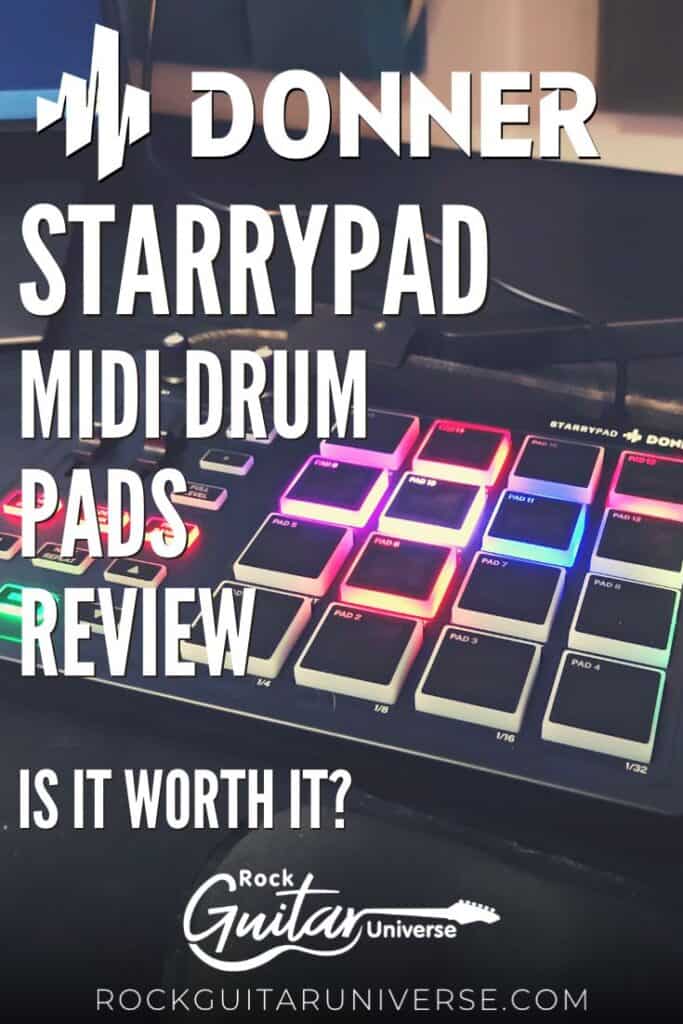 Last update on 2023-05-29 / Affiliate links / Images from Amazon Product Advertising API