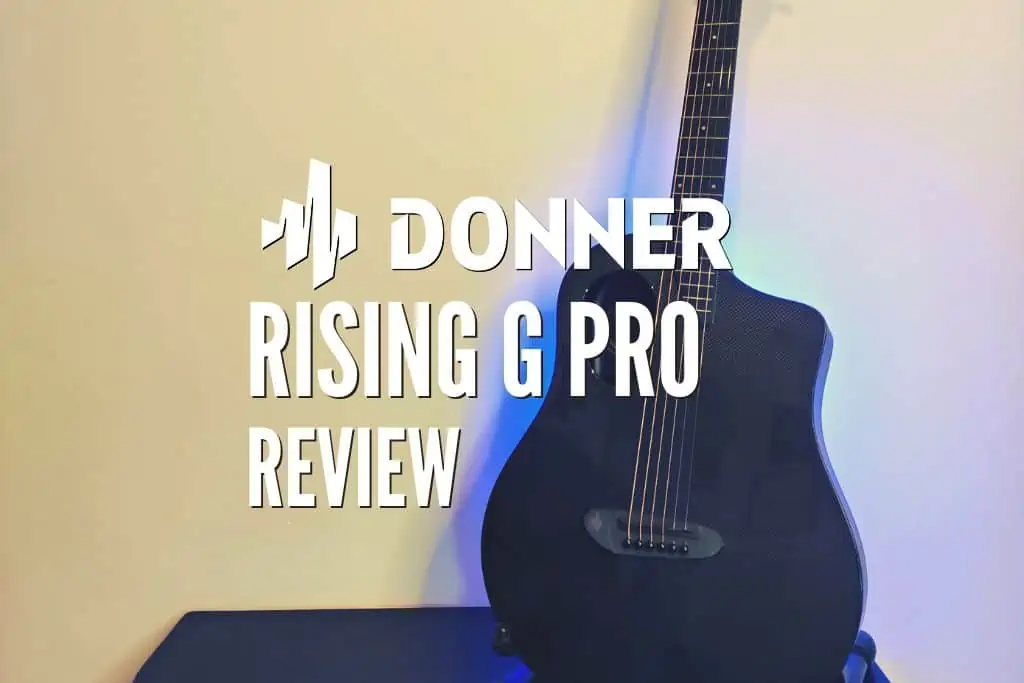 Carbon fiber guitars are the new actors in the guitar world with their lightweight designs, high durability, and rich sounds. Although they are slightly more expensive than traditional guitars, they are more resistant to damage and different weather conditions and are more portable with different designs. Carbon fiber guitars are considered the future of guitars.
Donner also took this opportunity and created a great carbon fiber guitar called the Donner Rising G Pro. It features a 100% carbon fiber soundboard, DO body shape, rounded body curves, innovative offset soundhole, and lightweight design. 
Donner Carbon Fiber Acoustic Guitar, 38 Inch Travel Acoustic Guitar...
[100% Carbon Fiber Soundboard] Rising-G selected the VocalTech full carbon...
[High Stability] Rising-G acoustic guitars are durable, with temperature...
[ 2022 IF & Good Design Awards ] The Rising-G PRO won world-class design...
[All-round Improvements] The neck has a truss rod like most wood guitar...
The guitar shines with its rich sound with great bass ranges, a highly comfortable neck with rounded edges, and an impressive accessory pack including a set of Elixir strings, a thickened and super-protective gig bag, and an exclusive accessories gift box including picks, straps, capo, tuner, and more.
| | |
| --- | --- |
| Pros | Cons |
| Rich sound with great bass ranges | Needs truss rod adjustment out of the box |
| Great feeling neck with nice frets and rounded edges | Not a budget guitar |
| Great tuners and Elixir strings | |
| Comes with a great well-padded gig bag, nice picks, and accessories | |
On the cons part, the guitar is slightly pricey compared to traditional Donner guitars but is still affordable compared to other carbon fiber guitars. Also, Donner Rising G Pro could be better out of the box as the action is quite high. It needs a good truss rod adjustment, but it can be complicated with the magnet on the truss rod, which may be difficult to manage at first.
Overall, these are minor issues, and Donner Rising G Pro is a great carbon fiber guitar. The pros overreach the cons easily, and I would rate this guitar 4.5 out of 5 without hesitation.
Donner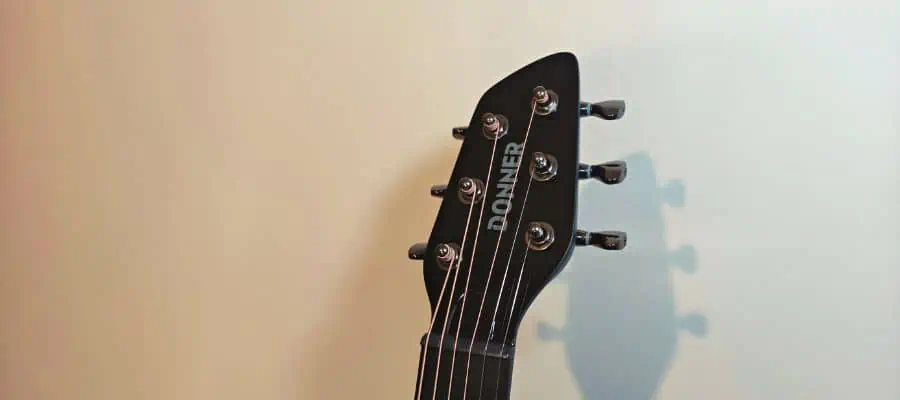 Donner is a relatively new musical gear brand founded in 2012. The brand has increasing popularity, especially among beginner players, thanks to the affordable yet high-quality musical instruments and gear it produces. Donner is well-known for its effect pedals, musical instruments, and multi-effects processors with amazing value-for-price ratios.
Donner got really popular a few years ago, thanks to its guitar effect pedals with high quality and affordable prices. Later, they started producing multi-effects processors, musical accessories, and instruments, enriching its catalog. Today they offer a great range of products from ukuleles and pianos to amps and effect pedals, all with surprisingly good quality for the prices offered.
The brand's target audience is musicians with tighter budgets, as they bring quality for lower prices. Donner is highly popular among musical blogs, social media, online stores, and websites. Today it is one of the first brands to come to mind when discussing budget musical gear.
All orders are shipped from Donner's warehouses which are located in the U.S., Canada, and across Europe, and the company ensures safe shipping with many procedures. The customer service is also quite attentive in any case of a problem. As customer satisfaction is the priority, Donner is ready to solve any kind of problem you may have with your product.
The Specs Of Donner Rising G Pro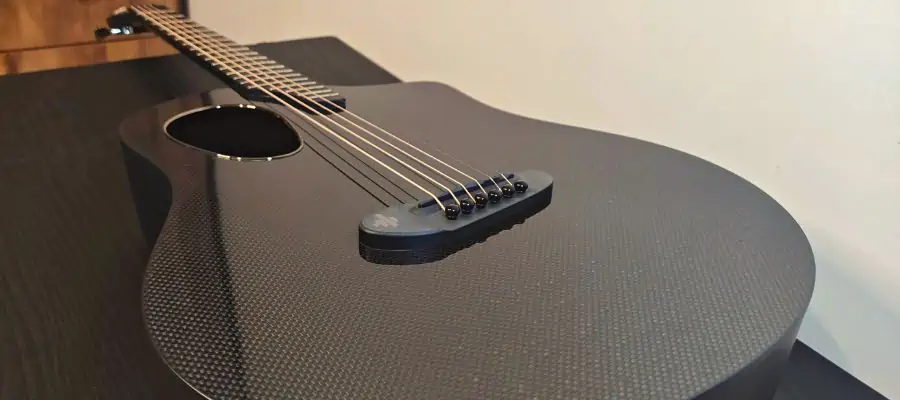 Let's check the features of Donner Rising G Pro to see better what it has to put on the table.
General
| | |
| --- | --- |
| Series | Rising G Pro |
| Number of Strings | 6 |
| Hand Orientation | Right |
| Colors | Black, Black-Blue, Black-White, Black-Yellow |
| Weight | 4.4 lbs (2 kg) |
Body
| | |
| --- | --- |
| Body Shape | DO |
| Body Construction | 2-piece |
| Body Type | Solid |
| Body Material | VocalTech full carbon fiber |
| Top Material | VocalTech full carbon fiber |
| Top Type | Flat |
| Back Material | VocalTech full carbon fiber |
| Finish | Gloss top, Satin back & sides |
| Pickup | None |
Neck
| | |
| --- | --- |
| Scale Length | 25.2″ (64cm) |
| Neck Shape | C shape |
| Neck Construction | Carbon Fiber |
| Neck Material | HPL |
| Truss Rod | Between the headstock and neck |
| Truss Rod Type | Allen Wrench |
| Fretboard Material | HPL |
| Fingerboard Radius | 14″ |
| Position Inlays | Dots |
| Number of Frets | 16 |
| Fret Size | Medium: Width – 0.08″ (2.2mm) |
| Nut | Plastic |
| Nut Width | 1.693″ (43 mm) |
| Strings | Elixir |
Hardware
| | |
| --- | --- |
| Tailpiece | No |
| Bridge Type | Composite bridge |
| Tuners | Donner Fishtail Shape Tuners |
| Finish | Black |
| Pickguard | No |
Donner Rising G Pro is an innovative carbon fiber guitar with a traditional 6-string design and right-hand orientation. It comes in four different colors, but the only color change is on the backside of the body. The choices are all-black, black-white, black-yellow, and black-blue.
The guitar is slightly heavier than other carbon fiber guitars on the market as it weighs 4.4 lbs (2 kg) but is still considered portable and lightweight.
The body shape of the guitar is called DO, which is the innovative design of Donner and resembles a slightly smaller dreadnought. It has a single cutaway on the lower part for easier, higher-fret access. The soundhole is on the upper left-hand corner of the guitar and again has an innovative shape with a parametric design.
The carbon fiber choice of Donner is the VocalTech full carbon fiber which is their own design. This material is great as it is extremely durable in different weather conditions, while it enhances the acoustic properties of the instrument. The guitar can endure humidity as well as extreme temperatures from -4 F to 176 F.
The material was tested with 79 different experiments, and the result is that the damping is constant across the acoustic spectrum, which provides crystal clear high-ends as well as warm bass that stands out in the tone. The resonance is quite powerful, with rich layers of sound that you would not expect from a carbon fiber instrument.
The neck and the fretboard are made of HPL (High-Pressure Laminate), which is quite comfortable to hold. The rounded edges of the frets are also a great touch.
The truss rod can be adjusted from the part between the neck and the headstock by removing the fretboard. It has a magnet anti-drop on it, which is kind of different from traditional guitar designs. But, it is adjusted with an Allen wrench like normal guitars.
The guitar comes with Elixir strings which are the most durable and highest-quality strings today. Plus, there is an extra pack that comes in the accessory pack.
Donner Fishtail Shape Tuners are also great, as they are highly precise and hold the tuning really well. The details on the guitar like this are quite amazing.
Finally, I should talk about the great accessory pack the guitar comes with. It has a really high-quality gig bag with a well-padded design, an extra set of Elixir strings, picks, straps, capo, tuner, Allen wrench, and clean cloth.
The Sound And The Feel Of Donner Rising G Pro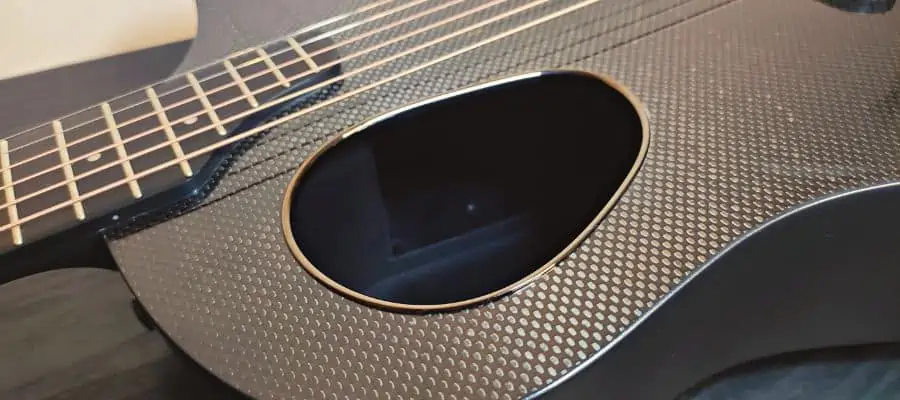 Donner Rising G Pro has a great feel in hand. The neck feels great with the HPL material, which is much more stable than classic wooden necks. The frets have rounded edges, which is, again, a joy to play with. The Elixir strings also increase playability.
The guitar's weight is normal compared to other acoustic guitars. It isn't super lightweight like a 3/4 acoustic guitar but it still feels light and balanced when on the lap or standing.
Furthermore, the guitar sounds bright and sweet with a fuller low end. Especially the bass ranges are great in this carbon fiber acoustic guitar. The resonance is also surprisingly good, so the overall volume of the guitar is quite loud.
The parametric soundhole on the guitar's shoulder, the unique VocalTech full carbon fiber, and the innovative design allow for the energy to move freely during vibration, which provides rich layers of sound, prolonging the resonance. So, the overall sound is one of the best I have ever heard in carbon fiber guitars and can easily compete with traditional acoustic guitars.
Donner Rising G Pro Is Perfect For Whom?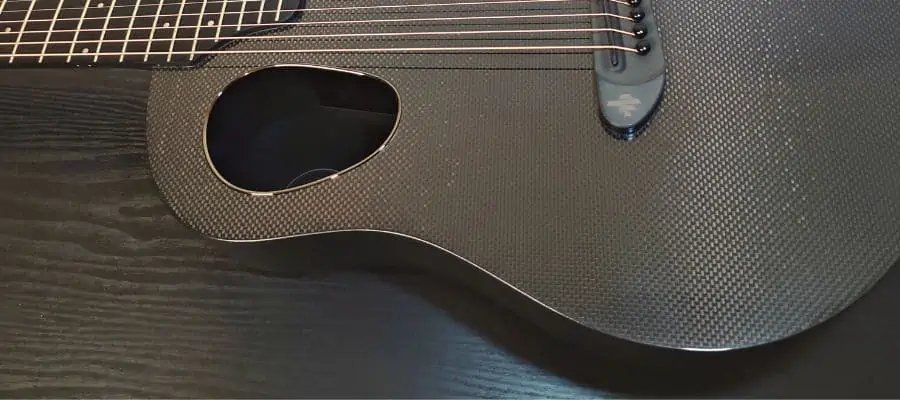 Donner Rising G Pro is an ideal guitar for traveling musicians and guitarists living in extreme weather conditions such as extremely low or high temperatures or humidity. As the guitar can withstand extreme weather conditions, it would be wise for these guitarists to go with carbon fiber guitars instead of traditional wooden instruments.
Also, the guitar is quite lightweight and portable, making it great as a travel companion. It can withstand damage better than wooden guitars, so you would not have to worry about it on the road.
The guitar is quite comfortable and sounds great. So, comfort and sound are not sacrificed for safety. Overall, it is a great guitar for travels and for places where you start to worry about your guitar's condition and have to put a lot of effort into maintenance.
I would also recommend this guitar for standard occasions as it sounds as good as a wooden acoustic guitar.
Other Donner Guitars Worth Mentioning
Donner DAF-410 Acoustic Guitar
Donner DAF-410 is one of the deluxe acoustic guitars of Donner range, which comes with solid Sitka spruce veneer as the top and mahogany plywood as the back and sides. The 41-inch acoustic guitar comes with a great accessory pack and sounds quite good, with pronounced feedback and more delicate overtones.
Is It Possible To Upgrade It?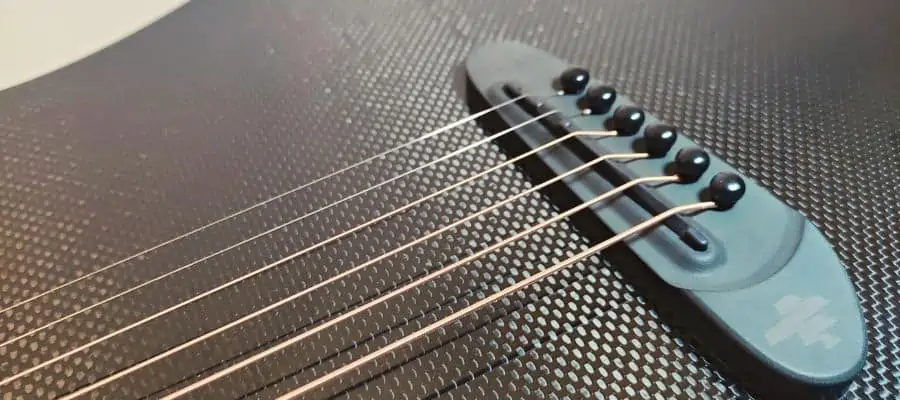 Donner Rising Pro G is not a traditional guitar. The guitar's unique design and carbon fiber structure do not allow for easy part changes. There is no point in changing the strings as the strings are Elixir strings. Elixir strings are the most durable, best-sounding, and top-quality strings on the market today.
However, the pins, saddle, and nut seemed to be made of plastic. If I would upgrade it I would look for a similar look and esthetics. So I will look into graph tech as they offer a range of high-quality synthetic parts that can upgrade the sound and look good as well.
Alternatives To The Instrument In Terms Of Look, Feel, Sound, Specs, And Price
KLOS Deluxe Carbon Fiber Guitar
KLOS Full Size Deluxe Guitar, Durable Carbon Fiber Acoustic Electric...
CARBON FIBER and DURABLE: Take your guitar with you, whether it's...
SOUND: The KLOS Full Size Acoustic Electric guitar has a rich, loud and...
VERSATILE: At just 4.29 lbs, it's the ultimate guitar for beginners, the...
UNIQUE and REMOVABLE NECK: Disconnect the neck in seconds by removing 4...
KLOS Deluxe Carbon Fiber is a great acoustic-electric guitar with a great blend of portability, durability, and sound quality. It has an all-carbon fiber body along with a high-quality wood neck. The mahogany neck is the star of the show, as it features a Brazilian cherry fingerboard for comfort and a removable design for increased portability.
The guitar features Fishman Sonitone pickups that deliver a natural and rich sound. The guitar sounds quite good unplugged with rich tones, but it shines when played with the pickup.
The guitar weighs around 4.29 lbs which is not the lightest, but the removable neck changes the play as it makes the guitar much more portable. However, you will have to retune the guitar every time you remove the neck.
KLOS Deluxe Carbon Fiber Guitar costs almost the same as the Donner Rising G Pro.
Lava Me 2 Carbon Fiber Guitar
LAVA ME 2 Acoustic-Electric Carbon Fiber Guitar w/Effects, Super...
Unibody Acoustic Electric Guitar: With little to no gluing, LAVA ME 2...
Versatile L2 Preamp: With FreeBoost Technology, the L2 Preamp uses the...
Plek'd FlyNeck: Machined with the Plek Pro with a 0.01mm accuracy, LAVA...
Weatherproof and Travel-friendly: Built from Super AirSonic carbon fiber...
Lava Me 2 Carbon Fiber Guitar is a lightweight semi-acoustic guitar that is one of the most popular carbon fiber guitars today, thanks to its innovative system with built-in effects. The guitar has the FreeBoost technology, allowing you to play with unplugged effects, using the guitar's back as a speaker.
The guitar has the unique L2 pickup and speakers on the back, which allows you to use reverb, delay, and chorus effects even when you play unplugged.
The guitar weighs around 3.3 lbs which is very light, making the instrument highly portable. This is due to the Airsonic body and FlyNeck, both carbon fiber composite materials.
The guitar is a great choice for traveling musicians. But, the guitar's aesthetics is the most negative point as it looks quite futuristic.
Lava Me 2 Carbon Fiber Guitar costs almost 1.5 times higher than Donner Rising G Pro.
Rainsong Black Ice Series Carbon Fiber Guitar
Rainsong Black Ice Series Carbon Fiber Guitar is a professional-level carbon fiber acoustic-electric guitar with top-quality sound and construction. The guitar delivers a rich and balanced sound with deep lows and bright highs.
The guitar features a deep and large chamber along with a narrow waist for deeper low-ends and brighter high-ends. While it sounds greatly unplugged with a high overall volume, it also has Fishman pickups for playing with an amp.
The carbon fiber composition of the guitar is highly durable, and the all-graphite fingerboard feels highly comfortable. The parts of the guitar are all high-quality, including the tusq nut saddle, mother-of-pearl inlays, the adjustable truss rod, and the UV-protective finish.
Rainsong Black Ice Series Carbon Fiber Guitar is suited for professional guitarists with its top-quality sound, parts, and design. That is why it costs significantly higher than Donner Rising G Pro.
Conclusion
Donner Rising G Pro is a great carbon fiber acoustic guitar with an impressive blend of sound quality, portability, durability, and price. The innovative design with VocalTech full carbon fiber material, HPL neck, parametric soundhole in the shoulder of the guitar, DO body shape, rounded body curves, innovative offset soundhole, and lightweight design offers great possibilities for guitarists.
If you are a traveler musician or if the weather conditions where you live are harsh, this might be the ideal guitar for you to enjoy playing without worrying about the condition of your guitar or putting too much effort and time into the maintenance of your instrument.
If you found this article useful, you may want to save this pin below to your Guitar board.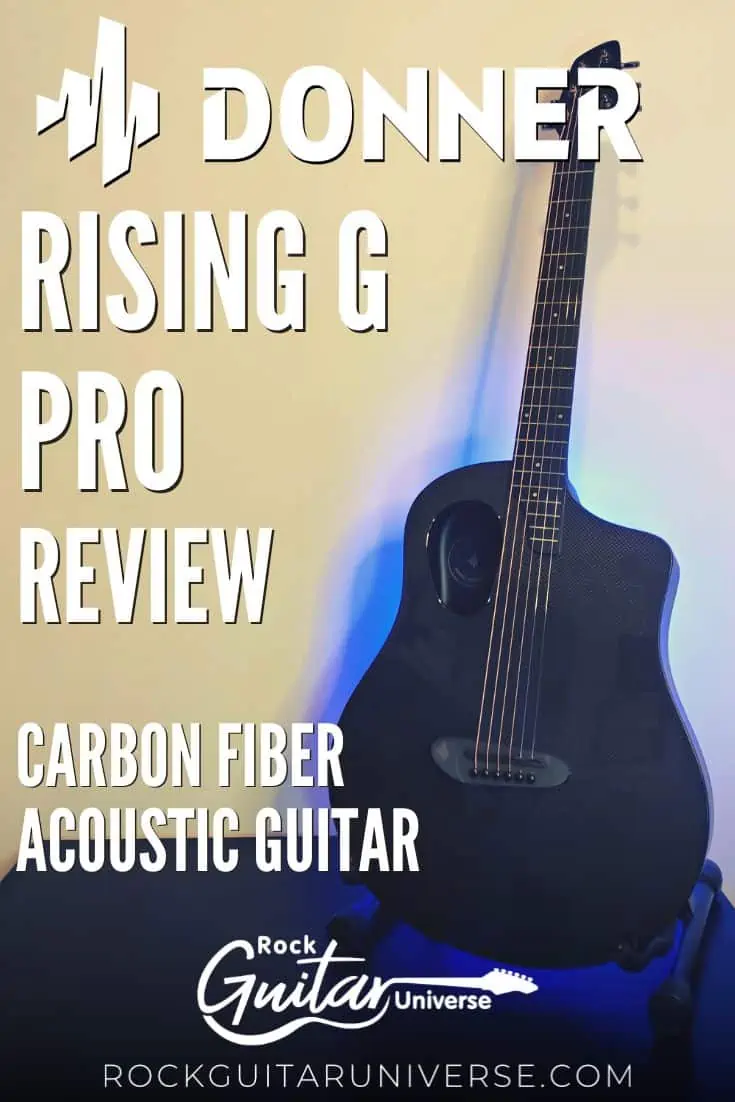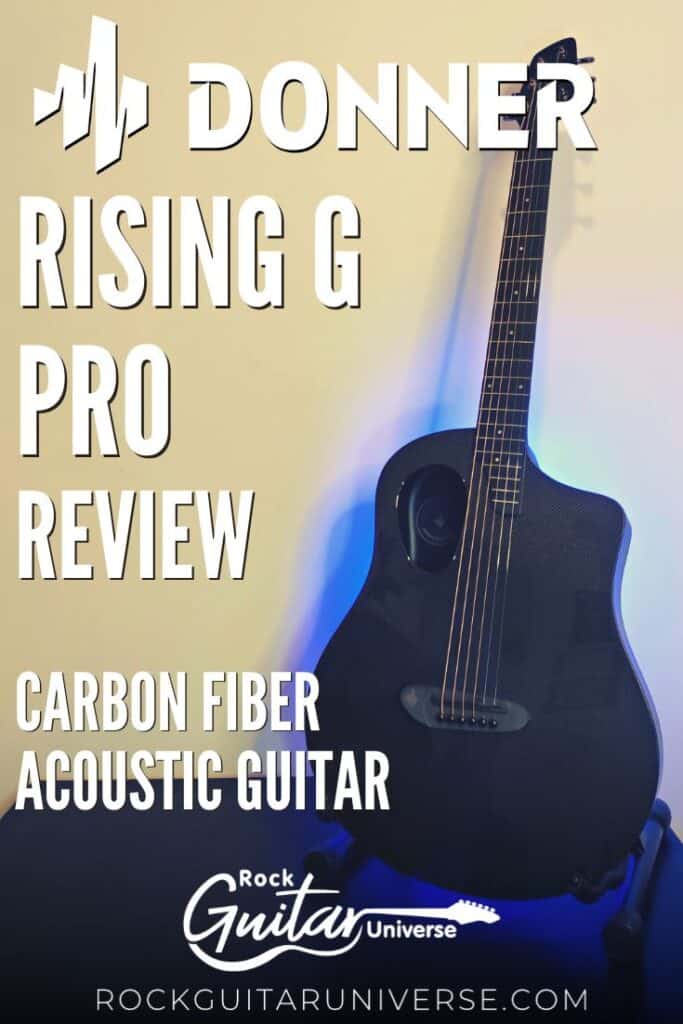 Last update on 2023-10-04 / Affiliate links / Images from Amazon Product Advertising API