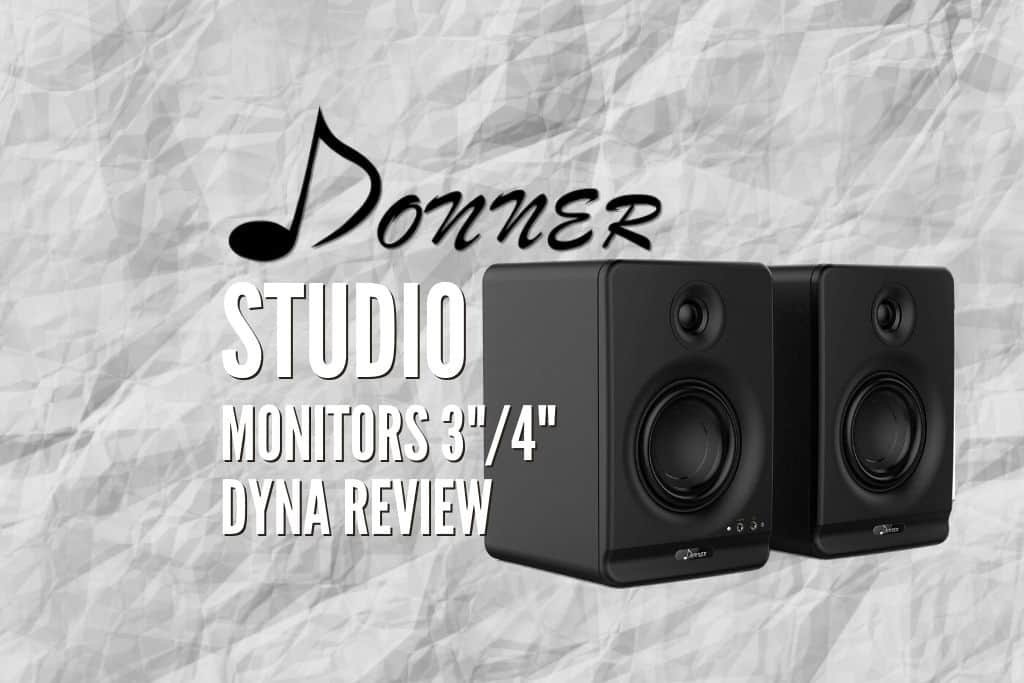 Studio monitors are vital members when it comes to mixing your own music and enjoying production quality sound. Either use them for recording, performing, or basically listening to any music; the high-quality sound will heavily be dependent on the quality of your monitors. Each monitor has subtle differences, which can mean a lot, especially if you are a music enthusiast paying attention to details.
For example, small monitors are not just for musicians who can't afford large ones. Sound engineers often say that tiny nearfields offer an invaluable alternative reference to full-range studio monitors when mixing. The issue becomes apparent with most nearfields sounding mediocre when they are placed where they ergonomically belong, which is workstations or shelves. But Donner has some solutions for that too.
Donner Studio Monitors (Dyna) 3"/4" is the ideal high-quality studio monitor for small settings with its compact size and weight, room space filters, which provide 2 or 4dB of low-shelving cut below 400 Hz when activated. The filter also compensates for speaker-boundary effects that would make the low-frequency response muddy when the monitor is located near a wall.
Another great feature is the High-Frequency Trim Filter that cuts or boosts the monitors' response 2dB above 2kHz to make up for an overly live or damped room. When its low price tag is considered, I can genuinely say these monitors are fantastic for home studios, and I would rate them 4 stars out of 5. The only letdown is the cables that the monitors come with, which are quite low-quality.
| | |
| --- | --- |
| Pros | Cons |
| Beautiful compact design | Low-quality cables |
| Reproduce sound accurately | Not portable as the cones do not have a protective grill |
| The incredible value for the price | |
Donner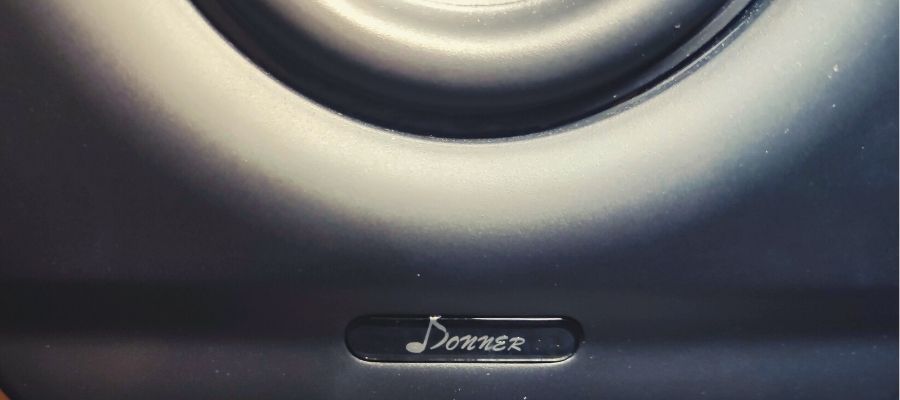 Donner is a quite young musical instrument and accessories brand launched in 2012. They provide outstandingly affordable and high-quality products to musicians globally. The brand is well-known especially for their effect pedals and multi-effect processors, but they also provide musical instruments and accessories with an extremely high value for price ratio. That is why the brand is highly popular among musicians with a low budget. Donner built a quite good name for themselves in the market thanks to their reliable and surprisingly high-quality products.
Donner has 3 related brands: Eastar, Moukey, and Reditmo. All the brands offer instruments and accessories for different instrument lines and different needs. The warehouses of all these brands are in the U.S.A. and Canada, so these are the countries from where all the orders are shipped from. But most of the time, the company offers free shipping, so you do not have to worry about shipping costs.
Another significant aspect of the brand is its fantastic customer service. They send new products immediately if any problem occurs in the shipping process or if you receive a defective product. You can reach them anytime, and they will respond in a short amount of time with a satisfying answer and solution.
With their low-priced and innovative musical products, Donner became a well-known and trusted brand. Thanks to their brilliant R&D team, they keep on surprising and satisfying the musicians everywhere. As Donner manufactures its products in China, delivering their unique products with a good quality control team, the company keeps on destroying the perception that products from China can not be trusted.
The Specs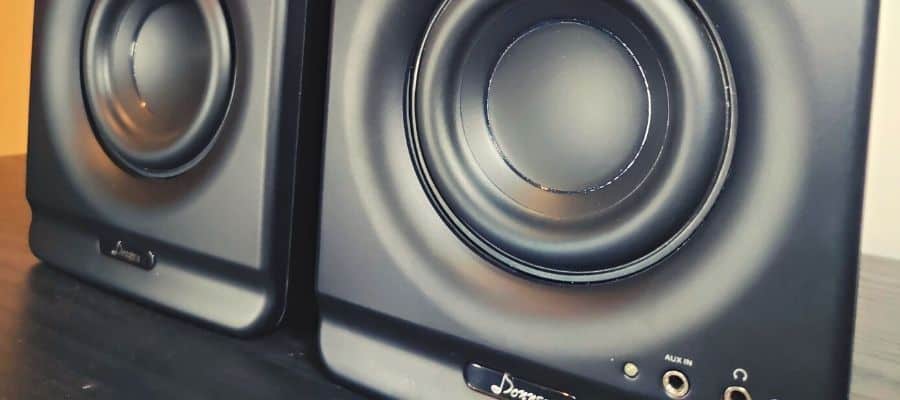 Let's take a closer look at the Donner Studio Monitors (Dyna) 3"/4" specs:
General
| | |
| --- | --- |
| Series | Donner Studio Monitors Dyna |
| Model available In The Series | 3"/4." |
| Type | 2-way 3" / 4" Studio Monitors |
| Color | Black / White |
| Accessories | Owner's ManualEVA Isolation Bottom Sticker x 2Speaker Isolation Pad x 2RCA to 1/8" Stereo Aux CableIEC Power CableBare-wire Speaker Cable |
Dimensions
Donner Studio Monitors 3"
| | |
| --- | --- |
| Weight | 8.5 lbs (3.9 kg) |
| Width | 5.3" (13.6 cm) |
| Height | 5.9" (15 cm) |
| Depth | 8" (20.5 cm) |
Donner Studio Monitors 4"
| | |
| --- | --- |
| Weight | 11.8 lbs (5.36 kg) |
| Width | 6.1" (15.5 cm) |
| Height | 6.6" (16.8 cm) |
| Depth | 9" (23 cm) |
Electronics
| | |
| --- | --- |
| Power Requirements | 100 – 240V 50-60Hz 60W |
Controls
| | |
| --- | --- |
| Knobs | Volume |
| Switches | Bluetooth, Room Space, HF Trim |
| Buttons | None |
Performance
| | |
| --- | --- |
| Frequency Response | 80Hz – 22kHz |
| Crossover Frequency | 1.2KHz |
| LF / HF driver | HF Driver:1" Silk Dome /LF Driver:3" / 4" Woven |
| Power Amplifier | Class D 40W(20W/Speaker) |
| Cabinet | MDF ROHS Bass-reflex type |
Input/Output
| | |
| --- | --- |
| Aux In | 1 x Aux-In (3.5mm jack) |
| Headphones out | 1 x 3.5mm Jack |
| TRS | 1 x 1/4" TRS Balanced Input |
| RCA | 1 x RCA Input |
| Bluetooth | CSR Stereo Bluetooth 5.0 |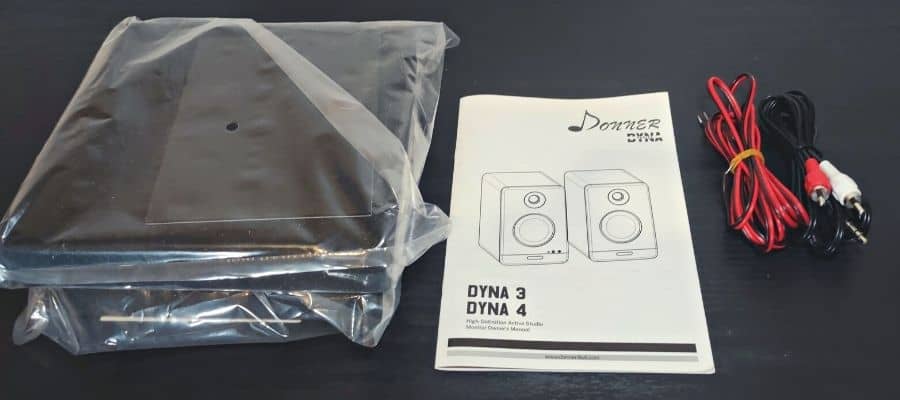 Donner Studio Monitors (Dyna) 3"/4″ are 2-way 3" and 4" high definition active studio monitors that come in white or black colors. With their compact shape, they are ideal studio monitors for small settings or home usage.
The model line features two options; the first one is the 3" model which weighs around 8.5 lbs (3.9 kg) for a pair with the measurements of one monitor 5.3" (13.6 cm), 5.9" (15 cm), and 8" (20.5 cm). The second model is the slightly bigger 4" model weighing around 11.8 lbs (5.36 kg) for a pair and with 6.1" (15.5 cm) width, 6.6" (16.8 cm) height, and 9" (23 cm) depth for one monitor. As seen in the dimensions, the monitors are highly compact-sized which is perfect for home studios.
One of the monitors has all the control units and cable connections while the other one is a passive monitor. There is a volume knob for adjusting the volume level along with 3 switches to turn on Bluetooth, Room Space, and HF Trim which are all great tools specially designed for small settings and ease of use.
The performance specs of the monitor are quite satisfying with its frequency response between 80Hz and 22 kHz. The crossover frequency is 1.2 kHz which is pretty typical for these types of monitors. The high-frequency drivers of the monitors are the same with 1" Silk Dome while the low-frequency drivers differ according to the model with 3" or 4" woven drivers. The active monitor features a Class D 40W amp while both speakers have 20W output. The cabinets are MDF ROHS Bass-reflex type.
The monitors have all you need as input and output options. There is an Aux-In 3.5mm jack, a 1/4" TRS Balanced Input, an RCA input along with the CST Stereo Bluetooth 5 option to use as the input signal. The monitors also offer a 3.5 mm jack as the headphone output.
The package of the monitor includes a pair of Dyna High-Definition Active Studio Monitors, a pair of studio monitor isolation pads to isolate the monitors from the surface in order to clean the sound from unwanted noise, two EVS Isolation bottom stickers for stability, an RCA to 1/8" Stereo Aux Cable which is not the best quality, an IEC power cable to power up the monitors, a bare wire speaker cable and finally the user's manual.
It is pretty great that the monitor comes with isolation pads that you need to attach to the bottom of the speakers in order to prevent them from moving and scratching the bottom part. They also isolate the speakers from the surface which avoids any unwanted noise that comes from the surface material.
Donner Studio Monitors Dyna User Manual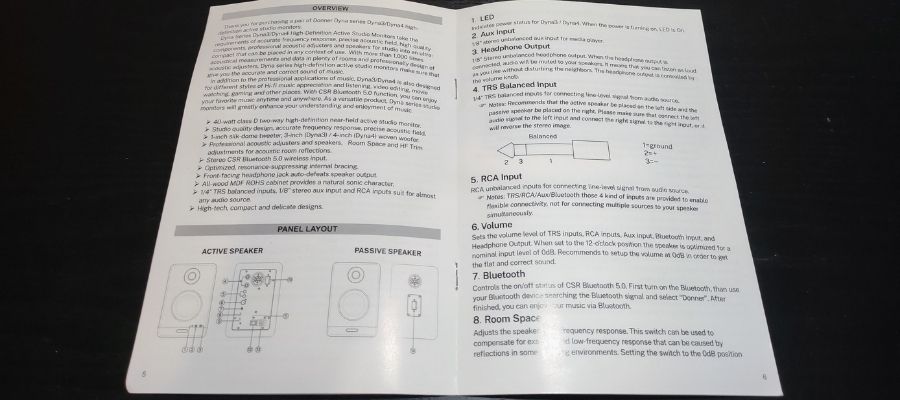 The Sound Quality Of The Donner Studio Monitors Dyna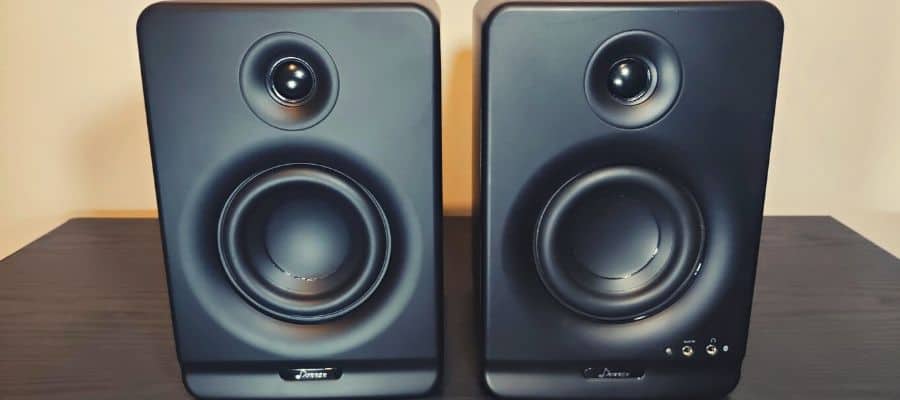 Guitar Playing-Recording
As Donner Studio Monitors (Dyna) 3"/4" are active monitors that deliver a more than satisfying result when used for guitar playing or recording. I have tested them in guitar playing with various effects modeling like Guitar Rig 6 and Bias FX 2 and even a drumming plugin EZdrummer. All the testing I did the speakers sounded really good, richer, and had a fuller tone when I compared them to passive speakers I had.
With Room Space and High-Frequency Trim switches the monitors let you tailor the sound to your room acoustics and your personal taste. You can emphasize or de-emphasize low or high frequencies as you like. Which is great for playing in different settings.
If you want to use a monitor with more bass emphasis, you can buy a subwoofer to add to the Donner Dyna Monitors as they lack some bass which makes sense because they are small hoe studio monitors.
Another great touch that elevates the sound quality is the isolation pads. They are built with high-density acoustic foam which ensures optimal sound. They reduce vibration and help in the elimination of unwanted levels of audio resonance while encouraging the flow of clean speaker sound projection.
There are a few reviews about these monitors claiming that they are not providing accurate enough sound. I can agree to a point that it is not as clear and accurate as a high-end studio monitor but I can honestly say these active monitors sound much better than passive monitors especially when playing guitar.
You can see the video review to hear the monitors yourself. As the reviews show, the sound response is excellent without any lag but with a remarkable clean sound.
Regular Music Listening
Regarding music listening, well, they are studio monitors, so they were flat out of the box. But this issue can be overcome with an equalizer software. After some tweaks, you can increase the bass, and the monitors start to sound great with music listening.
The monitors sound pretty clear and accurate. With a good equalizer touch, you get warm top ends, rich mid-range, and enough bass without it bleeding over everything else. You can use them with your laptop, PC, TV, or any device you like without hesitation.
Donner Studio Monitors Dyna 3"/4" Is Perfect For Whom?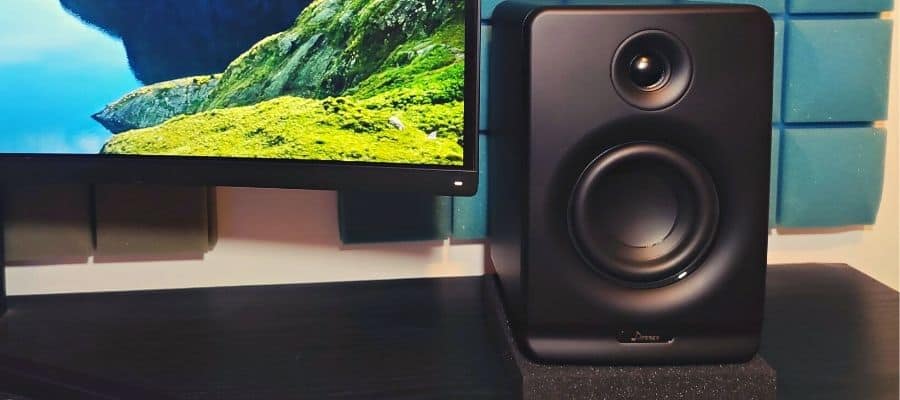 Donner Studio Monitors are highly compact and affordable active monitors that are ideal for home usage, home studios, or small studios. They are great monitors for guitar players who are looking for a decent monitor to use in home music production or get a better sound experience when practicing at home.
Plus, the switches that tailor the sound depending on the setting are a great touch for apartments and different settings, adding quite a versatility to the monitors. These monitors have one of the best price-value ratios for home studios.
One letdown is that even though the monitors are compact, they are not portable. One big reason not to go around with these monitors is that it does not feature a protective grill over the speaker cones. Without any protection, the cones are highly vulnerable to any kind of damage if you move them out of your practice/recording room. So if you are looking for a portable monitor, this one is not the model.
And, of course, this is a budget studio monitor. So if you want professional sound, you should look at higher-end models. But for non-professional home recorders and casual players, along with people who want a decent budget monitor for their music listening experience, they can go with Donner Dyna Studio Monitors without hesitation.
Difference Between The Donner Studio Monitors Models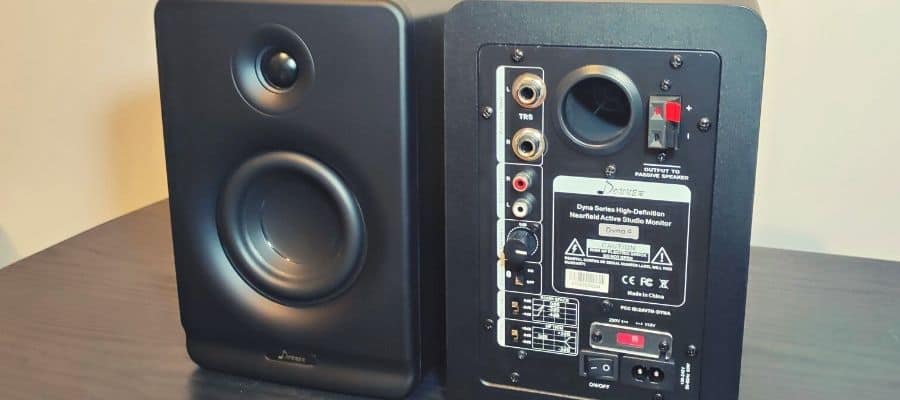 There are only 2 models in the Donner Dyna Studio Monitors series with only one difference between each other.
Donner Studio Monitors Dyna 3"
Donner Studio Monitors Dyna 3" is the first model of the series. It is the smaller model with a 3" Woven Low-Frequency Driver. It is slightly lighter and smaller than the 4" model. Its price is also lower than its bigger brother's.
Donner Studio Monitors Dyna 4"
Donner Studio Monitors Dyna 4" is the bigger model in the series with a 4" Woven Low-Frequency Driver. It weighs around 11.8 lbs (5.36 kg) with dimensions of 6.1" (15.5 cm), 6.6" (16.8 cm), 9" (23 cm). The price is reasonably higher than the 3" model.
Is It Possible To Make The Donner Studio Monitors Dyna Sound Better?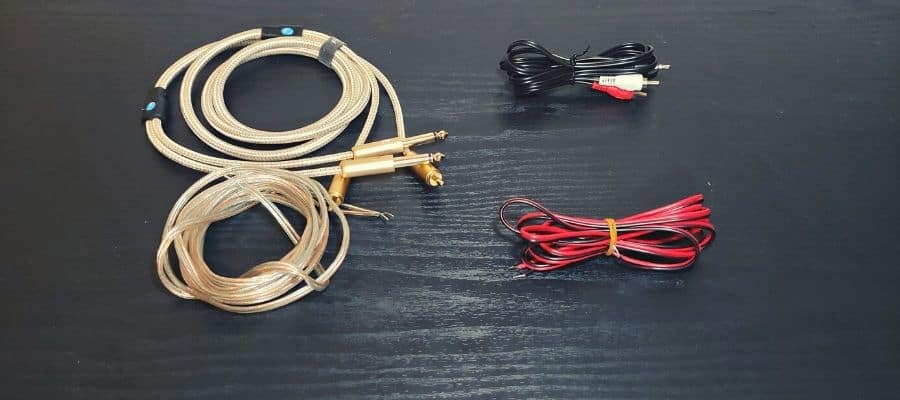 Fortunately, there is an easy way to make the monitors sound much better and richer. With some hardware updates like changing the cables, you can have a higher-quality sound from Donner monitors.
Another choice is to use an audio interface that utilizes a better connection, such as the TRS, which works much better than the regular RCA to Aux connection. TRS to RCA connection can also get the job done, but the ideal solution is to have the TRS to TRS connection, as the monitors support it.
Another cable upgrade can be done between the left and the right speaker. Once the low-quality cables that the monitors come with are changed, the monitors immediately sound better.
Alternatives To The Donner Dyna Studio Monitors In Terms Of Look, Sound, Specs, And Price
M-Audio BX5-D3
M-Audio BX5 D3 | Compact 2-Way 5" Active Studio Monitor Speaker for...
Professional class A/B bi-amplified design with 100 watts of distributed...
Superior transparent sound quality: 5" low-frequency drivers with Kevlar...
Versatile, conveniently located XLR balanced and 1/4" balanced/unbalanced...
Acoustic Space Control customises the sound output to the listening...
One of the best budget studio monitors for the serious first-time producer is M-Audio BX5-D3. These monitors are specially designed for reference monitoring, unlike some other monitors that are made as multimedia speakers or stream from mobile devices or laptops. With its wide frequency range, room correction features, and crystal-clear sound M-Audio BX5-D3 seems like the ideal home studio monitor.
It features a 1" silk dome along with a 5" driver size. The frequency response range is more extensive than the other similar monitors, ranging from 52 Hz to 35kHz. The input options are ¼" balanced or unbalanced jack and XLR.
It is hard to find a con for this monitor. The only con could be its versatility as it is a reference monitor but not great for other usage areas. However, if you build up a music studio on a budget, you can go with these monitors without hesitation. They deliver extremely clear and accurate sound when it comes to mixing and recording. Its price is almost the same as the Donner Dyna 4" model.
JBL One Series 104
JBL Professional 1 Series, 104 Compact Powered Desktop Reference...
JBL104 reference monitors are compatible with most desktop and laptop...
Acoustically optimized for desktop Placement
Three sets of inputs allow connection with professional equipment, personal...
Smart features include front-panel volume control and headphone jack with...
JBL One Series 104 is a decent studio monitor pair with a highly compact and portable design. It is specially designed for home recording and podcasting with a highly portable design for wandering users. The sound reproduction of the monitors is quite impressive, with balanced and accurate across the wide frequency range.
The model features a ¾" soft dome along with a 4.5" driver size. The frequency response is between 60 Hz and 20 kHz. Furthermore, the monitors feature Stereo RCA, Stereo TRS, 1/8" jack, and Bluetooth input options. The Bluetooth connection adds to the versatility widening the area of usage. You can take them anywhere to use as a Bluetooth speaker to listen to music or watch a movie in which the speakers also thrive.
The price tag of the JBL One Series 104 is relatively higher than the Donner Dyna Studio Monitors 4" model.
PreSonus Eris E3.5
PreSonus Eris E3.5-3.5" Near Field Studio Monitor (Pair) (E3.5)
The reviews speak for themselves! The only true studio monitor for...
Now comes included with Studio One Prime and Studio Magic plug-in suite,...
3.5-inch woven composite drivers produce a more powerful bass response with...
The only monitors in their class with acoustic tuning. This enables you to...
PreSonus Eris E3.5 is one of the most popular budget studio monitors in the market. It is the first studio monitor used by many first-time home recorders. The monitors provide an instant upgrade to the sound you have with your earphones or laptop speakers.
They feature a 1" silk dome along with a 3.5" driver size. The frequency response is between 80Hz and 20kHz. Plus, it has the standard monitor inputs like Stereo TRS, RCA, 1/8" jack. The addition here is that the monitors also feature an equalizer on the control panel.
These monitors are ideal for home usage as they thrive in the low to the mid-volume range but struggle with high volume. With their price under the $100 mark, they are a great deal.
Conclusion
Donner Studio Monitors Dyna 3"/4" are great speakers for home studios with handy functions like the Bluetooth connection and room adjustment settings that add to its versatility. The sound and build quality are fantastic, especially when the price is taken into account.
The monitors make the guitar playing more enjoyable with their great response, and the sound reproduction is A level when it comes to recording and editing. They are excellent starter home studio monitors, which you can also use for listening to music with a few adjustments with an equalizer. Low range can be a bit more prominent, but it is definitely not a deal-breaker. It's a studio monitor for a reason.
If you found this article useful you may want to save this pin below to your Guitar board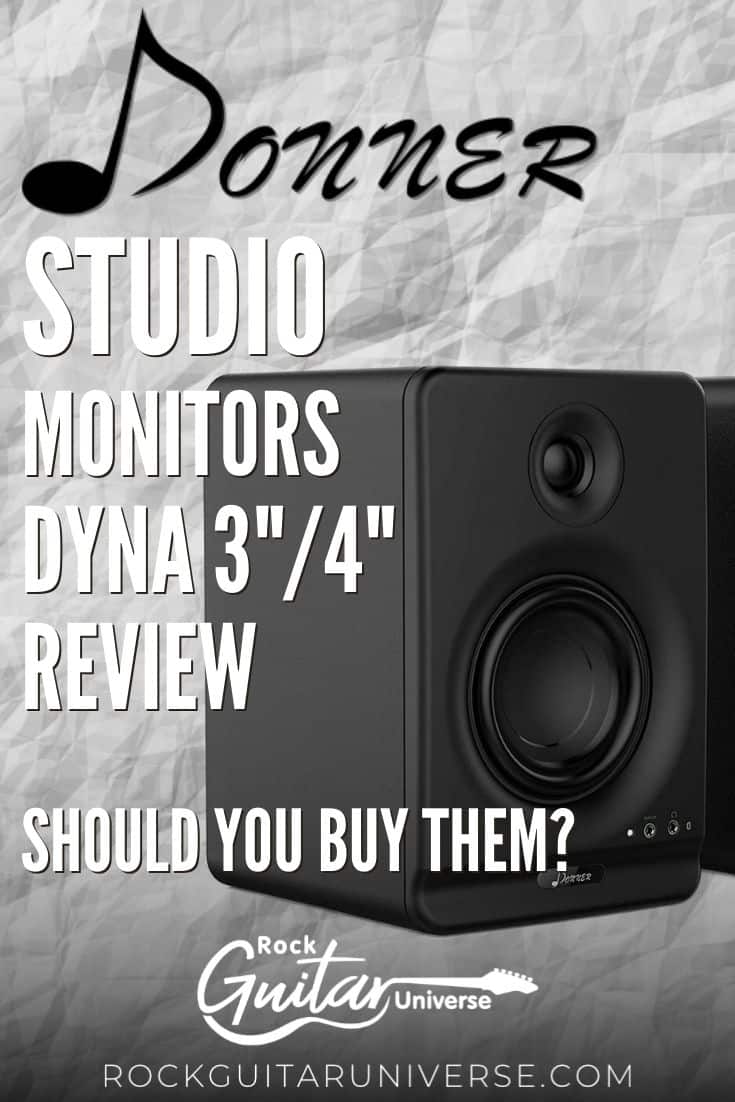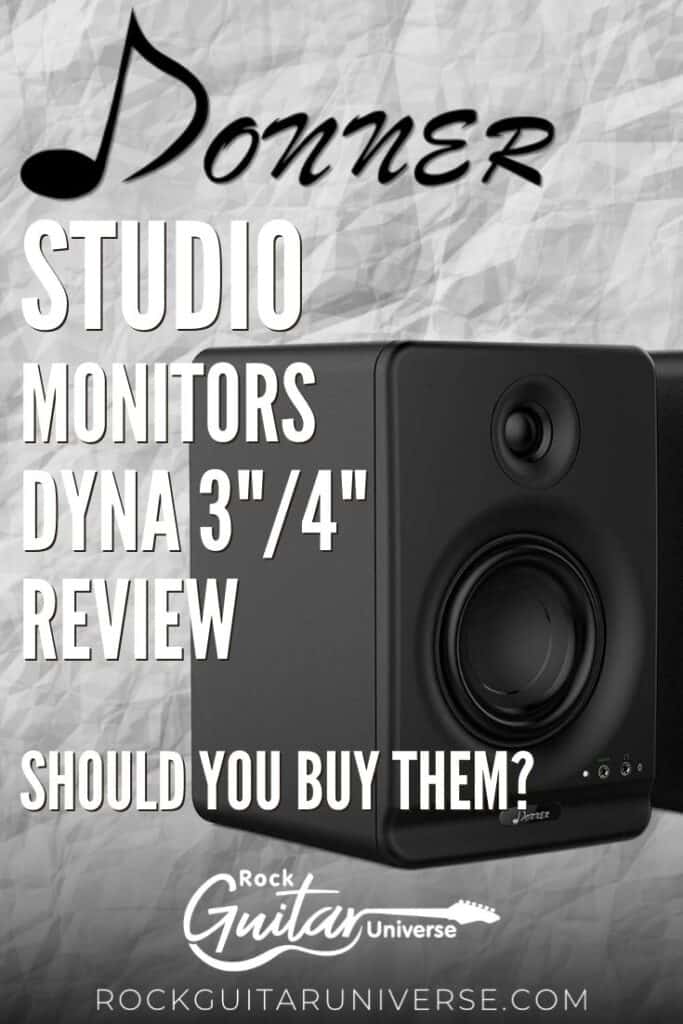 Last update on 2021-12-06 / Affiliate links / Images from Amazon Product Advertising API
Recent Content