In the last couple of years (maybe even decades) there have been a lot of guitar teaching websites. Each offers something different, but the idea behind them is the same – to help you learn how to play the guitar.
Some platforms will focus primarily on beginners and those without any experience, while others will have courses for all skill levels. This means that you can join a website regardless of your skill level and the amount of time you spent playing the guitar.
But this also means that not every website is suitable for everyone. An experienced player would be wasting time and money on a platform focusing on beginners, and vice versa. To help you understand the differences and advantages of guitar learning platforms, we will check Yousician and Guitar Tricks to see what they have to offer. 


Guitar Tricks
Yousician
Price
Monthly $19.99,
Annually $179.99
Monthly $9.99,
Annually $119.99 for one instrument, Annually $179.99 for all instruments
Suited For What Skill Level
Beginners and advanced
Beginners and advanced
Structured Beginner Course
Exists
Exists
Content For Advanced Players
There are lessons for advanced players
There are lessons for advanced players
Different Courses
One on one lessons
Guitar, bass, piano, ukulele, singing
Number of Lessons and Songs
11,000 lessons and over 1,000 songs
Unknown number
Lessons Quality
HD, excellent quality, multiple cameras
Quality based on the device you're using
Refund Policy
60 days
14 days
Additional Tools
Metronome,Jam Station,Scale Finder,Chord Finder,Reference Tuner,Fretboard Trainer,Chord Charts,Guitar Tab Guide, Glossary,Fretboard Diagram
Guitar Tuner, Tracker,
Trial
14 days
7 days
What Is Guitar Tricks?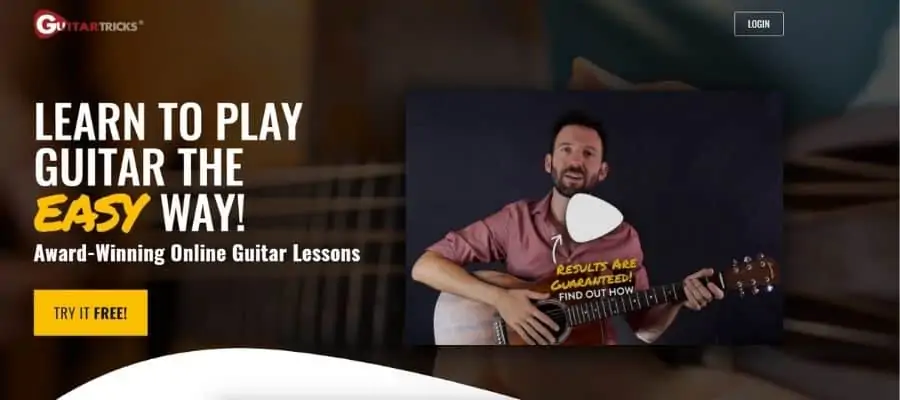 The first website I'll check is Guitar Tricks. But what exactly is Guitar Tricks? It is a website that offers you a chance to improve your guitar skills. Guitar Tricks was founded in 1998, which means they had enough time to improve and grow as a business. 
Needless to say, the website used this time well, and they are undoubtedly one of the best websites you can find. At least if we talk about guitar learning. Over the years, the platform kept growing, and they still add new lessons, courses, teachers, songs, and any relevant material that will help their customers.
As with many other websites, the primary focus is on beginners, but Guitar Tricks also offers numerous complex lessons that are suitable for intermediate and advanced players. Recently, the platform became available on smartphones, and you can use it on both Android and iOS.


What Is Yousician?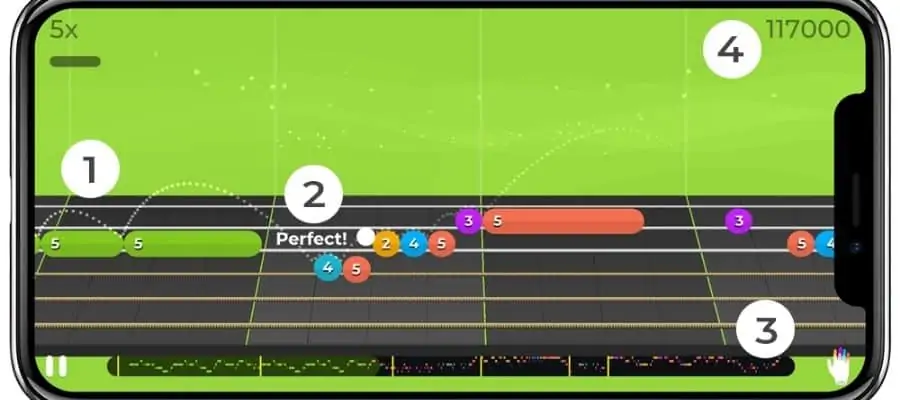 Yousician is a platform you can use to learn how to play an instrument. The company is based in Helsinki, and it was founded in 2010 by Chris Thür and Mikko Kaipainen. The original name of the platform was Ovelin, but they soon changed the name.
The founders claim that the idea behind their app is to make musicality as common as literacy, and they also released one of the most popular apps for tuning an instrument – GuitarTuna. In the past couple of years, the number of users on this platform grew, and in 2016, they reported over eight million monthly users.
What makes Yousician different is that you can play your instrument with the app, and you will get feedback in real-time. This way, you can easily improve, notice mistakes, or learn something new.
Since it was released, Yousician received numerous awards, and there are so many guitarists (and musicians) that enjoy using this app. Currently, the app is available on iOS, Android, Windows, and macOS platforms.
The Difference In Pricing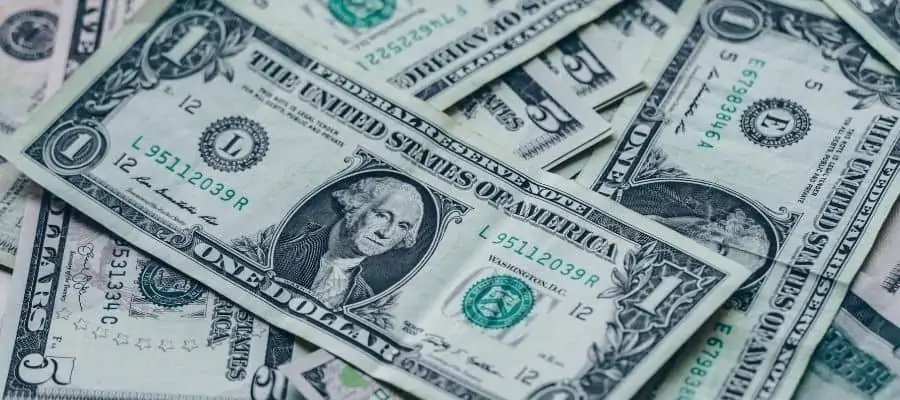 Probably the first thing on everyone's mind is the price. For many people, this might be the determining part, and not everyone can afford to spend a fortune on a guitar learning tool. Needless to say, people would also want to know what they'll get for the price, and cheaper is always better.
Of course, this applies only if the amount and quality of lessons are similar, and if there is a huge gap between these apps, it might explain the difference in price as well.
A monthly Subscription on Guitar Tricks costs $19.99, and you will get unlimited access to all content for a full month. Furthermore, if you enjoy what Guitar Tricks has to offer, and you find it helpful, you can always get an annual membership for a lower price. The annual subscription is $179.99 for twelve months, and it is even possible to get a discount on this price for the first purchase. 
Yousician, on the other hand, is significantly cheaper. For $9.99, you will get a full month subscription for a single instrument. If you are interested in annual membership, the price is $119.99, and if you like the idea of learning all instruments available, the price is $179.99.
As you can see, Yousician is much more affordable, and for one month on Guitar Tricks, you will get two on this app. While the price is not the only criterion here, it is still worth noticing the difference in price.
Players' Skill Level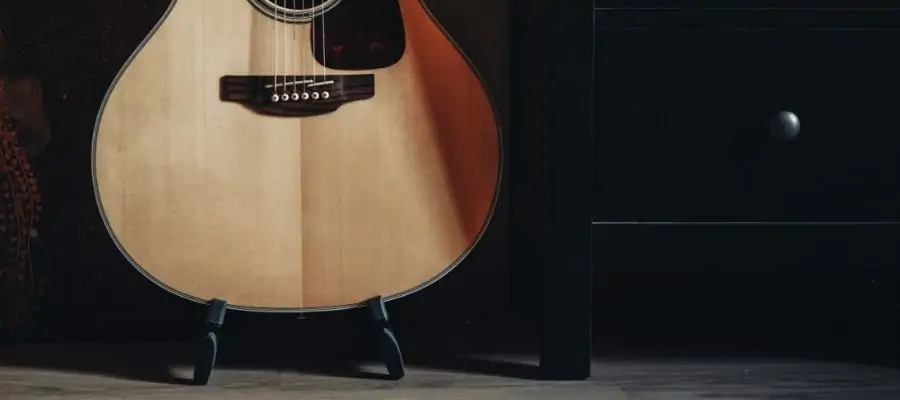 The next important thing on the list is skill level. While both of these apps are primarily focused on beginners, this doesn't mean that you can't use them if you already know a thing or two about playing the guitar.
Guitar Tricks works great for any skill level. You can find lessons for beginners, but there are also numerous courses beyond that. Since the website has been around for quite a while, you can find so many great lessons regardless of your skill level. 
Guitar learning apps often have only beginner courses, and anything beyond that isn't included in the program.
Similarly, Yousician also has numerous levels of difficulty, and you can have a lot of fun on any level of knowledge. But, I should mention the main difference between these two platforms. Guitar Tricks is focused on providing online lessons that are similar to traditional face-to-face classes. 
Yousician, on the other hand, is a game-like app, that gives you challenges and ways to learn through entertainment. Unlike full-on games like Guitar Hero, Yousician gives you a chance to use real instruments.
But back to the topic. Even though both platforms cover a variety of skill levels, Guitar Tricks is an obvious winner. They offer so much more content, and even though it costs twice more, the difference between the two is more than double.
Offers For Beginners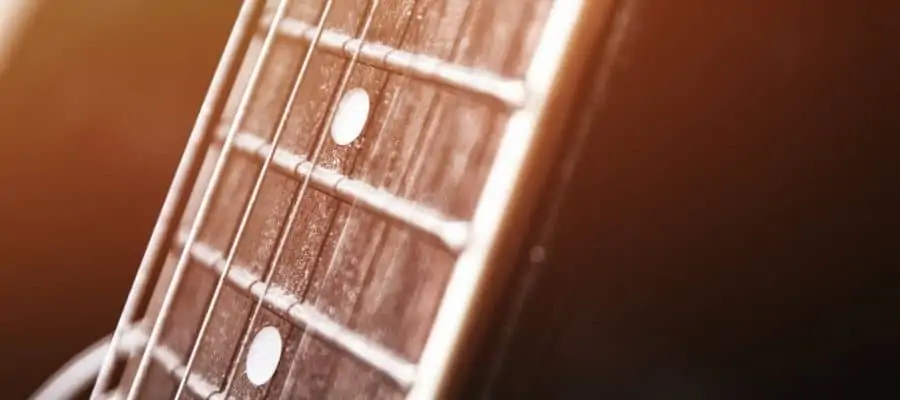 Let's take a deeper look at what beginners might find exciting, and what these two platforms have to offer. As before, I will start with Guitar Tricks. One of the main qualities of Guitar Tricks is that it offers a structured course for beginners. 
When you join the website (assuming that you're a beginner), you will start with "Guitar Fundamentals 1." This course is divided into several chapters, and the difficulty will increase with each. Once you are done with the first part, you can proceed to "Guitar Fundamentals 2."
After that, the website will give you a choice between three categories that are based on different styles. There are country, rock, and blues. Each of these three categories is also divided into two sub-levels based on the difficulty.
Yousician also has a great course for beginners, with various lessons, but the whole idea behind it is different. As I already mentioned, Yousician is similar to video games, and you won't get the detailed step-by-step lessons.
Here, you can pick categories like guided lessons, pinky challenge, knowledge path, rhythm guitar, and so on. The main advantage of Yousician is obvious – it's fun. Since everything is about challenges, games, and similar, it is a lot easier to learn. Guitar Tricks follows the old-school guitar lessons, while Yousician is modernized. 
So, it all comes down to what you're comfortable with. Some people will have an easier time learning through games, while others will look for straight-up guitar lessons, with the instructor playing the song. Personally, I find the method used by Guitar Tricks a lot more efficient, but someone might disagree with me.
Offers For Intermediate Players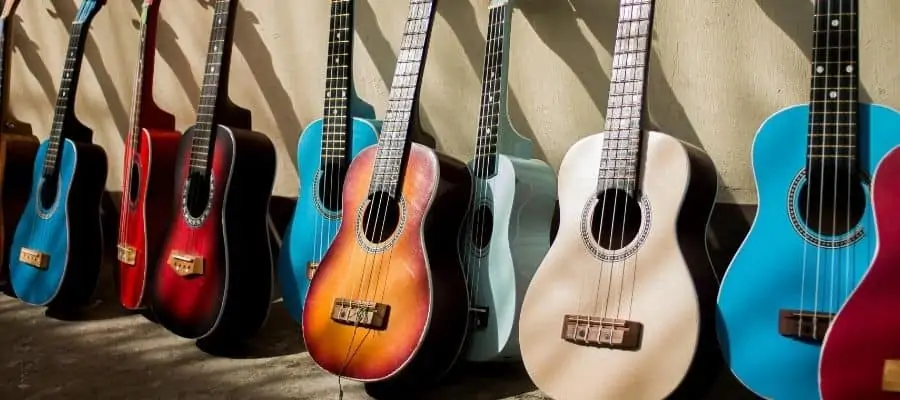 This is probably the one place where many learning platforms fail. Usually, they develop a great course for beginners, but there aren't many things for intermediate players. Maybe the logic is that they have enough knowledge to find lessons elsewhere, or something else.
Either way, Guitar Tricks has tons of lessons for those with more experience. Besides genre-based courses, you can also find numerous lessons focused on advanced techniques like sweep picking, tapping, and so on. 
You can also check out artist-based lessons, where the instructor will talk about some of the famous guitar players and what their habits are when soloing and playing. You don't have to follow any structure if you don't want to, and you can pick the song you want to play from the menu.
Each song has a difficulty level written on it, and it is up to you to choose where your focus will be.
Since Yousician has a "skill tree" structure, there are also a lot of lessons for intermediate players further down the line. Once you conquer the easier lessons, you will unlock more difficult ones, and continue exploring the app.
The amount of content is in favor of Guitar Tricks, but Yousician keeps getting new updates and new content added regularly, so there is no doubt that the app will improve even more.
Types Of Courses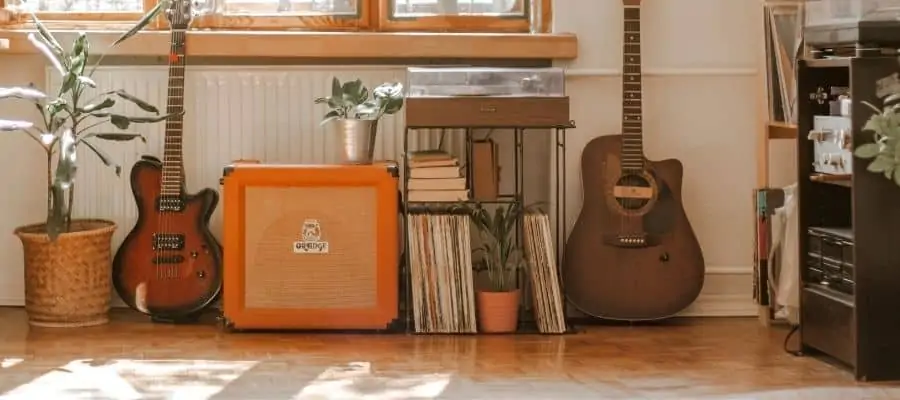 Naturally, there are numerous lessons for the guitar you can find on these websites/apps, but is there anything more? What type of lessons can you find? On Guitar Tricks, the only type of lessons available is for guitar. You can choose whether you want to learn acoustic or electric, and that's it. 
For some reason, the company still doesn't want to add other instruments, which is a shame. Their quality and type of lessons are extraordinary, and I'm sure other musicians would love to join the site. The only different type of lessons you can find is one-on-one, where you will have a real-time class with an instructor of your choice.
This is more in line with traditional face to face classes, and it is the easiest way to learn. The teacher will be able to point out your mistakes and to tell you which areas you should focus on.
Yousician is a game-like app, and it doesn't offer teachers or instructors at all. However, what they do offer are lessons for other instruments. The app currently supports guitar, bass, ukulele, piano, and voice.
This means that you can try the app even if you want to improve your singing, which is excellent. Yousician offers so much more variety and choices, that it is the obvious winner in this round.
Number Of Lessons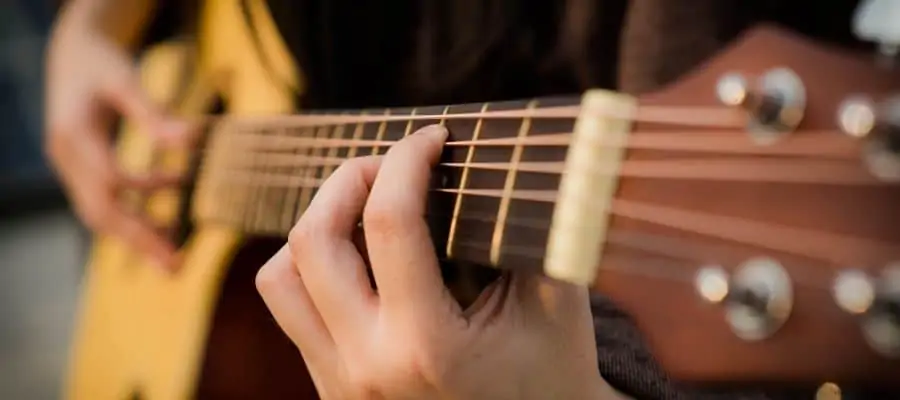 Even though quantity is not the most important thing in the world, it is still great to know what you'll get if you decide to subscribe to these platforms.
Currently, Guitar Tricks offers over 11,000 lessons and over a thousand different songs. And the numbers keep increasing. When it comes to Yousician, the app doesn't show the exact number of lessons, but we can assume that it's not nearly as high as with Guitar Tricks. 
This doesn't mean that you won't get enough content, and there are ten levels you need to conquer for lead and rhythm guitar, and five levels in the knowledge path. Moreover, the app offers numerous challenges and a great song library.
There is a reason why the app sells annual memberships, and there is more than enough content to keep you busy for a while. Naturally, it depends on how fast you'll learn, and the amount of time you spend practicing. But if we look at the sheer numbers, Guitar Tricks is the obvious winner.
Quality Of Lessons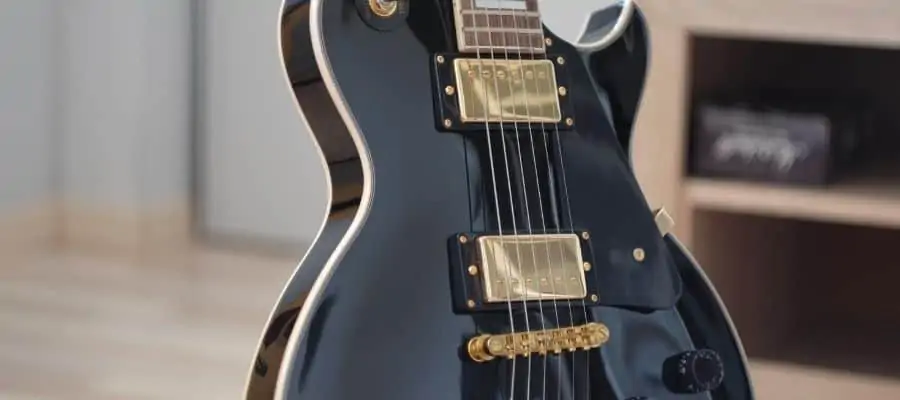 Now that we've covered quantity, let's take a look at the quality. Each lesson on Guitar Tricks is recorded in HD, and there are multiple cameras focusing on every important part. This includes one on the strumming hand, one on the fretting hand, and a couple of extra cameras to ensure that you see everything clearly. 
Guitar Tricks also has tabs for each song, and you can play with numerous options within the video player. Finally, you can download most of the lessons for whatever reason. Unfortunately, not everything is downloadable due to copyright reasons.
Yousician also has a great interface, but it is a lot different. Since there are no cameras or teachers, the screen will show only the fretboard and your challenges. You will get a chance to change the speed of the song, and you can select the layout you like the most. This means that the marks can be on the fretboard, you can get tabs, sheet music, and others.
Since Yousician is all about challenges and fun, it is highly addictive. Which is great. It will force you to practice more and improve as you complete the lessons. Of course, since the idea behind these two websites is different, there is no way of saying which one is better.
It is up to you to see which type of learning is suitable for you. The one thing I can say is that both did an incredible job even though their methods are different.
Refund Policy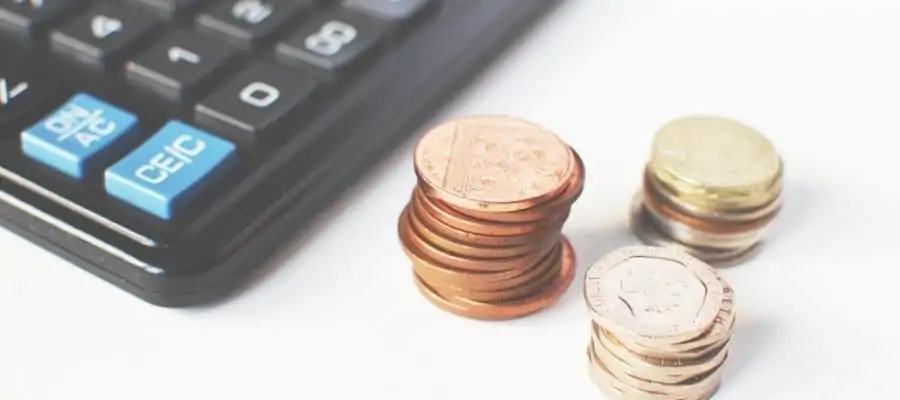 If for some reason you desire to cancel your subscription, you should know that both sites have a refund policy. For Guitar Tricks, you can cancel your subscription at any point during the first 60 days, and you will get your money back. 
Yousician also has a refund policy, but the time is not nearly as long, and you can refund it during the first 14 days. Since both of these platforms are incredible, the chances of you asking for a refund are quite slim.
However, it is always better to have a backup plan and to know that this is an option you can take at any point.
Additional Tools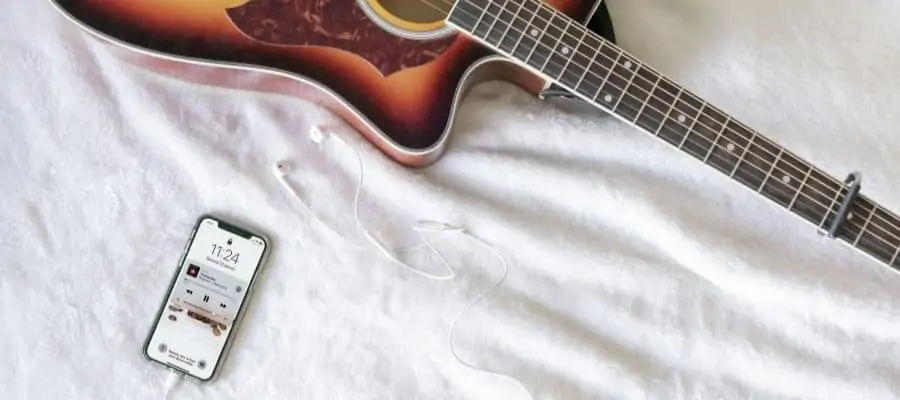 It's always great to have additional tools you can use, and Guitar Tricks offers tons of them. 
Metronome – To help you follow the tempo
Jam Station – Jam with a virtual band
Scale Finder – Helps you find a scale
Chord Finder – Helps you find a chord
Reference Tuner – Tuner for your guitar
Fretboard Trainer – Helps you navigate the fretboard
Chord Charts – Allows you to find chords across the neck
Guitar Tab Guide – Guide for using guitar tabs
Glossary – List of terms used on the website
Fretboard Diagram – Helps you find notes across the fretboard
Each of these tools is designed to help you improve, and while you might not need all of them, it is a nice addition to the website. Yousician has a lot fewer tools, and the most important one is the guitar tuner.
Of course, every part of the lesson comes with a drawing (mini-game), so there is no reason for you to have a glossary or something similar. But just judging on the amount of extra content or tools you'll get, Guitar Tricks is once again the winner. 
Trial Period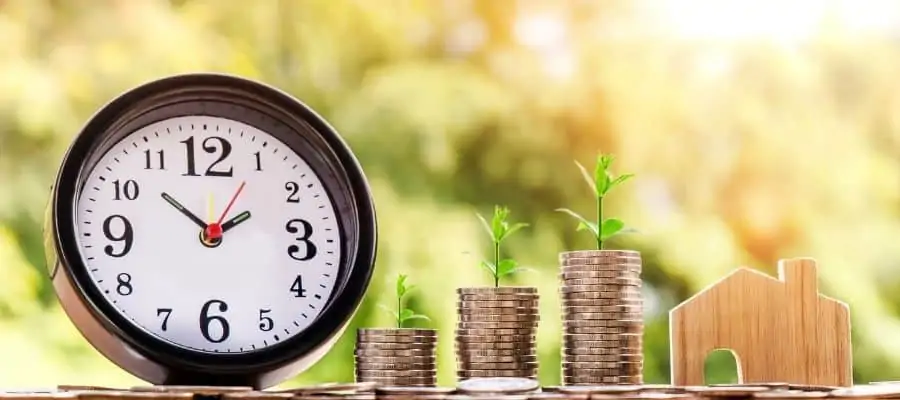 If you are still having doubts about which website is right for you, you can always check out their platforms for free. Both Yousician and Guitar Tricks offer trial periods where you can test the app as much as you like without spending a single dime. 
For Guitar Tricks, the trial is 14 days, and you will get access to every lesson on the website. Of course, this time is more than enough for you to test the app and see whether this is something you'd enjoy using in the future.
Yousician have a 7 days trial period. Although it is shorter then Guitar tricks you still can easily check both apps, and see which one suits your needs best.
Summary
While both apps are incredible, I still have to declare a winner, and this time, it is Guitar Tricks. The platform is incredible, and there are so many things you can learn. I am also more fond of the traditional learning method with real people, which is why Guitar Tricks is the obvious winner in my book. 
Of course, someone might like the modernized way of teaching through games and entertainment, which is fine. Their perfect choice would be Yousician, and they will need to pay significantly less.
Comparing these two websites is a lot different than previous comparisons since the learning principle is so much different. Needless to say, whichever method you prefer, you won't make a mistake. Both programs will help you learn, and you will be able to improve so much, as long as you practice.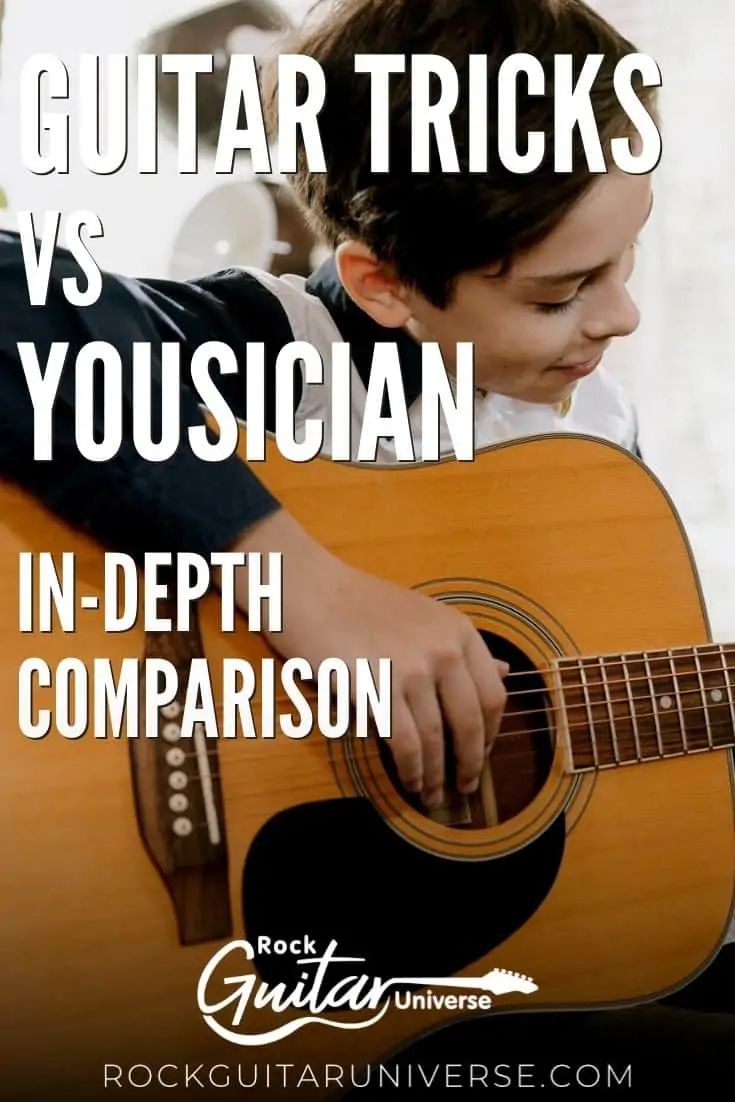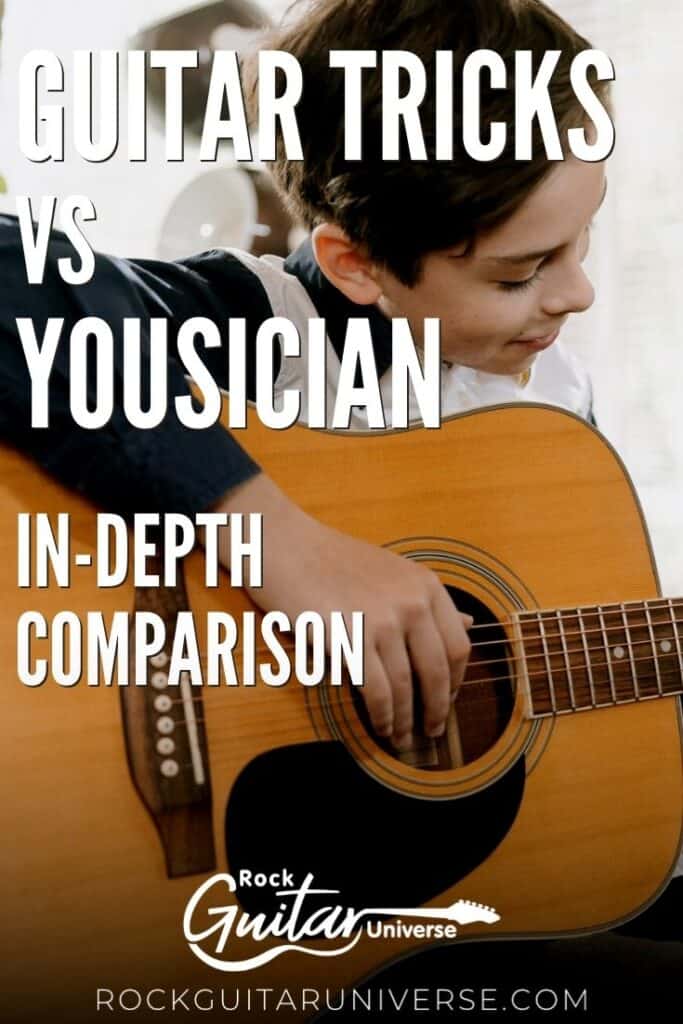 Recent Posts