One of the most important, yet overlooked things when playing guitar, is the position of your body in relation to the guitar. Where the body of your guitar is placed in relation to you, and the way your arms are positioned can be a make or break in regards to developing good technique and being able to play with comfort and ease. If you develop bad playing habits, not only will you have a harder time relearning technique, but you might also potentially hurt your back, shoulders or even wrists (a very common thing for beginners).
I figured out that the easiest way to find out where the guitar position feels most comfortable is to adjust a guitar strap while standing up. You would then just keep the strap even when you are sitting and that way you don't lose the guitar's position.
Nevertheless, there is an issue with this. Keeping the strap on will demand some back resistance and it will make it very difficult for you to have long practice sessions without experiencing discomfort. So what is the best solution to this problem? The answer is simple my friends, a guitar footstool.
My Top 2 Picks For A Guitar Footrest
I will start off by saying that it is really hard to go wrong with buying a guitar footstool. It is such a simple device that you could even create one of your own or use things that you already have. I might also add that even though I'll give you my top three choices, there are plenty more out there that are fantastically made, therefore you can make the decision of which one you'll buy based on price or just by the one you like best!
1. Tetra-Teknica GFR-O1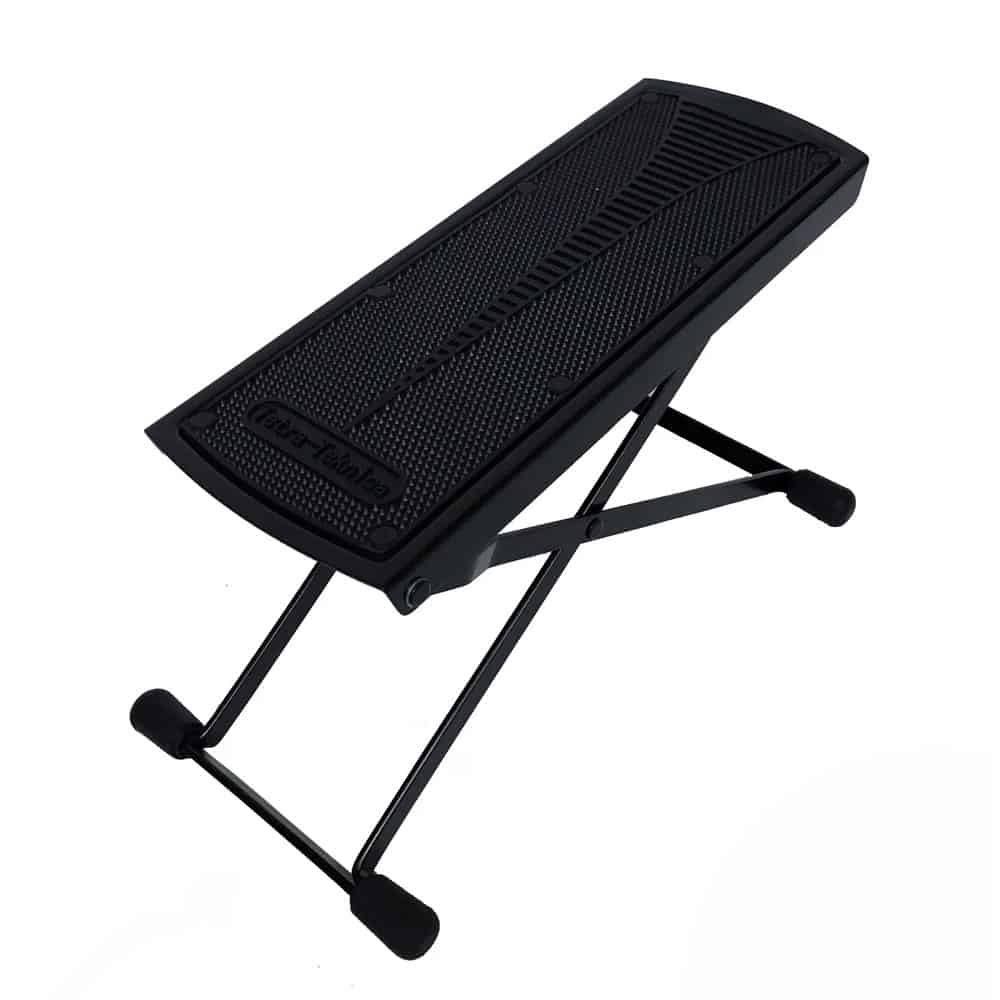 It has 6 adjustable height positions that range from 4.5 inches to 9.5 inches (roughly around 11-24 cm). It is very lightweight yet durable which makes it easy to transport. It has a non-slip surface at the top so your foot will stay in the place while playing. In addition to this, it's footplate dimension is perfect for all foot sizes, making it impossible to go wrong with this footstool.
Pros
Six adjustable height positions
Non-slip rubber pads
Footplate dimension set for any and all foot sizes
Very inexpensive
No Cons
2. Hercules FS100B Large Guitar Foot Rest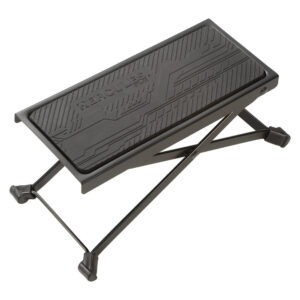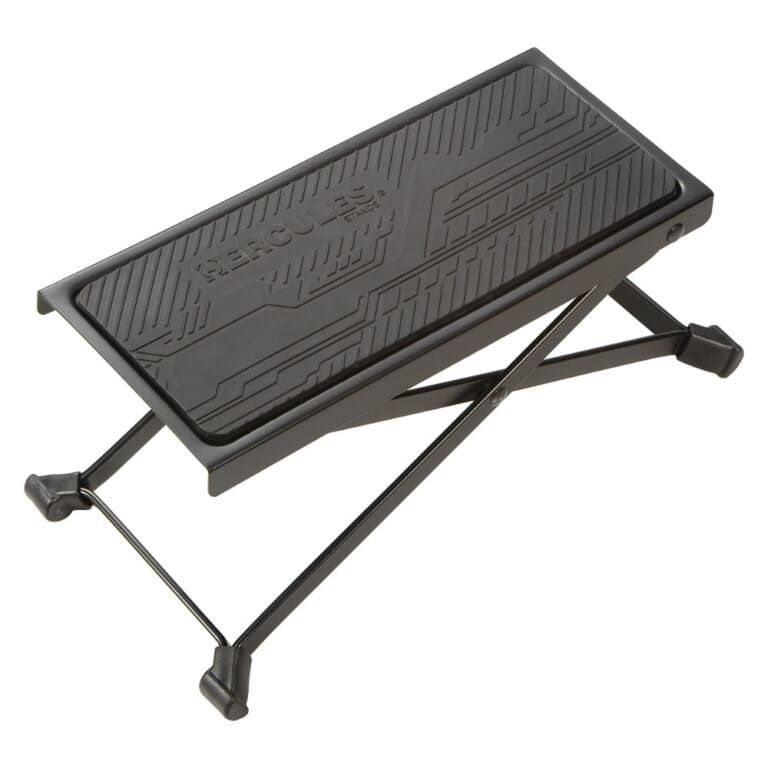 Hercules is a very well known brand for making great microphone stands, guitar stands and many other accessories. The Hercules Footrest does not disappoint. With a 5 adjustable height that varies from 5 inches to 10 inches and made out of solid metal, this is a very well made and durable footrest that can withstand 198 lbs (around 90kg). The footrest also comes with rubber caps to prevent it from sliding on marble floors. My only issue with this one may be that it's a little pricey, but Hercules does truly guarantee durability, so it might be worth the investment!
Pros
Study and very durable
Can withstand a weight of 198 lbs (around 90 kg)
Adjustable height
Rubber caps to prevent from slipping
Guaranteed well manufactured
Cons
A bit pricey
A bit less adjustable heights than usual
What Is A Guitar Footstool?
If you are still not sure what a guitar footstool is, then here is the answer. A guitar footstool is a small device where you place your foot and it helps you elevate your leg as to position the guitar in the proper playing place. A very simple, yet powerful device that can help you dramatically improve your practice sessions and prevent back discomfort (probably our #1 enemy).
Should I Consider Buying A Guitar Footstool?
I'll start by saying that if you are a classical guitar player, a footstool is a very useful device and it is definitely a necessary tool for you to develop the right technique. For electric guitar players, I believe it's a good tool to have in your arsenal and most of them are pretty inexpensive so I would still recommend getting one. I also think it's a great thing to have some sort of attention on how your body feels while playing. It is very easy to lose yourself in the music or in the technique and forget that your whole body should be in tune with what you are doing to experience more satisfying results and avoid unnecessary pain in parts of your body due to an incorrect posture.
What Features Does A Footstool Should Have?
The most important feature to look for in a guitar footstool is whether it's height is adjustable or not. Granted, it will be cheaper to have one that has a non-adjustable height. Also, some guitarists prefer non-adjustable footstools because they are usually heavier and sturdier. The reason I prefer a footstool with adjustable height is that it allows you to try different configurations that can potentially alter your playing in a good way.
Other than that, some of the features that can be found on a guitar footstool are the materials it was made of, how sturdy or light it is, and how easy they are to carry around (this is important especially if you play out often).
If I speak of material, I would say that even though I prefer footstools made out of wood (they are just nicer), I don't think I'd want to spend more than necessary and a footstool made out of steel will do the job just fine. Also, it's important to mention that some footstools are made to be fold-able, making it very convenient to carry it around without any difficulties.
So, to sum up, these are the features to look out in a guitar footstool:
Adjustable height
Made out of steel so it will be lightweight.
Fold-able so it will be easier to carry and store.
How Do I Use A Guitar Footstool?
The most important thing to know about using a footstool is that the real "proper" way to use it is more directed towards classical guitar music. Having said that, the way you position yourself is by actually using the footstool on your LEFT leg (this is if you are a right-handed guitarist) and placing your guitar between your legs, placing the curved part of the guitar on your left leg and finally, tilting up the guitar. This is the most effective way to prevent any sort of back strains. Here's a video for you to see.
If you are a lefty, then the process would be reversed and you would put the stool on your right foot, but you would still place the guitar in between your legs.
Ultimately, that is the most important thing when finding the proper position to play, is that it has to resemble as closely as it can the way you would be performing. The more your practice sessions become "small gigs" the more prepared you will be when that show comes in.
What You Should Not Do With A Guitar Footstool?
There are some things you shouldn't do with a footstool that might seem very intuitive, such as standing on top of it, to avoid breaking it or worse, falling and hurting yourself. Another thing would be to make sure you are placing the right foot according to the style you are performing As I mentioned before, in classical you would put it on your left foot as to put the guitar on your left leg. If you were to perform contemporary music, you would place it on your right foot (all of this would be inverted if you are a left-handed player).
Probably the most important indication I can tell you is to make sure you don't place the footrest either too high that your hip starts feeling some sort of tension or strain, or too low that you have to lift your leg and tense your calf. I would recommend trying different height settings when you are looking for the perfect footrest for you. Just remember, comfort is the number one priority you are looking for.
Alternative To A Guitar Footstool – Are They Really Good?
Guitar Support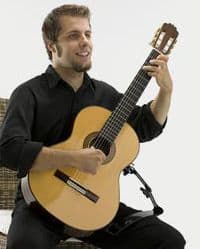 The ErgoPlay Guitar Support is essentially a small device that is hooked to the guitar and it provides support to ensure your guitar is at its best-playing position. Nevertheless, even when it's made out of high-quality aluminum and it has a rubber pad to provide comfort to your thigh, the ErgoPlay is not really that good of an option since the support depends on your leg, therefore it depends on whether you know how to sit properly or not. Even then, I still believe that being dependent on the position of your leg can become very tiresome quickly, both because of the effort needed to focus on not moving that much, but also just because all the weight still falls on your body.
Guitar Cushion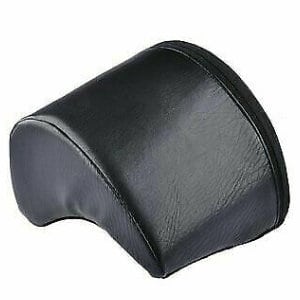 The YIFAN Guitar Cushion is a pretty solid choice as an alternative for a footrest. Made out of a sponge covered in PU leather, the YIFAN Cushion is very comfortable and is a great fit for all people. It is also very easy to take anywhere, which makes it more convenient. My only problem with it is that for obvious reasons, the height can't be adjusted, which makes it a bit harder if for some reason you don't feel 100% comfortable to adjust yourself. On the other hand, the thing that I do like is that you don't have to elevate your foot in any way, which to me is slightly more comfortable than having a footrest. Having said that, I would recommend a footstep over both alternatives.
Conclusion
A guitar footrest might seem like an unnecessary accessory to have, but as I mentioned before it is a very important aspect of learning to play guitar (or any instrument for that matter) to learn to play with as much comfort and ease as you can. The footstool can be a great addition that pushes you in that direction and it is really helpful that you can get top-quality footstools at very low prices. So go out there, my friend and look for your favorite footstool and get ready to experience playing with a whole new level of control and relaxation.
If you found this article useful you may want to save this pin below to your Guitar board