Of all the parts of the electric guitar, the fretboard is the most used. The neck along with the fretboard is most likely to show signs of use after months or years of playing. It is always a good idea to use some fretboard oils or conditioners to prevent any further damage to your guitar.
There are some products out there that are designed to prolong the life of your fretboard. While there is not a single definitive answer to the "what is the best fretboard oil" question, we will go through some of the most popular and used oils on the market. Because of the nature of each product, the answers might vary depending on the fretboard your guitar has.
These Are My Top Picks For The Fretboard Oils
1. Jim Dunlop – 65 Ultimate Lemon Oil
Jim Dunlop 6554 Dunlop Ultimate Lemon Oil, 4 oz.
Removes grime and returns your Fretboard to its original luster
Keeps grime away by providing an invisible sealant against stains and...
Country of origin :United States
Product type :INSTRUMENT PARTS AND ACCESSORIES
Jim Dunlop has been in the guitar maintenance and accessories for a long time and all their products are top-notch. The 65 Ultimate Lemon Oil will bring your fretboard back to a new look with just one application.
In addition, it protects from future grime on your fretboard. It probably will last you a lifetime because it comes in a 4 Oz bottle.
2. Music Nomad – F-ONE Oil
Music Nomad is well known for its guitar maintenance products that were launched in 2010 and became a huge success.
The Music Nomad F-ONE oil is an all-in-one product that will clean and condition your fretboard. It is produced from natural oil so it is 100% safe for your fretboard.
3. Planet Waves – Hydrate Fingerboard Conditioner
D'Addario Hydrate Fingerboard Conditioner
Planet Waves Hydrate is the ultimate treatment to restore the character of...
Cleans and Conditions dark natural wood fingerboards
Unique formula removes dirt and grime
Restores natural moisture to fretboards preventing drying, cracks and other...
D'Addario is well established in the guitar business just like the other two. They are known for guitar accessories and guitar care products.
The Hydrate fingerboard Conditioner is an all-in-one product that will clean and condition your fretboard. It restores your fretboard and prevents it from grime, cracks, or other damage.
Why I Use 6554 Dunlop Ultimate Lemon Oil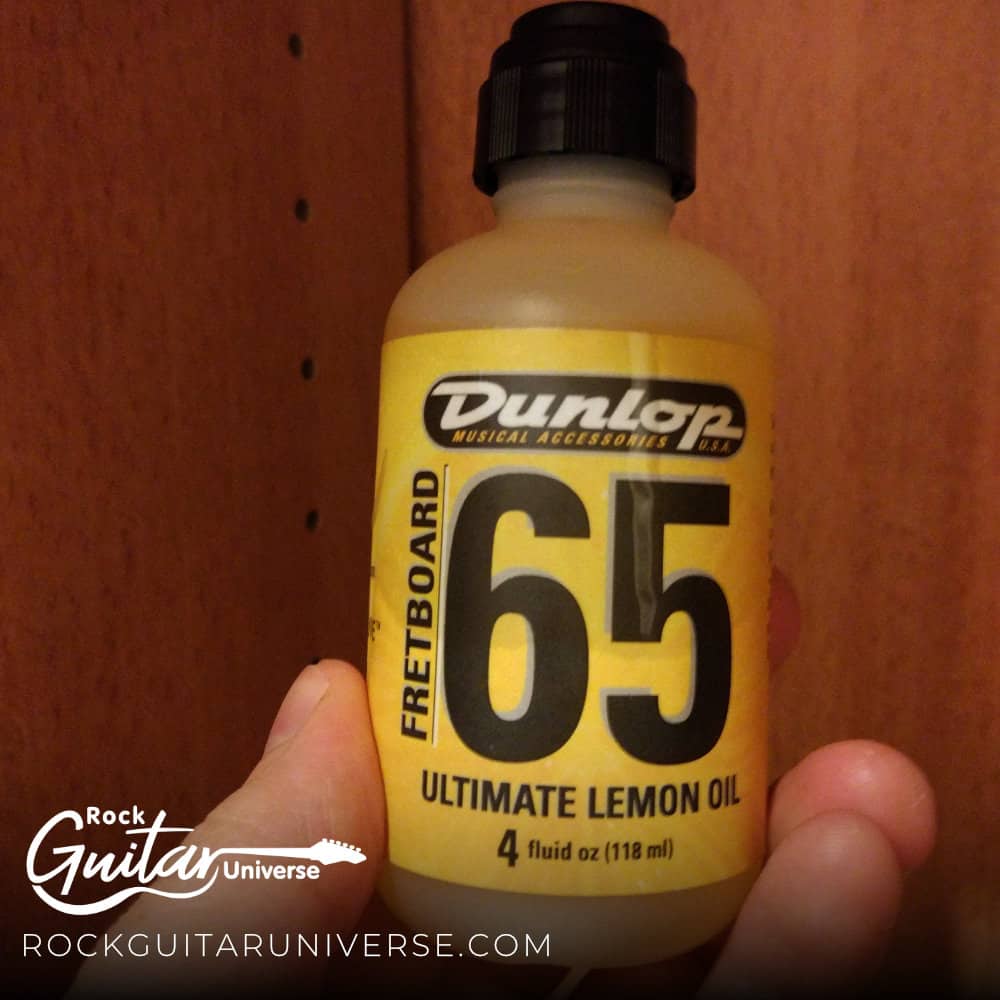 Since I have 2 guitars with a rosewood fretboard, I don't have to think about potential damage to the finish of my fretboard. The Dunlop Ultimate Lemon Oil is an amazing choice.
I have been using it for a long time. It is a natural oil-based product, so you don't have to worry about lemon or petroleum, or any other potentially damaging substance.
It has a huge amount of oil in it that will last you a lifetime. You don't need to use it often, once a year should be enough. So for guitars with dark wood without any finish, this is one of the best products.
If you hadn't the opportunity to try it, you should do it as soon as possible. You won't regret it. Your fretboard will look as good as new with a protective layer that will keep it smooth and your guitar will play great.
If you don't believe me, just check the reviews of this product and you will see for yourself.
Pros and Cons Of My Top Picks Of Fretboard Oils
| | | | |
| --- | --- | --- | --- |
| Feature / Product | Dunlop 6554 | Music Nomad F-ONE | Planet Waves |
| Base oil | Mineral | Tree and Seed | Mineral |
| Cleaning | Yes | Yes | Yes |
| Conditioning | No | Yes | Yes |
| Size | 4 fl oz | 2 fl oz | 2 fl oz |
| Easy to use | Yes | Yes | Yes |
| Portable | Yes | Yes | Yes |
| Softening Effect | Yes | No | Yes |
| Affordable | Yes | Yes | Yes |
| Contains Petroleum | No | No | No |
| Applicator | Yes | No | Spray |
What Kind Of Fretboard Wood Can Be Oiled?
Maple fretboards:
Maple fretboards must not to oiled no matter what. They either have a thicker layer of lacquer or are without any finish at all. Oils and conditioners might damage the lacquer so the simple wiping of the maple fretboards would do the trick.
Other Fretboards:
Dark woods like ebony and rosewood are without any finish and can use any type of protective oils. Other types of more exotic wood might use only some of the products listed. You should always check if the product is suited to your fretboard before use. The information can be always found on the product.
What Kind Of Oil Do You Use On A Fretboard?
There are four most common types of oils for the fretboard: lemon oil, bore oil, a natural mineral, and petroleum distillates. The idea behind each of them is to protect your guitar from grime, sweat, or any other potential "dangerous" thing that might damage it. They will also hydrate the wood preventing any further cracks in the fretboard. The first thing you need to know is the type of wood used for your fretboard
Lemon based oils:
Lemon-based oils are more likely to cause damage to the finish or wood if used wrong. The important thing you need to know is that you shouldn't "drown" the wood. Lemon oils are usually used for cleaning. If you buy a second-hand guitar or if your guitar was not used for a while and really needs cleaning, lemon-based products are great.
You will still use only a small amount of oil to clean everything. Products like Dunlop's Lemon oil usually called just "fretboard 65" are still great. Fretboard oil comes in a larger bottle, will last for a long time, smell great, but there are different opinions on lemon oils and they can damage finish if used carelessly.
Bore based oils:
Bore-based oils are a nice alternative to lemon oils. They are great for treating dark wood and are made of a mixture of natural trees and seeds. They are natural, organic, 100% lemon-free, without water or alcohol.
Mineral-based oils:
Mineral-based oils are great for any type of instrument or any type of wood. If you are having a dilemma about using lemon-based oil, search no further. They can usually be used on any guitar and will both clean and hydrate the wood. They are easy to use and often come with a piece of cloth to collect the extra residue from the fretboard
Petroleum distillates:
Petroleum distillates, like the guitar honey we mentioned, can be used for treating almost any type of wood including exotic wood, ebony, and rosewood. If your fretboard is something other than maple or rosewood, they will certainly do the work. They both condition, clean, and protect from future grime, sweat, and moisture.
Why Do You Need To Oil Your Fretboard
The answer is yes, let me elaborate on that. The fretboard of the guitar is the most used and will be the first to show marks after months of playing. Your fingers are constantly touching wood and strings.
In addition, while pressing the string, they go all the way to the wood and in time will probably leave marks and scratches. While you play the guitar, it is normal to sweat.
Sweat and oils from our skin will remain on the fretboard and in time will turn to grime that will be stuck to the frets of the guitar. All of these things combined will dry wood and can cause cracks and some serious damage to the instrument.
In addition to all of the things that we "cause" you should also consider humidity and temperature changes. If you are playing with a band, while on stage, your guitar will be exposed to more harsh conditions. But even if you play only at home, all of the temperature changes will leave a tiny mark on the wood of the instrument.
Using oils will hydrate the wood and keep it healthy. Usually, they will put a protective coating over the wood that can last for months. And one of the best things is that you'll use oils once or twice a year.
No matter which product you choose, you will need to use only a small amount of it while oiling to avoid drowning wood. So with proper use, any of these products will last you for years. It is a good investment and your guitar will be thankful.
How To Use Fretboard Oil
In terms of use, it is always the best idea to first remove the strings. You will have easier access to the fretboard which is the most important. You will usually have some sort of applicator, whether it is a spray or an applicator or a simple dropper.
You will use only a small amount of the product, for example, a few drops. And you will apply it to the whole fretboard. Most of these products will dry quickly and will protect your wood for several months.
How Often Should You Oil Your Fretboard?
Guitars that are often used and regularly wiped will need this type of special clean around once a year. It mostly depends on the amount of playing and additional care. You can always inspect your instrument and you'll see if there is a need for cleaning and oiling.
Products You Should Avoid Applying On Your Fretboard
Like always, it depends on the type of guitar and type of wood. Maple fretboards should be wiped with a cloth only. There will be no need for additional products. You should avoid alcohol and household products.
You should never use things like kitchen cleaners or bathroom cleaners because you will permanently damage the finish or wood. It is important to know the most you can about your guitar and type of fretboard because for some fretboards you can use lighter fluid or lemon-based oils and for others, that would be a mistake.
Any product that contains acetone or a nail polish remover is a no-no. These kinds of products are designed to remove polish or lacquer which is a thing that you should not do. Sandpaper or steel wool other than #0000 is also a thing you should never use. These things are too damaging and should never be used for simple cleaning.
How To Prolong Your Guitar's Fretboard
What you can do to prolong the life of your fretboard and to make sure that your guitar is always in great condition is to regularly do small cleanings.
As we said, you will need to use the oil every several months. But in between, you can make sure that you always wash your hands before playing. Keep a piece of cloth near your guitar or in a case and perform a simple wiping after every session.
This way you can remove any sweat and finger oil that will turn into grime and that might damage the wood before any of those things happen. With regular wipes after playing, you will have less need to use oils and you will use it to protect and hydrate the wood for a longer period of time.
It is always the best idea to take care of your instrument regularly and on time, instead of looking for a way to fix some damage that might happen in the future.
Conclusion
Most of these products work as an all-in-one. If you opt for a product that is only oil meant for conditioning, be sure to clean your guitar before applying it. I always choose F-one and I don't have to worry about things. It is an all-natural product that will clean your fretboard, condition it, hydrate, and protect it for several months.
It is safe for all types of woods so you are less likely to make a mistake. The products listed here are the best ones in my opinion. People are claiming that some products are dangerous, but as long as you use them moderately and following the instructions, you won't have any problems.
You should keep in mind that all of these products are made to take care of your fretboard. It is always a better option to buy a fretboard oil than to experiment with some household products that might contain chemicals that can damage the finish of the guitar.
If you found this article useful you may want to save this pin below to your Guitar board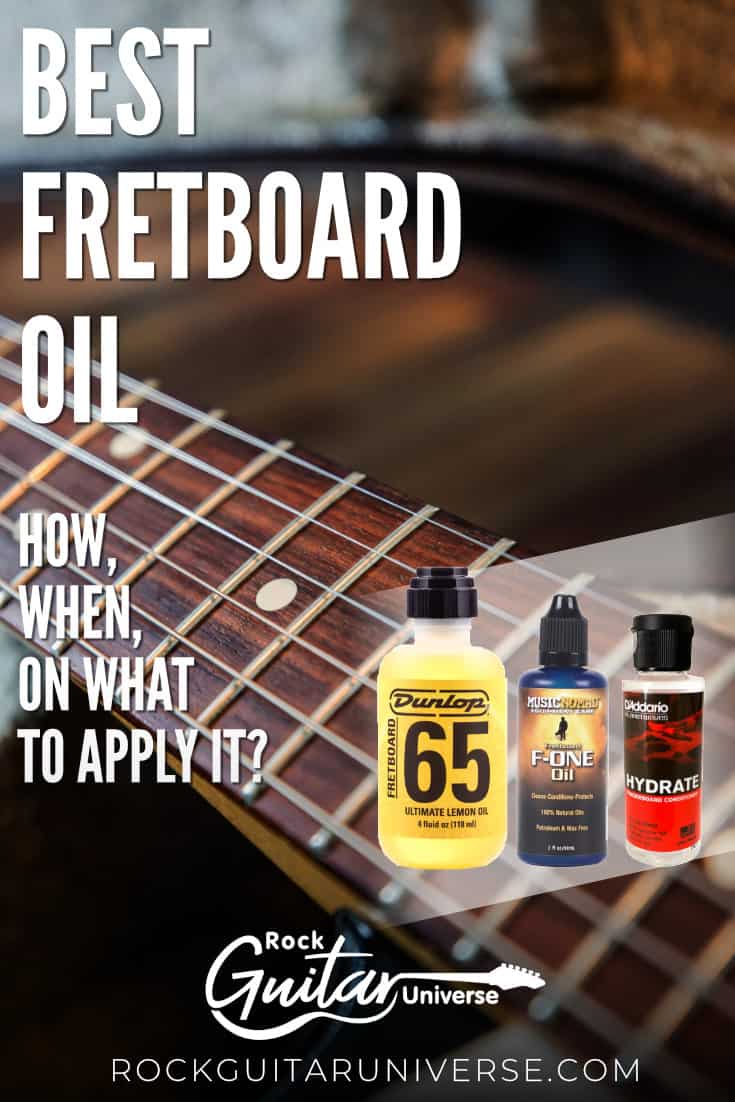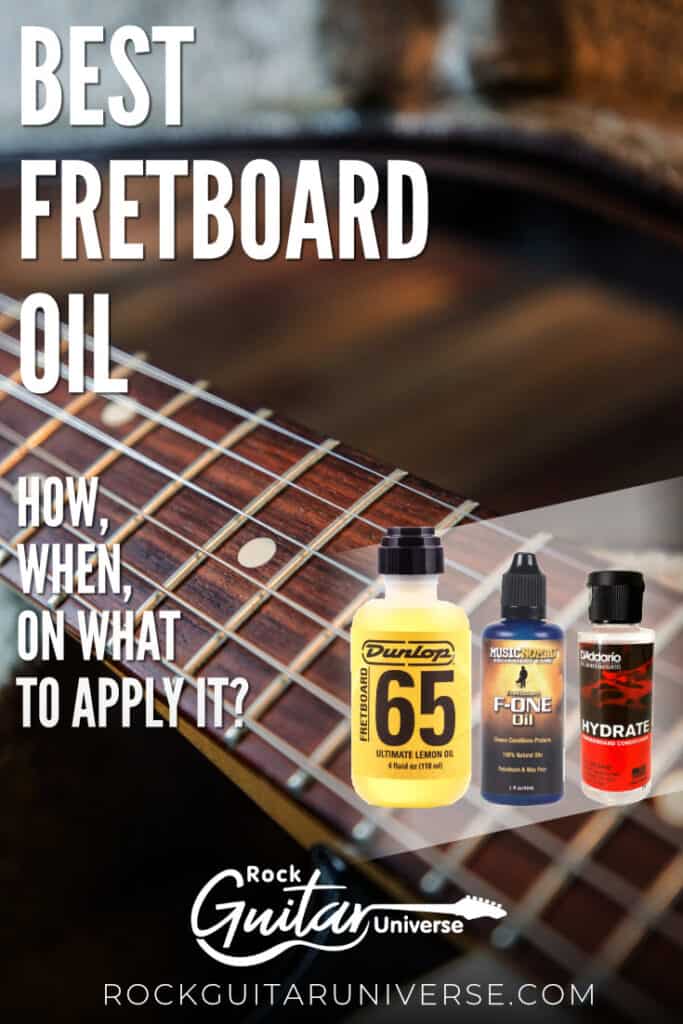 Last update on 2023-02-06 / Affiliate links / Images from Amazon Product Advertising API